It's hard to find a single summer garden that doesn't already grow zucchini plants. You're missing out if you haven't tried growing these incredible veggies in your garden bed yet. Learning how to grow zucchini is something any new gardener can tackle.
These cool, crunchy veggies have dark green skin and long, narrow bodies that resemble cucumbers. However, these squash plants hold up much better when you cook them.
How long does it take to grow zucchini? It depends on when you get started. If you follow our directions, you'll have a bountiful harvest with enough crops to store them for a year.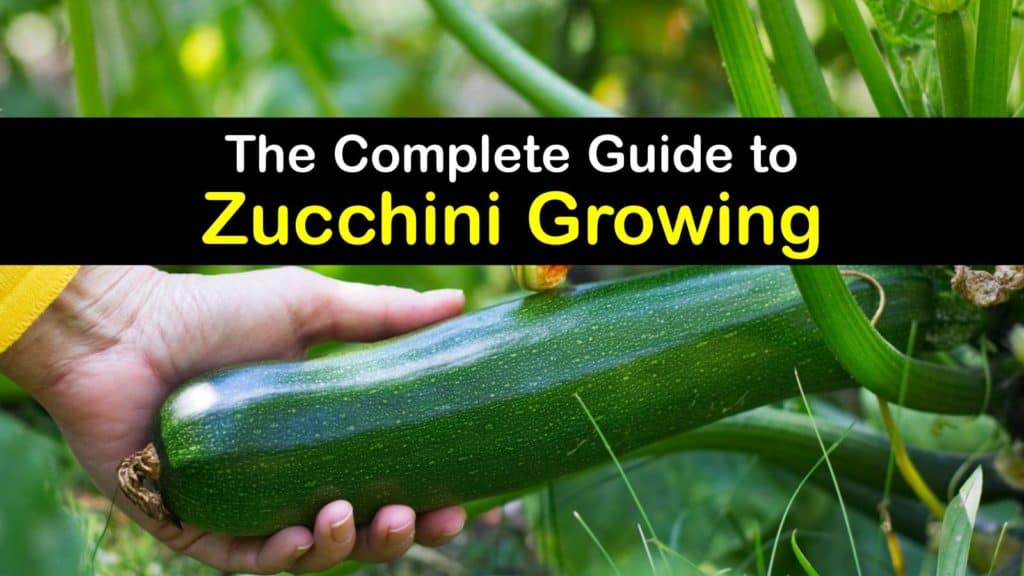 Types of Squash Plants
We put together a zucchini planting guide explaining everything you need to know to grow zucchini. We cover pollinating, sowing, maintaining, and harvesting these veggies. Every question you have about cultivating zucchini is here in one convenient place.
There are two types of squash and two different ways they grow. Summer squash includes types like zucchini, crookneck, and yellow squash. They have thinner skin and are more tender on the inside.
Winter squash includes butternut and pumpkin. These varieties have thick skin and firm interiors that take longer to cook. All of these plants, like growing spaghetti squash, either grow as bush or vining plants.
Vining varieties require a trellis or other sturdy support system to hold their stems up as the fruits become too heavy.
Zucchini is also called Cucurbita pepo var. Cylindrica. It's just as important to know when to plant zucchini as it is to know when to harvest the squash. The main drawback of these veggies is that they are heavy feeders and fast growers.
They quickly take over garden space, and it isn't hard for them to rule the entire garden bed if you don't keep an eye on them.
If you notice that your squash or zucchini plants are dying, it's possible that essential pollinators haven't made it to your plants. You might have to pollinate them by hand. It isn't uncommon for zucchini plants to drop their blossoms before setting their fruit.
Male flowers drop after they shed their pollen, and female flowers drop when they aren't pollinated. Go out to your garden with a paintbrush or cotton swab and roll it in pollen before touching it over the center of another flower to pollinate them and keep them healthy.
Follow this pollination technique on all of your zucchini plants during the growing season.
Knowing how to grow zucchini is achievable if you understand how these plants work. When you give them the tools to succeed, they provide you with a bountiful harvest.
Steps for Growing Zucchini
Zucchinis are also called courgettes. These types of squash originally came from Mexico about 7,000 years ago. Despite this fact, zucchini made its first significant appearance in agriculture and cuisine in Italy.
Today, summer squashes are grown in almost all temperate climates and do best in USDA growing zones six and above.
How to Grow Zucchini
Location is essential to a zucchini plant. They aren't that picky, but they do have a few demands. The soil must be rich with organic matter and fertile. It is easy to fertilize poor soil with aged manure and compost.
Do not plant your zucchinis in a location where other cucurbit plants have resided to keep the risk of soil-borne disease low. They also like to reside in slightly acidic soil. Do a soil test and make necessary changes to keep it in a pH range of 6.0 to 7.6.
Guarantee that they have full sun during the growing season. Full sun means that the area must receive at least six hours of direct sunlight every day.
Vining cultivars must have a support system, and trellises or cages are usually the easiest way to supply stability, whether you are growing zucchini in containers or the garden plot.
Wait until the nighttime soil temperature is steadily above 55 degrees Fahrenheit. If you live somewhere with a short and cold growing season, consider starting them inside.
Do you know how far apart to plant zucchini to give them room to sprawl? For transplants, place each one in your prepared garden bed and leave two feet of spacing between each plant. Keep garden rows three feet apart from one another.
Soil moisture is another crucial component of healthy plants. Soil with plenty of air circulation does an excellent job at draining fully, so there isn't too much water.
If it dries out too quickly, spread a thick layer of mulch around the base of the plant. The minimum amount of water to give your zucchini plants is an inch of water per week. Water them more if the temperatures get too hot and dry.
Do you have to fertilize zucchini plants? You might not need to fertilize the ground if you amended the soil with organic matter.
An all-purpose fertilizer rich in calcium is safe to apply once the flowers start to bloom. If the weather outside is too cool, protect them with row covers until the chance of frost is gone.
Practice companion planting for cucumber with zucchini plants and other beneficial herbs or veggies to take advantage of their mutually beneficial garden characteristics.
Growing Zucchini Seeds
Some gardeners prefer to grow their plants from seeds instead of transplanting them from young seedlings. Sow your zucchini seeds inside three or four weeks before the last expected spring frost.
Start growing cucumbers and zucchini in pots with potting soil. Water the seeds after you sow them and set them in a warm, sunny window or under a grow light. They are ready to transplant outdoors whenever the first set of true leaves show up or it is around 70°F during the day.
Don't forget to harden your plants off after you grow zucchini from seed but before transplanting them. Move your young plants outside during the day and slowly extend the amount of time they sit outdoors. After a week, they're ready to move to their new home.
How Long Does It Take to Grow Zucchini?
We know you're excited about trying your first homegrown zucchini. How long does it take to grow zucchini from start to finish?
Thankfully, zucchini plants are fast growers, and they only take about two months before they're ready for harvest. Some cultivars allow you to harvest them multiple times during the growing season.
Harvesting Zucchinis
When to harvest zucchini is when each fruit is between four and six inches long, and the exterior is firm and glossy. They have a creamier inside at this stage, and the seeds are tiny enough that you won't even notice them.
They are still good to eat when they are larger, but they aren't as succulent. Peeling them and scraping out the seeds might be necessary.
Harvest zucchinis by using clean pruners or a sharp paring knife and cut them an inch above where the stem meets the fruit. If you harvest regularly, the plant will probably produce another round for you to harvest.
Zucchini Cultivars
Now that you understand how to grow zucchini, what are the best cultivars to choose from? One of the most popular zucchini varieties is the Bossa Nova. These are ready to harvest in as little as 35 to 45 days. They have smooth flesh and small seeds.
Another nice variety is the Cocozelle. This type is a bush variety that showcases light green and white stripes on its skin. It takes 45 days for them to fully mature.
Lungo Bianco is another zucchini you don't want to miss. This heirloom cultivar grows compactly and takes about 70 days to mature. They have a bright, golden color and are ideal for grilling.
Lastly is the Zucchini Golden. The average length is six to eight inches, and they take about 55 days to harvest. All of these cultivars are solid choices that any home gardener would be thrilled to have in their garden beds and kitchens.
Zucchini Pests and Diseases
Just because zucchini is easy to grow and matures quickly doesn't mean that you won't hit some speed bumps along the way. Zucchini are prone to pests and diseases, similar to when you grow butternut squash, and you have to take care of them to keep them healthy.
Squash bugs are one of the pests that you'll most likely see affecting your squash plants. The adult zucchini bugs and the nymphs literally suck the life out of the plants and leave them to wilt and die.
Squash bugs are five-eighths of an inch long with wings and a brownish-black body. They give off a nasty odor when they are crushed.
Early detection is important because too many means that there is likely to be significant damage on all your plants. Collecting the bugs and destroying their eggs is the easiest way to combat them. Sticky traps and neem oil are two quick fixes for the bugs.
To limit bugs, try companion planting. Learn what to grow with zucchini to repel unwanted critters without resorting to chemical means.
Squash vine borers are another pest to look out for. These insects are the larvae of moths that are sometimes mistaken for wasps. The vine borers overwinter in soil cocoons that hatch in late spring.
These insects are responsible for zucchini leaves turning yellow and making them die suddenly. Use insecticides on the plants when they are young and remove any eggs you see on the underside of the leaves.
Cucumber beetles feast on squash, cucumbers, and melon and devastate your plants. They are yellow and black insects with either spotted or striped patterns. They make the inside of a zucchini get mushy and go bad quickly. Deter them by using row covers and removing them by hand.
Zucchini diseases are a completely separate issue from pests. Powdery mildew and blossom end rot are the two that you are most likely to come across. Both of these diseases are easily prevented.
Remember the importance of air circulation in the soil? This situation is where that advice comes into play. Watering your soil the appropriate amount and guaranteeing that it drains well are the best ways to prevent these issues.
Preserving Zucchini
There are times where our crops thrive all season long, and we have more fruits and veggies than we know what to do with. This moment is when preservation comes in handy. The easiest way to keep zucchini fresh for long periods is to freeze it.
To freeze zucchini, grate it using a box grater until you have shredded your desired amount. Place the zucchini shreds in a colander and put them in the sink to allow the water to drain from them for 15 minutes.
Once drained, line a cookie sheet with wax paper and pile individual zucchini mounds on it. Set the sheet in the freezer until frozen. Stack the mounds in a jar or freezer bag.
Label the freezer bag with the date and keep them stored in your cold freezer for up to six months. If you'd prefer, use shaved or sliced zucchini to make zucchini bread or canned pickles. While zucchini bread is best fresh out of the oven, the pickles last much longer.
Add the zucchini and onion slices to a bowl and sprinkle with the canning salt. Cover the veggies with cold water and let them stand for two hours before rinsing and draining them.
Add the remaining ingredients to a big saucepan and boil them before pouring them over the zucchini and onions. Cover the bowl and let them stand for another two hours. Transfer everything back to the saucepan and simmer for five minutes.
Ladle the mix into half-pint canning jars. Leave an inch of headspace at the jar's top. Remove all air bubbles and wipe the rims clean. Cover the canning jars with the lids and screw on the rings.
Cook the jars in a boiling water bath for 15 minutes. Remove the hot glass jars and set them on the counter to cool for 24 hours. If they are correctly secured, you can store them in a cool, dry place for one year.
Zucchinis are a summer veggie that we gorge on in summer. They are fresh and juicy foods that are best when picked from your own garden. After reading this article, we hope you grow zucchinis from start to finish and fill your shelves with pounds of homegrown goodness.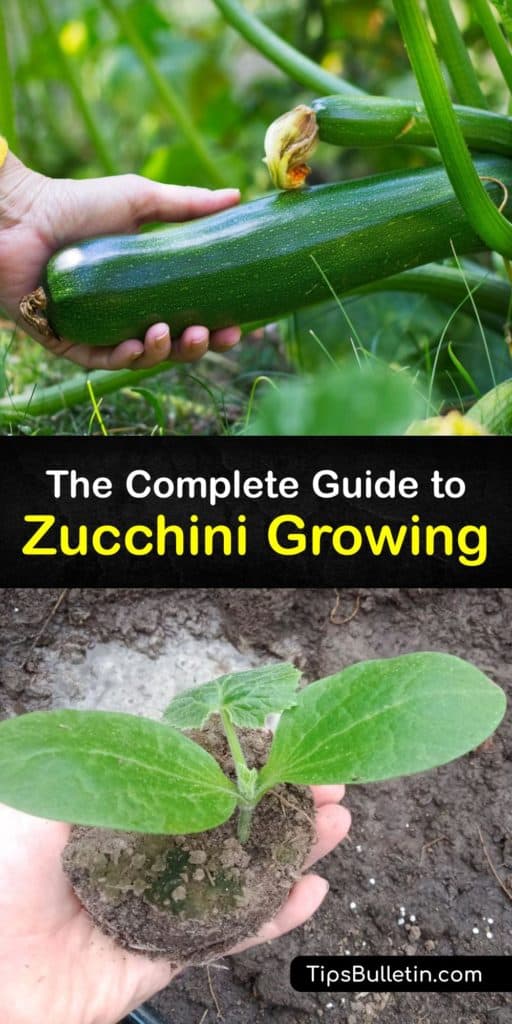 If you know how to grow zucchini from start to finish from reading this guide, share these steps for growing zucchini on Facebook and Pinterest.