Arugula (Eruca vesicaria) is a tasty salad green that grows quickly as an annual leafy vegetable in the Brassica family. Many growers are interested in growing arugula as part of their homegrown produce, yet they struggle with how to harvest arugula or when to harvest arugula for the biggest harvest.
Unlike many fruits and vegetables, knowing when to harvest-arugula is not always straightforward. Picking arugula at different stages changes the texture and flavor profile, and harvesting it incorrectly can damage or even destroy a plant.
Arugula has a slightly spicy and tangy flavor. The leaves are highly lobed and range from three to six inches long. The leaves form lovely rosettes, or arugula flowers, as they mature.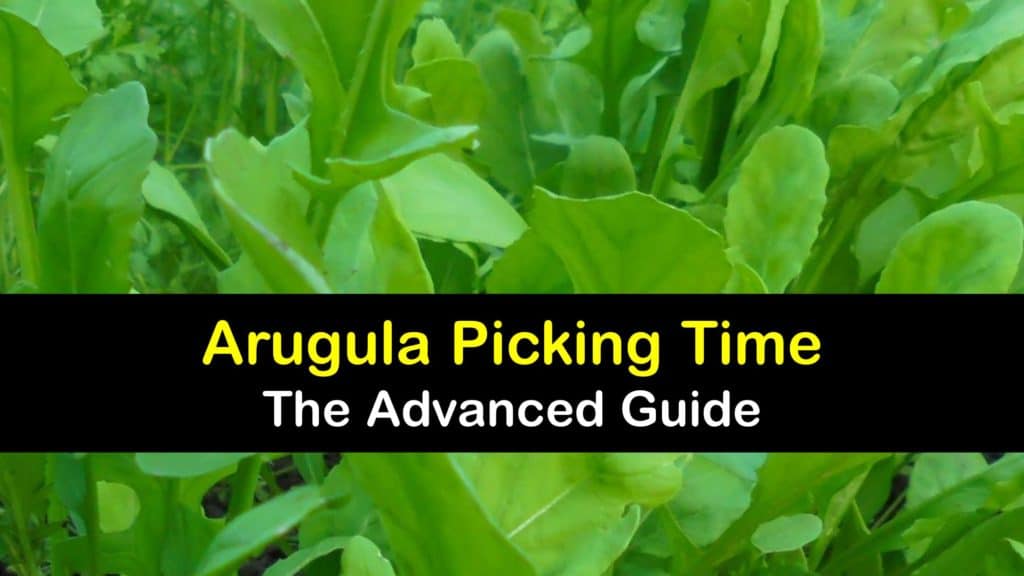 When to Pick Arugula for a Huge Harvest
Arugula is a vegetable most people either love or despise. Some dislike the musky odor and flavor of different kinds of arugula, while others find its peppery zest wonderfully refreshing.
This leafy green vegetable has uneven, lobed leaves that are tender and delightful while young and bitter as they mature. The leaves are commonly used raw in salads or to garnish sandwiches and stir-fries and soups.
Arugula is a cool-season, fast-growing green. Seedlings are available in nurseries, though it is typically grown from seed. Start arugula seed indoors four to six weeks before the last frost date. Some growers prefer to direct seed in the garden because it tolerates cold soil.
Sow arugula in the early spring or late summer as a cool weather crop perfect for growing in the cool-season. Knowing when to pick arugula ensures you get the ideal baby greens or spicy mature leaves and maximize the output of your arugula plants.
Knowing how to harvest arugula and when to pick arugula gives you the highest chance of enjoying your arugula plants longer and understanding when to harvest arugula for the desired flavor.
Types of Arugula to Grow at Home
Most arugula cultivars are suitable for home gardeners wishing to grow arugula. Different types vary based on flavor and appearance. Whether you want to try something new, favor heirloom varieties, or live in a warmer climate and require some bolt resistance, select arugula cultivars for a successful and tasty harvest.
Choose arugula based on your tastes and desired characteristics. To extend your access to the crop, succession plant a fresh batch every couple of weeks.
When you grow arugula, begin by planting seeds over the prepared ground and pressing them down. For spinach or arugula, the seeds are tiny and should only be covered by a thin layer of soil. Thin the plants to a 4-6-inch spacing as they grow. Use the trimmed seedlings in salads or other culinary applications.
Arugula Plant Care
Arugula thrives in full sun, at least six hours of sunshine per day. The shallow root system prefers well-drained dirt with a pH range of slightly acidic to neutral; it may grow in many soil types but favors nutrient-rich loam.
Regular irrigation provides optimum development and flavor, like radishes and other crops. When the top inch of the earth feels dry to touch, water keeps the ground moist, not saturated.
Temperatures between 45-65 °F are suitable for arugula. It can withstand winter, though it struggles in the extreme heat of summer. Extend the growing season by covering it with a row cover and shielding it from the sun.
Because arugula grows so quickly, a single application of nitrogen fertilizer or aged compost poured into the soil at planting time is generally plenty. Arugula, like other green crops, relies heavily on nitrogen.
When to Harvest Arugula from Your Garden
Before harvesting arugula, growers must determine when is arugula ready to pick by answering the question of how long does arugula take to grow?
Deciding when to harvest arugula depends on when you planted your arugula seeds in the first place. In USDA Hardiness Zones 3-6, sow as soon as the soil thaws in the spring because it's a cool-weather crop.
Plant in early spring for a later spring yield or late summer for an autumn crop in Zones 7-11. Arugula plants mature quickly compared to lettuce, making it an excellent salad option.
The quickest-maturing cultivars are ready to harvest only 35 days after seeding. After 50 days, the majority of types are ready. Look on the back of the seed packet to find out when the variety you're growing matures.
When it comes to harvesting, knowing which type you're producing is the best guide, but you don't have to wait the whole growing season before picking a few leaves for salads and sandwiches.
Young and tender leaves with a mild flavor provide the most fantastic salad base. Arugula's peppery flavor is more subtle in fresh greens. However, if you enjoy spicy salad greens, wait until the whole plant is more developed before harvesting.
An older leaf has a sharper taste; nevertheless, your plants may bolt if you wait too long, especially in hot weather. Some individuals find this leafy green is too bitter after bolting. Use bolted leaves to produce a delicious pesto or add a spicy touch to your preferred pasta dish.
How to Harvest Arugula
Arugula harvest time is exciting, and collecting your arugula is straightforward. Ensure the individual leaves are long enough to be used as baby arugula greens. They're ready to pick as baby greens when they're two to three inches long.
Depending on the variety, it takes three weeks to reach this stage after seeding. Pinch off a few young leaves from the bunches of outer leaves of each plant if you only need a few for a small salad or garnish, leaving plenty of new leaves to continue growing and maturing in the middle. The same is true when you pick lettuce so it keeps growing and you have a continuous crop.
To get more leaves, start by cutting more mature outer leaves using a pair of clean gardening shears or kitchen scissors, snipping them at the base of their stems. Then, cut the young leaves from the plant's core. All new growth on the central stalk, the tiniest baby arugula leaves, and a few large ones should be left alone.
It's possible to harvest half of the plant at a time without harming it. Encourage new growth by trimming it back, which slows bolting and allows you to cut now and harvest again later. Since cilantro is ready to harvest at the same time, take care of it now, too.
To quickly harvest an entire plant when it's mature, about 35-50 days after planting, depending on the cultivar – loosen the earth with your fingers and gently pull the plant up, roots and all. It's a good time to harvest shallots and onions as well.
Storing Arugula After Harvest
Like many salad greens, arugula does best when stored flat in an airtight plastic bag in the refrigerator's crisper drawer. Spacing the leaves in layers with a paper towel between each layer allows excess moisture to be absorbed and increases the lifespan of your arugula. Produce stored with this technique lasts up to a few weeks in the refrigerator.
Arugula Pests to Avoid
Arugula plants are resistant to disease, but bacterial leaf spots and powdery mildew are possible. Furthermore, because arugula has a short, early growing season, you'll likely escape most insect infestations in the spring. If you plant a second crop in late summer, pests are more likely to be an issue. Plant leek and beans with arugula to deter bugs and keep them off your plants.
Slugs, cabbage worms, flea beetles, aphids, and diamondback moths are attracted to arugula plants. Keep a lookout for bug eggs and manually remove any you find. Spray water on aphids to kill them. Sprinkle diatomaceous earth or use another conventional approach to keep slugs away from the fragile foliage.
Arugula is a popular and tasty salad green, loved by many for its versatility. It is a simple plant to cultivate and care for if it has constant moisture, mild temperatures, and plenty of sunlight.
Arugula seeds need between four to seven weeks to sprout and harvest. Arugula is an annual, which means it lives for only one season. This tasty leafy green is the perfect crop for new gardeners or a seasoned gardener looking for a versatile addition to salads, sandwiches, and more.
Whether you plan to harvest baby greens or prefer the mature spicy leaves of an older plant, knowing how to harvest arugula and when to harvest arugula ensures you get the most from your plants.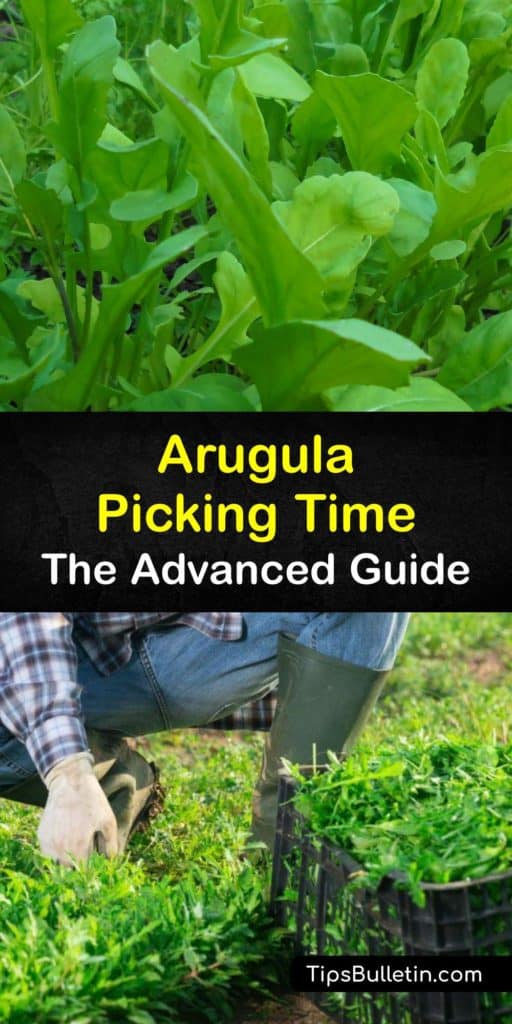 If you loved this article on how to harvest arugula, share these clever tips on when to pick arugula with your friends and family on Pinterest and Facebook.