Basil plants are a wonderful annual herb to incorporate into your garden. Learning to plant and how to harvest basil are crucial if you want to have fresh basil for a multitude of recipes. Although it is undoubtedly feasible to purchase basil leaves at your local grocery store, growing fresh basil in your garden comes with many advantages.
Growing fresh leaves saves you money, allows you to be active outdoors, and allows you to have sweet basil free of pesticides. This article shows you how easy harvesting basil is, how to store basil, and how to protect your basil stems from harmful insects that steal nutrients from your plant.
Knowing when to pick basil may seem unimportant. However, when you harvest-basil at the right time in the growing season, the leaves have more flavor and last longer in storage. Follow these step-by-step gardening tips to produce fantastic basil for a homemade pesto or Caprese salad.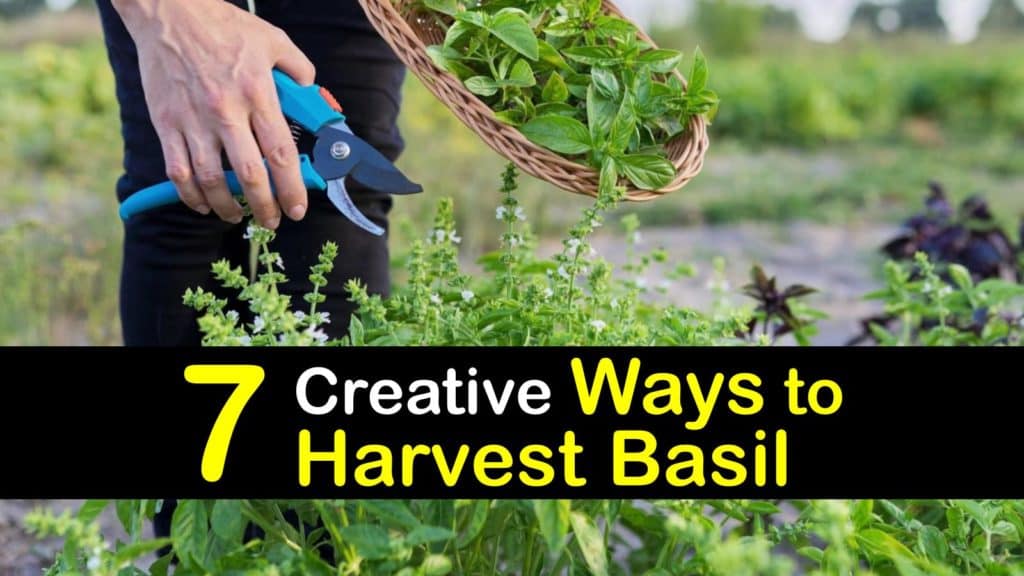 Different Varieties of Basil to Grow
Dried basil is a common ingredient in a variety of Italian dishes. Before you learn how to plant basil seeds and harvest leaves, learn more about the different basil types.
Thai basil originates in Southeastern Asia and makes a good substitute for holy basil. Other types of basil include lemon basil and purple basil, both of which are perfect for salads.
Lemon basil is milder, while purple basil has a spicy kick. Choosing what basil to plant this growing season depends on your taste.
How to Plant Basil Seeds before Harvesting Basil
Basil is an annual plant, meaning you have to replant your basil each year. When exposed to cold temperatures, basil roots cannot survive and do not grow back. Start planting basil seeds about two weeks before the last frost date.
As you sow your basil seeds, cover the seeds with about ¼ inch of soil and separate each plant by about six to 12 inches. How long does it take for basil to grow? Knowing when to harvest basil is different from when to pick garlic. With the proper care, basil takes about three to four weeks to fully mature.
If temperatures are unseasonably colder than average, you do not have to wait until next spring to plant basil. We suggest trying to germinate basil seeds in a pot when outdoor temperatures are cool.
Propagating basil from cuttings is another way to grow this delicious herb.
How to Harvest Basil the Right Way
Harvest the herb after basil plants produce multiple sets of leaves. Learning how to harvest basil is an essential step in making sure you do not damage the leaves and lose some of their fresh flavors.
Harvesting basil is best done in the early morning, so direct sunlight does not dry out the leaves. Harvesting early in the day ensures the leaves are as juicy as possible.
Using a sharp pair of scissors or gardening shears, snip basil leaves at the stem's base. Pick basil leaves throughout the entire summer, so the basil continues to produce leaves in the future.
When you prune your basil plant, expect about one cup of basil leaves each week.
When to Pick Basil Leaves
There are a couple of important gardening questions to ask before harvesting basil. When are basil ripe? When is basil ready to harvest?
When a basil plant is about six to eight inches tall, the basil leaves are ready to harvest. Temperatures between 75 and 80℉ are the ideal temperature range where basil leaves begin to produce rapidly.
It is simple to tell when the leaves are ready for harvest by looking at the basil plant. After basil sprouts six pairs of leaves on a branch, it is a quick indicator that they are prepared for harvest.
Another sign basil leaves are ripe is when the plants start to set flower buds. With the correct information and gardening tools, harvesting basil leaves is easy.
Store Your Basil in the Freezer
The refrigerator is often the first place we think of to store foods. How long does basil last in the fridge? If you put the stems in water, the basil lasts for several days.
Although it may seem unorthodox initially, an excellent way to preserve basil is with ice cube trays.
Storing basil in the freezer prevents the leaves from losing their flavor while keeping them fresh for many months. Although it is possible to store basil in a plastic bag, creating basil cubes is more effective.
Use a food processor to chop your basil leaves coarsely. In a small bowl, drizzle your basil leaves with a little olive oil to prevent spoilage while the leaves are in the freezer. Transfer the mixture into ice cube trays and place the basil cubes in the freezer.
To save a little bit of space in the freezer, transfer the cubes into freezer bags. This DIY storage process is a fantastic way to keep your basil leaves fresh.
How to Preserve Dried Basil
Another way to store basil is to dry it out. Dry basil does lose some of its flavor, but it is a fantastic way to have it ready for future recipes. Some people believe that you need a dehydrator to dry out basil, but that's not necessary.
Cut off the stems of the basil and set them on a paper towel. Place your leaves in a well-ventilated area for three to four days so that they can dry.
If your leaves still have a little moisture, set them on a tray in the oven on a low setting with the door slightly ajar. Place your dried basil leaves in an airtight container or glass jars, like Mason jars.
Pests that Invade Basil Plants
As you educate yourself on the best ways to grow basil, be aware of the various pests that try to invade your plant. Japanese beetles, aphids, and slugs are prevalent pests that will destroy your basil if not treated immediately.
Signs that aphids or Japanese beetles are attacking your plant include damage to the leaves, wilted stems, and dead plants.
When there is plenty of full sun, aphids and Japanese beetles are the most widespread during the summer months. Aphids are tiny green bugs, while Japanese beetles have a shiny exoskeleton.
How to Eliminate Pests Naturally
Although it may seem complicated to get rid of aphids or Japanese beetles, everyday household products work great to treat your basil plants.
Dish soap suffocates bugs as they become coated in the substance, effectively killing them. Making a DIY bug deterrent is quick, inexpensive, and only calls for two ingredients.
Although adding essential oil is not a requirement, the peppermint scent drives bugs away. For getting rid of aphids on basil, pour the ingredients into a spray bottle and shake gently. Spray directly on your plants and around the soil to ensure all potential pests are scared away.
Including basil in your backyard garden is a terrific way to have fresh leaves ready for a wide array of Italian lunches and dinners.
Another advantage of planting basil is that each plant produces plenty of leaves and continues throughout the growing season. Because this herb is annual, it needs to be replanted each year.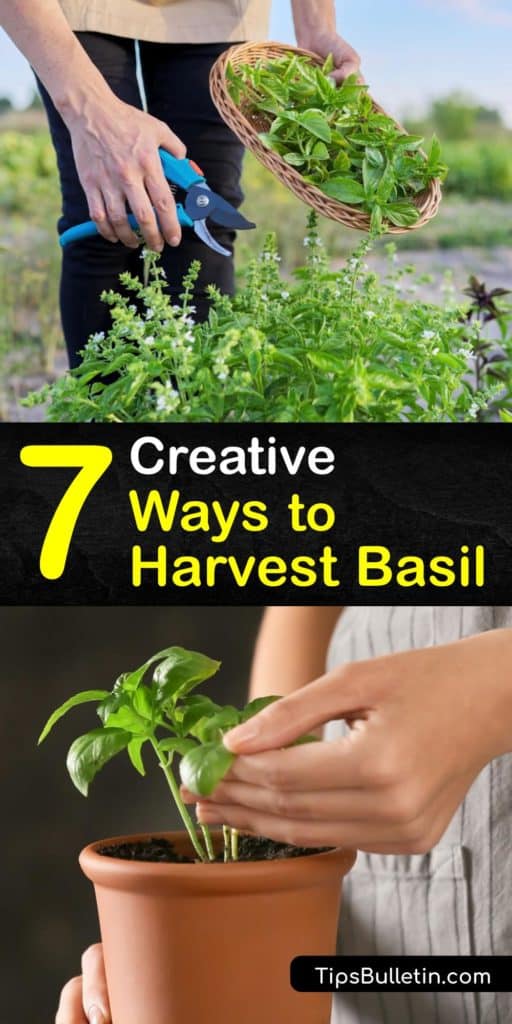 If you discovered how to harvest basil from your own plants, share this article teaching you when to pick basil on Pinterest or Facebook with your family and friends.