Whether you like to use them for juicing, pickling, cooking your favorite recipes, or eating fresh, beets are some of the most commonly grown veggies for home gardeners. With the right conditions and care, it's possible to enjoy several crops of beets throughout the growing season. Read on to learn how to harvest beets, when to pick beets, and more helpful tips and tricks for getting your best beet crop yet.
Beets, or Beta vulgaris, are cool-season crops related to amaranth, quinoa, spinach, and Swiss chard. They usually get harvested in the spring and fall. In hot weather, they don't grow as well and the beetroot may become tough and woody.
These types of root vegetables are occasionally challenging for beginner gardeners, as it's difficult to tell what the underground taproot looks like before digging it up. In this article, discover all you need to know about harvesting beets, the best storage methods, and simple solutions for commonplace beet-growing issues.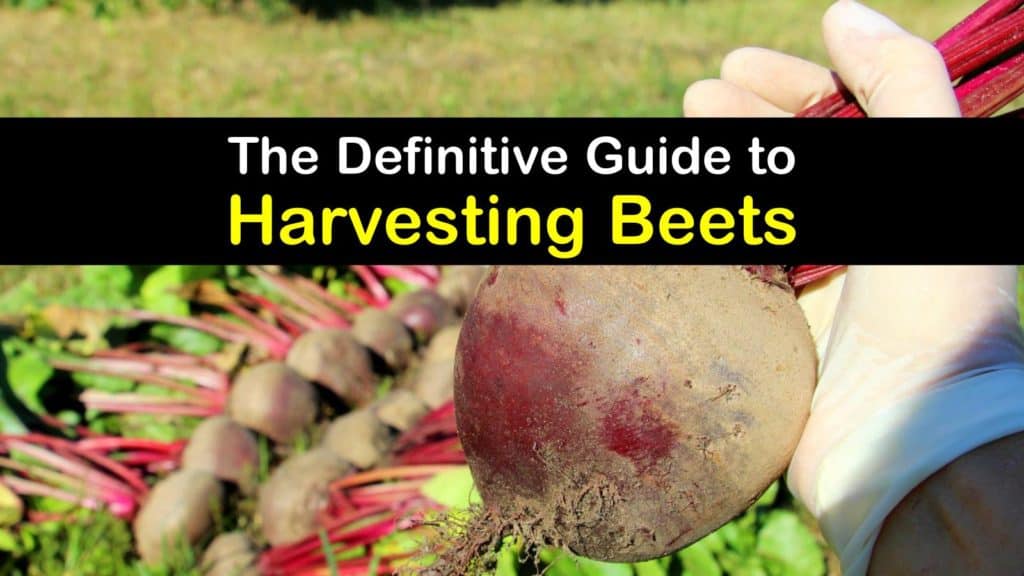 What to Know about Harvesting Beets
Have you ever asked, "How long does it take for beets to grow?" It depends on which variety you planted and the environmental conditions throughout the growing season.
In general, the different varieties of beets grow best in a location that gets full sun to partial shade with consistently moist soil rich in organic matter. Spread grass clippings, leaves, peat moss, straw, or pine needles as mulch around your plants to insulate the soil, hold in moisture, and suppress weed growth.
Germination normally takes five to eight days when the soil temperature is above 50℉. It takes two or three weeks for beet seeds to germinate in colder soil.
Sow beets in early spring in the garden. Growing beets in pots or containers is also an option. Plant seeds two to three weeks before the typical last frost date for your area so you'll be harvesting beets before the weather gets too hot.
When temperatures are consistently above 80℉, beets may begin bolting, which means they prematurely produce a flower stalk, and their leaves and taproot turn bitter and fibrous.
Bolting also happens in response to drought stress, so make sure to keep your beets well-watered. On average, give your beets approximately one inch of water each week and more during periods of especially dry or hot weather.
For a second fall crop, plant beets in late summer or early fall, around four to six weeks before your area's usual first frost. Many growers report that beets taste sweeter after a light frost in fall. However, collect your beets before the ground completely freezes.
One of the best parts of veggie gardening is the opportunity to try unusual cultivars that aren't available at supermarkets. Here are a few of the best kinds of beets to grow.
When to Harvest Beets
If you're growing beets for the first time, you may find yourself wondering, "When are beets ready to harvest?" When to harvest beets depends on your intended culinary uses.
The best time to harvest beets is once the beetroot's tops or shoulders protrude from the soil. It's much easier to establish their current size. It's beet harvest time when they're between the size of a golf ball and a tennis ball.
Baby beets have a more robust flavor and get harvested when their shoulders are two to three inches wide. If you'd rather harvest larger beets that have a milder flavor, wait until their shoulders are four to six inches wide.
If you didn't get around to harvesting beets in time, they might be fibrous, woody, and inedible. However, the beet greens will probably still be edible. Beet leaves are an excellent source of calcium, iron, manganese, and vitamin K. Add them to salads, side dishes, or juice them in green smoothies.
How to Harvest Beets
Beets growing season is short they and mature in 50-70 days. There are two primary strategies for how to harvest beets. First, thoroughly water your garden soil for a few days in advance, so they come up more easily.
Hand-harvest beets by grasping the stems where the leaves meet the root and gently pulling until the beetroot comes out of the soil. Take care not to break the stems.
If your soil is more compacted, dig the beets out but be careful not to slice into the beetroot. Place your shovel or hand trowel several inches away from the roots' edge and softly loosen the soil. Then, lift the beets out of the ground from underneath.
Best Storage Methods for Homegrown Beets
Fresh beets last in the fridge for two to three weeks when stored correctly. Freezing, pickling, or canning is best for long-term storage unless you have a root cellar with a temperature consistently between 32-40℉. Store your beets in the root cellar packed in damp sawdust, sand, or peat moss in a lidded container.
After harvesting beets from your veggie garden, don't remove the soil unless you're using them within a few days. Otherwise, remove the leaves and completely dry the beetroots. Brush some of the excess soil away and place them in a sealed plastic bag in your refrigerator's crisper drawer.
Freezing beets is an ideal way to extend their shelf life. Boil them whole for 20-45 minutes until they're tender. Allow them to cool before handling. Peel the skins, chop or slice them, and place the pieces in a freezer bag or airtight container. Clearly label them with the date, and use frozen beets within a year.
Pickling is another fantastic method for storing your beet crop. Try this easy recipe for making pickled beets.
Begin by sanitizing your Mason jars and lids. Submerge them in boiling water for at least ten minutes.
In a large soup pot, boil the beets whole for 15 minutes or until fork-tender. Conserve two cups of the boiled water, and drain the rest. Let the beets cool enough to handle, then peel and slice them.
Pour the beet water, sugar, vinegar, and salt into a large saucepan and bring to a rapid boil. Add several cloves to each of your Mason jars and fill them with beets. Fill with the hot brine and seal the jars.
Place a rack in the bottom of your soup pot and fill it with water. Bring it to a rolling boil, then carefully place each jar in with the top submerged. Add more water if needed. Be sure to leave a little gap between them. Place the lid on the pot and boil the jars for ten minutes.
Pickled beets are ready to eat after they cure for at least two weeks. Consume within a year, and discard if you notice a foul odor, flavor, or color.
Troubleshooting Common Problems
One of the most commonplace reasons for a disappointing beet harvest is nutrient deficiencies in your garden soil. Contact your local cooperative extension service regarding a soil test if you're experiencing difficulties.
Since beets are primarily root crops, a potassium deficiency may cause the beetroots to grow stunted and have an inferior flavor. The leaves also turn yellow or brown and wither.
Quick ways to add potassium to your soil include incorporating coffee grounds, sawdust, or wood ash in the garden bed. Another strategy for giving your plants a potassium boost is to make a banana peel infusion.
Cut banana peels into small pieces and place them in a clean spray bottle. Fill it with warm water and allow the mixture to ferment for two weeks. Use it as a foliar spray and a soil drench.
Boron deficiency, or black heart, is another prevalent problem when growing beets. Boron is a crucial micronutrient that supports cell wall development. Symptoms of boron deficiency include black, woody spots on the taproots and distorted leaf growth.
Seaweed fertilizer and kelp meal add boron to your soil, or mix one teaspoon of Borax with a gallon of water to make a foliar spray and soil drench.
Overcrowding also leads to stunted growth. Spacing between each plant should be four to six inches so that the taproots don't touch once they mature.
Leaf miners are one of the most frequent insect pests that affect beet plants. They're fly larvae that chew tunnels through leaf tissue as they feed, resulting in squiggly lines on the leaves.
Protect young seedlings with a row cover to prevent insects from laying eggs on the tender young plants. Spray any affected plants with organic neem oil every few days.
Beets are a straightforward and rewarding cool-season crop to grow. In most climates, it's possible to harvest beets at least twice each growing season. When to harvest beets depends on how you like to use them.
Enjoy your homegrown beetroots fresh, steamed, boiled, roasted, or pickled. Beet greens are also edible and are used just like chard, kale, and spinach.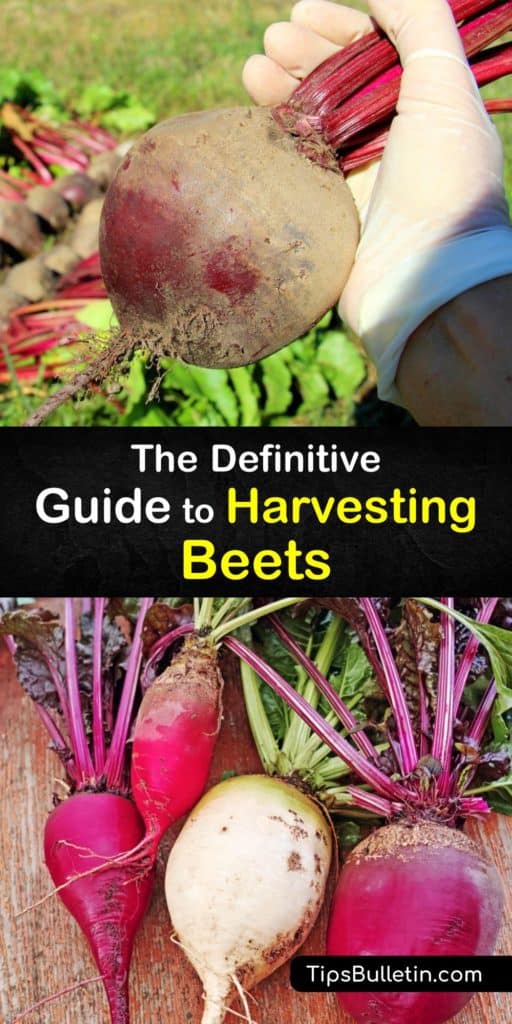 If you found these gardening tips helpful, please feel free to share this article about how to harvest beets with your green-thumbed friends and family on Pinterest and Facebook.