Between acorn, Hubbard, Delicata, and butternut, is there anything better than walking outside and seeing all different types of winter squash varieties growing in your garden? Butternut squash is one of the most common types of squash grown among home gardeners, and few other kinds compare to the delicate, sweet taste of its orange flesh.
Though growing it is the hard part, understanding how to harvest butternut squash is equally important. There are a few key differences when harvesting butternut squash compared to summer squash like zucchini. These veggies have thick skin, and mature squash often looks and feels different from one another.
While summer varieties are soft and edible right away, winter gourds like buttercup squash, acorn squash, and spaghetti squash require more attention to detail at the end of the growing season. This article walks you through when to harvest butternut squash and the first signs that this fast grower is ready to be cut from the vine.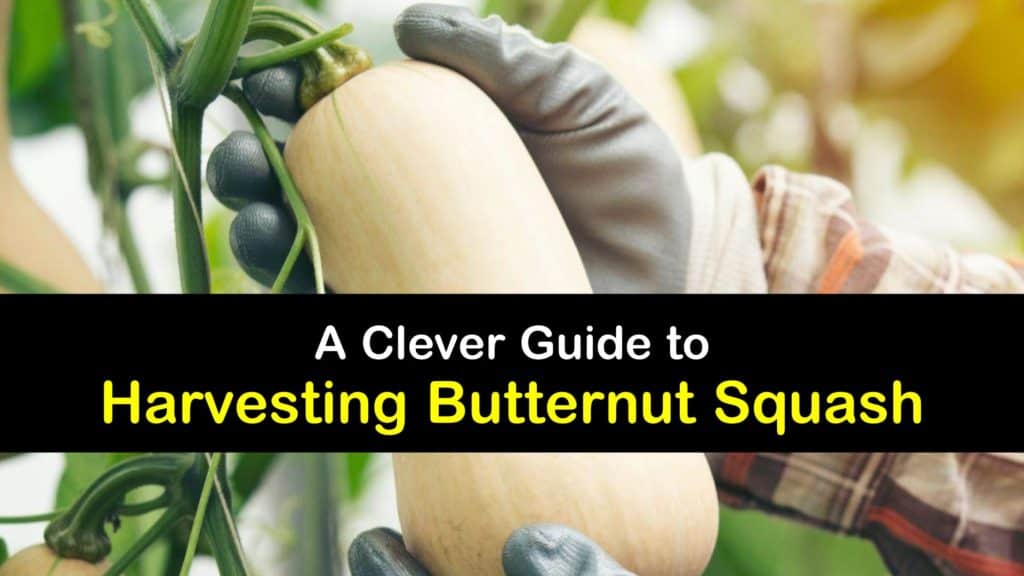 Tips for Harvesting Butternut Squash
The timing for when to pick butternut squash, also called Cucurbita moschata, can be a little tricky. For example, how long does it take for butternut squash to grow? When are butternut squash ready to harvest aside from time in the ground? All of your questions about the butternut squash harvest time will be answered.
When to Harvest Butternut Squash
Before learning how to harvest butternut squash, understand that the timing of when to harvest butternut squash comes first. If these plants don't spend enough time in the ground and under the full sun before the first frost of fall, you won't be able to harvest them.
Butternut squash fruits are usually ready about 50 to 55 days after fruit set. However, they typically take between 100 and 120 days to mature from the day they get planted in the ground.
If you sow seeds in the late spring during butternut squash planting season, they are typically ready to cut by late summer. Expect some variations in this timeline because environmental factors could speed up or slow down the process.
Check Out the Stem
Another indicator that the squash is ready for shears is the stem. Ripe squash ready for harvesting has a stem that starts to turn brown and dry out. The vine no longer requires any nutrients.
Look at the Skin and Rind
Growing butternut squash requires time and good air circulation to prevent issues with fungi and mildew. In addition, your fruits should be free from any signs of damage and have a thick rind that is hard to pierce using your fingernail.
Color is Important
The color of the rind is just as vital as the thickness. Ripe butternut squash is tan and no longer has the light green stripes visible at the beginning of the growing season. Any signs of green mean that the fruit still isn't ripe.
Weight – Heavier is Better
The final factor to consider before harvesting butternut squash is the weight of the fruits. Most mature squash plants weigh between two and three pounds. The fruits usually feel heavy for their size and stop growing toward the end.
How to Harvest Butternut Squash
How to harvest butternut squash the right way helps you keep from damaging the fruits. When to pick squash is important to have the best-tasting squash. To start the process, grab a sharp knife or clean pair of garden pruners and clip it off at the stem, leaving at least two inches of stem still attached.
If the squash doesn't have a vine attached, it won't cure properly, and the storage life gets cut short. You might have to ditch a few fruits that get damaged from vine borers, cucumber beetles, or squash bugs.
After harvesting the squash, take it to a dry place with about 80 percent relative humidity. Allow the fruits to cure above room temperature or about 80 degrees Fahrenheit or cure the squash in full sun for about five to seven days.
Make sure there is plenty of good ventilation during the curing process. Once cured, store your squash in a cool place, like a root cellar. The shelf life of butternut squash is several months until ready to cook it into something tasty for your loved ones.
Grab a heavy pot and heat the olive oil over medium heat. Add diced onion and garlic and cook until softened. Add the chunks of squash and vegetable broth. Bring the pot's contents to a boil for 15 to 20 minutes or until the squash softens.
Pour all the cooked and remaining ingredients into a blender and blend until smooth. Pour the soup into bowls and serve right away.
If you have extra squash, you can can butternut squash soup to enjoy over the winter. You can freeze raw butternut squash, too, for use in soup, smoothies, or a side dish.
Butternut squash plants are the perfect fall and winter veggies. They not only taste delicious, but they store for a long time and give our bodies essential nutrients throughout the winter. Harvesting them at the perfect time is one of the few ways to ensure that our crops taste as good as possible.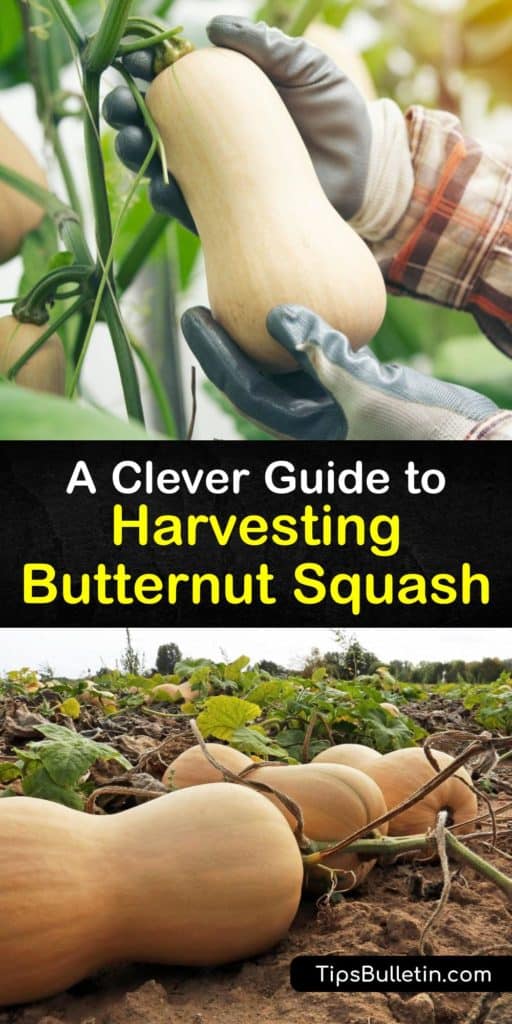 If learning how to harvest butternut squash has made you taste a difference in your fresh fruits and veggies, share these indicators to look for when harvesting butternut squash on Facebook and Pinterest.