There's nothing quite like the sweetly satisfying crunch of homegrown carrots. These delicious and nutritious root crops are a staple in many home veggie gardens. In this article, learn all about how to harvest carrots at the end of the growing season.
There are numerous carrot varieties to choose between, from time-tested heirlooms to newly developed hybrids. Select cultivars that suit your specific growing climate and available garden space.
Critical factors to keep in mind include the length of your growing season, average temperatures throughout the year, and your intended culinary uses.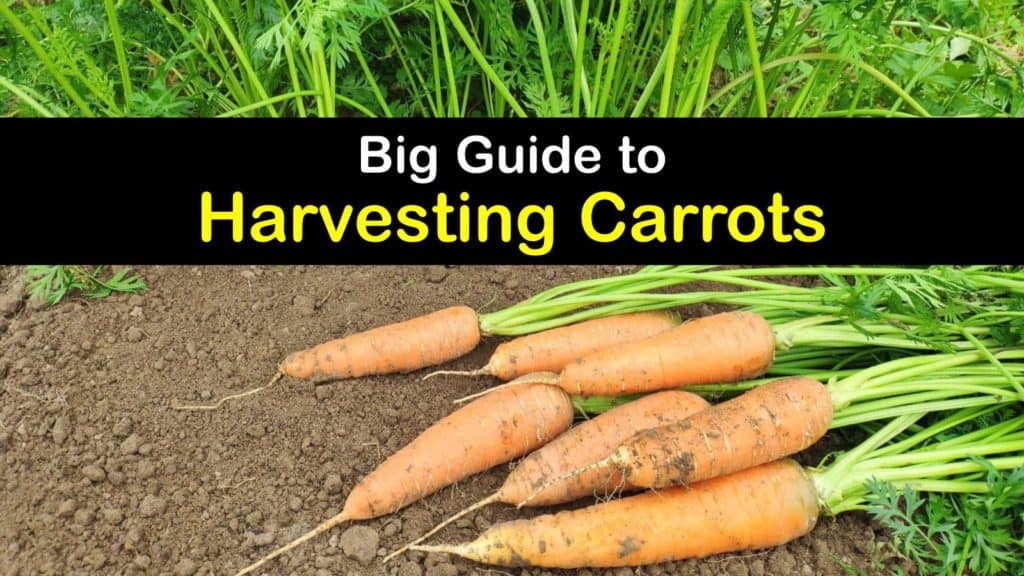 Best Tips and Tricks for Harvesting Carrots
In general, carrots grow best in the cool weather of spring and fall. The plants are remarkably cold-hardy and can withstand temperatures as low as 15℉. However, harvest them before the ground freezes.
Similarly, the flavor and texture of carrots are negatively affected by hot weather. At temperatures above 85℉, carrots become bitter and woody. Read on to learn when to harvest carrots for the best possible flavor and texture.
One of the trickiest aspects of growing carrots is knowing when to harvest them. Have you ever wondered, "How long does it take for carrots to grow?" It depends on which cultivars you grow.
To get a basic idea of when to pick carrots in your garden or after you grow carrots inside, read the information listed on the backside of the seed packet to find out the average days to harvest.
However, remember that your actual carrot harvest time depends on environmental factors like temperature, rainfall, and soil conditions for all different kinds of carrots. The same is true for when to harvest parsnips, turnips, radishes, and other root veggies.
For the best chance of success at harvest time, ensure that your carrots get appropriate amounts of light, nutrients, and water, whether you plant carrots in containers or your garden. Carrots tolerate partial shade but grow best in full sun with six or more hours of direct sunlight throughout the day.
After planting carrots from seedlings or seeds, know that carrots need approximately one inch of water per week. Give them a bit extra during periods of especially hot or dry weather. Drought stress causes carrots to become stunted and develop cracks. Mulching helps retain moisture, insulate the soil, and minimize weed growth.
Carrots aren't particularly heavy feeders, and adding a bit of organic compost or all-purpose fertilizer to your garden soil several weeks before planting is usually all you need.
Make sure your carrots don't receive too much nitrogen, or you'll end up with oversized green tops and undersized carrot roots.
Another reason for a disappointing carrot harvest might be overcrowding. When they grow too close together, carrots may become stunted or deformed. Spacing between plants should be at least two or three inches.
Carrots thrive in well-draining, loose soil that's free from obstacles like rocks or tree roots. In compacted or heavy soil, they tend to grow shorter than normal.
Raised beds are ideal for growing carrots because maintaining loose soil is easier. They also make harvesting carrots a bit more convenient.
When to Harvest Carrots
Many gardeners have asked, "When are carrots ready to harvest?" Depending on which types you plant, expect to be harvesting carrots between 70 and 80 days after you plant carrots from seed. To harvest baby carrots, pick them after 30 or 40 days.
After planting seeds in the springtime, harvest carrots in early summer before daytime temperatures rise above 85℉. Sow seeds for your spring carrot crop once the soil is warmer than 65℉ for the best germination rates.
It's beneficial to apply a generous layer of organic compost or dark-colored mulch to your garden beds a few weeks ahead of planting to warm the soil. Carrot seeds won't germinate if the soil temperature is below 40℉.
Plant carrot seeds in late summer for an autumn crop. Some growers report that carrots taste sweeter when harvested after a light frost in the fall.
However, a hard frost may burn the tops of your carrots if they're protruding from the soil. To prevent frost damage, cover them with several inches of mulch.
In mild climates, it's possible to harvest fresh carrots all summer long by succession planting carrot seeds every three or four weeks. Sow seeds between the growing plants so that by the time the first round is ready to harvest, the second round has begun to germinate.
How to Harvest Carrots
Carrots are ready for harvesting when the top inch of the root begins protruding above the soil. Depending on the cultivar, mature carrots are typically a half-inch to an inch in diameter.
If you prefer baby carrots, pick them several weeks before the time indicated on the seed packet. In general, baby carrots taste sweeter than mature carrots.
Firmly grip the carrot tops at their base, just above the root. Gently tug the carrots out of the soil, taking care not to break them. If necessary, use a small trowel to loosen the soil around your carrots.
Carrots are an incredibly nutritious root vegetable. They come loaded with beta carotene, which is converted into vitamin A in the body and supports eye health and immune function. Carrots are also an excellent source of soluble fiber, which improves digestion and gut health.
Carrot leaves often get overlooked as edible greens. They contain calcium, potassium, and vitamin C. Carrot greens taste like parsley, with a hint of carrot flavor.
Use them in salads, sauces, or soups. Harvest carrot greens as needed by snipping the outer leaves with a clean, sharp pair of scissors.
Best Storage Methods
To prepare your carrots for storage, remove all but the top half-inch of the green tops. Thoroughly rinse them to remove any excess soil and allow them to air-dry.
For the best flavor and texture, store carrots in sealed plastic bags in the crisper drawer of your refrigerator, or place them in a tub of dry sawdust and keep them in a cool, dry place. When stored properly, carrots last up to two or three months. This is also the best way to store baby carrots.
When do carrots go bad? You can tell a bad carrot if it is slimy, has an off-odor, or it is rubbery. Add these to the compost bin or trash.
Pest and Disease Control Tactics for Carrots
Although carrots are customarily quite simple to grow, there are a few pest and disease problems to watch out for. Healthy plants are far less vulnerable to attacks from insects and pathogens, so make sure to provide appropriate amounts of light, nutrients, and water.
The most frequent insect pests for carrots include carrot weevils, flea beetles, leafhoppers, root-knot nematodes, and the carrot rust fly. Eliminate carrot weevils and nematodes with neem oil or Bacillus thuringiensis.
Control leaf-eating pests with an organic insecticide spray like horticultural oil or insecticidal soap. In early spring, use a floating row cover to deter pests from laying eggs on tender young plants.
Aster yellows is a plant disease that causes carrots to grow stunted and develop extra hairy roots. It is sometimes spread by insects feeding on the plants, and it overwinters in the soil.
Unfortunately, there is no known remedy. Keep weeds to a minimum, and eliminate pest infestations as quickly as possible. Practice regular crop rotation to prevent pathogens from accumulating in your garden soil.
Top Carrot Varieties for Home Gardeners
When choosing which varieties to grow, it's helpful to distinguish between the four principal classifications of carrots. Chantenay carrots grow short and stout with light orange flesh and an orange-red core.
Danvers carrots are medium-sized and typically have a deep orange color. Nantes carrots usually have a cylindrical shape and a reddish hue. Imperator carrots form the longest roots and are generally less sweet than other types of carrots.
Although harvested as annual crops for their edible roots, carrots are biennial plants. They develop leaves and roots the first growing season, then produce flowers and seeds in their second year.
One of the best parts of growing your own groceries is the opportunity to try unusual varieties that aren't often available at grocery stores. Here are a few of the top carrot cultivars for home gardeners.
Harvesting carrots is one of the most satisfying gardening tasks, and your efforts get rewarded with an abundance of deliciously healthful veggies.
For optimal results, grow root vegetables like carrots, parsnips, and potatoes in rich, loose soil that's free from rocks, tree roots, and other obstructions. When to harvest carrots depends on which varieties you're growing.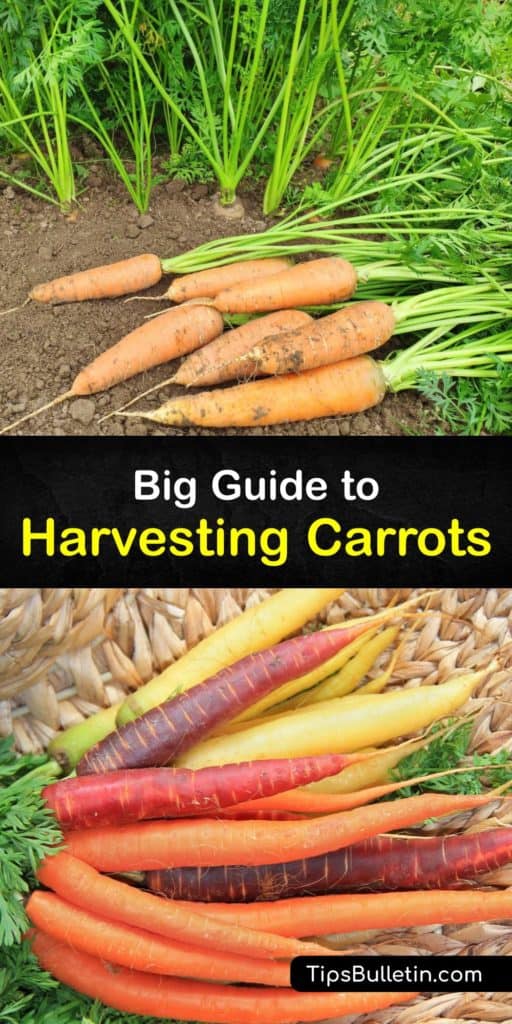 If you enjoyed these gardening tips, please share this article about how to harvest carrots with your green thumb friends and family on Facebook and Pinterest.