Growing cauliflower at home is the best way to enjoy organic curds and florets, and these cool-season cole crops are no more challenging to grow than any other garden vegetable. Discover growing tips, when and how to harvest cauliflower at the end of the season, and ways to store and use your fresh veggies in a delicious recipe.
Cauliflower (Brassica oleracea var. Botrytis) is not the same bland vegetable it once was. These days, you can find this neutral veggie in many forms, including cauliflower rice, mashed cauliflower, and cauliflower pizza. The fun thing about this vegetable is there are different varieties, from Snowball white cauliflower to green and purple cauliflower.
The key to producing healthy cauliflower plants is to grow them during cool weather and harvest cauliflower when the cauliflower head is a perfect size. Harvest time depends on where you live and whether you decide to plant this veggie in the early spring or late summer.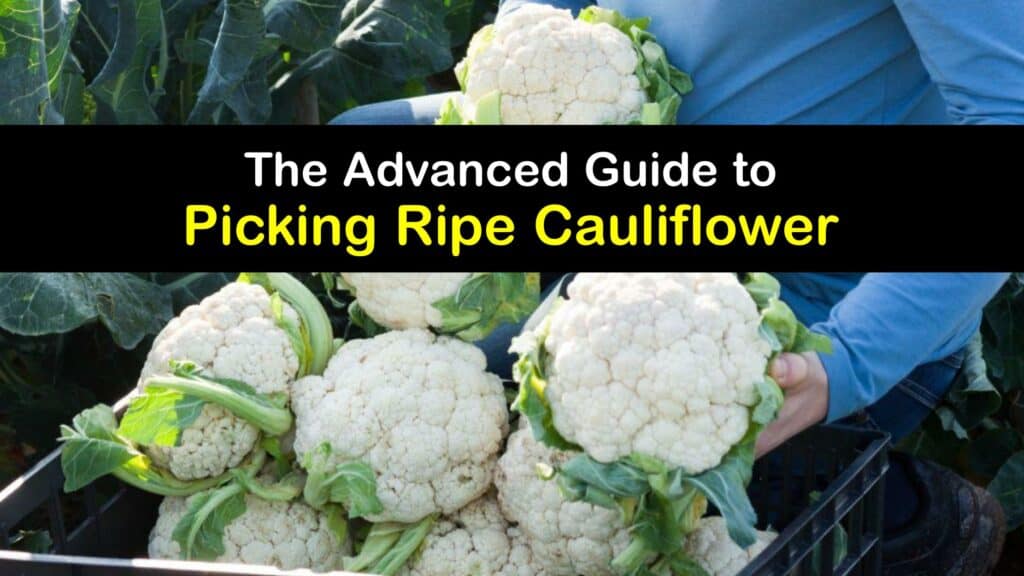 How to Grow and Harvest-Cauliflower
Cauliflower is part of the brassica family, like Brussels sprouts, collards, and broccoli, and they are pretty uncomplicated to grow. Broccoli and cauliflower are not the same plant but they require similar care in the garden and have some of the same storage methods.
Cauliflower plants require optimal conditions for growth. When you begin harvesting cauliflower depends on when you plant your crop.
With rising food prices, home gardening is necessary for many families, and cauliflower is a wonderful addition to the vegetable patch. Explore how and when to harvest cauliflower at the end of the season and store your veggies short and long term. Learn how to care for your plants and problems to watch for as they mature.
Growing Cauliflower for a Healthy Harvest
Planting cauliflower seeds is probably the easiest part of growing cauliflower, but your job does not end there. Here are some growing tips to ensure that you produce the healthiest and most productive plants.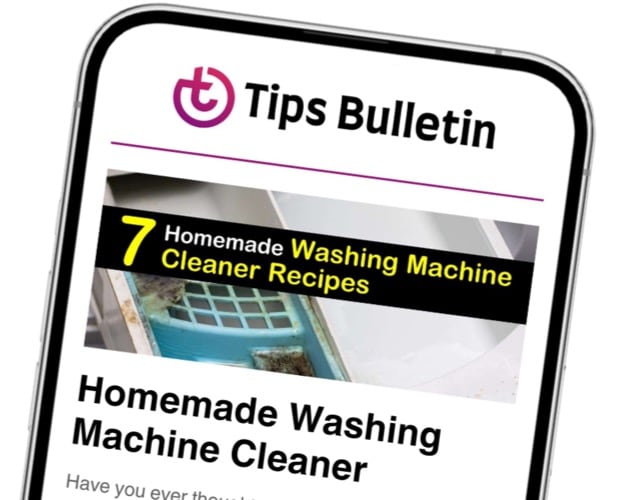 Finally, an email that Transforms Your Home.
Get the latest home and garden tips from our experts, delivered straight to your inbox.
When transplanting cauliflower seedlings outdoors, pick an area where they get at least six hours of full sun daily, and space them 18 inches apart with 30 inches between rows. When growing cauliflower, it's vital to plant at the right time and keep your plants cool as the season warms to avoid buttoning.
Apply organic matter or compost to the dirt if your soil lacks nutrients, and spread a three-inch layer of mulch around the plants to hold moisture and stop weed growth. Give your cauliflower plants an inch to an inch and a half of water each week, feed them a low nitrogen fertilizer when planting, and fertilize every four weeks after that.
Blanching is essential to prevent cauliflower from browning or yellowing. When the small heads appear about a month after sowing, carefully pull several of the largest outer leaves over the cauliflower to hide the developing head and secure them with a rubber band or twine. This step is unnecessary if you grow an heirloom self-blanching variety.
Aphids, flea beetles, cabbage worms, and cabbage loopers are common pests for cauliflower. Remove these insects by hand when you see them, install a row cover to deter them from the plants and keep your cauliflower cool. If you discover an infestation, consider using natural insecticidal soap.
Clubroot, downy mildew, black rot, Alternaria leaf spot, and bacterial soft rot are a few of the bacterial and fungal diseases that affect cauliflower plants. The best way to prevent them from destroying your crops is to sanitize tools after each use, space plants for air circulation, remove weeds and plant debris regularly, and rotate your crops every season.
It's also possible to regrow cauliflower after you harvest your plant. Chop off the bottom of the head and sit that end in a little water to grow roots. Plant in the ground afterward.
When to Harvest Cauliflower
How long does it take for cauliflower to grow? Cauliflower plants are slow growers, and patience is necessary as you wait for them to mature. Determine how long these plants take to grow and when to harvest cauliflower at the end of the growing season.
The cauliflower germination process takes about seven to ten days. However, it takes considerably longer for the seedling to mature into a cauliflower plant.
When are cauliflower ready to harvest? It takes nearly 80 days for a cauliflower plant to grow from seed to harvest. If you live in a cooler region and plant cauliflower in the early spring after the last frost, prepare for a fall harvest. Those who live in warm areas are better off planting cauliflower at the end of summer or fall for a winter crop.
How to Harvest Cauliflower
You've nurtured your plants and patiently waited, and it's finally cauliflower harvest time. It's possible to grow new cauliflowers if you harvest the plant properly. Here is how to pick cauliflower to encourage new plant growth.
When the cauliflower head is between six and eight inches wide and is compact, firm, and white, depending on the type, it's ready for harvesting. Harvest the veggie when it reaches its full color, and avoid waiting to remove the head when the cauliflower spreads out.
Use a knife to chop the cauliflower head at the base of the plant. Make a 45-degree angle near the plant's bottom, leaving a four to six-inch stalk on the head. New, smaller cauliflower heads continue growing where you make your cut, providing you with a more extended harvest.
Harvest the remaining leaves after the plant stops producing decent side shoots and flower buds by slicing them off at the stem's base with shears. Use the leaves for cooking or add them to the compost pile.
How to Store Your Veggies after Harvesting Cauliflower
It's vital to store your veggies properly after harvesting cauliflower to ensure that your crop doesn't go to waste. Learn where to keep cauliflower florets to help them stay as fresh as possible.
Use a knife to remove any remaining leaves and cut off the stalk where it meets the head. Break the head into desired sizes or separate the florets and soak them in a bowl of white vinegar and water for 15-20 minutes.
Strain the vinegar solution, rinse the veggies under running water for a minute, and set them on a clean towel to dry. Place the dried cauliflower into a plastic bag to store and keep cauliflower fresh in the refrigerator for up to one week.
Can You Freeze Cauliflower from the Garden?
You may end up with more cauliflower than you know what to do with after cauliflower harvesting, especially if you grow many plants. Your freezer is the best tool for preventing food waste, and freezing cauliflower is a simple process.
Prepare the cauliflower for freezing by cleaning it and separating the head into desired sizes, and blanch them in a pot of boiling water for a minute or two. Transfer the blanched cauliflower to a bowl of ice water, remove the pieces and pat them dry, and spread them in a layer on a baking sheet.
Flash freeze the veggies in the freezer for a couple of hours, place them into a freezer bag, and set them back in the freezer for several months.
How to Make Crispy Tots with Freshly Harvested Cauliflower
Now that you know how to grow and when to pick cauliflower, it's time to get cooking. If you love tater tots but want to avoid the extra carbs, this cauliflower tot recipe is perfect. These crispy, cheesy nuggets are simple to prepare and a great alternative to potatoes.
Pulse the steamed cauliflower in a processor until riced, and place the rice on a clean kitchen towel. Squeeze the towel to drain the liquid and put the cauliflower into a large bowl. Add the egg, cheddar cheese, Parmesan cheese, chives, and breadcrumbs and mix until combined.
Season with salt and pepper, and spoon tablespoons of the mixture into your hand. Mold the spoonful into a tater-tot shape and set it on a lightly greased baking sheet. Mold the rest of the cauliflower, and place the sheet into a 375°F oven for 20 minutes.
Note that you can also preserve cauliflower in other ways, too. Water bath canning cauliflower is an excellent preservation method, as is making cauliflower pickles.
With a bit of know-how, it's easy to grow just about anything, and cauliflower is no different. The key is to plant and harvest your plants at the right time of year according to your region. Give your plants some TLC, and enjoy a healthy fall crop or winter harvest of tasty vegetables.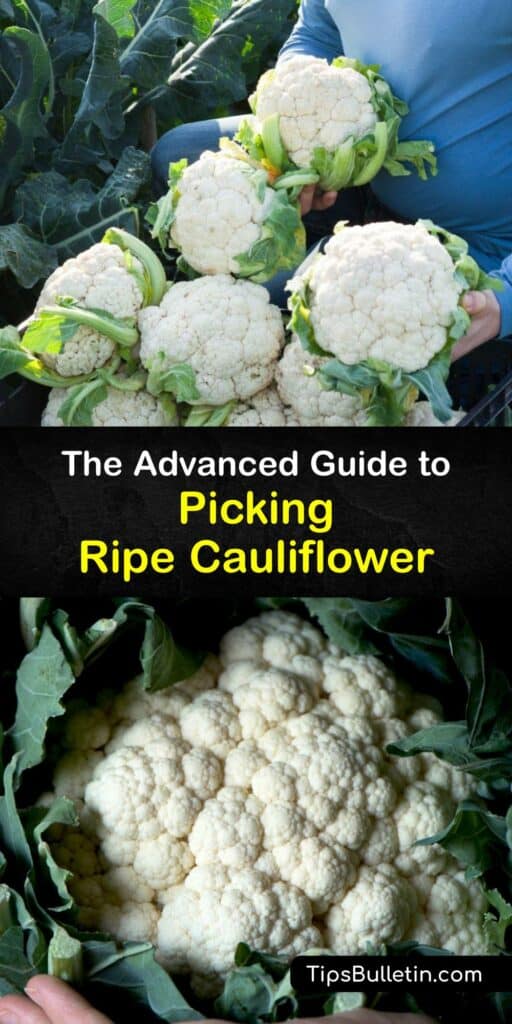 Now that you learned when and how to harvest cauliflower for the tastiest curds and florets, why not share our cauliflower growing and harvesting guide with your family and friends on Facebook and Pinterest?