Cilantro is a wonderfully fragrant herb that boasts a bright, citrusy zest. It's a fast grower and produces edible leaves in as little as 40 days after planting seeds. Find out how to harvest cilantro and discover a few practical ways to get the absolute most from your homegrown cilantro plants.
Cilantro is a cool-season herb that grows best in the spring and fall months when temperatures are between 50-85℉. When mid-summer brings the hot weather, cilantro often starts bolting or prematurely producing flowers and seeds. At this point, cilantro leaves become too bitter to eat.
Growing cilantro in your home herb garden is worth the effort. The leaves, flowers, and seeds are all edible. In the US, leaves are commonly referred to as cilantro, and the seeds are coriander.
Fresh cilantro leaves are a signature ingredient in many classic Asian and Mexican recipes. They often appear as garnish or in salsas and dressings. Read on to learn when to harvest cilantro in your climate so you can enjoy this tangy herb at any time.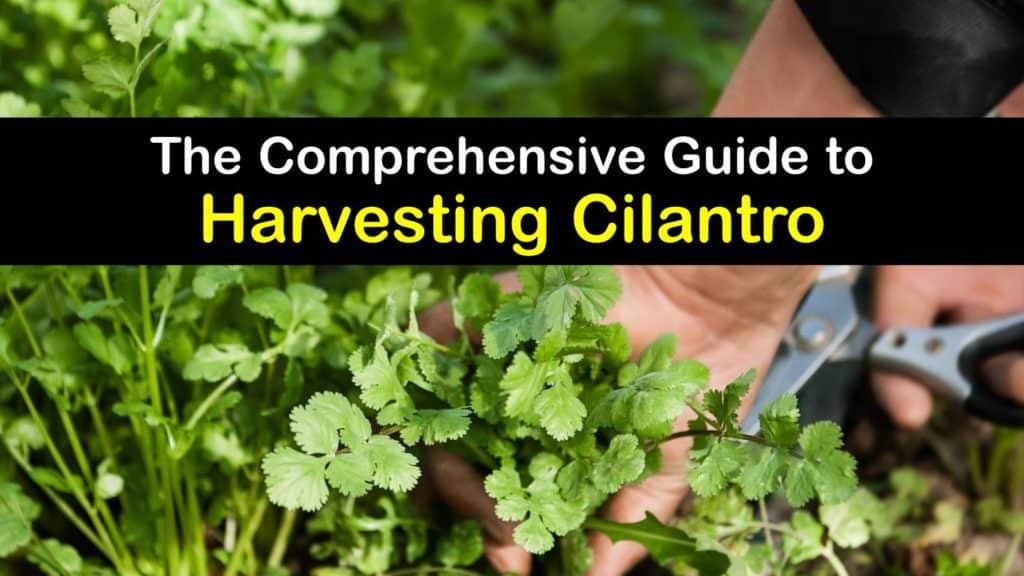 Best Tips and Tricks for Harvesting Cilantro
Before diving into the particulars of harvesting cilantro, it's helpful to understand a little about the plant's life cycle. Coriandrum sativum is the botanical name for cilantro. It's a fast-growing annual herb that only survives the winter in the mildest climates where winter temperatures don't drop below freezing.
Cilantro plants live longer in the cool weather of spring and fall than in the heat of summer. When temperatures rise above 85℉, they bolt and go to seed within several weeks.
For a continuous harvest of fresh cilantro leaves throughout the growing season, sow seeds every two or three weeks, beginning in late spring up until four to six weeks before your region's usual first frost.
Although the plants grow fastest in full sun, cilantro doesn't bolt as quickly in hot weather when it gets light shade, especially in the afternoon. For optimal results, plant cilantro in loose, well-draining soil that's rich in organic matter. Use mulch to insulate the soil, retain moisture, and minimize weed growth.
In addition to adding a zesty flavor to recipes, this wonderful herb also provides numerous health benefits, including boosting the immune system, helping regulate blood sugar levels, and improving brain, heart, digestive, and skin health. Fresh cilantro is an excellent source of folate, manganese, potassium, and vitamins A, C, and K.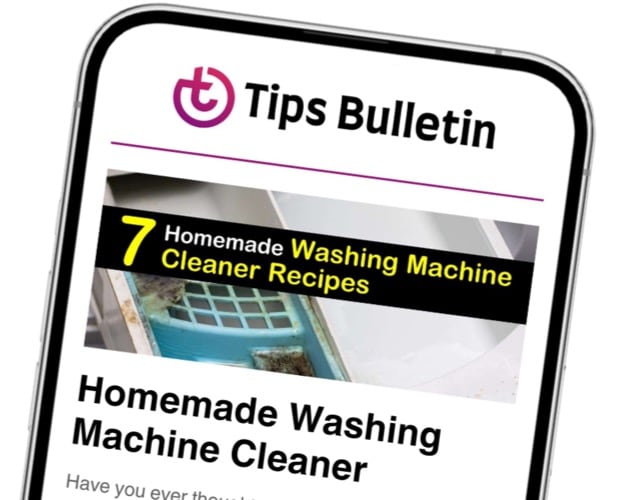 Finally, an email that Transforms Your Home.
Get the latest home and garden tips from our experts, delivered straight to your inbox.
What's more, cilantro is an excellent herb for companion planting in your vegetable garden. The lacy leaves and flowers attract beneficial insects like hoverflies, lacewings, and ladybugs that prey on aphids and common garden pests.
The strong odor of cilantro repels troublesome insects like aphids, potato beetles, and spider mites. Plant flowers and herbs alongside your veggies to get some gardening help from Mother Nature.
How Long Does It Take for Cilantro to Grow?
Your exact cilantro harvest time depends on factors like when you planted seeds and which cilantro variety you're growing. On average, expect to start harvesting cilantro approximately 45-70 days after you sow seeds.
For a late spring harvest, start cilantro seeds indoors in early spring, about two weeks before your area's regular last frost date, or sow seeds directly in your vegetable garden beds once the soil temperature is consistently above 55℉. It's also possible to grow and care for cilantro indoors instead of replanting it outside.
In the heat of summer, cilantro plants complete their life cycle in around four to six weeks. However, they remain edible for much longer during the cooler seasons. You may also find that cilantro repels mosquitoes, although lemon balm works better.
By succession planting cilantro seeds every few weeks throughout the growing season, the new, fresh cilantro plants are ready for harvesting around the same time as the older ones begin producing seed heads.
When to Harvest Cilantro
Harvesting cilantro regularly helps prolong their lifespan and delay bolting. Pick fresh cilantro leaves as needed once the stems are at least six to eight inches long.
Pay attention to plant performance to decide when to pick cilantro. Unless you want to harvest coriander seeds, cut the entire plant as soon as it starts flowering, so you can eat the leaves before they turn bitter.
Temperatures must be consistently warmer than 75℉ for cilantro plants to flower. To save coriander seeds for cooking with or growing next year, wait several weeks after the plant stops flowering for most of the foliage to dry out and turn brown. The seed pods should be light brown and completely dry before picking.
How to Harvest Cilantro
When harvesting cilantro leaves, gather the outermost ones first. Although it may eventually grow back after cutting the entire plant, it's best only to snip what you'll use at one time. Always be sure to sterilize your pruners between uses to avoid accidentally spreading diseases between plants.
To gather coriander seeds, snip the dry seed heads with four to six inches of stem still attached. Tie the ends of the cilantro stems together in a bunch and hang it upside down inside a paper bag.
Store your bunches of coriander seeds in a cool, dry place while they cure. Within two or three weeks, the seeds fully dry and pop off the stems into the bottom of the paper bag.
Best Storage Methods for Fresh Cilantro
Fresh cilantro leaves have a relatively short shelf life. When stored in a sealed plastic bag, cilantro leaves only last for around four to seven days.
However, there are a few clever tricks for getting your cilantro to last longer in the fridge. First of all, it's helpful to remove the rubber band holding the stems together as soon as you bring a fresh bunch of cilantro home from the grocery store. Leaving it on causes them to break down faster.
The best way to keep cilantro fresh is to keep your cilantro bunch in a glass or jar with an inch or so of water in the bottom like a bouquet of flowers. Place a plastic bag over the leaves and set it on a shelf in your refrigerator. Change the water every few days, and discard any wilted or rotting leaves immediately.
Cilantro stays fresh for up to a month when stored this way. This technique also works well for other herbs and leafy greens like chard, kale, mint, parsley, oregano, and rosemary.
Another easy way to keep cilantro leaves fresh longer is by wrapping them in a slightly dampened paper towel and storing it in an airtight container. The container protects the cilantro leaves from getting bruised and holds moisture without smothering the herbs.
Next time you're craving Asian cuisine, try making a traditional Thai-style dipping sauce. This incredibly simple recipe for a sweet and spicy sauce is delicious when paired with fried or grilled chicken, fish filets, pork, or veggies.
Stir ingredients in a small mixing bowl until the sugar completely dissolves. Allow it to sit in the bowl at room temperature for at least 30 minutes to let the flavors blend and develop. Refrigerate any leftovers you may have in an airtight container and consume within two weeks.
Can You Freeze Fresh Cilantro?
Freezing cilantro is an excellent way to extend its shelf life by several months. After rinsing your cilantro and allowing it to air dry, seal it in a freezer bag and label it with the date. Be sure to discard any bruised or slimy leaves before freezing the rest.
A super-easy way to cook with frozen cilantro is by placing chopped cilantro leaves in ice cube trays with a little bit of oil or water. This way, you have ready-to-use portions on hand whenever you need them. For reference, each well in a standard ice cube tray holds approximately one ounce or two tablespoons.
In general, there's no need to defrost cilantro before cooking with it. The best uses for frozen cilantro are in cooked dishes like curry or soup and for flavoring butter, dressings, or sauces. Try to use your frozen cilantro within six months for the best flavor and texture.
How to Dry and Preserve Cilantro Leaves
Drying homegrown herbs is a fantastic way to enjoy their rich flavors for a long time. When properly stored, dried cilantro retains its flavor for up to two years. There are several different methods for drying fresh cilantro leaves, and each has its own unique advantages.
The most straightforward approach to cilantro preservation is air-drying your cilantro. Remove any leaves that are past their prime. Rinse the remaining leaves and pat them dry with a clean cloth or paper towel.
Tie the stems together in small bunches no more than a quarter-inch thick with string or thin-gauge wire. Hang your cilantro bundles up to dry in a warm, well-ventilated place.
Depending on humidity levels, air-drying cilantro takes anywhere between several days and a few weeks. If desired, place a paper bag over the cilantro for extra protection and catch any fallen leaves.
It's also possible to use a dehydrator or conventional oven to dry cilantro. Process fresh cilantro in a dehydrator between 95-115℉ for two to six hours or in your oven at 250℉ for 30 minutes. Check it regularly to avoid over-drying, which causes the herbs to lose their flavor.
Store your dried cilantro sealed in an airtight container. The flavor of dried cilantro is much milder than the fresh herb. To substitute one for the other, use half as much dried cilantro as you would fresh or vice versa.
Harvesting cilantro from your home herb garden is satisfying and rewarding. Enjoy cilantro leaves fresh, or preserve them for long-term storage by freezing or drying.
When to harvest cilantro depends on your intended uses. Succession planting cilantro seeds every few weeks provides a continuous supply of fresh cilantro leaves throughout the growing season.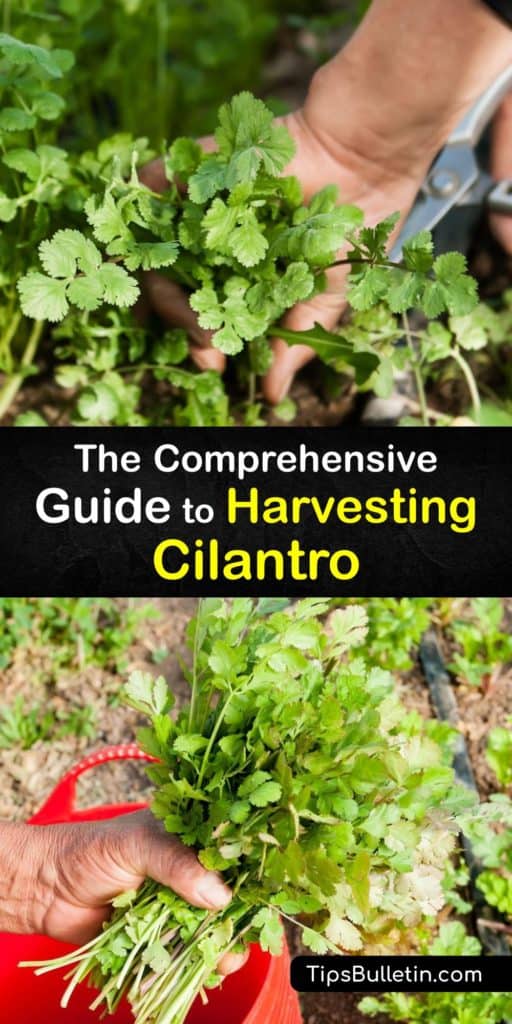 If you found these gardening tips useful, please share this article about how to harvest cilantro with your fellow green thumbs on Facebook and Pinterest who may be wondering, "When are cilantro ready to harvest?"