Collard greens are an extremely versatile leafy green that tastes great in everything from wraps and salads to soups and stir-fry. Whether you grow collard greens or turnip greens, they are even better when you grow them in the home garden. Discover growing tips and when and how to harvest collard greens throughout the growing season.
Like Brussels sprouts, turnips, mustard greens, and kohlrabi, collard plants (Brassica oleracea var. Viridis) are a cool weather crop from the Acephala group. They're in the cabbage family and delicious, both raw or cooked. To top it off, they are high in nutrients and fiber and provide many health benefits.
Not only are collards good for you, but they are one of the easiest veggies to grow. The key to producing the tastiest dark green collard leaves is to plant them in the early spring. Harvest them before the temperature gets too warm, which causes the plant to bolt and produce bitter leaves.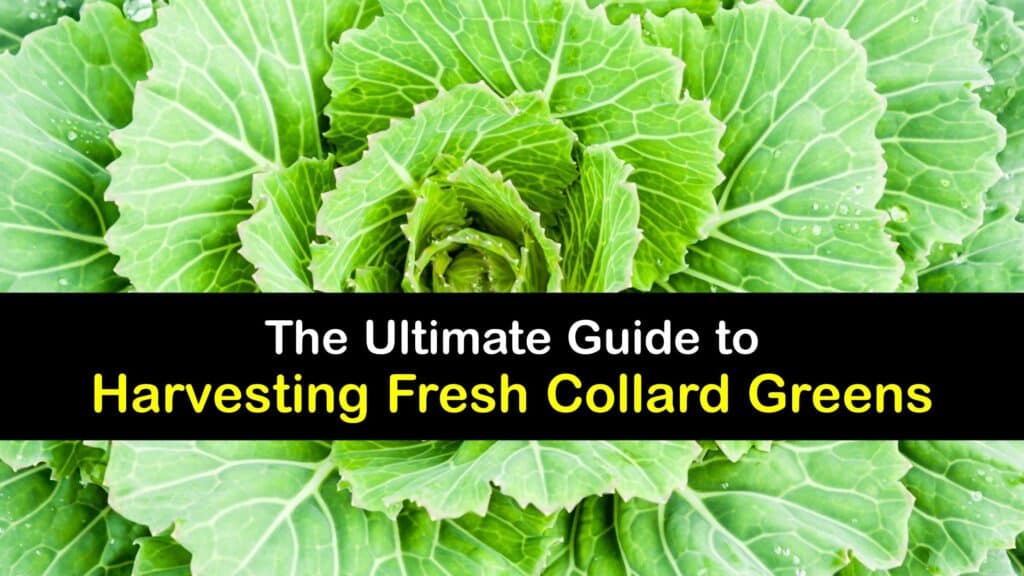 Growing and Harvesting Collard Greens
Collards are perfect plants for home-growing, and there is nothing better than harvesting collard greens fresh from your garden. It's helpful to understand what these plants need for optimal growth and when they are ready to pick.
Learn tips for growing these plants and effective ways to fertilize collard greens. Find out when to pick collard greens through the season to ensure they aren't bitter, and try a delicious recipe for preparing your fresh leafy greens.
Easy Ways of Growing and Harvesting Collard Greens
The best way to produce organic veggies at home is by growing and harvesting collard greens yourself. Yet, it's essential to care for your plants properly throughout the season to ensure you get a good crop. Follow some collard plant-growing tips to help you along the way.
The ideal time to plant a spring crop is in early spring, three to four weeks before the last frost, and six to eight weeks before the first frost in the late summer for a winter harvest. It's helpful to start the germination process indoors or start your plants in a cold frame if you live in a cold region.
Spacing is essential when planting collard greens, as they need 18 to 24 inches between plants. Pick an area in full sun, and plant them in rich, well-draining soil with a pH of around 6.5.
The collard green plant is a fast grower and wants ample water and plant food as it matures. Spread a three-inch layer of mulch or organic matter around the plant to retain moisture and halt weed development.
When to Pick Collard Greens
All plants have a distinct growth rate; some grow quickly, while others take time. Discover how long these greens take to mature and when to pick collard greens for the best texture and flavor.
How long does it take for collard greens to grow? It takes seeds five to ten days to germinate and seedlings roughly 80 days to reach maturity. However, different varieties, like Georgia Southern and Vates, have varying development rates, so check your seed packet instructions for the most accurate time frame.
How to Harvest Collard Greens
Harvesting collards is pretty straightforward. Learn how to pick collard greens so it keeps growing to enjoy a more prolonged harvest. Even so, don't wait too long before you begin picking the fresh leaves.
Collard greens harvest time varies depending on your taste. If you enjoy microgreens, pick them anytime after they develop their first set of true leaves. Or, pick mid-size leaves for salads or a side dish by snipping the plants at the soil line.
Pick the leaves when they are full size to make cooked collards, whether you grow collard greens in a pot or in the garden. Start by picking the outer leaves to allow the inner leaves to continue growing. Cut the leaf an inch from the base with a sharp knife or scissors.
To remove the entire plant for cooking, like at lettuce harvest time, pull it up and cut the roots off after it's out of the ground. Wrap the leaves in moist paper towels, put them in a large plastic bag, and store them in the fridge crisper drawer for three to four days.
What to Watch for While Growing Collard Greens
As easy as collard greens are to grow, they still encounter some problems through the growing process. You may face some issues while growing collards.
Downy mildew, black rot, clubroot, and Alternaria leaf spot are common problems for collards. These fungal and bacterial diseases cause the leaves to get yellow edges, lesions, brown spots, or wilted leaves, and it's necessary to use a fungicide to eliminate the disease.
Prevent these issues by planting disease-resistant plants, performing crop rotation, sterilizing gardening tools after each use, and avoiding splashing dirt on the leaves when watering.
Another thing to deal with when growing collard greens is pests like aphids, cabbage loopers, and cabbage worms. Since an infestation of these insects can ruin an entire crop, treating your plants with natural pesticides as soon as you discover bug activity is vital.
If you're concerned about a light frost, protect your plant's upper and lower leaves with row covers. The covers also keep various pests from having easy access to young plants and help to stop bolting.
A plant bolts when under stress or if you plant it too early when the temperature is cold, causing the plant to produce flowers rather than new leaves. Once a plant bolts, it stops growing, and the leaves do not taste as good.
Fresh Collard Greens Make a Tasty Raw Salad
Now that you know how and when to harvest collard greens, it's time to enjoy the green leaves in a dish. While many recipes use cooked collards, the freshness of this raw collard greens salad is delicious.
Start by de-stemming and chopping the collard greens into strips. Set them in a large bowl and add the olive oil and salt. Massage the oil into the collards with your hands to coat them well.
Whisk the cider vinegar, onions, garlic, sun-dried tomatoes, red pepper flakes, and black pepper in another bowl, and pour the dressing over the collard greens. Place the bowl in the fridge to marinate overnight and enjoy.
Collard greens are relatively simple to grow if you plant them in full sun while the temperatures are still cool and protect them from pests and diseases. Give your cole crops what they require, and they reward you with an abundance of dark green leaves for harvesting throughout the season.
Now that you have learned when and how to harvest collard greens for the best results, why not share our collard green harvesting guide with the veggie lovers in your life on Pinterest and Facebook?