If you planted cranberries in your home garden this year, you're in for a real treat when cranberry harvest time arrives. Many people don't realize how easy cranberries are to grow and harvest. In this article, find out how to harvest cranberries, store them properly, and discover one of our favorite cranberry recipes.
You may be picturing the Ocean Spray commercials with cranberry growers wearing waders while standing waist-deep in flooded cranberry bogs. However, that's a harvest technique used by commercial cranberry farmers.
Cranberry plants naturally form a low groundcover around 18 inches high and grow in northeastern North America's cool, moist wetlands. Most commercially grown North American cranberries come from Wisconsin, Massachusetts, Oregon, Washington, New Jersey, and Quebec.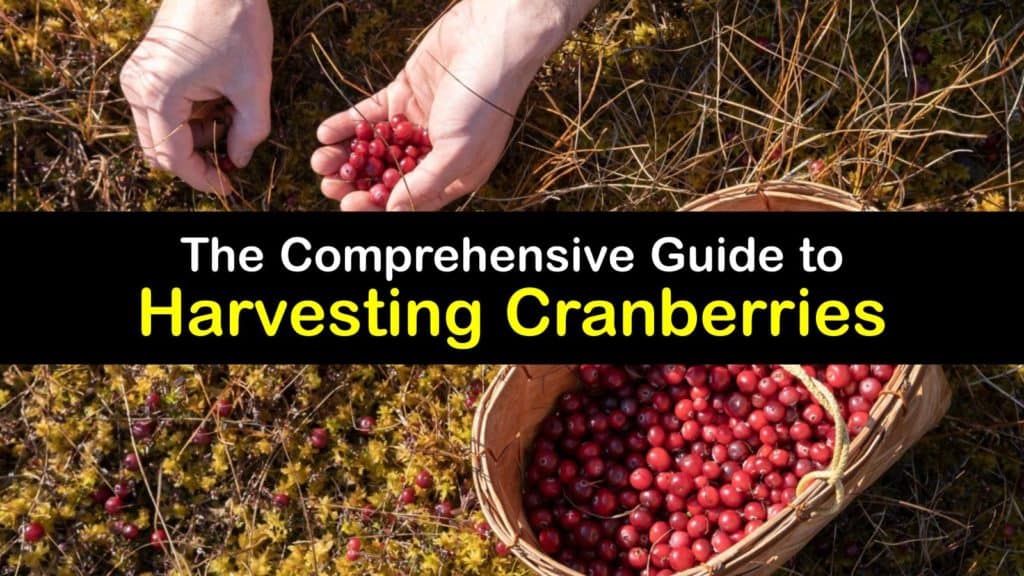 When to Harvest Cranberries
Aside from traditional holiday recipes like cranberry sauce and steamed cranberry pudding, there are many uses for fresh cranberries. Enjoy their rich flavor in baked goods, jellies, sauces, syrups, and more. Read on to discover when to harvest cranberries and what to do with them afterward.
When to pick cranberries depends on your USDA planting zone and which cranberry varieties you grow. Considering their relatively small size, cranberry bushes yield an impressive crop.
On average, a healthy cranberry bed produces approximately 300-500 berries per square foot. These tart red berries are excellent sources of vitamins, minerals, and antioxidants.
After discovering the ideal place and the best time to plant cranberries, as well as the best time to fertilize cranberry bushes, it's time to find out about picking the juicy berries. The best time for harvesting cranberries is typically in autumn, from September to November. Many cranberry growers attest that the berries taste sweeter after a light frost.
Although a commercial cranberry farm uses a mechanical picker, most home gardeners harvest-cranberries by hand. The fruits are green when immature and ripen to a bright or dark red depending on the cultivar.
Ripe cranberries have a firm but springy consistency. An amusing way to test a cranberry's ripeness is to bounce it against a hard surface, a practice that's earned them the nickname "bounceberries."
Cranberry bushes develop low-growing runners that spread up to six feet. They flower in early spring, and the small, waxy fruits develop throughout the summer growing season. Cranberry vines grow separate male and female flowers, requiring pollination help from insects.
How Long Does It Take for Cranberries to Grow?
Cranberry plants usually don't begin fruiting until their third growing season and are best suited for USDA planting zones 2-9. They prefer acidic soil with an average pH level between 4.0-5.5. Learn what to plant next to cranberries for mutual benefit.
Cranberry harvest time is affected by factors including the temperatures and rainfall levels that year, if the cranberries sun requirements are met, how old the plants are, which cultivars you planted, and whether they were stressed from pest or disease damage.
Spray the plants with organic pesticides like neem oil or insecticidal soap at the first sign of an insect infestation.
How to Harvest Cranberries
Are you wondering, "When are cranberries ready to pick?" The berries are green at first and change to white or pink as they mature. Once your cranberries reach an even, deep red hue and are firm to the touch, you'll know they're ripe.
Most home gardeners simply pick cranberries by hand. Grasp the fruit by its stem and pull gently. There's no need to rush when it comes to harvesting cranberries. The fruit is fine to stay on the vine for a month or two after ripening as long as the temperatures stay above 23℉.
Try this amazing recipe for New York-style cheesecake with a cranberry swirl if you're looking for a creative use for your fresh cranberries. This Cranberry Swirl Cheesecake is easy to make and tastes delicious.
Preheat your conventional oven to 350℉ and prepare the graham cracker crust. Blend the ingredients in a large mixing bowl. Press the crust into a nine-inch springform pan. Bake it in the oven for six to eight minutes to set the crust. Remove and set aside.
Combine the ingredients for the cranberry sauce in a medium-sized saucepan. Bring to a boil, reduce the heat and simmer until the sauce reduces to approximately one and one-third cups, which takes around 25-30 minutes. Stir frequently to prevent it from burning.
Beat the cream cheese until smooth with an electric mixer. Incorporate the flour, salt, and sugar, and mix on medium speed until well-combined, scraping down the sides as needed. Add the eggs individually, then pour in the whipping cream and vanilla extract.
Pour half of the cheesecake batter over your prepared crust. Scoop half of the cranberry syrup in by the spoonful, evenly distributing it. Repeat with the other half of the cheesecake batter and cranberry syrup. To finish, draw a butter knife back and forth to create a swirl pattern.
Set the springform pan on a baking tray to catch any drips and bake for 15 minutes. Lower the oven temperature to 250℉ and bake for another hour. The cheesecake should be firm, with a slight movement in the center.
Remove your cheesecake from the oven and carefully separate the edges from the springform pan with a butter knife. Let it cool completely. Cover it and refrigerate overnight before serving.
When to Pick Cranberries
Most kinds of cranberries begin ripening in September. Although the taste and texture are best when the berries are freshest, leaving ripe cranberries on the plants up until the first expected frost date in your area is fine. They can withstand a light frost or two, but be sure to gather your cranberry crop before a hard freeze.
Storing Homegrown Cranberries
After picking your fresh cranberries, rinse them off and pat them dry with a clean towel. Store them in a paper or plastic bag in the crisper drawer of your fridge.
Cranberries have a remarkably long shelf life. They typically stay fresh in the refrigerator for up to four weeks. Frozen cranberries last for up to one year. Canning and dehydrating are ideal for long-term storage.
Dry Harvesting vs Wet Harvesting
Commercial cranberry farmers generally use the wet harvesting method because it's more efficient and less labor-intensive. If you're curious, visit Cape Cod for a cranberry bog tour.
Cranberries have pockets of air in their centers, which allow them to float to the surface of the water once a cranberry field gets flooded and large mechanical water reels or "egg beaters" stir the water.
The berries are collected by a pump or conveyor belt, loaded onto a truck, and taken away for heat treatment to get turned into processed foods.
Cranberries sold as whole, fresh fruit are harvested using a dry method. A mechanical picker resembling a large lawn mower gathers the cranberries with large metal teeth and collects them in burlap sacks. The dry harvest process yields less than half as much fruit as wet harvesting, but the overall quality of the fruit is much higher.
Cranberry harvesters should know that you won't need to turn your garden into a flooded bog in the fall. When to harvest cranberries depends on your growing climate and which types you planted.
Cranberries are ready to harvest when they darken to a deep red color and have a firm, springy consistency. If you find yourself wondering when to pick cranberries, pull one off and give it the bounce test.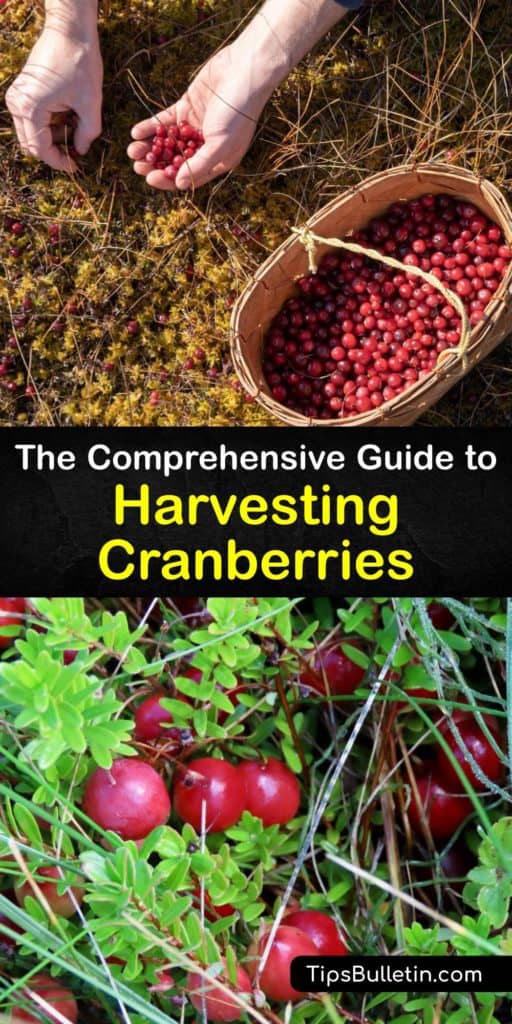 We hope you enjoyed learning about cranberries and the various tactics for picking them, and we would appreciate it if you'd share this article about how to harvest cranberries with your friends and family on Pinterest and Facebook.