Elderberry fruit has a long history of food and medicinal purposes. The ripe berries are high in the antioxidant vitamin C and excellent for boosting your immune system. We provide tips for growing elderberry plants in the home garden and show you how to harvest elderberries at the end of the growing season.
There are two cultivars of elderberry plants commonly grown in gardens, the American elderberry (Sambucus canadensis) and the European elderberry (Sambucus nigra).
The American variety commonly grows in damp forest soils throughout North America, and it grows five to ten feet tall and wide. The European type, s. nigra, is similar to the American elderberry but more tree-like and not as cold-hardy.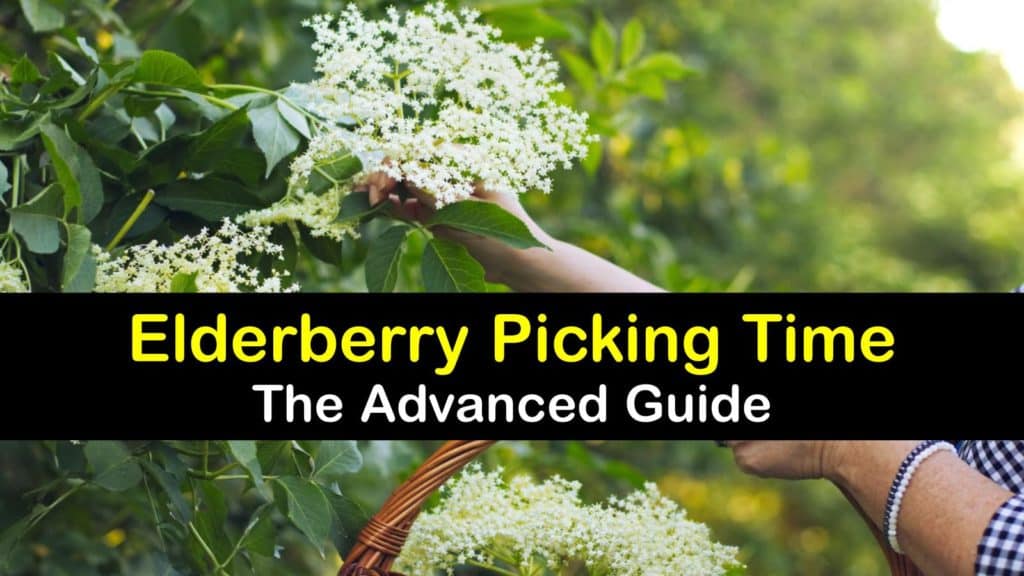 Growing and Harvesting Elderberries
There are many reasons to plant elderberry trees at home, whether you enjoy the different types of elderberry trees and bushes for their aesthetic appeal with their elderflowers and bright clusters of berries or use the fresh berries to make elderberry syrup, tincture, or elderberry wine.
Whatever the reason, these plants are a great addition to your garden. They are easy to grow, and their fruit production keeps your kitchen well-stocked.
Growing an elderberry tree for fruit harvesting is great, but when are the berries ready to pick? Knowing when to harvest elderberries ensures that you get the perfect fruits for recipes. The key is to wait until the plant has fully ripe elderberries and leave the unripe berries until they ripen.
Learn what elderberry plants require for healthy growth, when to pick elderberries for ideal ripeness, and the proper way to harvest them. Discover a tasty recipe for using those berries after a healthy harvest.
When to Pick Elderberries
You go through the trouble of growing blue elderberry plants and await the day when you get to pick berries. How long does it take for elderberries to grow? Explore the growth rate of these plants and when to pick elderberries for the perfect ripeness.
Elderberry Plants (Sambucus)
Elderberry trees and elderberry bushes get quite big and are native to the United States and Europe. It produces dark purple fruits in clusters with medicinal and antioxidant properties and is commonly used in jams, wines, and juices. It has pink or white flowers that are also edible.
A mature elderberry plant grows up to ten feet tall and twelve feet wide, growing for up to sixty years. The berries grow the first year you plant them; however, it takes two to three years before they fully fruit, depending on how you start them.
Growing Tips and When to Harvest Elderberries
Like other garden plants, elderberry shrubs or trees require special care to flourish. Here are some helpful growing tips to help you care for your elderberry plants and when to harvest elderberries at the end of the season.
The best place to plant an elderberry bush is in a location where it gets full sun and has room to spread. Elderberry shrubs tolerate conditions like poor or overly wet soil. They do not handle drought, though, and they prefer well-draining loamy dirt. Elderberry soil pH should be about 5.5 to 6.5 but they are not overly picky about it.
When planting elderberries, it's a good idea to plant two or more cultivars to allow for cross-pollination and plant them in the spring or early summer. Find out how far apart to plant elderberry bushes so they have room to spread out.
Spread mulch around the bush's base to stop weeds from growing and pull the weeds carefully to not bother the shallow roots of the elderberry. Water the shrubs an inch or two a week and do not prune them for the first two years.
Bugs and disease can sometimes plague elderberries. To get rid of aphids on elderberry trees or bushes, spray them with a water hose. You can also sprinkle diatomaceous earth around the plants.
When are elderberries ready to pick? Your new plant may produce fruit the first year sometime in mid-August to mid-September, and it produces more fruit each year after that.
How to Harvest Elderberries
You wait patiently all year, and it's finally elderberry harvest time. How can you tell when they are the ideal ripeness and the best way to pick them? Find out when and how to harvest elderberries for the tastiest fruits.
Elderberry bushes have uneven flowering and berry production processes, and it's not unusual to see a shrub with both flowers and fruits at the same time. This growth strategy often makes it confusing to know when to pick the berries. The key to harvesting elderberries is to know how to identify ripe berries.
In the late summer, inspect the shrub for large clusters of berries with a deep purple, almost black color, and a plump appearance. Ripe berries are heavier than unripe ones, and the entire cluster usually hangs upside down.
Use your hand to pluck the berries from their tiny stems and place them into a bowl or temporary plastic bag. Another method is to use the tines of a fork to strip them free from the stems into a container.
Elderberries are extremely perishable and begin to ferment within twelve hours of picking them, so it's vital to plan ahead of time when harvesting elderberries and cook, dry with a dehydrator, or freeze them right after you harvest them for later use.
Using Elderberries after Harvest to Make Syrup
While we often think of elderberries as a supplement to promote good health and boost the immune system, there are other ways to enjoy the berries. Elderberry syrup is simple to prepare and perfect for drizzling over ice cream, pancakes, or waffles.
Combine the elderberries, water, cinnamon stick, cloves, ginger, and honey in a saucepan and bring it to a boil over medium heat. Turn the heat down to low, simmer it for 30-minutes, and mash the berries with a potato masher to release the juices.
Strain the liquid through a fine-mesh colander, discard the pulp, and let it cool. Stir in the honey, pour the syrup into an airtight glass jar, and keep it in the fridge for two to three months.
We don't often consider elderberry trees or plants when growing an edible garden, but they are the perfect choice for producing fruits that taste good and are great for your health. They are easier to grow and harvest than you think.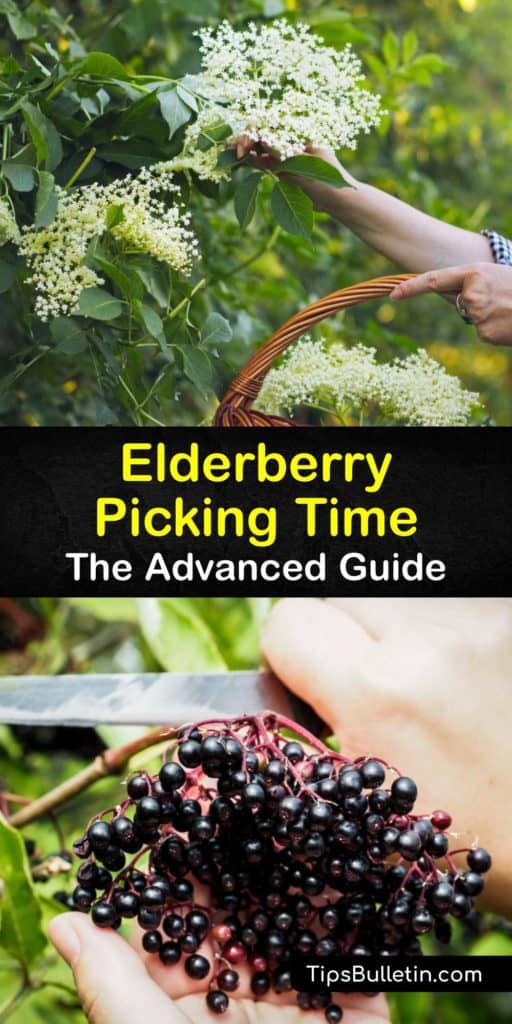 Now that you know when and how to harvest elderberries from your garden, why not share our elderberry plant growing and harvesting guide with your circle of friends and family on Pinterest and Facebook?