Growing an herb garden at home is a rewarding experience as it provides fresh herbs as soon as you need them for a recipe. When you grow herbs in your garden, consider when and how to harvest herbs for the best yield. The time to harvest herbs depends on the type of herb and how you want to use them.
We grow culinary herbs for their foliage, seeds, or flowers, and their usage in the kitchen determines when you should harvest each type of herb plant. Some plants, like cilantro and chives, have more than one edible part, so when you harvest them may vary depending on what you want to preserve.
The timing of when you harvest herbs is crucial because a proper harvest ensures your herbs have the best flavor for your favorite recipes. Harvesting with the right technique at the right time also allows your plant to continue growing, enabling you to harvest more in the future.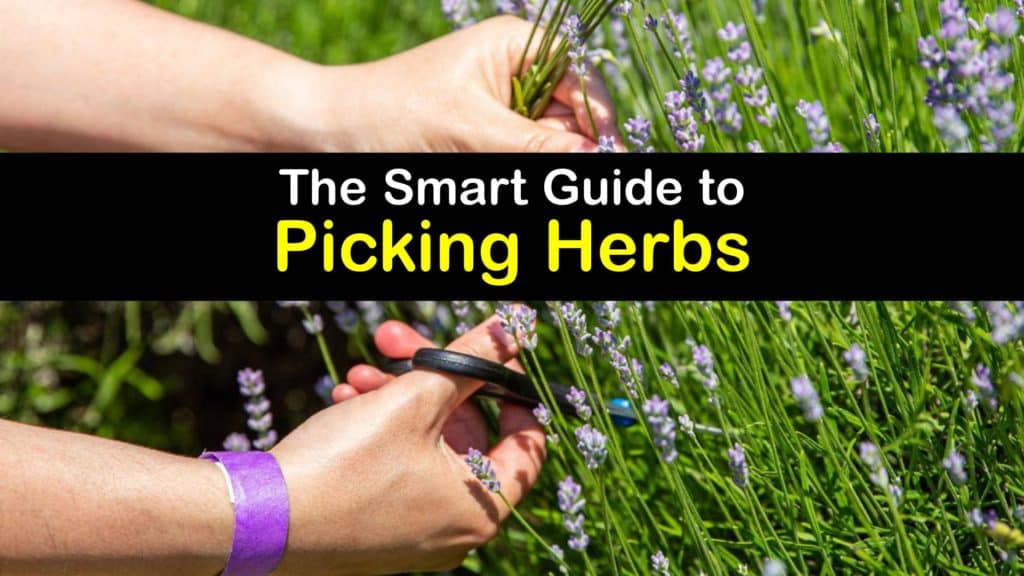 Harvesting Herbs
Growing herbs is fun and rewarding, whether you grow spring herbs or those you plant later in the year. Enjoy an even better harvest when you use one of the best fertilizers for herbs like composted manure.
Since the natural oils inside herbs give their unique scent and taste, herbs harvested at the right time contain the highest levels of these essential oils, making them ideal for use in meals and drinks.
When to Harvest Herbs
Because plants thrive at different temperatures and in different weather, it should come as no surprise that some herbs are best when harvested at certain times of the year, even if you have herbs that grow well indoors. Checking the information on the seed packet is helpful in this regard.
Knowing when to harvest herbs is crucial because, although many herbs have long harvesting periods, waiting too long to harvest results in herbs with less flavor. Unless you are growing different varieties of herbs for their flowers, it's best to pick herbs before their flower buds bloom.
The time to start harvesting these herbs depends on the growth of their leaves. Chives are typically ready for harvest 60 days after planting once their leaves grow to at least three inches tall.
Flowering plants like chamomile and lavender have the best flavor once their buds appear, but before they open to bloom. If you are harvesting flowers after bloom, try to pick them before they are fully open. Once you harvest the flowers, prune the plants to half their height to encourage more growth for the fall season.
Coriander and fennel are two examples of herb plants grown for their seeds. As these seed pods grow, they change from green to brown and finally to gray before they split. For the best way to harvest fennel, remove these pods before they split open.
When harvesting annual herbs like basil, cilantro, and lemongrass, harvest up to 75% of the plant's current growth without affecting its ability to continue growing.
Harvest perennial herbs until mid-summer, stopping roughly before the first frost date for your area. As the growing season ends, harvesting encourages new growth that won't have time to harden off before freezing temperatures. When snipping off parts of perennials, only take one-third of the entire plant.
When you're ready to start harvesting herbs, set aside time early in the day to get to work; herbs have the best flavor if you harvest them before the sun's heat dissipates the oils inside the plants. Once the morning dew evaporates, begin snipping your plants. If you're picking flowers for crafts, snip them off before the flowers fully open.
How to Harvest Herbs
The methods for harvesting herbs are somewhat straightforward. How you harvest depends on the type of herb you're gathering and less on how you grow your herbs. Gardeners harvesting herbs in pots can harvest their herbs the same way gardeners harvest herbs and flowers.
When it comes to stemmed herbs like oregano, thyme, and tarragon, use a knife or pruning shears to cut above the growth node for the set of leaves you want to harvest, allowing a new branch to grow from the remainder of the plant.
Harvest plants like parsley and cilantro near the base. Pick the outer leaves from your plant to allow the inner leaves to continue growing, and avoid cutting the center stem as you trim the available leaves on your cilantro plant.
Plan to harvest chives before their flowers bloom by gathering leaves together and cutting near the base of the plant. Avoid cutting close to the bulb, or the plant won't regrow new leaves.
The purple flowers that chive plants grow are edible; however, they lack the oniony taste the leaves are known for. If you want to wait to harvest chives until the flowers bloom, use the flowers as a garnish.
When harvesting the edible flowers from herb plants, grab the plant stem and pull the seed heads until the top pops off. Harvest any flowers in bloom, but leave any flowers that are just beginning to bud.
Using and Preserving Herbs
Once you finish harvesting, thoroughly wash your herbs and flowers and lay them out to dry on paper towels. Drying herbs is an essential part of the process, as drying herbs concentrates their flavor, allowing you to use fewer herbs in your favorite recipes without missing any flavor.
Once dry, inspect your herbs and pick out any dead material. If you're harvesting sprigs, tie the herbs into loose bunches. To continue drying out your sprigs, place them into paper bags with the ends visible from the open side of the bag. Poke holes in the bag to promote good air circulation and hang these bags in a warm, dry area out of direct sunlight.
To dry herbs with short stems or any leaves, try placing your harvested herbs on a wired tray like a window screen. Lay your herbs in a single layer and leave the tray around your home out of direct sunlight. If you have shelving in your home, use multiple screens to create drying racks to dry herbs.
A food dehydrator is ideal for drying herbs quickly. Place your herbs into the appropriate plastic bag and follow the instructions for drying out your fresh herbs.
Once your herbs are completely dry, carefully remove any leaves from their stems and store them in airtight containers in a cool location. When packaging into containers, avoid crushing the leaves of your herbs; this helps them retain their flavor until it's time to cook.
To preserve herbs through freezing, thoroughly wash and chop them. Pour water into ice cube trays and place pinches of each herb into each cube section. Place the trays into the freezer to freeze them before transferring the frozen herb cubes to plastic bags for storage.
Using Herbs in the Kitchen
How you use your herbs depends on preference as some may prefer working with all dried herbs, while others find some dried herbs less appealing. Try different herb combinations to create your own recipes.
Set out your fresh or dried herbs and finely chop them. Mix the herbs in a bowl with garlic. Add red pepper flakes and salt before adding the olive oil—season with black pepper to taste before serving.
When it comes to a harvest-herbs are among the easiest produce to bring into your home as they are easy to pluck from the garden and hold up well while drying indoors. After reading our guide, we hope you can harvest your own herbs for a meal or light snack.
If this article helped you learn how to harvest herbs, please share our tips on when to harvest herbs with your fellow gardeners on Facebook and Pinterest.