Given its popularity on the table and as a member of the vegetable garden, it's no surprise many want to know about growing and how to harvest iceberg lettuce. Thanks to its relatively short growing time and ease of care, iceberg (Lactuca sativa) is a favorite among home gardeners.
Its crunchy leaves feature heavily on many sandwiches, in wraps, and as part of salads. Knowing when to pick iceberg lettuce is crucial as, like most lettuce cultivars, it undergoes bolting and grows bitter when exposed to hot weather.
Harvesting iceberg lettuce is intuitive and requires no special tools other than a sharp knife. Unlike looseleaf lettuce varieties, the entire plant is collected at harvest time, and it no longer continues to grow. Succession planting is used to generate a continuous supply of iceberg lettuce. Judging when your lettuces are ripe for picking and the best way to collect them ensures you maximize the quality and quantity of lettuce produced.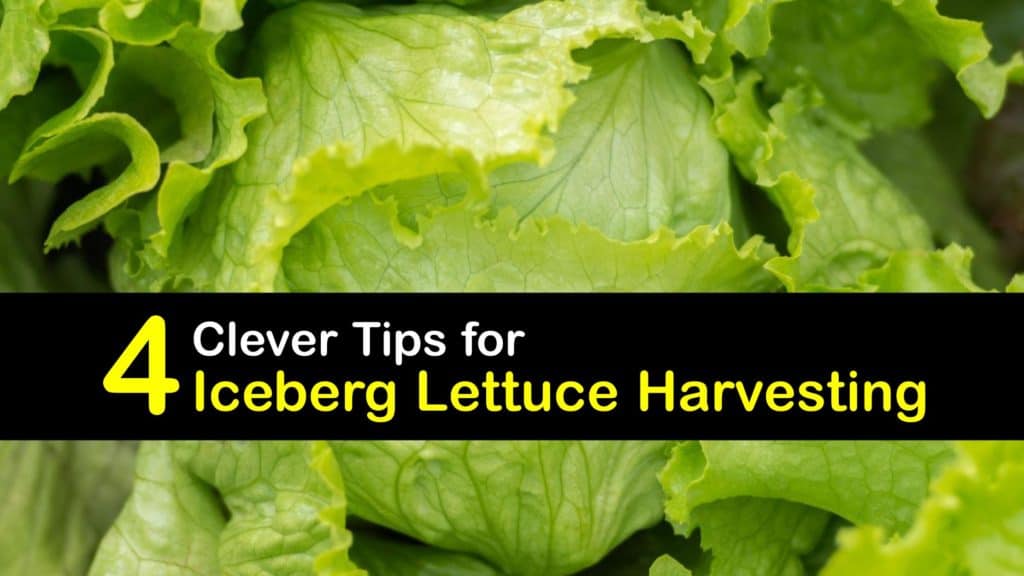 Brilliant Ideas for Harvesting Iceberg Lettuce
If iceberg lettuce features in your home garden, knowing when to pick iceberg lettuce is crucial to enjoying the freshest and crispest salad leaves. After you care for lettuce plants and use natural lettuce plant fertilizer, understanding how to harvest iceberg lettuce ensures you do minimal damage to the yield when harvesting iceberg lettuce.
When to Pick Iceberg Lettuce
Knowing when to harvest iceberg lettuce ensures you collect your salad leaves with optimal taste and crunch when they are ripe. Iceberg lettuces are usually ready for harvest between 50 and 90 days after germination. Actual time to maturity may vary depending on garden conditions and individual plants, so monitor your lettuces closely.
Timing Your Iceberg Lettuce Harvest
Factors such as sunlight, temperature, and watering may affect the growth time, so it's important to know what to look for to discern if your plants are ready. Lettuces ready for harvest have a large head that feels firm and tightly packed.
The heads of lettuce should appear similar to those often seen in grocery stores, pale in color, crisp and tight. Iceberg lettuce is grown in heads rather than loose leaves. Pick your lettuces while the outer leaves are pale green before they begin to fade or brown. If you see evidence of bolting or the formation of flower stalks, pick your lettuces as soon as possible to salvage what you can before they turn bitter.
How to Harvest Iceberg Lettuce
Harvesting lettuce is straightforward, whether working with iceberg or a loose head variety. Unlike loose leaf lettuce varieties where growers may cut a few leaves at a time, with iceberg, the entire plant is harvested at once.
Use a sanitized sharp knife to cut cleanly through the stem at the bottom of the head of lettuce. Remove the outer leaves if they are dirty or damaged, and store your lettuce in the refrigerator until use. Iceberg lettuces are freshest when harvested in the morning.
Growing Iceberg Lettuce
Lettuce plants thrive in full sun at cooler temperatures between 60-70°F, making lettuce a cool weather crop best cultivated in the spring and fall. Most gardeners place seeds in a starter covered by a plastic bag and allow them to undergo germination indoors a few weeks before the predicted last frost.
Transplant them into the garden at the recommended spacing. The first planting is typically after the last early spring frost and the second in late summer. Consistent moisture is necessary for a high-quality harvest of soft, mild-tasting lettuce. Regular watering and a layer of mulch help keep the soil moist.
When pressured by heat, lettuce plants undergo bolting, and the outer leaves become bitter. Bolting is the process by which plants switch from making genuine leaves to developing flowers, giving the appearance of a seed stalk.
Safeguard your lettuce from temperature extremes using row covers and cold frames, and beware of pests like aphids. Take care not to overwater and cause loose head lettuce issues to ensure you have plenty of greens when you harvest lettuce.
Other Lettuce Varieties to Consider
Lettuce is a household staple, and gardeners who grow lettuce plants enjoy fresh and crispy salad throughout the growing season. When purchasing your iceberg lettuce seeds or lettuce seedlings, consider adding another lettuce variety or two.
Many growers like loose leaf lettuce types because they develop quickly and may be harvested for weeks. Only pick the outer largest leaves when you harvest lettuce so it keeps growing from the inside. You'll have lettuce for a long time.
Different lettuce cultivars offer a range of flavor profiles and colors to make your salads and sandwiches exciting and aesthetic. Whether you prefer an heirloom variety, love romaine lettuce, or seek a cultivar to withstand hot weather, consider adding a few extra lettuce varieties to your garden.
Iceberg lettuce is crisp and delicious with a multitude of uses. Its mild flavor and pleasing crunch make it a family favorite. Knowing when to harvest your lettuces and how to pick them correctly ensures you get the most from your crop and your garden produces the maximum amount of produce.
If you loved this article on how to harvest iceberg lettuce, please share these brilliant tips on harvesting iceberg lettuce with your friends and family on Pinterest and Facebook.