Kale is usually more expensive than lettuce, collard greens, chard, spinach, and other leafy vegetables, and grocery store veggies are often treated with chemicals we'd rather not put into our bodies. We discuss ways to grow kale plants of your own and how to harvest kale throughout the growing season for a healthy crop of leafy green goodness.
There are many reasons why kale is so popular. It is tasty raw in salads or smoothies and sauteed with olive oil and garlic or added to soups. These veggies are also one of the most nutrient-dense foods and are packed full of antioxidants, vitamins, and minerals.
Incorporating different types of kale plants in your diet may help lower cholesterol, reduce the risk of heart disease, and improve eye health. Kale is not only delicious and extremely healthy but also one of the easiest leafy greens to grow. These plants continue to produce leaves as you clip them, so you get a nearly continuous supply of kale leaves for snacking or cooking.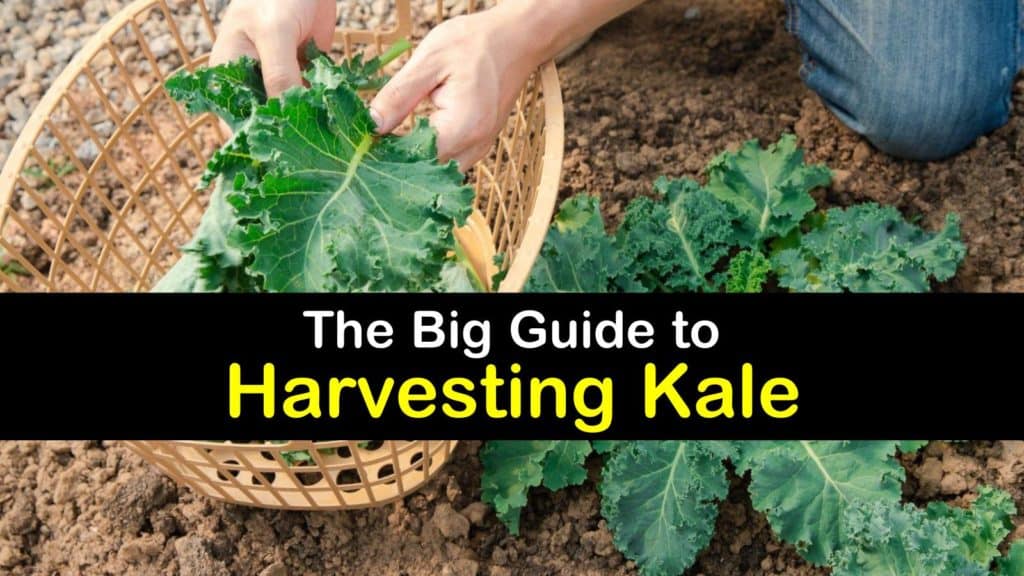 Growing and Harvesting Kale
Kale plants are from the cabbage family, and they are a cool-season crop. One seed produces abundant leaves for picking as needed or at the end of the growing season. The tender leaves of these fast growers are easy to harvest, and they seem to regrow overnight.
They are one of the easiest vegetable plants to grow, even in small spaces, and harvesting kale regularly keeps your kitchen well-stocked with healthy greens.
Discover how to grow kale plants in a garden, raised bed, or container and when to pick kale for a long harvest season. You can grow kale indoors too.
We discuss the growing conditions these plants require to thrive, problems to watch for as they grow, and when to harvest your plants for the tastiest leaves.
Is There More Than One Type of Kale to Harvest?
When we think of kale (Brassica oleracea var. Sabellica), we usually picture a large, green leaf with ruffled edges.
However, there are several kale types to grow in a garden or pot, each with a unique color, texture, and flavor. Here are some popular kale varieties to help you choose your next garden favorite.
Lacinato is sometimes called Tuscan or Dinosaur kale, and it is an heirloom variety from Tuscany. It has hardy, thick leaves that are so cold tolerant that it's possible to harvest them even after a snowfall. This type has dark green leaves and a mild flavor.
Hanover salad kale is a fast growing, early producer. It has smooth, blue-green leaves with a pleasant taste that is perfect for eating in salads and on sandwiches.
The sweetest variety of kale is Red Russian, with its purple, smooth, and tender leaves, while Redbor magenta leaves are curly with a mild, crisp flavor.
If you're looking for a kale type that is both heat and cold tolerant, consider growing Vates kale. This dwarf plant has curly, bluish-green leaves that taste great in everything from salad to soup.
Growing and Harvesting Kale
Growing and harvesting kale in the garden is easy. Unlike other vegetables, these greens grow pretty quickly and require very little care as long as you provide them with the right growing conditions. Here is how to start your kale from seeds in a few quick steps.
Kale grows as an annual in USDA hardiness zones 2 through 9 and as a biennial in zones 7 through 9.
It prefers cool temperatures, so plan to sow seeds outdoors in the early spring when the soil is 60 to 65° Fahrenheit or in the late summer by overwintering them in cold frames. Don't worry if your plants get a touch of frost since this actually helps sweeten the leaves.
To plant kale seedlings or seeds, prepare the garden bed or container by mixing high nitrogen vegetable fertilizer or compost three to four inches into the top of the dirt.
Sow the seeds a quarter to a half-inch deep with four-inch spacing. Cover them with soil, pat them down firmly, and water the area to settle the seeds without washing them away.
Once the seedlings begin growing, thin them so that they are 16 to 18 inches apart. If you're wondering when to harvest kale, they are edible at any stage of the growing process, depending on the leaf size you desire.
When to Pick Kale and How to Care for Your Plants
What does kale require to thrive, and how long does it take for kale to grow? Fortunately, kale is a fast growing plant that is reasonably simple to maintain.
Learn how to give your kale plants the care they need, problems to watch for, and when to pick kale for the best tasting greens.
It's vital to water your kale plants regularly to keep the soil moist since cool temps and evenly watering them keeps the leaves crisp and sweet instead of bitter and tough.
Spreading a decent layer of mulch around your plants, whether you have a container garden or bed, is an excellent way to retain moisture while halting weed growth.
If you do spot weeds growing among your kale, make sure to pull them right away to stop the weedy plants from taking necessary nutrients from the soil.
Kale loves growing in full sun or partial shade, but if you live in an area with high temperatures, consider positioning the garden in a place where the plants get some relief from the hot afternoon sun.
Keep an eye out for pests while your kale grows. Aphids and cabbage worms are a problem for these plants, and positioning floating row covers over the garden keeps the bugs at bay. You can also get aphids off kale with a strong stream of water.
If you're wondering how to pick kale so it keeps growing for a continuous kale crop, clip the leaves whenever they reach a desirable size.
How to Harvest Kale
Kale harvest time happens weekly or daily depending on the type of kale you plant, whether you want baby kale leaves or mature leaves, and if you stagger the seed planting. Here is when and how to harvest kale from the garden.
Harvesting Kale
While kale is ready for harvesting anytime it reaches the size you want; the leaves are generally tastiest if you wait until they are the size of your hand. The same applies to when to pick Swiss chard. Kale takes about two months to mature after sowing seeds or transplanting seedlings.
Start with the older leaves on the lowest part of the plant like you do when harvesting collard greens, and clip one bunch of larger leaves from each plant while leaving the central leaves intact.
Removing only the outer leaves while leaving smaller leaves in place encourages new leaves to grow for more harvesting. Discard any torn, damaged, or yellowing leaves and clean the healthy kale leaves before storing or eating them.
What to Do With Kale After Harvesting
Having an almost endless supply of kale is terrific, but there are only so many salads you can eat in a day.
Fortunately, there are more ways than one to prepare kale leaves, raw and cooked. Here are some ideas to keep your diet rich with leafy greens without getting bored with the same recipes.
To store kale after harvesting the leaves from the garden, wrap them in a paper towel and slip them into a plastic bag. Keep the kale in the crisper drawer of your fridge and use it in salads as needed for up to a week.
One of the most popular ways to use kale is to make smoothies. Kale tastes great with milk, pineapple, banana, mango, blueberries, and many other fresh fruits.
To store kale to make healthy smoothies for eight to 12 months, consider freezing it. Blanch the leaves first for two to three minutes and transfer them to an ice bath. Quick-freeze the leaves and transfer them back into the freezer in a freezer-safe bag.
If you prefer cooked kale, consider tossing a handful into your favorite soup or stew, saute it in a stir-fry, or use it as a substitute for dishes that call for spinach.
Another great way to use kale leaves is to make pesto. Use it as an appetizer with crusty bread, pasta or pizza topping, sandwich spread, or roasted vegetables.
Growing and harvesting your own kale plants is the best way to ensure you bring the healthiest, tastiest greens to your dinner table. These plants are simple to grow, take up very little space, and the leaves are ready for picking when they reach your preferred size.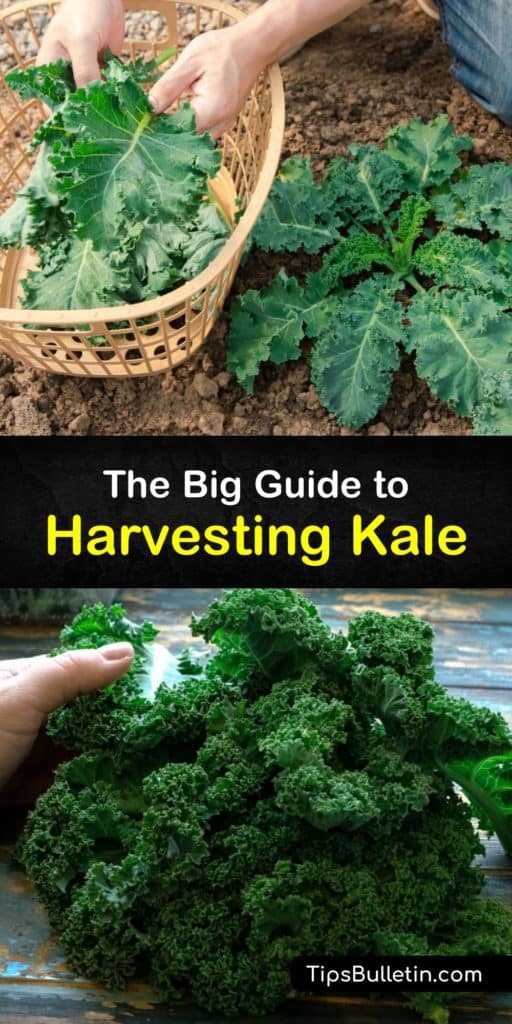 Now that you know how to harvest kale from your very own garden to enjoy an abundance of healthy greens, why not share our kale growing and harvesting guide with the veggie-lovers in your life on Facebook and Pinterest?