Potatoes are highly versatile root veggies used in everything from soup and casserole to French fries and pancakes. They are widely available at any grocery store, but homegrown potatoes are the best way to keep your kitchen stocked with organic food. Learn ways to grow these delicious spuds and how to harvest potatoes at the end of the growing season.
Oddly enough, European countries were slow to adopt the potato as a kitchen staple. They viewed it as an unneeded and sometimes poisonous vegetable, blaming it for everything from leprosy to sterility.
Fortunately, they let go of these odd beliefs over time, and potatoes are now one of the most popular for growing in a home garden.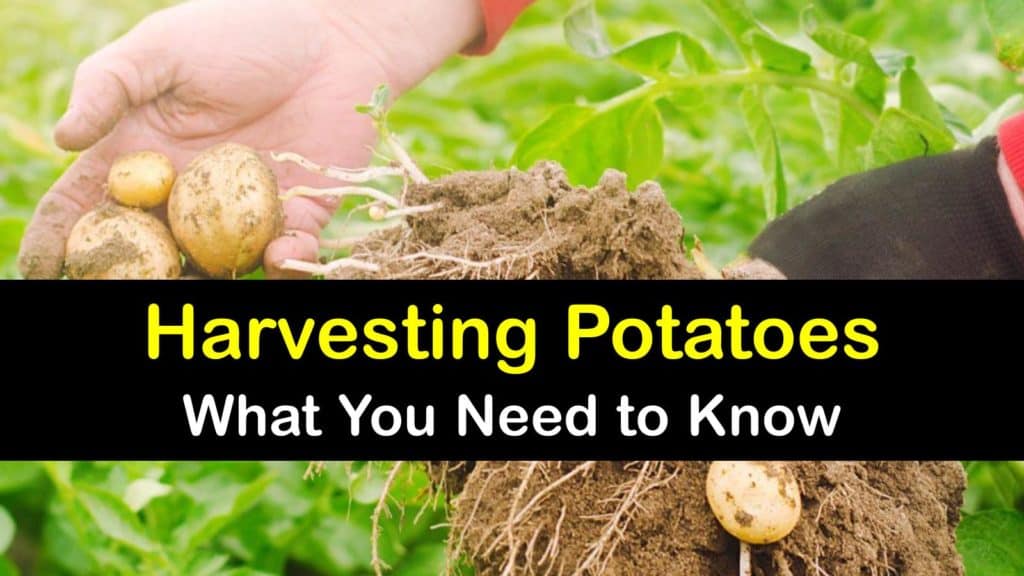 Ways to Grow, Harvest, Store, and Prepare Potatoes
Potatoes are the fourth largest food crop in the world, and for a good reason. These rugged root vegetables are extremely easy to grow, tolerate many growing conditions and soil types, and are easy to regrow from scraps.
You don't even need a garden plot to regrow a potato and have a nice crop. A large bucket, some dirt, and a leftover potato are all that's required. Don't forget about adding an organic potato plant fertilizer and taking care of unwanted bugs.
Growing your own vegetables takes a bit of work and patience, but it's well worth the effort. Root veggies are a great addition to the garden since they store well after harvesting.
When do you harvest potatoes, and how can you tell they are mature potatoes if they are beneath the dirt?
When you begin harvesting potatoes depends on the type and whether you grow 5 gallon bucket potatoes or those in the ground, so it's important to understand the different varieties before planting and picking these root veggies.
Discover some of the more popular potatoes, ways to grow them at home, and when and how to harvest them. Explore tips for storing and using these garden spuds at the end of the season.
Growing and Harvesting Potatoes from Scraps
While many people head to the garden center to pick up seed potatoes for planting time, there is another way to grow these vegetables, which may surprise you.
Find out how to regrow potatoes from potato pieces you might normally throw away. All you need is a healthy, organic spud from the grocery store or farmer's market.
Cut a potato in half or quarters so that each section has one to two eyes, and set them in a dry place in your kitchen for a day or two.
Before planting potato eyes, prepare the garden bed using a garden fork to loosen the soil, remove large clumps and rocks, and mix fertilizer or compost into the dirt.
Consider planting them in grow bags, a 5-gallon bucket, or a raised bed if you do not have the space. Pick an area of the yard where they receive full sun for at least six hours each day.
Plant potatoes after the last hard frost when the soil temperatures begin to warm. Bury the potato pieces, with the eye facing upward, in four inches of soil and twelve inches apart, and water them well.
After the plants begin growing, consider spreading mulch over the garden surface to prevent weeds and retain ground moisture.
After five weeks of growing, it's time to hill your plants. Pile dirt around the plants to create a one-foot incline on each side to encourage new potatoes to grow above those you planted.
Continue hilling your potatoes once a week to protect baby potatoes from sunlight since light exposure causes greening of the tubers, and green potatoes contain solanine and toxins that are harmful to humans.
Watch for problems with potato plants while they are growing. Pests can be an issue so deal with them quickly.
When do You Harvest Potatoes?
Many garden vegetables are clearly visible as they produce and easy to tell when they are ready for picking. However, potatoes grow underground, which leaves you wondering, when do you harvest potatoes?
Potato harvest time depends on the type. Learn about the different varieties of potatoes and when they are ready for picking.
There are three main types with varying growth rates, early-season, mid-season, and late-season potatoes. Early-season types, like Yukon Gold and Irish Cobbler, mature in 75 to 90 days, while mid-season varieties, such as Catalina and Red Pontiac, are ready for harvesting in 95 to 110 days.
It takes months to grow potatoes of some varieties. Maincrop, Fingerling, and Russet potatoes are late-season types that mature in about 120 to 135 days.
How to Harvest Potatoes
You did all of your research, chose the perfect potato, and planted it in your garden setting of choice. You cared for your plants throughout the season, and the time finally arrives when you get to reap your rewards.
Here is how to harvest potatoes at the end of the season and cure the tubers to prepare them for storage.
Potato Harvest
Start checking your planted potatoes, whether you need to pick sweet potatoes or other types, around the time indicated by your variety – early, mid, or late-season. The best time to harvest potatoes is when the leaves begin yellowing and the foliage starts dying back.
Two to three weeks after you see these signs, use a garden fork to gently work the soil loose around the plant's base without damaging the tubers and use your hands to pull them out of the ground.
Put them in a cool, dark place with high humidity for two to three weeks to cure and don't clean harvested potatoes before curing. The curing process heals cuts and causes the potato skin to thicken for longer storage.
Storing Potatoes after Harvesting
There is nothing more disappointing than going through all the gardening efforts only to have your final product spoil. Potatoes can go bad quickly once they start the process. Therefore, it's crucial to understand the conditions root veggies require to stay fresh.
There are a few ways to store potatoes. Here are some of the more popular to ensure your potato crop stays preserved as long as possible.
Some potatoes store longer and better than others, so choosing which ones to plant according to your desired storage time is a good idea. Kennebec, Yellow Fin, Yukon Gold, and Katahdin are some good choices.
The best way to keep potatoes fresh for several months is to store them in a dark environment where the temperature is between 45 to 50°F with a relative humidity of around 95%. A root cellar or basement usually provides the right conditions for your crop.
Brush off excess dirt and inspect each potato before storing. Discard tubers damaged by disease or insects like Colorado potato beetles, use those with slightly broken skin right away, and store the rest.
Place them in a crate or cardboard boxes with ventilation holes, and separate them with shredded paper. If you do not have a root cellar or cool basement, keep them in the dark area of your kitchen or pantry.
Set them in a box or paper bag instead of plastic which has insufficient airflow. Never keep your potatoes near onions or fruit, which release ethylene gas and cause sprouting and spoiling, and avoid setting them in a sunny area.
Some of the worst places to keep potatoes in the kitchen are on top of the refrigerator, near the oven or microwave, and under the sink.
Using Potatoes to Make a Delicious Salad
After growing and harvesting potatoes, it's time to get cooking. While there are many ways to prepare them, from baked and mashed to fried, our favorite way is to make a creamy cold side dish.
This potato salad is a replicated version of the famous Dawn's potato salad, and it makes ten one-cup servings.
Start by boiling the red potatoes for 15 to 20 minutes or until they pierce easily with a fork. Drain the spuds and transfer them to a large bowl of ice water to stop the cooking process. Peel the skins off the cooled potatoes and cut them into bite-sized chunks.
In one bowl, mix the mayonnaise, white vinegar, mustard, sugar, and seasoning salt until blended, and then set it aside.
Combine the potato pieces, hard-boiled egg, chives, and celery in a separate bowl and scoop the prepared salad dressing over the top. Gently fold all the ingredients and eat the salad immediately or chill it in the fridge.
Potatoes are so simple to plant and harvest that even a beginning gardener has great results. There are so many potato varieties, from red and golden to russet, that you'll never get bored.
The best part about planting these root veggies is that they take well to storage and last five to eight months under the right conditions.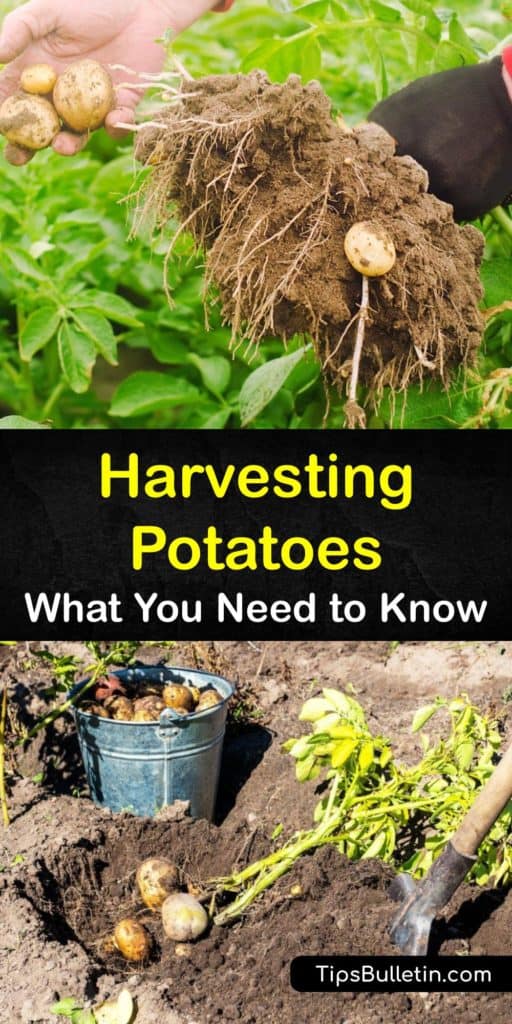 Knowing how to harvest potatoes after growing them in your garden means that your root cellar and pantry stay fully stocked year after year, so why not share our potato growing and harvesting guide with the spud-lovers in your life on Pinterest and Facebook?