One of the many sweet treats that appear in the late summer is raspberries, and their ripe berries last for over a month during the growing season. Depending on when you planted them, it is crucial to trim raspberry bushes to help them bear fruit the following summer. Knowing when and how to harvest raspberries isn't as straightforward as pulling the berries from the stems.
The timing for when to pick raspberries plays a vital role in how the fruiting canes will continue to grow for years to come. Having a raspberry patch full of self-fertile growers is achievable when you care for them the right way.
Knowing when to harvest raspberries helps you understand how raspberry bushes produce fruit, as well as how to handle the old and new canes. When are raspberries ready to pick? Keep reading to find out more information on the perfect raspberry harvest time.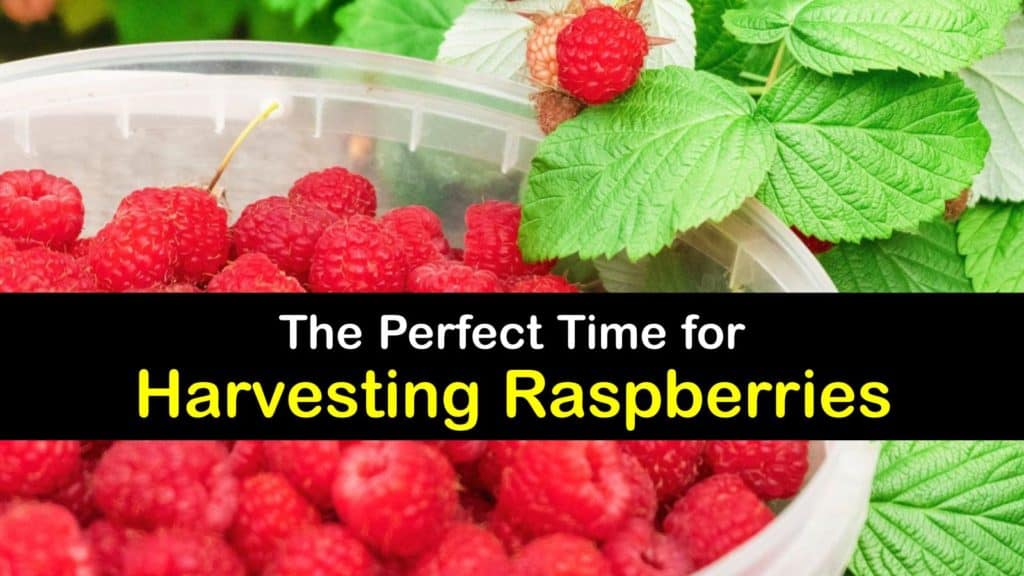 When to Pick Raspberries
Raspberry plants are fruiting shrubs that belong to the Rosaceae family and are a part of the genus Rubus. Are black raspberries the same as blackberries? Although they are related, the fruits and plants are different.
The red fruits of the raspberry plant have become one of the most popular types of berries in North America, and there are many different cultivars.
Raspberry varieties come in different colors and are either black raspberries or red raspberries that grow in brambles. They are also bare-root plants, meaning that they are dormant perennial plants often stored without any soil.
They develop new plants and produce fruit once you plant them in the ground or a shallow container of potting soil. This information is crucial if you want to learn when to harvest raspberries and how to harvest raspberries.
There are two types of raspberries that each have specific growing requirements. Summer-bearing raspberries are the more common of the two raspberry varieties. They only develop fruit on the old canes during their second year of life.
They also bear one crop per season, usually between early summer and late summer. This timing clarifies why many people treat these as a summer crop that gets planted in the early spring.
The other type of raspberry plant is everbearing raspberries. They are also called fall-bearing and autumn-berries raspberries. These plants only produce fruit on new canes and also produce fruit during the first year.
They are best as a fall crop or planted in the late winter to produce fruit the following summer. There are two types of canes to be aware of.
Primocanes are typically associated with everbearing fruits, and floricanes are associated with summer-bearing fruits. Practice appropriate raspberry plant spacing to maintain proper air circulation between plants and reduce chances of disease.
Now that you know the basics about growing these shrubs, let's learn when to pick raspberries at the right time.
When to Harvest Raspberries
Growing raspberries in the appropriate hardiness zone and growing conditions is crucial if you want to get to the point in the growing season where you can start harvesting raspberries. These crops are hardy in USDA hardiness zones three through nine.
They enjoy having soil rich in organic matter, full sun, and plenty of air circulation. Some people train them up a trellis to save some room in their garden beds. Always mulch around your beds after you plant raspberries to keep the soil moist and warm.
How long does it take for raspberries to grow? Although it's pretty easy to germinate raspberry seeds, it takes a while to get fruit. Planting canes is easier.
Raspberries generally ripen around the same time every year, like the best time to pick strawberries. Depending on the crop you choose, they will be ready to harvest during their first fall of the growing season or in the summer during their second year of life.
Keep an eye out for pests like Japanese beetles or birds that try to feed off your plants and berries as they start to ripen. Ripe raspberries are brightly colored and juicy. The entire fruit should have a consistent color and shouldn't be too firm or soft in texture.
How to Harvest Raspberries
Harvesting raspberries is the easiest part of the growing process, similar to harvesting cranberries. Pull a few of the berries off the bush to determine if they are ready. Ripe berries are easy to pull from the branches but aren't mushy in texture.
Continue to pull the ripe berries from the stems every two or three days until the entire crop is gone. Place your harvested berries in the refrigerator right away to help them last longer.
Do not rinse or wash them until just before you are ready to eat them. They typically last for five days in the fridge, but they can also be frozen or turned into a cobbler or jam.
Using Fresh Raspberries in the Kitchen
A single raspberry plant grows between one and two quarts of fresh berries. If your fridge is overflowing with these red fruits, it is the prime opportunity to turn them into something delicious.
Many people prefer to make raspberry jam for longer storage options. Jam is a fantastic option, but we also enjoy desserts that use a large amount and that you get to dig into right away.
Heat your kitchen's oven to 350°F and spray a 9 x 9-inch baking pan with non-stick cooking spray. Add your fresh raspberries to a large mixing bowl with the sugar and cornstarch. Toss the berries with the starch and sugar before adding it to the baking dish and spreading it out in an even layer.
Make the crisp topping by mixing the flour and brown sugar in another bowl. Cut the butter into the flour with a pastry blender until everything is well distributed and crumbly.
Spread the crisp topping over the berry mixture in the baking pan and cook everything for 35 to 45 minutes, and the middle of the crisp is bubbling. Serve the crisp while still warm with a big scoop of vanilla ice cream or whipped cream.
It's hard to find someone who doesn't enjoy the sweet, juicy taste of raspberries. The shrubs are easy to grow at home and taste even better after all of the work put into caring for them.
When you understand how they grow on top of the right time for when to pick raspberries, they'll come back year after year and provide you with many berries to enjoy.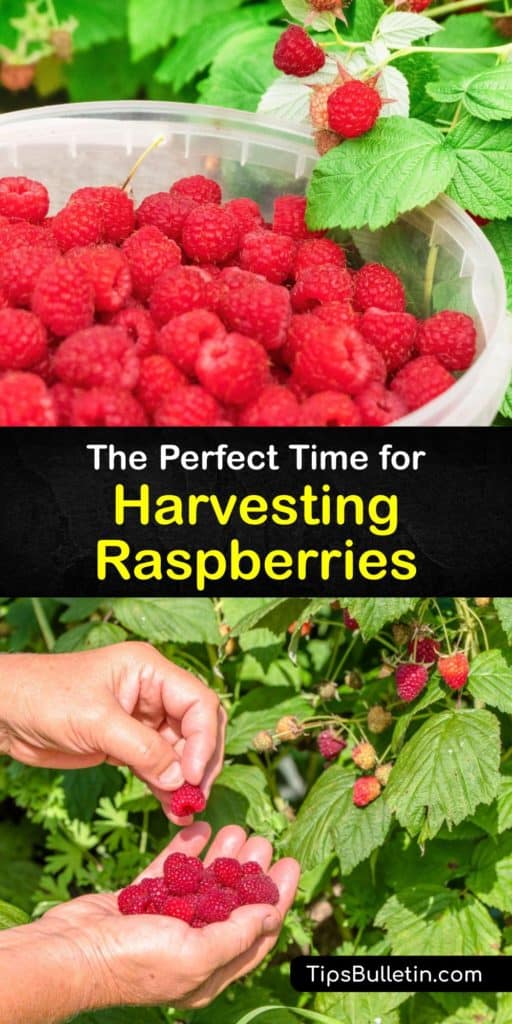 If learning how to harvest raspberries has encouraged you to bake many fruity desserts, share this timeline for when to harvest raspberries on Facebook and Pinterest.