Curious about how to harvest spaghetti squash? Thankfully, harvesting spaghetti squash is relatively straightforward, though knowing when to harvest spaghetti squash is crucial to getting the best-tasting veggies.
Cucurbita pepo, noodle squash, or spaghetti squash, is a winter variety of squash well known for its unique flesh, which, when cooked, quickly shreds to resemble spaghetti noodles. Like most squashes, it's suitable for any level of grower and produces a high yield of fruit if it receives regular care and maintenance.
Discover the optimum time to gather your spaghetti squash and the proper technique for collecting it to maximize flavor. Spaghetti squash does continue to ripen somewhat after picking, but the best squashes are those harvested at peak ripeness and used promptly. Since the texture is so important to the enjoyability of this fruit, harvesting it at the correct time is crucial to ensure your garden yields a high-quality product.
Harvesting Spaghetti Squash
Understanding when to harvest spaghetti squash ensures you don't pick your fruits too early. Growers who know how to harvest spaghetti squash are efficient at collecting their squashes. Avoid damage when harvesting spaghetti squash by using a suitable method and judging each fruit's ripeness and readiness for harvest.
Spaghetti Squash Care During the Growing Season
Growers plant spaghetti-squash-seeds after the last spring frost passes and care for the plants while they bear fruit and begin to ripen. Spaghetti squash loves full sun and prefers at least six hours of direct sunlight daily. Choose well-draining rich soil, and keep your spaghetti squash well watered.
Adding a layer of mulch helps the ground retain water. Provided it's given a trellis and room to vine, most spaghetti squash doesn't require regular pruning. Inspect your plants regularly for signs of insect pests such as squash bugs or fungal issues like powdery mildew and treat promptly.
When to Harvest Spaghetti Squash
You've put in the hard work, and your plants are bearing fruit, so the next question is, when are spaghetti squash ready to harvest? To understand this, we must first know how long does it take for spaghetti squash to grow.
From seeding after the last frost in spring, most plants produce ripe spaghetti squash ready for harvest within eight weeks. Unripe squash is green-colored and soft before it matures and turns golden to dark yellow, indicating it's time to test its ripeness.
Use your fingernail to try to puncture the skin of the squash. Like when harvesting butternut squash, ripe squash has a thick hard rind, and your fingernail shouldn't be able to penetrate it. When the rind's color and hardness are correct, it's time to harvest.
How to Harvest Spaghetti Squash from Your Home Garden
Spaghetti squash harvest time is exciting and is best on a sunny day. Once you know when to pick spaghetti squash from your spaghetti squash plant, it's crucial to understand how. Use a pair of pruners or sharp garden shears and cut the fruit from the vine, leaving about four inches of stem intact.
Pulling or twisting the fruit off without tools often leads to damage. Place harvested fruit in a shallow basket or bucket in a single layer to avoid bruising. Keep your freshly harvested squash in a cool and dry place for as long as three months. Spaghetti squash can go bad so check on it periodically while you have it in spaghetti squash storage, whether it's in the root cellar or fridge.
Store it in the refrigerator once it's cut or freeze spaghetti squash to cook later. Pressure canning spaghetti squash is another option if you're into long-term storage.
Other Squash Varieties to Grow in Your Garden
Squash is divided into two primary categories, winter squash and summer squash. The main difference between veggies in the two groups is texture.
Summer squashes have soft skin and tender, moist innards, while winter squashes have hard rind outsides and store well for long periods. In addition to growing spaghetti squash, consider adding other types of squash to your garden for variety.
Whether you're interested in growing an heirloom veggie variety or hope to provide your own jack-o-lanterns for Halloween, squash is a fun and rewarding garden project.
Discover how to decide if your spaghetti squash is mature and prepared to be removed from the vine before you start harvesting.
Although spaghetti squash should ripen on the vine, if the first frost of the winter arrives sooner than anticipated, it may be feasible to remove the spaghetti squash. Recognizing the signs of a ripe squash ensures you harvest at the correct time, and utilizing the best technique minimizes damage.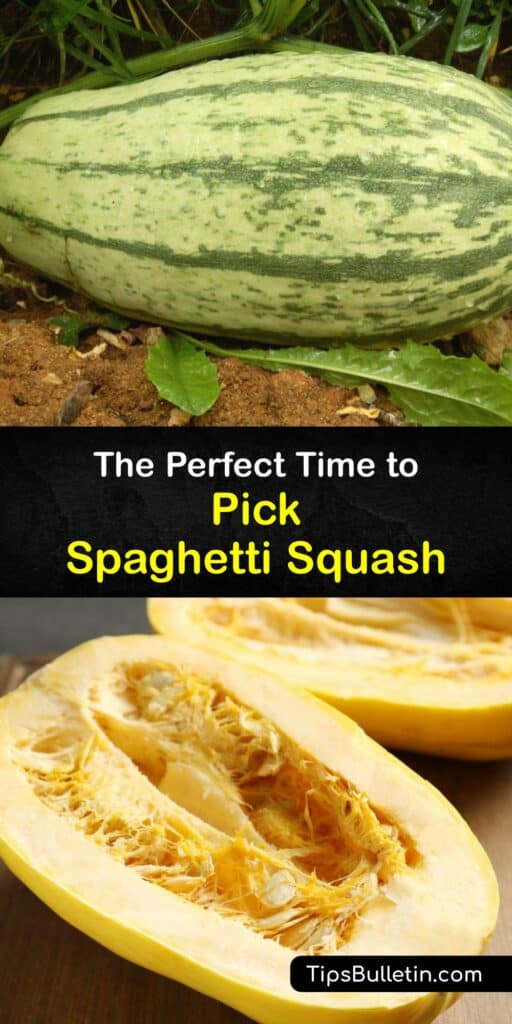 If you loved this article on how to harvest spaghetti squash, please share these brilliant ideas for harvesting spaghetti squash with your friends and family on Pinterest and Facebook.