Who doesn't love a plate of spaghetti squash topped with marinara sauce or grilled zucchini drizzled with olive oil and seasonings? And, the best thing about squash is that most of these gourds last a very long time before spoiling, so they are perfect for storing through the winter. Discover the ways to grow all squash types, when and how to harvest squash, and ways to store it to keep it fresh the longest.
Like other vegetables, there are many health benefits to eating squash. They improve eye health, reduce the risk of depression, and enhance the skin.
In addition, these delicious gourd varieties are packed full of vitamins A, C, and B6, magnesium, folate, potassium, phosphorus, and fiber. They are so beneficial that there is no reason not to grow squash in the vegetable garden.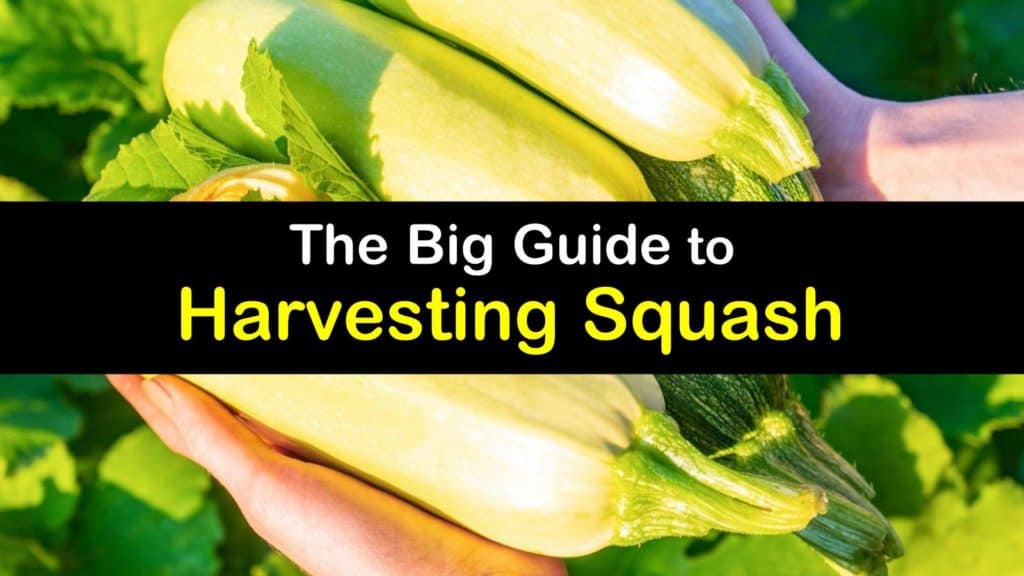 Growing and Harvesting All Types of Squash
When we hear the word squash, a variety of gourds come to mind. The most common is butternut squash, but there is also spaghetti squash, acorn squash, and many other types you may not know.
These squash varieties fall under two main categories, summer squash and winter squash, each with different growing and harvesting times.
While harvesting squash is the best part of the whole process, you still need to grow your plants first, whether growing squash vs gourd. Most all squash varieties are for eating. What are gourds used for? Typically, they are just for decoration.
There are many types of squash to choose from and a certain way to grow squash of varying types, and knowing the differences between them goes a long way to picking the right veggies for your taste and area.
Learn how to plant and grow healthy squash plants, including how far apart to plant butternut squash and how far apart to plant spaghetti squash, as well as when to harvest squash, depending on the variety. There is not a lot of difference for when to plant butternut squash and other types of squash.
Find out the conditions these gourds thrive in and find ways to fertilize gourds throughout the growing season. Explore our storage tips to ensure your food stays fresh as long as possible.
Things to Know Before Growing and Harvesting Squash
There are some facts to understand before planting and harvesting spaghetti squash or any other variety. Which types of squash do you want to grow, and how much space is required for healthy growth?
Learn the difference between squash varieties (Cucurbita) and the growing conditions these plants desire in the garden. There are two main squash types, summer squash and winter squash.
Zucchini, patty pan, yellow crookneck, and yellow straightneck are examples of summer squash, while acorn, buttercup, delicata, Hubbard, kabocha, spaghetti, and butternut squash are all winter squash types. Planting spagetti squash is the same as for the other winter squashes.
The main differences between them are the thickness of their rind and the time when you harvest them. Most of the time, you harvest gourds in fall, while many squashes are harvested in the summer months.
When preparing to grow squash in the garden, choose an area with plenty of space and sunshine. They require six or more hours of full sun daily and three to six feet of spacing between each plant for proper air circulation and growing room.
Squash plants require rich, well-drained soil to thrive, so amend the garden with a couple of inches of organic matter such as aged manure before planting.
How to Grow and When to Harvest Squash
How long does it take for squash to grow? There are many varieties of squash, so it all depends on which one you grow. Discover how to start squash from seeds in the outdoor garden and when to harvest squash depending on the type.
After the danger of frost is gone, hill the soil up in your garden to create mounds four feet apart and add a tablespoon of 5-10-10 fertilizer in each pile. Planting season for gourds in most areas is the spring.
Place four to five seeds into a one-inch hole in each mound and push dirt in over them. What not to plant with zucchini or other squashes includes potatoes and fennel.
If you prefer to start them indoors, plant them in pots three to four weeks before the last frost. Water them right after planting and continue watering lightly to prevent the dirt from drying and encourage germination. You can grow a gourd in a container and keep it there rather than transplant it. Ensure your pot is large enough to accommodate it.
Once the seedlings appear, thin them out so that there are two to three per mound. Spread some mulch over the garden and around the young plants to retain moisture and stop weeds from taking nutrients from the soil.
Water the garden as needed when there is little rainfall to ensure they get about an inch and a half of water weekly. Feed your plants each month during the growing process with the same fertilizer you used when you prepared the bed.
As your plants grow, keep an eye out for common pests like squash bugs, vine borers, and cucumber beetles. Remove them by hand immediately and use insecticidal soap or floating row covers if necessary.
Powdery mildew is another common issue when growing squash, making the foliage look like it's dusted with powder. Prevent powdery mildew on squash plants by growing disease-resistant varieties and using a DIY spray. A combination of baking soda, non-detergent liquid dish soap, and water is a natural and effective solution for getting rid of this problem.
Squash plants have male and female flowers. The males appear before the females and sit directly on the stem. Beneficial insects pollinate the flowers, and the male flowers drop after the pollination process is complete.
After planting your squash seeds, you probably wonder when to pick squash. This is a common question, and it depends on whether it's summer squash or winter squash.
Summer squash is ready to pick as soon as the skin is glossy and your fingernail pierces the skin easily, while winter squash is ready in September and October or before a heavy first frost once the rind is hard and the fruits have a solid, deep color. Gourds are used for many fall decorations, including jack-o-lanterns for Halloween.
How to Harvest Squash and How to Store It
Now that you know when are squash ready to harvest, and you finally get to reap the benefits of your hard work, it's squash harvest time. Learn how to tell when your squash is ready for picking, how to harvest them properly, and tips for storing them short and long term.
Squash Harvest
If you grow summer squash or zucchini, when to pick zucchini or other summer types is based on length and the skin. Once you can pierce the glossy skin with your thumbnail, and pick zucchini, crookneck, and yellow squash once they reach six to eight inches in length.
If you plant winter squash, wait until they are deep in color and the rind is hard. However, make sure to harvest them before a heavy frost.
Use a sharp knife or shears to clip the fruit from the vine, leaving two to four inches of stem intact since this protects the squash from rotting. After the harvest, it's a good idea to harden off the squash to toughen the skins.
However, acorn squash does not need to go through this process. Clean the dirt off each gourd and lay them in a single layer in an area with high temperature and humidity for ten days. Don't forget to turn them occasionally during this time for equal exposure.
To store winter squash, keep it in an area where the temperature is between 50 and 55° with good air circulation. They last anywhere from two months to half a year in this manner, depending on the type.
How long does cut yellow squash last in the fridge? To keep summer squash fresh, set it in the refrigerator for up to ten days. To store them longer, consider freezing them by slicing or cubing them, blanching, and storing in a freezer bag.
Growing your own veggies is a rewarding job, and adding squash to your list of homegrown vegetables is a great way to have food for long-term storage.
The key to producing a healthy crop is giving them TLC and knowing when to harvest them at the end of the growing season.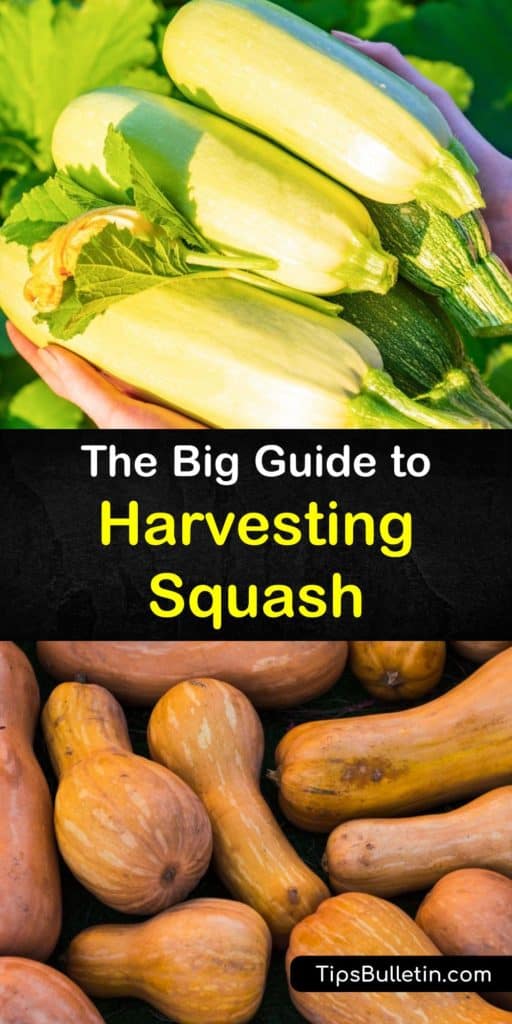 Now that you know when and how to harvest squash after growing a healthy crop, why not share our squash growing and harvesting guide with the veggie gardeners in your life on Pinterest and Facebook?