Many growers wonder how to harvest turmeric to keep this anti-inflammatory, antioxidant-rich superfood in their kitchen. Curcuma longa (turmeric plant) may be gathered directly from your garden, allowing you to savor this beloved household spice in its freshest form all year long.
Turmeric is a tropical plant preferring full sun, warm temperatures, and plenty of moisture. According to the Missouri Botanical Garden, it grows best outside in USDA plant hardiness zones 8 through 11 but may be grown indoors, per the University of Vermont.
Turmeric is most recognized for its aromatic bright yellow spice, derived from the plant's roots or tubers, known as turmeric rhizomes. Turmeric blossoms and turmeric leaves are edible too, which is a pleasant surprise. Its yellow-white flowers bloom on the tips of the spikes of tall, green leaves.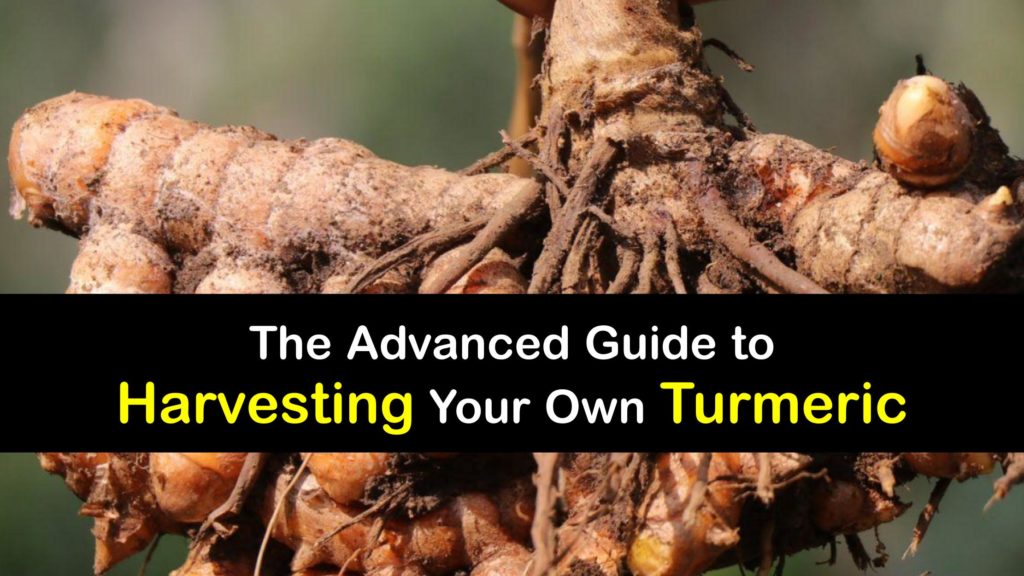 Everything to Know about Harvesting Turmeric
Turmeric, ginger, galangal, and cardamom, are members of the Zingiberaceae family of plants, but note that turmeric and ginger are not the same thing. They all do add a touch of tropical charm to any yard or house. Learn about growing and harvesting turmeric and when to harvest turmeric to enjoy fresh turmeric and all its health benefits from your organic gardening.
Ayurvedic medicine and traditional cooking in India have benefited from using turmeric, which is native to Southeast Asia and has been utilized there for thousands of years. It's a perennial herb that grows up to three feet tall while spreading its leaves widely.
Unlike your typical root vegetables types like carrots or parsnips, tumeric is often available in the grocery store as turmeric powder – a fine powder made from turmeric root, sometimes in the Asian section. Tumeric can also be used interchangeably with curcumin, the active compound in the turmeric plant.
While turmeric contains various plant chemicals, curcumin is responsible for most of the associated health benefits. A plant chemical belonging to a class of substances called curcuminoids, curcumin is the primary active ingredient in turmeric.
Indian saffron is often confused with turmeric. The most significant distinction is Indian saffron comes from the stigma of crocus flowers. In contrast, turmeric is an Indian rhizome belonging to the ginger family. Saffron is prohibitively expensive, but turmeric is more economical in comparison.
Growing your own turmeric allows you to reap this superfood's health benefits and antibacterial properties without worrying about a trip to the grocery store. Learning how to harvest turmeric and when to harvest turmeric ensure a bountiful harvest.
How to Harvest Turmeric – Planting
Before harvesting turmeric, you first must plant it at the right time to ensure sprouting and plant growth. Plant your turmeric at the appropriate time of year before you may harvest it.
Turmeric seeds are generally not available for purchase. Instead, propagate turmeric plants through the use of parts of the rhizome. To plant rhizomes, either order them or, if you're lucky, you might be able to find appropriate rhizomes at your local grocery store, as per the University of Florida.
Rhizomes thrive when planted in potting soil rich in organic matter with good soil moisture and mulch in a full sun area of the garden, whether you plant ginger root at home or turmeric roots.
Turmeric requires eight to ten months to grow in the turmeric growing zone, and it matures at its optimum when the temperature is warm, giving it a decent growing season in temperate areas.
Across its perennial range, turmeric should best be planted in fall. For example, when planted in October, the rhizomes may be harvested as soon as June in warmer weather. However, it may take until August before the plant reaches full maturity.
Turmeric naturally goes into a dormancy period during the winter months, where leaves turn yellow and die. The rhizomes continue to grow and reproduce under the soil.
When to Harvest Turmeric
Most growers are concerned about when to harvest turmeric or pick ginger to ensure the highest yield of spice. A simple answer to when to harvest turmeric is when the flowers die back; this is a good rule of thumb, generally indicating it's time to dig up your rhizomes.
Many herbs are popular because they allow you to select fresh herbs off the plants and use them all year long or throughout the growing season. The only difference is when it comes to turmeric, growers must wait and harvest from all of their turmeric plants simultaneously, only once a year.
Instead of guessing when it's turmeric root harvest time, wait until the blossoms have faded and the leaves have turned yellow before harvesting the rhizomes themselves.
Using shears, trim off the tops of the turmeric plants to make harvesting turmeric more accessible, but this isn't essential. Still, it makes it easier to reach the underground rhizomes without running into a wall of leaves.
Use a trowel to dig up the rhizomes after thoroughly watering the area to loosen the ground beneath them. Each plant likely has a tiny number of rhizomes on its roots. After harvesting turmeric, set aside a few rhizomes for planting in the fall and use the rest for cooking or storing.
How to Harvest Turmeric and Store It
Tomatoes and other vegetables like fresh turmeric have a short shelf life in the refrigerator, lasting a week or two. While freezing reduces the flavor a little, it lets you have fresh turmeric on hand whenever you want it.
Rinse and carefully peel the rhizomes and place them in a freezer-safe plastic bag to keep them fresh. Use the grated turmeric in your dishes whenever you need a burst of turmeric flavor; it grates readily while refrigerated or frozen, so you don't have to thaw the spice before using it.
Additionally, dry it and create your own turmeric powder. Wash the rhizomes thoroughly before thinly slicing them. Then, either dehydrate them in a dehydrator or bake them on a baking tray in the oven at the lowest temperature setting.
They have reached the proper dryness when the slices break instead of bending. Use a food processor or grinder until finely ground, sift the powder, and store in airtight containers.
Whether you decide to grow Curcuma longa, Curcuma domestica, or Hawaii Red, turmeric plants are a great addition to any garden, and their produce is essential for the spice rack.
Once you understand the growing process and how to harvest turmeric, it's easy to add this tropical plant to your garden and relish harvesting turmeric for a tasty, aromatic spice fresh from organic gardening.
If you loved this article on how to harvest turmeric, please share these tips on when to harvest turmeric with your family and friends on Pinterest and Facebook.