Zucchini is one of our favorite summer squash plants to grow in the garden and a wonderful addition to the diet. How long does this veggie take to grow, and what's the best way to pick zucchini? Learn how to grow zucchini and the different types and when and how to harvest zucchini at the end of the growing season.
After harvesting fresh zucchini from the garden, the first thing we make is baked Parmesan zucchini with a side of zesty marinara sauce. However, these veggies are so versatile that they're delicious fried and grilled or in a sweet bread. There are many ways to use them in cooking, and they're also extremely healthy.
Zucchini fruit is low in calories, sugar, and fat and highly nutritious, containing high amounts of antioxidants like zeaxanthin and lutein.
With all the benefits these fruits provide, there is no reason not to include them in the veggie garden. While they have large leaves, they take up less space than you'd think, and each plant produces up to ten pounds of summer squash.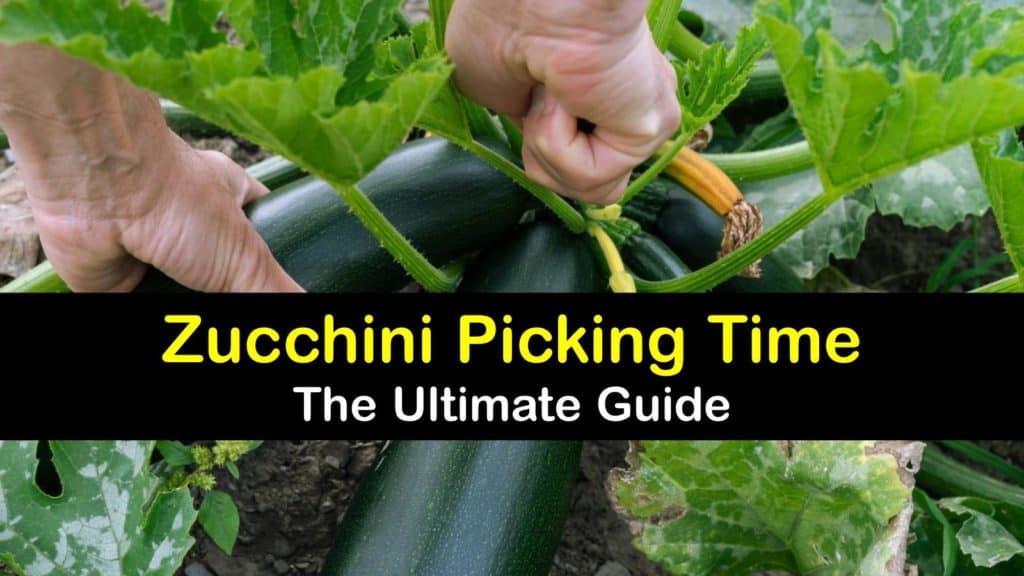 Easy Ways to Grow and Harvest-Zucchini
While zucchini plants require some assistance to grow healthy and produce fruit, they are relatively simple to grow from seed and transplant into the garden bed or raised bed. Give your plants proper care, and all that's left is knowing when to pick zucchini for the best-tasting fruit.
There are several types of zucchini squash, from Black Beauty to Crookneck. Find out how to grow the different kinds of zucchini to get a head start on the growing season and when to harvest zucchini. Discover plant care tips and a surprising way to prepare zucchini for a sweet treat.
When to Harvest Zucchini Based on Type
When are zucchini ready to pick? There are many zucchini varieties, and they have varying growth rates. Explore the different types and when to harvest zucchini based on the variety.
One of the most popular zucchini varieties on the market is heirloom Black Beauty. This type produces seven to eight-inch, green glossy fruits, but the plant has a long growing time, and they aren't ready to harvest for 110 days.
Raven zucchini has a very short growing period and is ready to pick in as little as 48 days. This type is a compact bush that produces two to three deep green, eight-inch fruits each week.
Fordhook is a vigorous, bushy plant that grows medium mottled green zucchinis with creamy white flesh and is ready for picking in 57 days. For something a little different, try the Golden Gourmet zucchini. This variety produces bright orange-yellow fruits ready to harvest in 55 days.
If you prefer an Italian-style zucchini, try the Gadzukes. It is a compact, upright bush with dark green fruits and light green ridges that slice into star shapes. This zucchini plant is ready for picking in about 55 days.
How to Grow and When to Pick Zucchini
After you decide which type of zucchini to grow, it's time to sow seeds and prepare the garden for planting. Be sure to check out what to plant next to zucchini for natural pest control with companion planting.
Here is how to start zucchini plants from seed and ways to tell when to pick zucchini for the best flavor and texture.
Whether you need to know when to plant zucchini in zone 7 or zone 9, the anticipated date of the last frost is an important consideration. A month before the last frost, sow zucchini seeds indoors in peat pots of potting soil or outdoors directly in the garden once the soil temperature reaches 60°F. Do you know how deep to plant zucchini seeds? For the best results and optimal germination, press the seeds an inch beneath the dirt and spray them with water to moisten the soil.
When the risk of frost is gone, transplant the seedlings outside in the garden. Choose a full sun location and prepare the bed with organic matter or compost. Plant them with two-foot spacing, spread black plastic mulch over the ground to hold in warmth and retain soil moisture, and position a trellis behind the plant.
Keep your garden watered as the zucchini vining plant grows so that it receives an inch of water each week, especially when it flowers and fruits. An easy way to tell when zucchini is bad from overwatering is that the fruit is mushy and begins molding.
Zucchini have female flowers and male flowers, and pollination is essential for fruit formation. Bees and other pollinators transfer pollen from the stamen of the male flower to the female to pollinate it.
Watch for squash bugs, cucumber beetles, squash vine borers, and other insects as your plants mature, and install floating row covers if you suspect pests.
Other problems include blossom end rot and powdery mildew. Powdery mildew is easy to prevent with regular watering and good air circulation. Blossom end rot is an issue that arises from a calcium deficiency and adding gypsum increases this nutrient in the soil.
How long does it take for zucchini to grow? The answer depends on the type. The growth rate varies, but most zucchini types are ready to pick in about 55 days when the fruits are roughly six to eight inches long.
Zucchini is a summer squash that you harvest before fully mature, unlike winter squash, such as acorn and butternut, you pick at full maturity.
How to Harvest Zucchini
Waiting for zucchini seeds to germinate into seedlings and then into mature vines with zucchini flowers and fruits seems like forever. When it's finally zucchini harvest time, learn the ways to tell when zucchini fruits are ripe for picking and how to harvest them correctly from the vines.
When zucchini fruits reach six to eight inches in length, usually four to eight days after flowering, they are ready to pick. To harvest zucchini, do not break it off the vine with your hands since this causes damage to the stem. Use a sharp knife or garden shears to prune the fruit from the vine while leaving an inch of stem intact.
The best way to keep zucchini fresh and to store zucchini after harvesting is to use the fridge. Place them in an opened plastic bag and keep them in the fridge crisper drawer for up to a week.
Making a Delicious Bread after Harvesting Zucchini
It's easy to get burnt out after harvesting zucchini and using it to make baked, sauteed, or breaded zucchini slices day after day. Not to worry – our mildly sweet, chocolate chip zucchini bread is a delicious way to use up your crop, and you'll never get bored.
Combine the flour, cinnamon, ginger, nutmeg, baking soda, baking powder, and salt in one of the bowls and set it aside. In the other bowl, blend the butter, brown sugar, and eggs until smooth. Add the zucchini and vanilla extract and mix until combined.
Mix the dry ingredients with the wet and fold in the chocolate chips. Pour the batter into a lightly grease-sprayed loaf pan and bake it in the oven heated to 350°F for about an hour or until a toothpick inserted in the center comes out clean.
Growing your own summer squash at home is both simple and rewarding. All you need are some zucchini seeds, proper soil, sunshine, and water, and a little patience. Manage your plants with some TLC and enjoy fresh zucchini for your favorite recipes after harvesting.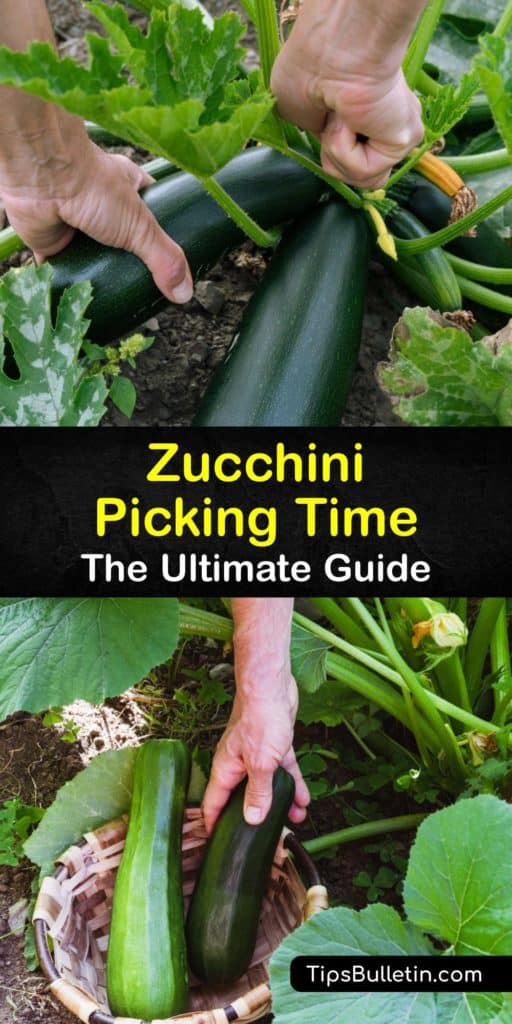 Knowing how to harvest zucchini after growing your plants through the season means that you get to reap the benefits of your hard gardening work, so why not share our zucchini growing and harvesting guide with your family and friends on Facebook and Pinterest?