Bananas are an all-time favorite fruit that is versatile, tasty, and healthy. Unfortunately, their firm, creamy texture and gently sweet flavor fade to discolored mush after sitting too long. Learn how to keep bananas fresh the longest and store them in a variety of ways.
Bananas are rich in potassium, minerals, antioxidants, and vitamins, and are among the most popular fruits.
They also have a brief shelf life and quickly turn from green to yellow, and finally brown as the pigment of the skin breaks down. Cut bananas are even worse since chunks turn brown within minutes due to oxidation.
Opening a bagged lunch to discover a bruised and mushy banana is not fun, no matter your age, and making a delicious fruit salad with slices of brown and slimy banana chunks is unappealing. However, there are ways to keep bananas fresh longer and store them to prevent bruising.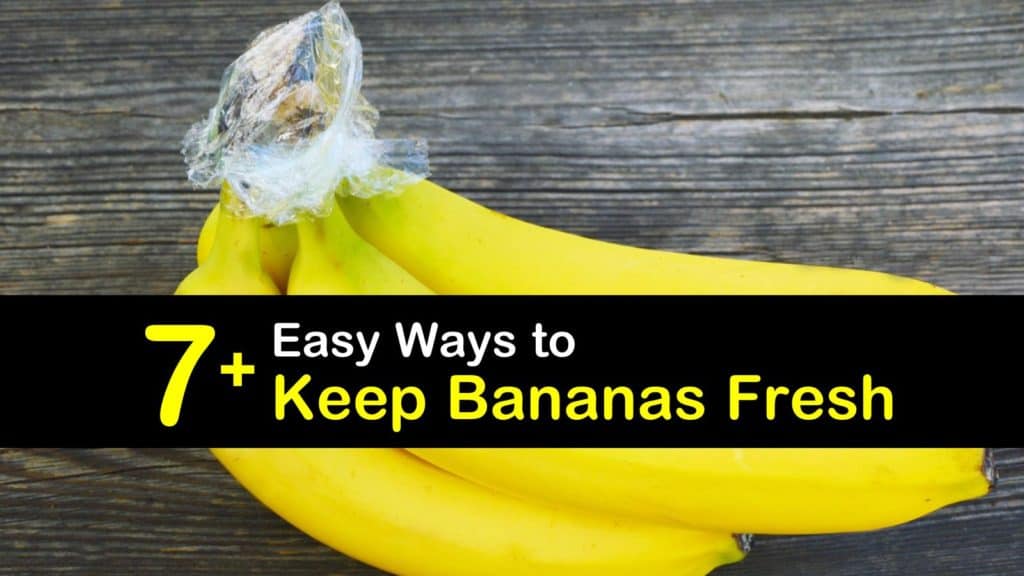 Storing Fresh Bananas and Ways to Use Overripe Bananas
There are a few ways to keep bananas fresh on the counter, refrigerator, and freezer, and the way to store them depends on how ripe they are and their condition. The same applies to other fruits and the best way to keep veggies fresh, too.
What about green bananas and overripe bananas? Those are easy to store as well.
How Long Do Bananas Last?
You purchase a large bunch of bananas, but cannot possibly eat them right away. How long do bananas last, and how many days do you have before those fruits turn brown? It all depends on how you store bananas and how ripe they are when you buy them.
Banana Shelf Life
If you like eating a banana every day but struggle with keeping them fresh, consider purchasing two bunches of bananas while at the grocery store, one yellow and one green.
The yellow bunch lasts up to three days and tastes the sweetest when they begin to get brown spots. Green bananas take a while to ripen and are ready to eat after three to four days, just as you finish the first bunch.
Unpeeled bananas last five to seven days in the fridge, while cut bananas last three to four days. On the other hand, frozen mashed bananas and chunks last up to six months in the freezer.
Keeping Bananas Fresh at Room Temperature
Room temperature is often the best way to store many types of fruit. Keeping bananas fresh on the countertop, in the pantry, or on-the-go is easy using a few simple techniques, and ripening bananas is simple using a kitchen hack. The counter is also ideal for keeping watermelon fresh that has not yet been cut.
Wrap the banana stems with plastic to stop ethylene gas release and keep them away from other ripe fruit. Hang yellow-green fruit on a banana tree or place them in a bowl in a dim kitchen corner.
For snacking on the go, place the banana in a banana bunker to prevent the fruit from bruising. To ripen green bananas, place them in a paper bag with a ripe apple or tomato to speed up the ripening process.
However, if you have yellow bananas that are just right, place unripe fruit or avocados in the bag with them to slow the banana's ripening while encouraging the other fruit to ripen.
Learn How to Keep Bananas Fresh in the Fridge
Storing bananas at room temperature is ideal, but they also store well in the refrigerator if you follow a few steps beforehand. How long do bananas last in the fridge? Bananas kept in this manner last for up to a week.
Once the bananas are fully ripe, separate them and wrap each one in plastic wrap. Place the covered fruits into a plastic bag and store them in the fridge away from other fruits and vegetables. Refrigeration causes the peels to darken, but the flesh is not affected.
The fridge is the best way of keeping green onions fresh for the short term, too.
Storing Bananas after Cutting Them
Peeled bananas turn brown very quickly due to oxygen exposure. They lose their firm texture and look visually unappealing. Cut bananas do not last long in the refrigerator unless you add some acid to them first.
Place the sliced bananas in a storage container and sprinkle them with an acidic fruit juice such as lemon juice or pineapple juice. Cover them with a lid and keep them in the refrigerator for up to four days.
If you plan to eat them quickly, the best way to keep strawberries fresh is the refrigerator, also. There's no need to add an acid, but if the strawberries are sliced, a little sugar creates a delicious mixture you can eat by itself or as a topping on cheesecake or ice cream.
If you put bananas in your fruit salad you may wonder how long does fruit salad stay fresh? If you have acidic fruits and a little juice in your salad, it can last several days.
Storing Banana Chunks in the Freezer
Can bananas be frozen? You bet. If you enjoy having bananas in ice cream, smoothies, and other cold snacks, we have the solution for long term storage.
Freezing banana chunks is an ideal way to keep healthy fruit on hand, and it only takes minutes to prepare.
Peel the bananas, slice them into desired pieces, and lay them in a single layer on a parchment-lined baking sheet. Set the pan in the freezer and flash freeze them for about two hours to ensure the fruit does not stick together.
Place the frozen chunks into a freezer bag, label it with the date and contents, and set them back into the freezer for up to six months.
Freezing Mashed Bananas for Baking
If you enjoy spending your time making loaves of bread, muffins, and other baked goods, then freezing mashed bananas is the perfect way to use them up before they go bad while making sure you have a steady supply whenever you fancy.
Peel the bananas, set the fruit in a bowl, and smash them with a potato masher or fork. Add about one teaspoon of lemon juice for each cup of banana to prevent browning and scoop the fruit into a freezer bag.
Press as much air out as possible before labeling it and setting it in the freezer. To thaw the mashed banana, put it in the refrigerator overnight and use it as you would typically for baking.
Don't Throw Away those Banana Peels
Believe it or not, but banana peels are edible and contain high amounts of vitamins B6 and B12, as well as potassium and melatonin. Before you toss those peels in the garbage can or compost pile, consider using them in your diet.
To reap the benefits of natural melatonin, make a bedtime tea with banana peels. Bring a pot of water to boil and add a peel to the water. Boil it for about ten minutes and strain the tea into a cup. Add your sweetener of choice and relax.
Making Banana Bread with Overripe Bananas
Before you throw those brown bananas in the trash, try making a loaf of bread with them. Banana bread is a moist and slightly sweet comfort food that is hard to resist fresh from the oven.
Mix the cooled, melted butter and brown sugar in a bowl for one minute. Add the eggs, vanilla, and mashed banana and blend until smooth. Pour the dry ingredients in another bowl and then add them to the wet ingredients. Stir the batter until all is blended.
Lightly grease a baking pan and use a rubber spatula to scrape the mixture into the pan. Slide it into an oven, preheated to 350°F, for 20 to 25 minutes.
Rotate the bread halfway through the process to ensure even baking. Remove the bread from the heat and place it on a wire rack to cool.
How to Make a Fruit Smoothie with Frozen Bananas
Smoothies are not only delicious but are a tasty way to ensure you get the vitamins and minerals needed when you don't have the time for a sit-down meal.
Storing a container of frozen bananas in the freezer keeps your fruit at the ready for those last-minute frozen drinks.
Put the banana slices, milk, yogurt, and vanilla into a blender or food processor and mix until smooth. This recipe is for one large smoothie, so double the ingredients if you're serving two.
Consider adding peanut butter, chocolate, whey protein, or other fruits to personalize the smoothie to your taste and diet.
Bananas are healthy and tasty, but buying a bunch of bananas at the perfect ripeness means you'd better prepare to devour them quickly.
Luckily, a few kitchen hacks keep those fruits fresh a little bit longer, and there are many ways to use them once they're past their peak.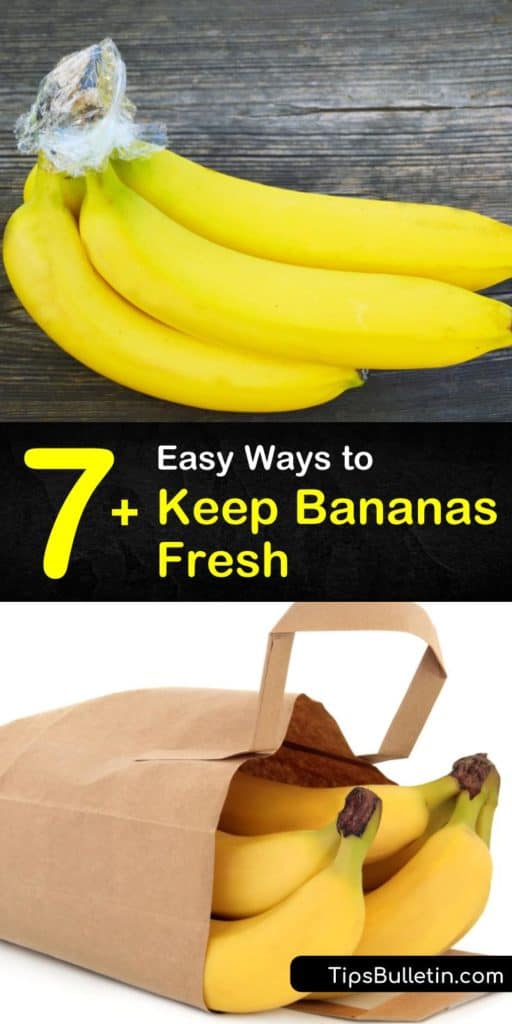 Now that you've learned how to keep bananas fresh in various ways, why not share our banana storage tips and techniques with your family and friends on Pinterest and Facebook?