Adding fresh herbs and spices to a dish is an easy way to bump up flavor and freshness. Basil is an ingredient found in so many of our favorite foods, and knowing how to keep basil fresh allows us to enjoy this sweet, earthy herb in various ways.
Keeping basil fresh is a bit tricky for those who have limited experience with a basil plant. Teaching you the basics about how to keep basil fresh and show you several toasty storage options along the way is a win for you and your herbs.
The basil plant is a green leafy herb. It originated in Asia and Africa and is known for being part of the mint family.
There are several varieties of basil leaves, including sweet, Greek, Thai, lettuce, and cinnamon. Each type has different flavors and is used in cooking, teas, and medical benefits.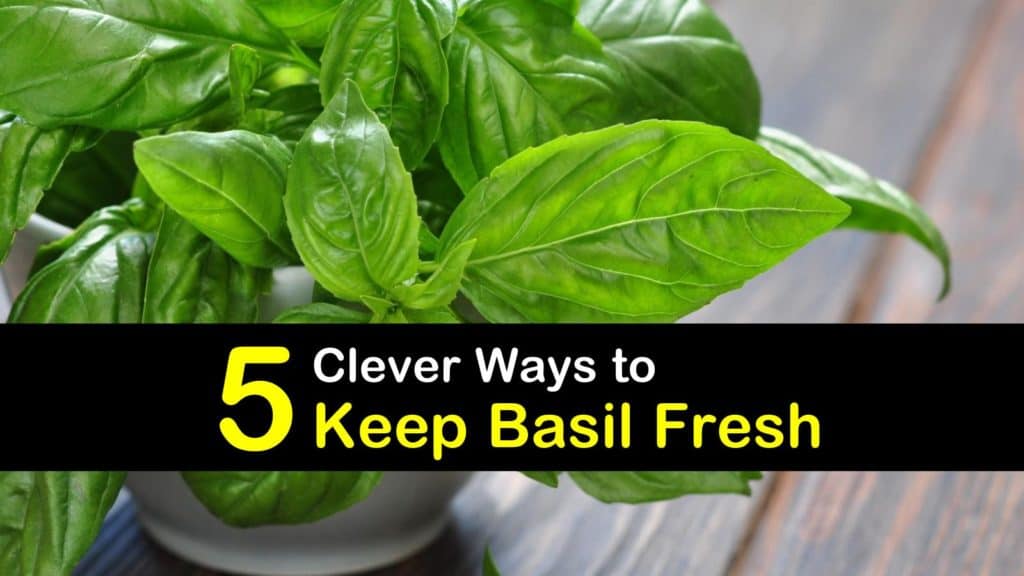 Nutritional Benefits of Basil
Although basil is exceptionally healthy, most foods only require small amounts at a time. Dry basil leaves contain more concentrated nutrients than fresh basil leaves.
The most beneficial nutrient is vitamin K, but basil has antioxidant and anti-inflammatory properties as well. With all the different kinds of basil, each brings a set of advantages that the other doesn't.
For example, studies show that eating sweet basil correlates with reducing memory loss and depression, improving blood sugar, preventing cancers, and increasing mental alertness.
Basil extracts and essential oils are known to repel insects like mosquitoes and ticks. Adding fresh basil to your food is good for your body, as well as your appetite.
Add basil to the perennial herb garden on your windowsill. Planting seeds every month or so ensures a constant fresh harvest. If you don't have an herb garden, we have some ideas on how to store basil so you always have it when you need it for a recipe.
How to Keep Basil Fresh from Day One
How long does lettuce last or basil and other fresh herbs after buying? It depends on how fresh it is when you purchase it.
Unfortunately, basil wilts and turns black at a surprisingly quick rate. The fresher your basil is, the longer it lasts at home.
When looking for fresh basil at the grocery store, purchase plants with vibrant green leaves. The basil plant should be free of dark spots and smell sweet.
How Long Does Basil Last?
One of the most important things to learn about keeping basil fresh is its shelf life. If you store basil in the pantry, it typically lasts at room temperature for as little as seven days, unlike root vegetables and apples.
Can you keep potatoes in the fridge? Cut potatoes respond well to refrigeration but whole potatoes are better off in the pantry or root cellar. For preservation methods other than the fridge, basil lasts as long as six months to a year.
The Best Ways for Keeping Basil Fresh
It's heartbreaking when you have to throw out a bunch of basil. This article gives you some of the most common ways to keep basil fresh and creative ways to keep this herb around your home.
Like when keeping salad fresh, you must have a plan of action to keep your basil green and healthy for your next recipe.
The Simplest Way to Store Basil
The best place for fresh basil is in the refrigerator, along with being the best way to keep vegetables fresh – at least most of them. Fill a small glass jar with cold water and place the basil stems in the water like you would a flower bouquet.
Drape a loose plastic bag over the plant and store it in the fridge. So, how long do basil last in the fridge? This method keeps your basil fresh for up to one week before seeing signs of rotting.
Follow this same procedure for how to keep cilantro fresh, as well as other leafy herbs.
Wrap Your Greens
Another safe way to store basil closely resembles how people keep salad greens. Cut basil leaves from the stem and lay them in a single layer on a bunch of paper towels.
Roll the paper towel around the leaves, put the roll in a plastic bag, and store the bag in your fridge's crisper drawer.
How to Freeze Basil Leaves
The freezer is ideal for food storage. It is perfect for storing jalapenos after picking, saving fresh garlic, and preserving many other types of produce for later consumption.
If you're looking to keep your basil leaves for long periods, freezing them is the best way to achieve that. Before freezing your basil, blanching your herbs is an essential step in preserving the color and keeping the leaves from breaking down.
Remove the basil leaves from the stems. Toss the leaves in a pot of boiling water for five seconds and immediately dunk them in a container of ice water.
Dry the basil leaves with a paper towel and put the leaves in a freezer-safe bag. Freeze them for up to six months. Add the frozen leaves to simmering soups or sauces.
How to Make Flavor Cubes
Sometimes keeping basil fresh requires getting a little creative. The cubes last up to a year in the freezer and are easily tossed into a dish while cooking.
This method for how to preserve basil is easy. Put the basil leaves in the food processor and chop them. With the food processor running, slowly add olive oil until it makes a paste.
Spoon the basil paste into ice cube trays and place them in the freezer. Once frozen, remove the cubes from the tray and store them in a freezer bag or plastic bag.
Making Pesto
Pesto is a delicious condiment starring basil as the main ingredient. Homemade pesto lasts for a week in the fridge or as long as a year in the freezer.
Add the garlic and pine nuts to a food processor and pulse them until minced. Add the cheese to the container and process for an extra 30 seconds.
Add the basil and process until the leaves are finely chopped. Slowly add the oil with the machine running until you have a sauce-like consistency. Add the salt and pepper to the mix if desired.
Spoon the pesto into ice cube trays and allow them to freeze. Place the pesto cubes in a freezer bag and add them to pasta dishes or thaw them and use them as a spread.
Oven-Dried Basil
We often purchase our herbs already dehydrated when it's easier and cheaper to do it ourselves. To dry basil leaves, preheat an oven to 180°F. Top a baking sheet or cookie sheet with wax paper and line the pan with a single layer of basil leaves.
Dry the leaves in the oven for two to four hours until the leaves easily crumble. Store the dried herbs in airtight containers in a cool, dry place.
Although basil has a subtle, sweet flavor, it makes one of the best additions to Italian and Thai dishes.
Basil has been used in food for centuries and is a staple in many of our homes today, but we often find ourselves asking, how long does basil last and what is the best way to store it?
Keeping basil fresh is an easy thing to learn and keeps our home cooked meals tasting like they were made with care.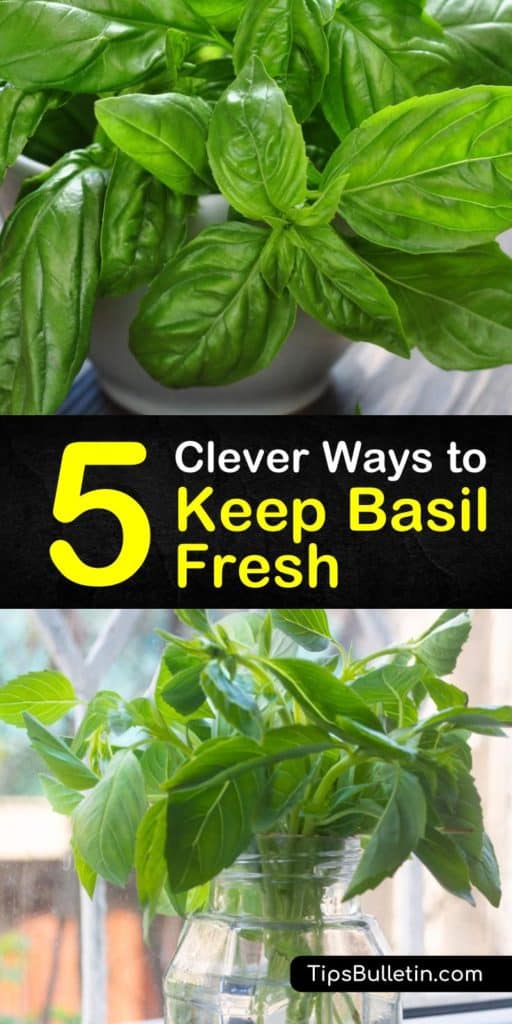 If you found it helpful to read about how to keep basil fresh, share these herb preservation tips with family or friends on Facebook and Pinterest.