Waking up to a row of itchy, red bites is enough to put anyone in a panic: could it be bed bugs? If so, sleepless nights, packing up your belongings, and maybe even an exterminator is in your future. You want to find out how to keep bed bugs away to stop a bed bug infestation in its tracks.
To get these pests to leave your house alone, you need to understand how they operate. Bed bugs hiding places include inside closets and clothing piles, behind wallpaper, inside wood furniture, and around beds, such as the box spring or headboard.
Their flat bodies fit in narrow cracks and crevices. Bed bugs don't tend to travel far from the bedroom since they're attracted to warmth, moisture, and exhaled carbon dioxide. They feed mostly at night and can live for several months without food, although they prefer to suck blood at least every 14 days.
What Repels Bed Bugs?
Unfortunately, bed bugs reproduce quickly. A female lays up to 200 eggs over her lifetime, which could be up to a year but is often less.
There are numerous DIY solutions to a bed bug problem, like Neem oil for bed bugs. Their effectiveness varies, so try several to find what works best in your situation.
You'll have to use most solutions repeatedly, and if the infestation worsens, consider involving a pest control company.
What Repels Bed Bugs Naturally?
For an all-natural option, crush the leaves of herbs that bed bugs dislike. Do bed bugs like lavender and peppermint? The scent of peppermint repels bed bugs, while lavender makes them nauseous and sometimes even kills them.
A great natural product that you can use is Neem oil or Neem leaves. Use Neem oil for bed bugs, as they hate the smell of Neem and will stay away.
Spread the crushed leaves wherever you're dealing with bed bugs. Vacuum up the herbs regularly, replacing them with fresh leaves. This solution to the problem of "What keeps bed bugs away?" is safe for humans and pets.
How to Keep Bed Bugs Away with Essential Oils
Several essential oils are believed to repel bed bugs. Dilute several drops of one or more oils in a spray bottle filled with water. For tea tree oil, use 20 to 25 drops of oil per bottle. While any of these essential oils will make an effective homemade bed bug repellent for skin, it is important to note that undiluted tea tree oil is not safe for humans.
When you use peppermint oil for bed bugs or a different essential oil, spray the mixture regularly on your mattress, bedding, and clothing to encourage the bugs to steer clear.
You can also make a homemade dust mite spray recipe from one of the above essential oils that works for both pests.
Make a Spray that Deters Bed Bugs
If you're curious about what repels bed bugs without using harsh chemicals, essential oils aren't the only option for bed bug solutions.
The pests also run from cayenne pepper, especially when combined with other strong-smelling ingredients. Find oregano oil at pharmacies and health food stores.
To make this home remedy to get rid of bed bugs, combine the ingredients, then strain them to remove solids. Spray the repellent regularly on entry points like doorways to stop bed bugs from setting foot in your home.
Use Black Walnut Tea Bags to Discourage Bed Bugs
Another answer to "What repels bed bugs naturally?" is black walnut tea. This tea has a bold, earthy flavor and several health benefits. Among other things, it contains antioxidants, is antibacterial and antiparasitic, and reduces the risk of heart disease.
Find it at specialty stores or by online order. Once you've enjoyed your tea—or poured it in the garden if you truly can't stand the flavor—place the bags around the infested area. The scent repels insects, including bed bugs.
How to Keep Bed Bugs Away with Dryer Sheets
Another scent that bed bugs detest is scented dryer sheets. Try placing a layer on your bed or rubbing the sheets over furniture. If you've been wondering, "What keeps bed bugs away?" solutions like dryer sheets and essential oils are only a partial answer.
These DIY options encourage bed bugs to leave a particular area alone. However, to get your house or apartment bedbug-free, you'll also need to employ more-rigorous preventative measures.
Cleaning and Caulking to Prevent Bed Bugs
The explanation for "How do you get bed bugs in your house?" is generally that they traveled inside on something, whether that's clothing, a suitcase, or a piece of used furniture.
A bed bug infestation does not reflect a house's dirtiness or cleanness. Nonetheless, clearing away clutter reduces the number of possible hiding places.
Another relatively straightforward step is caulking any cracks or holes. You may not be able to block every entrance into your home, but it is possible to limit entry points.
Be Cautious about Secondhand Furniture and Travel
Although buying secondhand has clear advantages, inspect all used furniture, clothes, and books carefully. Learn below how to identify bed bugs and how to remove bed bugs from wood furniture.
Bed bugs are most common in crowded buildings with high turnover rates, like apartment buildings and hotels. The pests slip through cracks in floors and walls.
You may not be able to do much about living in an apartment building, other than engaging in general bed bug control. However, follow precautions to reduce the chances of bringing home unwanted guests after traveling.
Before going on vacation, spray a diluted essential oil inside your suitcase, and pack your clothing inside plastic bags. Place your bags directly on the metal luggage rack in your hotel room, ensuring that the rack is not touching the wall or any wooden furniture.
When you get home, run all clothing through the laundry and heat inside your suitcase with a hair dryer.
What Keeps Bed Bugs Away from Clothing?
If you've just gotten back from a trip or suspect you might have bed bugs, run all clothing, towels, and bed sheets through the washer and dryer on the hottest possible setting.
This procedure imitates a pest control company's heat treatment method for killing bed bugs.
Transfer the clean clothing to a sealed plastic bag to prevent bed bugs from accessing it. Use a hair dryer to heat any items that should go through the laundry.
Vacuum to Eliminate Bed Bugs
Vacuuming is one of the most common strategies for what keeps bed bugs away. If you may be facing an infestation, vacuum multiple times per week.
Start by wiping with soapy water or using a stiff brush to loosen the bugs, as well as bed bug eggs, droppings, and shed skins. Then, vacuum all over: bedding, cushions, mattresses, the bed frame, carpets, floors, and furniture.
Start higher up on items and work your way down. For tight spots, use a powerful vacuum attachment to suck the bugs out of cracks. When you finish vacuuming, clean out the vacuum carefully and dispose of its bag outside your house.
What Keeps Bed Bugs Away from Beds?
Trying to protect your bed from bed bugs may seem futile, given the fact that their name reflects their attraction to sleeping quarters. Nonetheless, there are a few tricks for how to keep bed bugs away from a bed.
Try coating bed legs in Vaseline or double-sided tape. Both materials capture bed bugs, preventing them from reaching the top of your bed.
To eliminate all other routes to your bed, drag it away from the wall, and don't leave blankets or clothes dangling on the floor.
There are also bed bug interceptors that go under the feet of a bed. These cups have a rough exterior, enabling bed bugs to climb them, but their smooth interior traps the pests.
How to Identify Bed Bugs
If you suspect you're dealing with bed bugs or would like to check your pest management strategies' effectiveness, you need to know how to identify the pests.
The easiest way to identify a bed bug is to spot one in the flesh. Adult bed bugs are flat, round, reddish-brown, and about the size of an apple seed.
Bed-bug-bites are not the most useful identification tool since they resemble the bites of fleas and mosquitoes.
Watch for itchy, red, raised bites on areas that would be exposed as you're sleeping, such as your face and hands. The bites may be arranged randomly or in a straight line, often in a group of three.
Other signs of bed bugs include papery skins from when the nymphs shed their skins; red stains from crushed bugs; a sweet, musty odor; tiny, pale-yellow eggshells; and small, dark spots from bed bug droppings. Do a bed bug feces smear test to detect bed bugs in the bed or another piece of furniture.
How to Kill Bed Bugs
Sometimes, asking "What repels bed bugs?" isn't enough. Sometimes, you just want to kill them. Bed bugs die at temperatures of 122℉ and above, so try using a steam cleaner.
Pesticides are, of course, an option. Note that bed bugs appear to be developing insecticide resistance and that you should always read the label carefully. Look for products that are registered with the Environmental Protection Agency (EPA).
If you're wondering what kills bed bugs instantly naturally, rubbing alcohol does the trick. A slower-acting alternative is sprinkling food-grade diatomaceous earth or baking soda on mattresses and in cracks.
It's also possible to buy a special mattress cover. Bed bug encasements must stay in place for at least one year to ensure that all the trapped bugs starve to death.
Bed bug treatment and repellent options range from applying crushed herbs to vacuuming and placing interceptor cups.
Taking steps to prevent bed bugs is not about being paranoid. Rather, it's about taking the necessary precautions to protect your peace of mind.
Know that the process is unlikely to be easy. A vital ingredient for how to keep bed bugs away is perseverance. Apply solutions repeatedly and in combination until you find a method that works for you.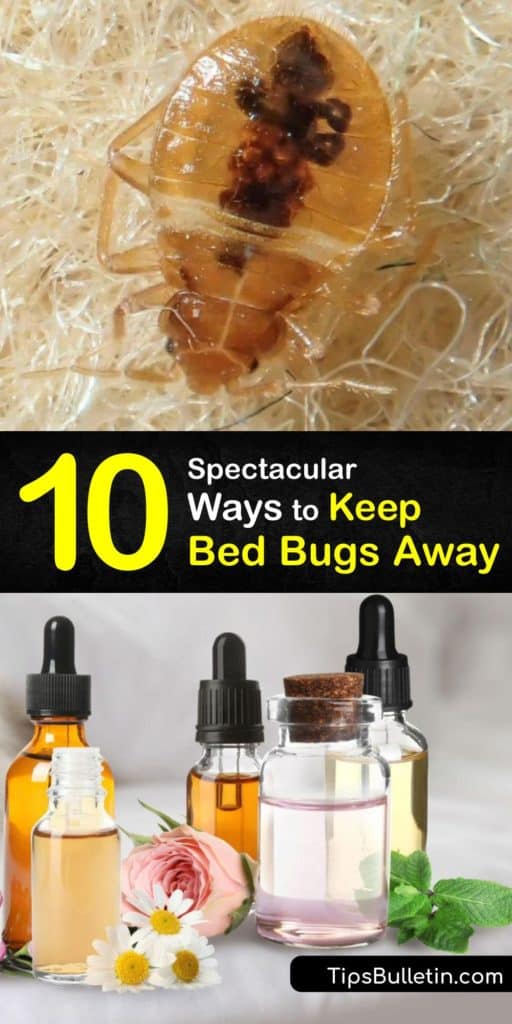 If you found these bed bug repellent tips helpful, please share this pest control advice with your friends on Facebook and Pinterest.