Black shoes are a little slice of high fashion in your closet; they look sleek and go with any outfit. Whether you love leather, crave suede, or live for canvas, discover fantastic tips for your favorite black footwear. Learn how to keep black shoes clean with simple and effective solutions, no matter the material.
Shoe connoisseurs know the pain of unwanted stains. Unpredictable factors like the weather, environment or accidental spills wreak havoc on sneakers, loafers, and boots. For every stubborn stain, there's a clever solution you can use to fight the problem.
Each of your shoes is made of a different material requiring specific care and cleaning instructions. Sometimes the rules are confusing, especially regarding black leather shoes or suede sneakers. Explore which types of products are okay to use and some inexpensive home remedies and DIY hacks to help solve every shoe-related problem.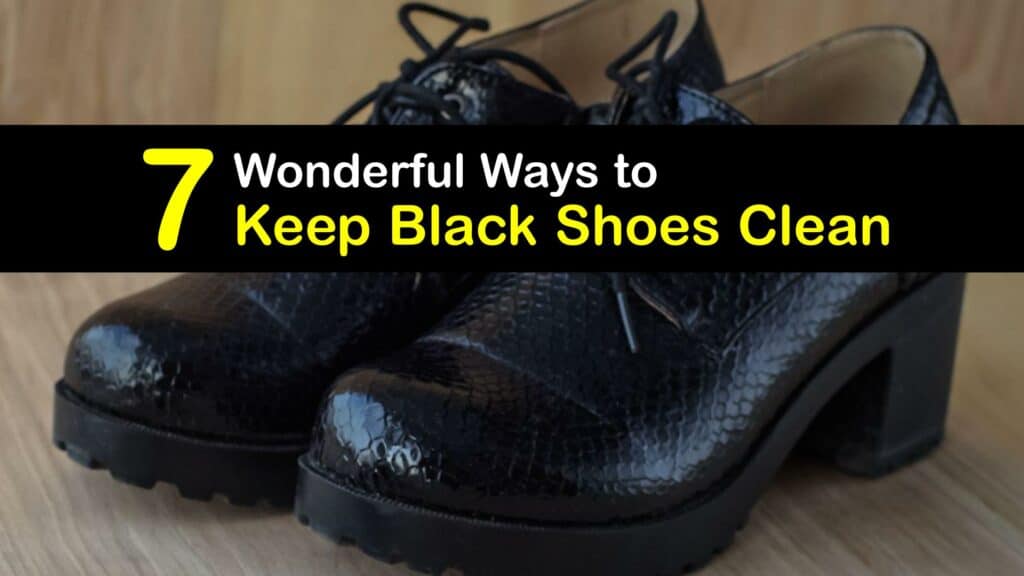 How to Keep Black Sneakers Clean
You don't need a special stain remover to get scuffs out of shoes and other nasty stains. These top tips give you the knowledge you need to keep your shoes, boots, and loafers sparkling. Learn how to keep black sneakers clean or keep your clean white shoes looking brand new.
Keeping Black Shoes Clean with Regular Maintenance
Keeping black shoes clean doesn't have to be a huge chore, especially if you keep on top of it with regular shoe care. Take the time to knock the dirt off your shoes after a long day of wear; use a paper towel or cloth to lightly brush away dust and loose dirt accumulated from city streets.
Routine care goes a long way, no matter what material your shoes are made of. Make your shoe care routine simple; keep a soft cloth or old toothbrush handy by the door and set aside time every month for quick maintenance on any shoes that require refreshing.
A Dab of Dish Soap for Running Shoes
Athleisure wear is more popular than ever, which means having several pairs of running shoes in the closet. Running shoes are often made from several types of material and may seem challenging when it comes to cleaning. However, you only need a dab of liquid dish soap and a soft-bristled brush. Look no further for tips on how to keep black shoes clean with dish soap.
Fill a bucket with a drop of dish soap and some warm water; not too hot because it might damage the shoe adhesive. Avoid using the dryer for the same reason. Prolong the life of your shoe adhesive, and always air dry.
Get an old toothbrush or a clean cloth, and wash your black shoes with soapy water. Use gentle circular motions, and wring the dirty water out periodically. Add one tablespoon of vinegar or baking soda to boost your stain removal potential.
How to Keep Your Black Suede Shoes Clean
Discover some hints for how to clean black fabric shoes when they're made of suede. If you have an extensive collection of suede footwear, get a suede brush or, for tough stains, a suede eraser. These inexpensive tools are specially designed for suede shoes and won't damage the delicate fabric nap.
Grab your suede sneaker and a microfiber cloth, and give your shoes a soft buffing to remove loose dirt. Use a suede brush or a soft toothbrush to gently brush the suede nap in one direction to help restore the finish. Fluff the suede fibers back up after cleaning so your shoes always look their best.
Keep Black Leather Shoes Sparkling
Keeping black shoes clean with a natural finish like leather requires a little extra care, slightly more than your average synthetic running shoe. Black leather shoes and patent leather shoes do best with mild, natural cleaning or leather-specific products designed to preserve the leather. As well, you can clean leather boots with vinegar for a natural stain remover and deodorizer.
If you love leather, invest in a 5-dollar tin of saddle soap and a quality leather conditioner. Choose a matching shoe polish for patent leather shoes to buff out the odd scuff or scrape. Soaps, polishes, and conditioners tend to last for many uses. Once you invest about 15 bucks, you'll be set for months.
A thorough cleaning followed by a leather conditioner helps rehydrate and restore the leather. Dip a microfiber cloth into the saddle soap and gently scour the surface of the leather in small circles.
Avoid cleaning your leather shoe with anything abrasive, like a scouring pad or Magic Eraser, as it damages the natural leather finish. Use a good-quality leather conditioner to restore any lost oils, and follow up with a waterproofing spray.
Cleaning Black Canvas Shoes
Canvas sneakers never really go out of style, do they? We wear them for everything from quick trips to the grocery store to professional meet-ups and even wearing white canvas shoes to weddings. It's important to have tips for keeping black shoes clean and canvas material looking its best for every occasion.
It's tempting to toss canvas shoes in the washer, but we don't recommend it. While the washing machine won't destroy your shoes immediately, repeated use of the washer and dryer takes its toll on a soft canvas sneaker.
Use warm water and mild detergent. A simple bucket of water with a teaspoon of liquid detergent does the trick. Add a tablespoon or two of vinegar for a salt stain, too. Scrub your shoes with a soft cloth or shoe brush, leaving them to air dry overnight.
Avoid products that contain acetone, such as nail polish remover; it damages the rubber, causing cracking.
How to Keep Black Shoes Clean with Olive Oil
A scuff or scrape on the tip of your shoe is inevitable; we've all grazed the sidewalk or accidentally kicked the desk leg. There's a simple solution for an unsightly scuff mark, starting with a common pantry ingredient.
Grab a bottle of extra-virgin olive oil and a clean cloth. Dab a bit on a cloth and press it against the scuff mark. Apply a little pressure and wiggle the cloth back and forth to loosen the scuff mark. Wipe any excess olive oil off your shoe. This method works for black and white shoes and is safe for leather but not suede.
Regular Care for Laces and Insoles
Insoles and shoelaces are often neglected areas where bacteria gather. Remove or replace your insole regularly; monthly cleaning is ideal, especially if you are prone to foot sweat.
Try a light vinegar soak for dirty laces and insoles. Combine water and white vinegar in a 1:1 mixture, and leave your items to soak for an hour. Add a sprinkle of baking soda for white sneakers. Give everything a rinse, and lay your laces and insoles out to air dry overnight.
We hope you benefit from our tips about how to keep black shoes clean. These simple strategies keep you looking great and save you money by helping prolong the life of your footwear. Many materials, such as leather, suede, and even canvas, last for years with proper care.
Set a shoe care schedule. Pick one day a month to soak your sneakers, brush your suede, and polish your leather. Shoe care doesn't have to be the overwhelming monster waiting in the closet; use this go-to guide to maintain that fresh-out-of-the-box aesthetic.
Remember to treat different materials according to their care instructions. Synthetic running shoes and canvas shoes do well with soapy water. Leather shoes love mild saddle soap, followed by a leather conditioner application. Invest in a suede brush and eraser duo for your favorite suede shoes, and avoid soaps or oils. Don't neglect your laces and insoles.
If you enjoyed learning how to keep black shoes clean with our tips and tricks, please share with friends on Pinterest or Facebook who love footwear and enjoy shoe care tips.