It's always a shame when bread goes bad, whether it's nice bakery bread or sliced white bread from the grocery store. You squint at the white patches, telling yourself that it's just streaks of flour, but the mold seems to grow before your very eyes. It's at times like these that you wish you knew how to keep bread from molding.
If you want to keep bread fresh, it's essential first to understand what mold is and what causes bread to mold. Mold is a fungus that reproduces using airborne spores. The fuzzy growth that you're likely picturing is a spore colony.
Mold thrives in the right conditions—specifically, moist, warm spots with a source of food. Unfortunately, bread makes good mold food.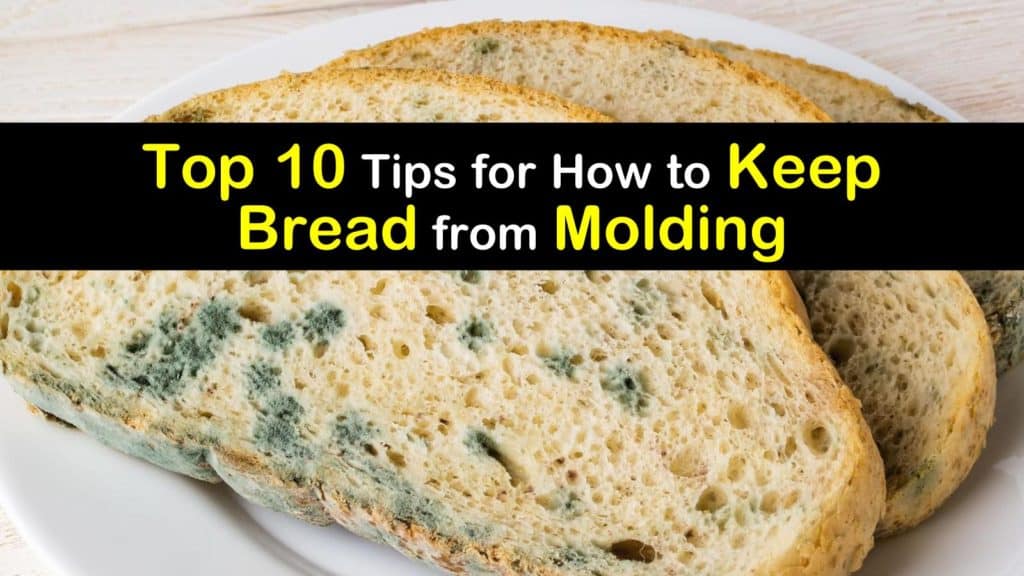 Is Mold on Bread Bad for You?
Mold gives bread an off-flavor and may have negative health consequences if you eat it. Some bread molds are worse than others, but it's impossible to identify the type of mold just by looking at it. To be safe, do not eat moldy bread.
What Happens if You Eat Moldy Bread?
You should not even smell mold on bread since you might get spores up your nose. Inhaling spores is particularly dangerous for those with a mold allergy or a weak immune system.
Some molds produce harmful yet invisible poisons known as mycotoxins. These toxins may cause an upset stomach, alter gut microbes, and even increase cancer risk over the long-term.
Can You Throw out a Moldy Slice but Eat the Rest of the Loaf?
It always seems like a shame to toss the whole loaf if only one or two slices show any mold. You may consider throwing out only the pieces that have gone bad, and perhaps a surrounding slice or two. However, the safest thing is to toss the whole loaf.
Remember the answers to the questions "What is mold?" and "Is mold on bread bad for you?" Mold consists of both fuzzy growth and airborne spores. This fungus's spores and microscopic roots spread rapidly in a loaf of bread.
Although they may not be visible, tiny bits of mold have negative health impacts. You don't want to eat slices that have any chance of containing mold spores.
To avoid any possible risks associated with moldy bread, try one of these tips for how to keep bread from molding.
How to Keep Bread from Molding on the Counter
With some qualifications, the kitchen counter can be a suitable location for bread that you're planning to eat within the next two to three days. Keeping bread at room temperature works best for soft, store-bought loaves.
Place the loaf of bread somewhere away from direct sunlight. It's particularly challenging to keep bread from molding in summer. The key is to leave the plastic bag open. Sealing a plastic bag traps air and moisture.
Store Bread in the Fridge to Prevent Mold
Some people are committed to keeping their bread in the fridge. The good news is that bread stored in the refrigerator does not develop mold—thanks to the cool, dark conditions. The bad news is that when you learn how to store bread this way, it tends to go stale quickly.
The water within bread naturally moves from the inside of the loaf outward, leading to a dry interior and a soft crust. The environment in the fridge speeds up this process.
It's possible to revive stale bread by warming it in the oven. Place a whole loaf or individual slices on a baking sheet lined with parchment paper, then stick the tray in the oven for three to five minutes.
Halt Mold in its Tracks using the Freezer
Another camp swears by putting bread in the freezer, whose harsh environment prevents mold without causing staleness. To freeze bread, slice your bread before freezing it to allow you to remove individual slices easily.
Follow this procedure as the best way to freeze banana bread and other bread types.
To prevent homemade bread from drying out in the freezer, freeze it the same day that you bake it, first making sure that it's completely cool.
Tightly cover the entire loaf in plastic wrap or aluminum foil, then seal it in a thick freezer bag. Putting pieces of wax paper between the slices stops them from sticking together. Bread kept in the freezer lasts for up to three months.
The downside to freezer storage is that you need to defrost bread before eating it. Individual slices thaw in a few minutes on the counter or leave a whole loaf sitting out overnight. Your toaster may even have a defrost setting.
You can freeze almost any food to keep it longer. What cheese can you freeze? You can freeze virtually any kind of cheese and a multitude of other foods.
How to Keep Bread from Molding in a Bread Box
As the name suggests, bread boxes are designed specifically for housing bread. However, how effective are they at protecting fresh bread? Ideally, these containers have just enough air circulation and humidity to keep bread soft but not moldy.
To help them do their job, only insert one loaf at a time, and do not wrap the loaf in anything. Keep the box well-sealed and away from all heat sources.
Use a Bread Bag to Stop Bread Mold
A cloth bread bag works similarly to a bread box but takes up less space. Tightly drawing the bag closed restricts air circulation while allowing just enough air to flow. There are many cute designs for bread bags.
However, wrapping bread in a large, clean tea towel works just as well with a lower price tag. If you carefully follow one of these bread preservation strategies, you'll never again have to ask yourself, "Is mold on bread bad for you?"
Follow Bakeries' Example for Fending off Mold on Bread
There's a reason that bakeries often put loaves of bread in paper bags. Just make sure to keep your bag tightly closed and out of direct sunlight.
This method is particularly successful with hard-crusted bread like you might buy at a bakery. It keeps bread fresh for up to two days.
Extend Bread's Shelf Life by Storing it in a Cabinet
As long as it's not above the fridge, a kitchen cabinet plays a similar role to a bread box. It provides some air circulation, but not enough to make the bread go stale quickly.
Stashing bread in a cabinet is especially helpful if you have limited counter space but don't want to deal with stale fridge bread or defrosting frozen bread. Use either a sealed paper bag or an open plastic one.
The proper way to store potatoes is in a cabinet, pantry, or a root cellar.
Keep Bread Fresh in a Drawer
Bread might be one of the last things that people would expect to see if they open a drawer in your kitchen. However, if you have an empty one, a deep drawer is the perfect place for hiding an artisan loaf of bread.
Bundle the bread up in a clean tea towel. Expect it to stay fresh for up to two days.
Stop Bread from Going Moldy by Cooking It
It may seem either counterintuitive or obvious, but cooked bread is less likely to go moldy. If there are just a few slices left, stick them in the toaster to remove much of the moisture that attracts mold.
Eat the toast right away with your favorite spread or in a sandwich, or store it wrapped in paper towel. Alternatively, make bread that's several days old into croutons or French toast.
Store leftover French toast in the fridge or freezer. For freezing, place wax paper between the slices, then seal them tightly in aluminum foil, a freezer bag, or a plastic container.
Play Around with Your Bread Recipe to Discourage Mold
If you're making your own bread, use different ingredients or different proportions of ingredients to reduce the chances of mold developing.
Adding more flour makes for a denser loaf in which mold has a harder time spreading. Alternatively, acidic ingredients discourage mold from forming.
Another option is to insert a natural preservative like lecithin, ascorbic acid, or lactic acid. Some common ingredients—such as garlic, cinnamon, honey, and cloves—are also effective but noticeably alter the bread's flavor.
Are Some Types of Bread More Likely than Others to Go Moldy?
The type of bread does often affect the rate at which it goes moldy. In general, store-bought bread lasts longer since it contains preservatives that slow down mold development.
Darker, denser types of bread—such as rye, whole wheat, and sourdough—also stay mold-free for longer. Sourdough bread has the added benefit of being acidic.
Unfortunately for those with gluten intolerance or celiac disease, gluten-free bread tends to go moldy quickly since it's often moist, with few preservatives. That's why you'll often find gluten-free bread frozen at the grocery store.
Sliced bread stored at room temperature tends to get moldy quickly since more surfaces are exposed to air. If you're slicing bread yourself, try removing pieces from the middle of the loaf then pushing the two sides of the loaf together, which uses the end crusts to keep the bread fresh.
You should now know the answer to the question, "Is mold on bread bad for you?" By the time that there's visible mold on a loaf of bread, it's too late. Your health and safety are more important than the money wasted on the loaf.
Before it gets to that point, try one or more of these strategies for how to keep bread from molding. Storing a loaf of bread in a suitable location, such as a well-sealed paper bag, the fridge, or the freezer, has a real impact when it comes to preventing mold.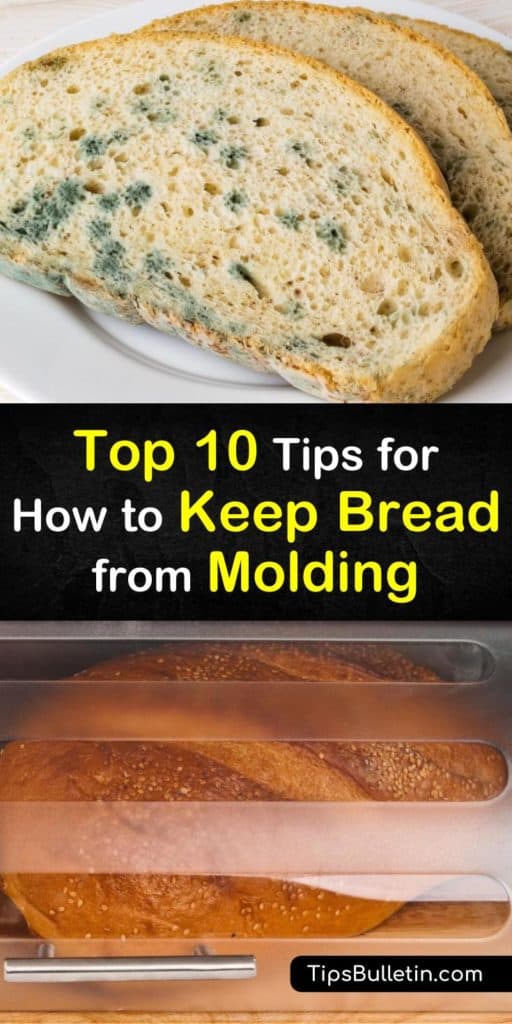 If you found these mold prevention tips useful, please share these bread storage suggestions with your friends on Facebook and Pinterest.