It's always handy to have a bunch of celery on hand, whether you enjoy celery sticks for snacking or a stalk of celery in a bloody Mary. But, these veggies often lose their crispness before you get the chance to eat them all. We'll show you how to keep celery fresh in the refrigerator and how to freeze them for long term storage.
The flavor of celery is hard to pinpoint since it has both a mild and strong taste at the same time. It is similar to raw, green onions yet is plant-like in flavor. And, not using the right food storage method leaves you with a whole bunch of limp and bland celery stalks.
Keeping celery and other veggies secured with a rubber band and stored in the plastic bag they came in from the grocery store is a common mistake.
However, this often leaves you with a bunch of limp celery after a couple of days. Like many other vegetables and fruits, celery releases ethylene gas, and the plastic traps this gas, leading to spoilage and food waste.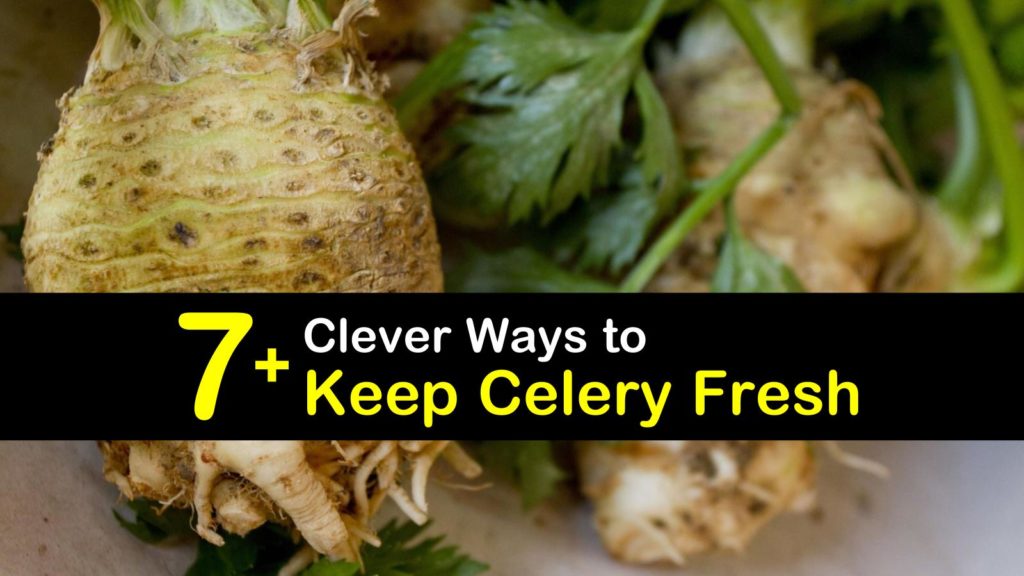 Ways to Store Celery Short and Long Term
Do you know how long does celery stay fresh with varying storage methods? Storing celery at room temperature is not an ideal way to keep celery fresh and crispy, and wrapping stalks in plastic wrap is a big no-no. Learn how to store your fresh celery in the fridge for the short term and the freezer for the long term.
Choosing Healthy Celery for Storage
Keeping celery fresh is one thing, but choosing the best celery is just as important. Bringing home veggies from the store that are nearing the point of expiration means that the battle to keep them fresh is even harder.
Of course, growing celery from seed is possible, as well, and you don't have to worry about finding the freshest stalks at the market.
It's easy to learn how to tell if celery is bad. Spoiled celery looks, smells, and tastes different. Mushy celery is a sure sign that you should add it to the compost pile.
Healthy Celery
Our favorite little tip is to pick up the bunch of celery and feel its surface for rigidness. Inspect the leaves and make sure they are healthy looking and bright green.
Pick stalks that are straight and firm, with a fresh smell. Avoid celery that is limp, woody, or pithy, with brown spots and signs of age.
Keeping Celery Fresh with Aluminum Foil
There are a few techniques for keeping celery fresh, and one of them is surprising. Using aluminum foil helps keep this vegetable's freshness longer by allowing ethylene to escape.
Slice the stalks away from the base of the celery, remove the leafy tops, and set them aside for other recipes.
Spread out a decent-sized sheet of aluminum foil and set the celery pieces in the center. Wrap the foil around them firmly but not too tight, and set them in the crisper drawer of your refrigerator.
Keep Celery Fresh in the Fridge with Paper Towel
Another way to keep celery fresh in the fridge or to keep basil leaves fresh is to use a paper towel. This technique is a good alternative if you do not have any foil in the house, and it keeps the veggies crisp for about three weeks.
Dismantle the celery and use a sharp knife to remove the base and leaf tops off each stalk. Dampen some paper towels with cold water and wrap the paper around the celery stalks.
Slip the wrapped veggies into a ziplock bag, seal it shut, and place it in the crisper drawer of the fridge.
How to Keep Celery Fresh in Water
Cold water is one of the best tools to store celery in the refrigerator, and they maintain their crispness for up to two weeks stored in this manner. It's easy to keep whole stalks or cut celery, and the water prevents the ends from drying out.
For storing celery in water, fill a container or jar halfway with cold water. Separate the stalks of celery and use a knife to cut off the tops and base of each stalk.
Slice the celery stalks in half, place them into a Tupperware container or jar, and cover them with a lid or a sheet of plastic wrap. Set them on the refrigerator shelf and change the water every couple of days.
How to Prepare and Store Celery Leaves
We often toss out the leaves when preparing celery, but celery leaves are both nutritious and delicious. They taste great in salads and pesto and are wonderful added to stir-fry and soup. Here is how to keep the leaves fresh in the fridge and freezer.
To refrigerate celery leaves, wash the leaves and wrap them in a damp paper towel. Place them into a plastic bag and seal it shut before placing it into the refrigerator.
To freeze the leaves, slice them into small pieces, and put a spoonful into each ice cube tray's compartment.
Pour olive oil over the top to fill the cubes and set the tray in the freezer until they are frozen solid. Transfer the cubes into a freezer bag before putting them back into the freezer.
Blanching and Freezing Fresh Celery
While it's best to keep celery fresh in the fridge, there are times when a large bunch of celery is about to expire. To preserve them long term, consider blanching and freezing them for future recipes.
Put cold water into a large bowl, add ice cubes, and set it aside. Wash the celery and trim off the bottom and top leaves of each stalk. Cut the stalks into one-inch chunks and place them into a pot of boiling water to blanch them for three minutes.
Transfer the celery pieces from the hot water into the ice water to stop the cooking process. Strain the cooled celery and pat them dry with paper toweling.
Fill freezer bags with the veggies, press out the air and seal, and store them in the freezer for up to a year. If you can vacuum seal celery, it's even better as the veggie stays fresher longer.
Freezing Celery without Blanching
It's often essential to blanch vegetables before freezing to help them maintain their color and texture. But, blanching is not a necessity if you do not have the time or patience. Here is how to flash freeze your celery for long term storage.
Prepare the celery for freezing by washing them and trimming off the base and leaves. Slice the stalks into desired sizes, spread them in a single layer on a cookie pan, and flash freeze the veggies in the freezer for a couple of hours.
Transfer the frozen pieces into a freezer bag, press out the air, and seal them shut. Return them to the freezer and use as needed for up to two months.
Follow the same procedure for keeping onions fresh in the freezer. When needed for a recipe, add the appropriate amount and return the rest to the freezer.
How to Use Frozen Celery
Having a freezer full of frozen veggies is the best way to enjoy healthy goodness all year round. But, how do you prepare frozen celery? Here are simple steps to thaw and use your frozen vegetables.
Frozen Celery
Frozen celery tends to get mushy during the thawing process and is not a good addition to cold recipes. However, they are excellent for incorporating into hot meals, and it is not necessary to thaw frozen cut celery beforehand.
Toss the frozen veggies directly into soup, casserole, or stew during the cooking process. The same is true for frozen celery leaf cubes.
Growing Fresh Celery from Celery Trimmings
Don't throw away the base after slicing it away from the celery stalks. Believe it or not, the bottom of the stalk is easy to grow into a new plant for more celery.
Pour just enough warm water into a bowl or container to cover the celery bottom. Rinse off the celery chunk and place it into the bowl of warm water with the base side down.
Set the bowl in front of a sunny window and change the water every two days. After about ten days, small yellow leaves emerge from the base and shoot upwards.
Once they turn dark green and are about half an inch from the base, move it from the bowl of water into a pot of soil. Cover the entire base with dirt with the leaves exposed, and water it as needed.
It's easy to toss a plastic bag of celery into the crisper drawer after grocery shopping. However, this causes ethylene gas to spoil your veggies faster, and using the right know how and storage methods keep your celery-crisp and helps you save money.
We hope that knowing how to keep celery fresh in the fridge and how to freeze it for future meals keeps your celery crispy and delicious, and we'd love it if you'd share our celery storage tips with your friends and family on Facebook and Pinterest.