A cup of coffee is essential in many adults' morning routine, whether it's a Starbucks latte or an espresso brewed at home. Stale coffee may not pose any major health risks, but drinking a bland beverage starts the day on the wrong foot. Educate yourself about how to keep coffee fresh to enjoy the best coffee every time.
Coffee connoisseurs all seem to have different opinions about the best way to store coffee beans. For example, can you keep coffee in the refridgerator? When sorting through all the information out there, it helps to know a little coffee bean science.
It's the roasting process that causes coffee beans to release their aromatic oils, as well as carbon dioxide. This chemical prevents the beans from absorbing oxygen.
As the coffee beans release less carbon dioxide and take in more oxygen, they lose their freshness. The beans start going stale immediately after being roasted.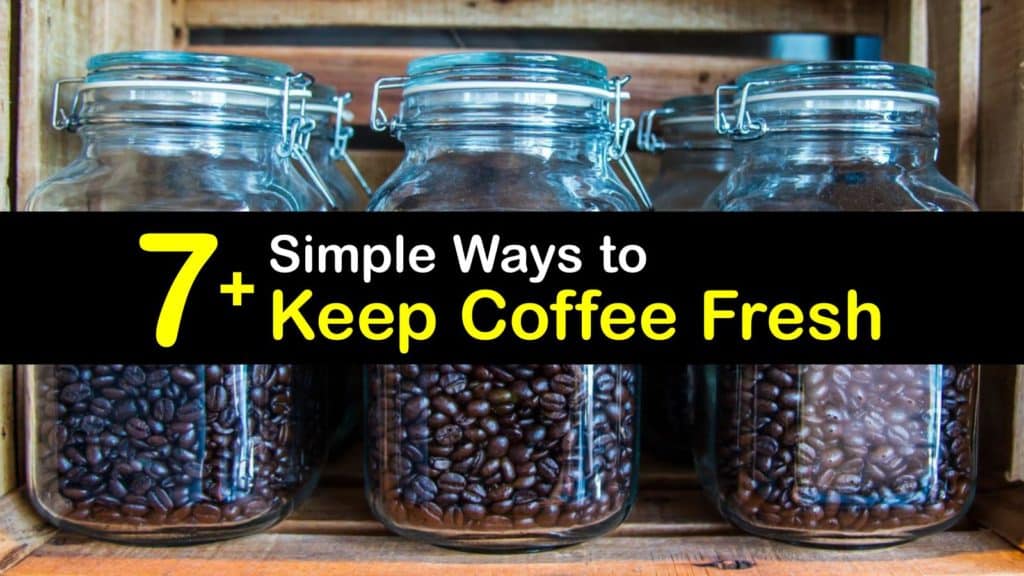 Tips for Keeping Coffee Fresh
Savoring the perfect coffee starts with buying the best beans from the grocery store or your local coffeeroasters. There is no difference between coffee beans and espresso beans in this regard. Afterward, it's a matter of storing the beans correctly and consuming them before they go stale.
Can You Keep Coffee in the Refridgerator?
Keeping coffee in the fridge is not a good idea since the moisture and fluctuating temperatures make the beans age faster.
When you refrigerate coffee beans, the frequent opening of the door often causes condensation to develop on the beans. Unless there's an airtight seal, the beans also start absorbing the odors and flavors of the other food in the fridge.
The only exception to "Can you keep coffee in the refridgerator?" is brewed coffee. Cold brew keeps well in the fridge. Freezing beans is not ideal, although it's acceptable for long-term storage.
How to Buy Coffee to Keep It Fresh
Look for quality beans—from a local roaster if possible since coffee at the grocery store is often already stale. Check the package to see whether it lists the best before date and roasted on date. The best before date should be in the future.
Purchase coffee roasted as recently as possible—ideally, less than two weeks ago. Buy smaller quantities of coffee to reduce the chances of the beans going stale.
Another trick is to buy coffee in bags with a one-way valve, which lets carbon dioxide out but prevents oxygen from entering. Coffee roasters can pack beans into valve-sealed bags soon after roasting but must wait longer for packages without this valve.
Keep Coffee Fresh by Grinding It Just before Brewing
Ground coffee goes stale faster than whole beans since its larger surface area exposes it to more oxygen. While whole bean coffee stays fresh for about one month after roasting, pre-ground coffee only lasts a couple of weeks.
Although it might seem like a pain, grinding just before brewing is part of keeping coffee fresh. Grinding your own coffee allows you to adjust the grind depending on whether you prefer it coarse or fine.
Make sure to clean your coffee grinder regularly. The oils from the beans often make coffee grounds stick to the grinder.
Roast Your Own Beans to Enjoy Super Fresh Coffee
Since coffee beans start to lose their freshness immediately after roasting, the freshest option is to roast and grind the beans yourself. Of course, this method requires more time and effort.
Green coffee beans are available at some high-end coffee retailers. How long do coffee beans last if they haven't been roasted? Unroasted coffee beans last one year or more. Roasting your own beans lets you choose the roast, such as light roast or dark roast.
There are several options for roasting coffee beans, including a frying pan, the oven, or a coffee roaster. Wait 12 hours before sealing the freshly roasted beans in an airtight container and 24 hours before grinding and brewing them.
How to Keep Coffee Fresh in Its Original Package
The pantry is an ideal storage location for coffee beans since it tends to be cool, dry, and dark. Keep the beans away from the oven and direct sunlight, including bright windows.
Reseal the coffee bag tightly after removing beans. Close the top with an elastic band or clip, and consider storing the bag inside another resealable plastic bag.
Coffee bean packaging is improving, so you may find sealed bags with a zip top or one-way valve. In general, however, avoid storing beans in their original package long-term.
How to Keep Coffee Fresh in a Container
If your coffee beans came in a flimsy or vacuum-sealed bag or you'll be storing them longer-term, it's best to transfer them to a coffee canister.
The container should be opaque, airtight, dry, and made of a material that won't flavor the beans. Good options include ceramic, glass, and non-reactive metals.
Keep the coffee container somewhere dry and dark and at room temperature or cooler, such as the pantry. It's okay to store an opaque container on the kitchen counter out of direct sunlight. Keep containers made of clear glass in a dark location.
There are some special vacuum-sealed coffee containers, like the Airscape coffee canister. These containers are more expensive but guarantee an airtight seal and may even boast a one-way valve to let carbon dioxide escape.
Keeping Coffee Fresh by Separating Beans for Daily Use
If you bought more coffee beans than you can use before they go stale, consider storing most of the beans in a large, sealed container.
Fill a smaller container with beans for everyday use. Keep the large storage container somewhere cool and dark, and only open it to refill the smaller container.
This trick lets you keep smaller portions of beans in attractive, easy-to-access containers like Mason jars. Meanwhile, you protect most of the beans from exposure to oxygen.
How to Keep Coffee Fresh in the Freezer
Use the freezer only for long-term coffee storage since the fluctuating temperatures may cause moisture and a bland flavor.
A deep freezer is ideal since it tends to have a more-consistent temperature and is opened less often. Put each coffee bag inside a resealable plastic bag or airtight container.
Ensure that containers are truly airtight to avoid freezer burn and the absorption of flavors from other foods. Divide large quantities of beans into smaller portions in airtight bags or containers.
Only remove as much coffee as you need for the week, then quickly return the remaining beans to the freezer. Let frozen beans thaw before grinding them. Never return thawed beans to the freezer since the temperature changes might cause condensation.
Consider vacuum sealing bags before freezing them to make the beans last longer. Vacuum sealers are available at department and appliance stores.
Keeping Coffee Fresh after You Brew It
The exception to the question "Can you keep coffee in the refridgerator?" is brewed coffee. A cup of coffee starts to lose its flavor within 15 to 60 minutes of being brewed. It lasts longer in an airtight thermos or lidded coffee mug.
Store brewed coffee in the fridge for up to one week in an airtight container. If the container is not completely airtight, cover the top with plastic wrap to prevent the beverage from absorbing odors. Only refrigerate black coffee, especially if you have any plans to reheat it.
The fridge is the best storage location for cold brew. The concentrate keeps for about one week in an airtight container, while the diluted version stays fresh for a few days.
How to Tell if Coffee Beans are Fresh
Freshly roasted beans look glossy due to their escaping oils. Lighter roasts and beans that underwent Swiss Water decaffeination do not turn as glossy. However, they still display dull shininess.
Look for an oily residue on your hands or the inside of the bag. Fresh beans should also release a strong coffee smell. As a test of coffee beans' freshness, put about half a cup inside a resealable plastic bag. Seal the bag tightly, pressing out excess air.
Leave the bag sitting out overnight. If it has puffed up by the morning, the beans are freshly roasted and still releasing plenty of carbon dioxide.
How to Roast Green Coffee Beans
Preheat the oven to 500℉. Open windows to increase ventilation since roasting often gets smoky. Spread the beans in a single layer on a baking tray that is, preferably, perforated.
Make sure the holes are not big enough for the beans to fall through. Line a non-perforated tray with baking paper and shake it once or twice during the roasting.
Insert the tray on the middle rack in the oven. Expect to hear the first "crack," which indicates a light roast, in five to seven minutes. The second crack occurs a few minutes later and indicates a medium roast. Wait another 60 seconds before removing the tray from the oven.
Carefully shake the beans between two metal colanders to cool them off. Wear oven mitts. Shake over the sink or outside to avoid getting the chaff—husks—everywhere. Wait 12 hours before sealing the roasted beans in a container.
Keeping coffee fresh involves learning the answer to questions like "Can you keep coffee in the refridgerator?" and "What's the best coffee storage container?" Although refrigerating coffee is not recommended, it is possible to store beans in the freezer long-term.
Don't throw away your coffee grounds after you are through with them. Coffee grounds are good for plants. Sprinkle them around the base of plants to enhance the soil and repel bugs.
To ensure that your coffee tastes best, keep it in the pantry in its original package or an airtight container. Educate yourself about how to keep coffee fresh to enjoy the best brew.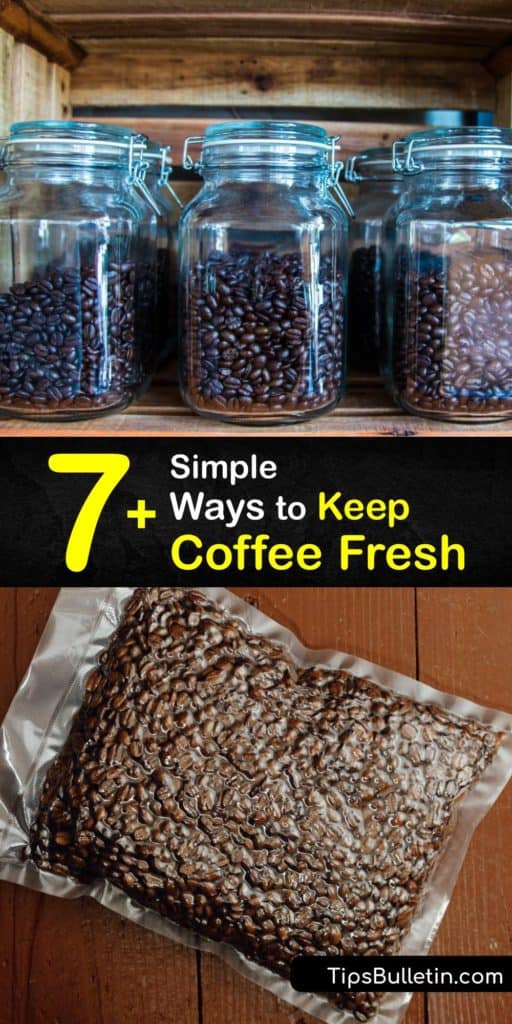 If you found these tips for keeping coffee fresh helpful, please share this food storage information with your friends on Pinterest and Facebook.