If your house is infested with gnats, you'll notice the irritating insect pests hovering around the drains, especially in the kitchen. Many homeowners are eager to know how to keep fruit flies away, as, like bed bugs, they are annoying and unwelcome in the home. Gnats are frequently seen near potted plants or the fruit bowl, as they love ripened fruit.
Although seeing insects around your fresh fruit is disgusting, don't be alarmed if an infestation of fruit flies occurs. Pesky fruit flies, fungus gnats, fruit fly eggs, and drain flies are simple to remove, using ideas for the best way to keep fruit flies away.
To reduce favorable conditions, remove as much moisture as possible from the affected regions and clean up any rotten fruit or organic matter to remove the insect's food source.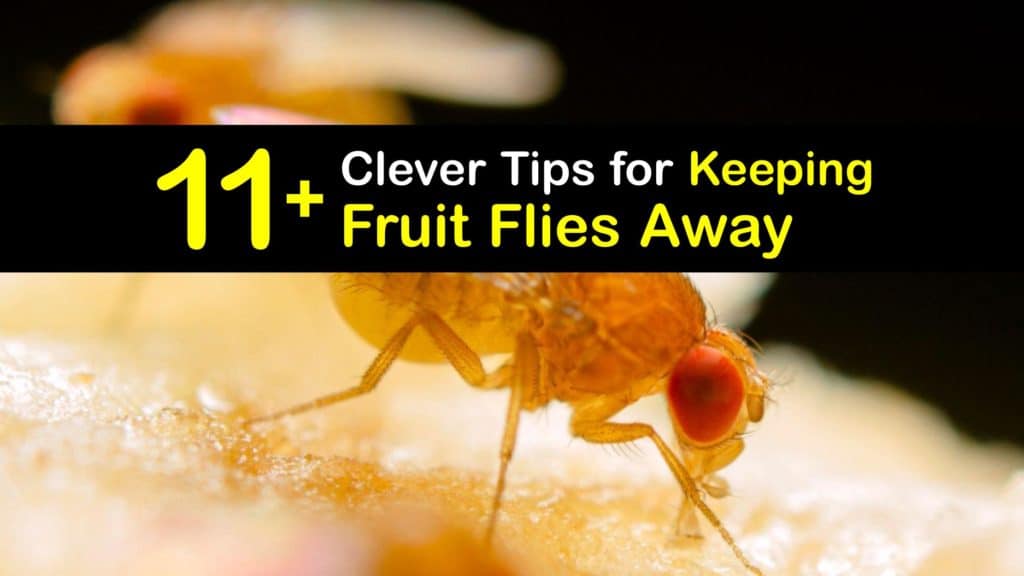 The Best Natural Ways to Keep Fruit Flies Away
Read this article on how to keep fruit flies away to learn the best way to keep fruit flies away inside or outside your home, including natural ways to get rid of fruit flies outside if you prefer not to use toxic cleaners.
It feels hard to regain control of your home when dealing with a gnat infestation, but it's never been easier to understand how to keep fruit flies away. Fortunately, handmade fly traps easily trap and kill bothersome gnats, making them the best way to keep fruit flies away, and there are many bait options.
Discern what you have in your pantry and see if there is a DIY gnat repellent method using these supplies. Once you've learned how to catch flies with homemade fly traps, you can practice natural ways to keep fruit flies away.
How to Keep Fruit Flies Away with Essential Oils
Essential oils have repelled insects for generations and have a variety of applications in the home, ranging from mosquito repellent to gnat repellent. Add an essential oil guaranteed to repel gnats and fruit flies to your diffuser or use it directly on your clothes when you notice any sign of gnat infestation.
When you walk outside, combine any insect repellent essential oils with a carrier oil like coconut or olive oil and apply to keep flies away from you while outdoors. This remedy works with gnats vs fruit flies, mosquitoes and other annoying insects.
Keep Fruit Flies Away from Bananas with Cinnamon
One of the easiest natural ways to keep fruit flies away is cinnamon powder. Insecticidal, antibacterial, antifungal, and antimicrobial properties are all present in this famous spice, making it the perfect natural gnat killer.
Apply cinnamon powder on top of any soil plagued with fungus gnats or in areas of gnat activity for an all-natural way to get rid of fruit flies and gnats. Cinnamon is simple to sweep away, non-toxic to animals and children, and leaves your home smelling wonderful.
Cinnamon is ideal for sprinkling around the fruit bowl to protect your banana and other ripe fruit from adult fruit fly pests, thanks to its sweet taste and pleasant smell.
Apple Cider Vinegar Fruit Fly Trap
There are many simple home remedies for killing fruit flies. This homemade fly trap is cheap to make and easy to use, and it swiftly gets rid of adult gnats and annoying insects, making it the best way to keep fruit flies away. This DIY vinegar trap is practical for getting rid of flies, and it can be moved wherever it's most needed to battle the fly invasion, whether in the house or outside.
Apple cider vinegar and sugar are ideal as fruit fly bait. Fruit juice or overripe fruit is also an excellent bait for fruit fly traps if you don't have vinegar.
For this easy way to get rid of fruit flies in your house or outside, combine the vinegar, water, sugar, and dish soap in a Mason jar. Wrap the opening in plastic wrap and secure it with the elastic. Using a sharp point, poke multiple tiny holes in the plastic wrap.
The flies pass through a small hole to approach the sweet vinegar mix and is a simple way to kill fruit flies at home. The way to trap fruit flies is that they fall into the solution. The dish soap reduces the surface tension and sticks to their wings and feet, preventing them from flying, and they drown in the liquid.
Bottle DIY Trap to Kill Fruit Flies
It's well known that gnats, fungus gnats, and fruit flies are attracted to red wine's pleasant aroma, similar to apple cider vinegar. Upcycle an old bottle to make your own fruit fly trap.
A plastic bottle or a wine bottle is the basis for this homemade fruit fly trap. Fill a bottle halfway with red wine, then place a paper cone in the bottleneck and leave it in a fruit fly-infested region. If you don't have any red wine, fruit juice is a suitable substitute.
Like the vinegar trap, add a few drops of your preferred liquid dish soap to the bait mixture so the fruit flies cannot escape the liquid. Remove the paper cone after the bottle is full or every other day to avoid a putrid stench. Dump out the liquid bait and dead flies, and reset the trap to continue killing gnats.
What Keeps Fruit Flies Away – Essential Oil Spray
Essential oils are a safe and effective approach to expelling gnats and house flies in your home. Unlike traditional fly repellents, this homemade fly spray is made with non-toxic ingredients that are safe to spray around your pets and family. Use this natural fly deterrent spray on the patio or yourself so you can enjoy being fly-free.
Combine the components in a spray canister. Replace the lid and give it a good shake. Spray directly on gnats, fruit flies, or other fly species when you encounter them. It safely repels and keeps flies outside if you spritz it in doorways and open window.
Home Remedies for Keeping Fruit Flies Out – Overripe Fruit
A banana trap is a low-cost gnat trap that eliminates insects without killing them and is one of the best home remedies for trapping flies. In a small bowl, place a piece of overripe fruit, such as a banana, and cover with plastic wrap.
To allow fruit flies to enter the dish, poke multiple holes in the plastic wrap with a toothpick. After they enter the bowl to go to the banana, the gnats won't be able to escape. When enough fruit flies have been trapped in the container, take the DIY trap outdoors and peel back the wrap to let the fruit flies escape.
Baking Soda and Vinegar Gnat Drain Cleaner
Drain flies are attracted to the sink drain or garbage disposal material, concentrating near the sink. Without chemical cleaners, a basic white vinegar and baking soda mixture successfully cleans hard-to-reach locations like the sink drain and garbage disposal.
To easily get rid of gnats in drain and sinks, pour a generous amount of white vinegar down the sink drain, followed by a decent amount of baking soda. Baking soda reacts with white vinegar, causing it to froth and bubble.
Let the baking soda and white vinegar remain in the drain for a few hours before flushing. The solution's cleansing effectiveness removes organic matter and trash, and any gnats. Rinse well, then pour boiling water down the drain to eliminate the dead gnats.
Best Way to Keep Fruit Flies Away – Diatomaceous Earth
Diatomaceous earth is one example of the amazing natural ways to keep fruit flies away as it is composed of siliceous diatom fossils. The insecticidal properties of diatomaceous earth are well-known. It is safe to use directly on plants and presents no danger to pets or people.
Dusting diatomaceous earth on the soil of your potted plants will get rid of fungus gnats. The wax on the gnat's body are removed as the insect crawls over the powder and causes gnats to lose water due to desiccation. They eventually die from dehydration.
Rubbing Alcohol Spray for Fruit Fly Infestation
Blend rubbing alcohol and water in a spray bottle. Squirt the liquid on gnat-infested locations, like the sink or near your houseplants. The strong odor of the alcohol repels gnats, and if it contacts insects, it rapidly kills them.
After testing it on a few leaves to ensure the liquid won't affect them, spray this solution on your house plants. Alcohol is extremely drying and dehydrating, and it might harm some plants.
Overcome a Fruit Fly Problem by Cleaning
Remove any rotting food or dirty dishes from the sink and wipe down all surfaces with bleach to destroy fruit fly eggs and the adult fruit fly. Avoid overwatering plants and remove any moisture from the areas where gnats are congregating to help reduce the suitability of the environment.
Citronella Candles to Prevent Fruit Flies
One of the most effective fly repellent candles is the citronella candle. The odor of citronella repulses fruit flies and gnats.
Light a citronella candle and set it near doors or problem areas. The aroma keeps these pests out of your home by deterring them from entering through open windows or doors, and it also smells nice.
Yeast is Brilliant Gnat Bait
The smell of yeast attracts gnats. Mix some yeast with a bit of sugar in a bowl, and add water to make a fruit fly bait concoction for your DIY fruit fly killer. Use clear plastic to cover the bowl and poke holes in the surface. Fruit flies enter the holes to get to the yeast but will be unable to emerge, and drown.
Fly-Repelling Plants
If you don't want to fool with essential oils, grow a few plants that repel fruit flies like basil, eucalyptus, mint, lavender, and lemongrass. Add them to pots or as a border around your patio for a natural fly deterrent.
Figuring out how to keep fruit flies away may feel impossible when a fruit fly infestation plagues you. Thankfully most homeowners have everything they need in the pantry to follow the best way to keep fruit flies away.
Whether your focus is finding natural ways to keep fruit flies away, being cost-effective, or using items you have on hand, there's a DIY fruit fly repellent for everyone.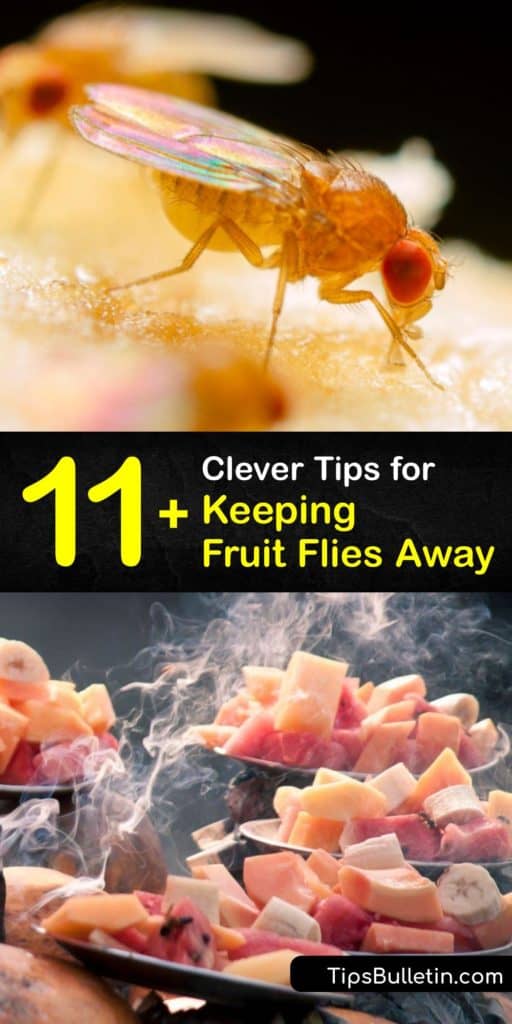 If you loved this article on how to keep fruit flies away, please share these fantastic tips on natural ways to keep fruit flies away with your friends and family on Pinterest and Facebook.