There are many varieties of bees and stinging insects. While some bees, such as the bumblebee, are enjoying to watch, the high buzzing sound of hornets dive-bombing your patio is enough to send you running back indoors. Learn how to keep hornets away from your home using natural solutions and easy techniques.
Although it seems hornets are out to get you every time you step out the door, they play an essential role in nature. These flying insects are predators, and their food source is other unwanted bugs. However, hornet and wasp problems tend to get out of control if left unchecked.
Hornets, paper wasps, and yellow jackets are not only bothersome, but they are a severe problem if you have allergies. These stinging insects cause an allergic reaction in certain people that is sometimes life-threatening. Therefore, it is vital to take steps to keep wasps away from your home.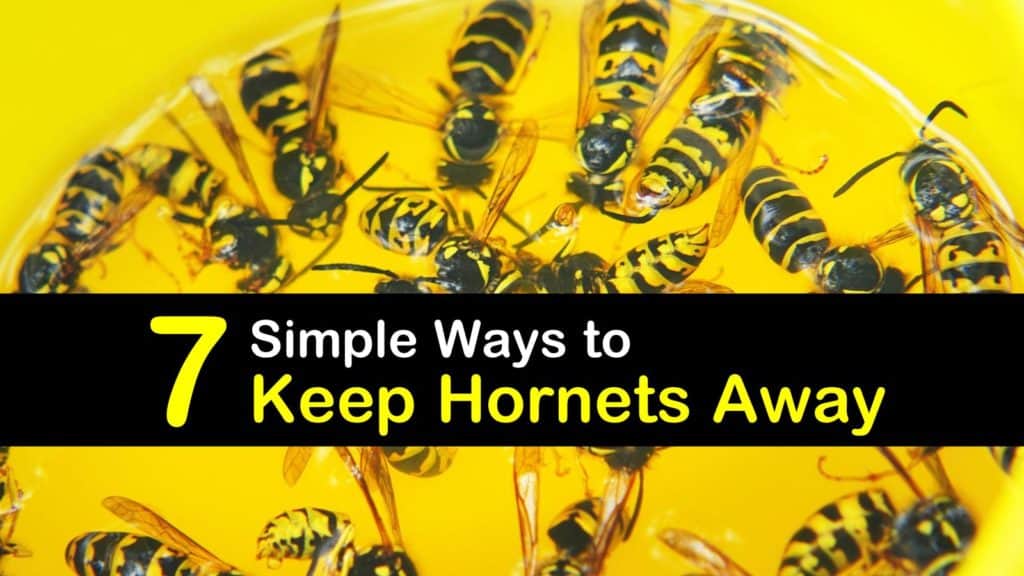 Keeping Hornets Out of the Yard
We all think of summer-time as the time of year for outdoor barbecues, but enjoying your outdoor space is troublesome if you have a hornet problem. Fortunately, there are many ways to get rid of wasps and keep hornets out of the yard and home.
The important thing to remember is that you must get rid of hornets safely. Making them angry will only harm you.
How to Repel Hornets with Soapy Water
Sometimes the best way to repel hornets naturally is to use the simplest solution. This eco-friendly technique is one of the oldest and is also useful for killing other types of annoying insects. Here is how to repel hornets using a basic solution of soapy water.
Killing hornets with home remedies doesn't get any easier than pouring water into a bottle and adding several squirts of dish soap. Shake the bottle gently to mix and label it for future use.
Keep the bottle outside near the patio and spray the soapy solution directly on the hornets as you see them. The soapy water clogs their breathing pores, making it difficult for them to breathe.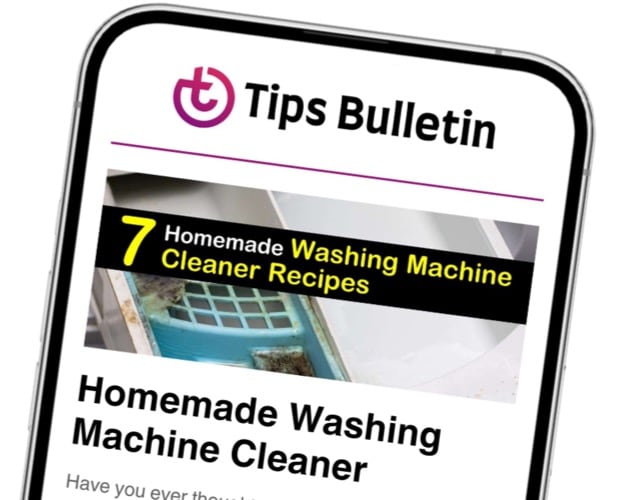 Finally, an email that Transforms Your Home.
Get the latest home and garden tips from our experts, delivered straight to your inbox.
Making Hornets Repellent with Essential Oils
There are many types of oils that many insects hate and spraying these oils where hornets congregate drives them away. Essential oils are the best way to get rid of yellow jackets and other stinging insects and are excellent as hornets repellent.
How to get rid of ground hornets or those with ariel nests starts by pouring water into a glass bottle and adding a few drops of each of the essential oils. Shake it well and label it for safety reasons.
Deter hornets and keep wasps away by spraying areas where they frequent, such as the picnic table, and outdoor garbage can. The spray is also useful for applying directly to their nest, but specific safety measures are required.
Essential oils will also work as a natural centipede repellent. These creepy crawlies will leave your yard after getting a whiff of a powerful essential oil.
How to Keep Hornets Away from the Yard
There are many ways to keep hornets and other flying insects out of the yard, and one of the best ways is to use plants that repel hornets. You can also cover ground wasp holes in your yard to smother their home. Hornets and wasps avoid areas that have certain types of plant growth, and using these plants against them is easy.
Locate areas around your home where you and your family enjoy relaxing, and plant citronella, thyme, wormwood, geraniums, and eucalyptus plants near these areas.
It's also useful to plant them near windows and doorways to prevent hornets from hanging around entryways to your home. A beautiful flowering plant is an excellent natural hornet and wasp repellent.
Keeping Hornets Away by Setting Traps
Setting up hornets traps is not only a great way to draw those annoying insects away from your outdoor activities, but the traps lure them in and eventually eliminate them. These traps are easy to make and only take minutes to set up.
To get rid of aggressive ground bees or hornets, use a sharp knife to cut a plastic bottle in half, and set the top portion aside. Hornets search for different types of food sources depending on the time of year. If it is spring or early summer, hornets need protein, and during the late summer and fall months, they search for sweets.
Place a meat bait, such as lunch meat, in the bottom section of the bottle, and add a sweet liquid, such as juice or soda. Pour in a small amount of vinegar to keep beneficial bees from entering the trap.
Remove the cap off the top section of the bottle and flip it over. Tuck the top part into the bottom like a funnel and place the trap in an area where you notice hornet activity.
Keep Hornets Away from the Home with Prevention
Using an organic wasp spray to kill hornets is a great way to deal with them, but prevention is even better. Performing home improvement tasks and setting up preventative measures help to minimize a hornet problem.
Leftover food is a way to attract wasps and hornets to the area, so remove all leftovers immediately. Ensure that your outdoor trash cans are always secured shut with a lid.
Remove any outside water sources such as a leaky faucet, bucket of water, or puddles. If you have an outdoor area for your pets, make sure to keep the pet food indoors until it's time to feed them.
Use caulk to seal up any crevices in the siding, eaves, and the roofline to prevent these insects from making nests. Hang hornet decoy nests in your yard or on your home to deter hornets from building nests.
Repelling Hornets with Peppermint Spray
There are a variety of insects that hate the smell of peppermint, and hornets are among them. This homemade bee repellent spray is an effective tool for driving wasps and hornets out of the yard.
Pour water into a glass bottle and add the peppermint oil. Shake it well to mix and label it for safety purposes. Keep the bottle handy whenever you are outside, and spray it directly on pesky hornets to deter them.
It's also useful to spray the area around your patio or porch to keep the insects from entering your outdoor space.
Keeping Hornets Away by Removing the Nest
If you discover that there is a hornet nest in your yard, the best way to eliminate those stinging insects is to remove the nest. While hornet nest removal takes some patience and skill, it is possible using the right technique.
If you have a severe hornet infestation, consider calling an exterminator to prevent anyone in the home from being injured from wasp stings.
Begin by reading the instructions on your brand of insecticide, and make sure it is capable of spraying 15 to 20 feet. Put on protective clothing and check the area for an escape route.
Hornets and wasps are least active in the evenings, so prepare to spray the nest about two hours after dusk. Stand at a safe distance away from the nest and aim a flashlight with a red filter in its direction. Hornets have difficulty seeing the red light.
Aim the insecticide stream directly at the nest opening and spray it for five to ten seconds, but no longer. If you spray too long, the hornets release an attack pheromone and become aggressive.
Leave the nest area alone for 24 to 48-hours before checking for hornet activity. If there is still hornet movement, repeat the application.
It's hard to enjoy a sunny afternoon outdoors if you have to contend with annoying and persistent hornets. Not only are they an annoyance, but they cause painful stings if you disturb them.
Keeping wasps and hornets away from your home is easy without calling in pest control, as long as you get to the problem immediately.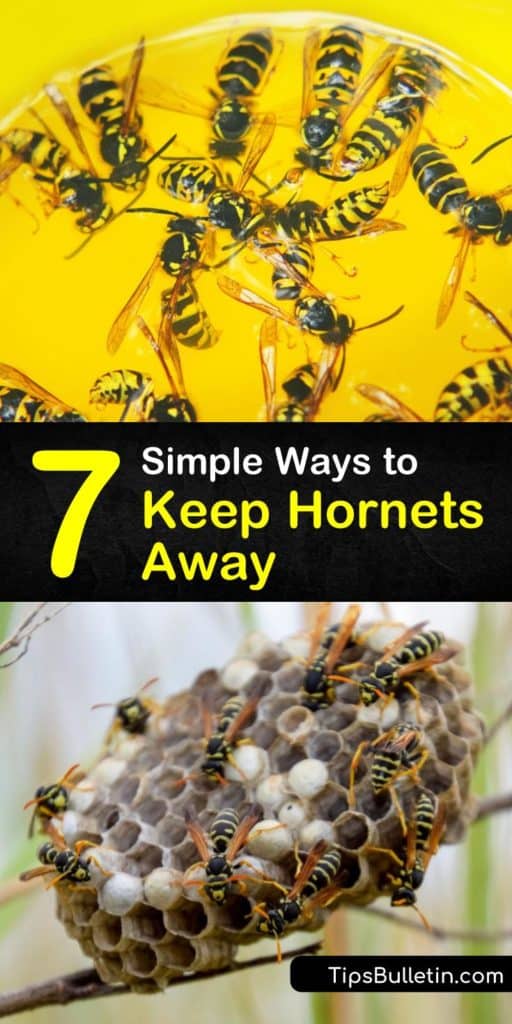 Learning how to keep hornets away from your outdoor space is vital to keeping everyone safe from painful stings and allergic reactions, so why not share our hornet prevention solutions with your friends and family on Facebook and Pinterest?