Lemons are a multi-purpose fruit that is commonly found at your local grocery store or farmer's market. The acidic fruit has a wide array of uses, and they are not exclusively used for cooking. Learning how to keep lemons fresh is vital to get the most extended shelf life possible.
Whether you are using lemons as a part of a salad dressing or as an all-natural cleaning agent to disinfect your countertop, this article shows you the best ways to keep lemons fresh as long as possible.
Keeping lemons fresh requires easy to find tools. Another great thing about storing lemons efficiently is that it does not take a long time to prepare them for storage.
How long do lemons last? Answering this question relies on the technique you use. We show you different alternatives to store lemons for a week or more extended periods.
Additionally, we give you information on the numerous health benefits of consuming lemons and their juice. Continue reading to find out effective ways to store lemons and keep them fresh.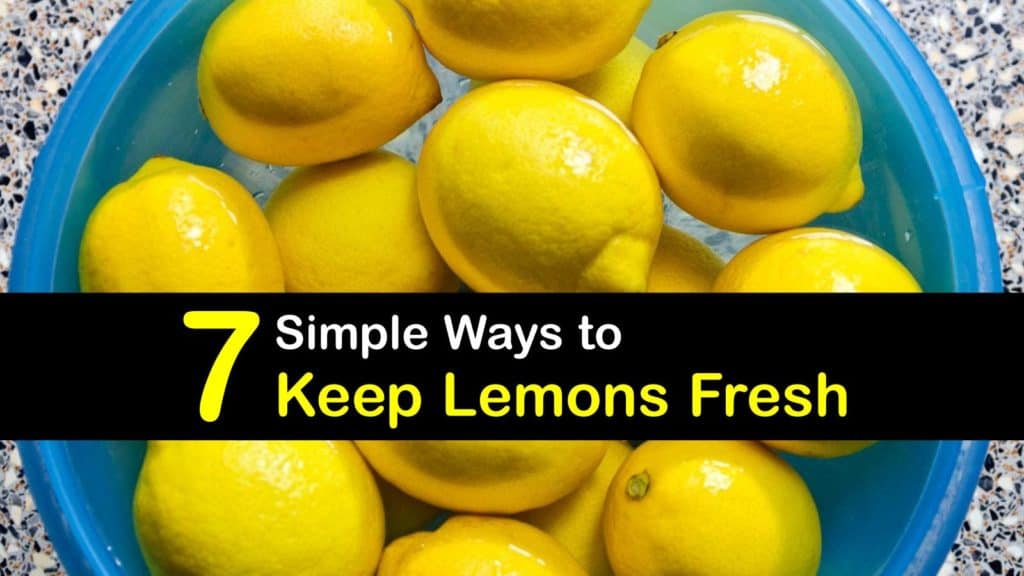 Why Keeping Lemons Fresh is Important
After you buy lemons, it's important to know how to store them correctly. When sliced lemons are left out at room temperature, they lose vitamin C quicker than if they are stored the right way.
Lemons exposed to too much oxygen increase the rate at which harmful bacteria and microorganisms grow on the food. When bacteria grow on fruits like lemons, and you consume them, foodborne illness is common.
Eating lemons with harmful microorganisms or mold leads to nausea, vomiting, and stomach pains, so learn the best ways of keeping lemons fresh.
How to Keep Lemons Fresh in the Refrigerator
Although it is possible to keep whole lemons on your countertop safely, refrigeration lengthens the fruit's overall shelf life. How long do lemons last at room temperature?
Lemons stay relatively fresh for about a week when stored at room temperature but are prone to dehydration and flavor loss.
How long do lemons last in the fridge? When you refrigerate your lemons, they are good for two to three weeks. To ensure your lemons are freshest, we recommend placing them in the crisper drawer of your fridge.
The crisper drawer maintains a consistent chilled temperature that helps fruits and veggies stay crunchy and juicy. Understanding how to keep lemons fresh in the refrigerator is painless and calls for almost no effort.
How Long do Lemons Last in Airtight Containers?
The best food storage technique for storing cut lemons is to place them in airtight containers or plastic bags with a zip-top. Both storage options prevent oxygen from reaching the citrus fruits and negatively impacting their longevity.
When oxygen comes into contact with fresh fruits and veggies, it speeds up the rate at which the fruit goes bad. If you select a plastic container to store your lemons, seal the lid well so microscopic bacteria do not reach the fruit.
When keeping your lemons in a plastic bag, squeeze out as much air in the bag as possible before sealing them completely. When do lemons go bad? How long do lemons last in airtight containers or Ziploc bags?
Lemons retain their juices and exceptional taste for four weeks with these two tools and work better than merely wrapping the fruit in plastic wrap. Plastic wrap does not seal out as much air as sealed containers and bags.
Keeping Lemons Fresh in a Bowl of Water
Another simple trick to use before putting your lemons in the refrigerator is to allow water to hydrate the fruit continuously.
When lemons soak in water, it enables the rind to absorb moisture. Hydrated lemons offer more juices and a far better taste compared to dry lemons.
Fill a medium-sized bowl with fresh water and set your lemons inside. If your lemons are not fully immersed in the water, the fruit still has adequate hydration access. After placing your lemons in the water, set the bowl of water in the fridge.
Learning how to keep lemons fresh is straightforward when you understand that citrus needs to be appropriately hydrated to extend its shelf life and offer the best taste.
Infusing Water with Lemons
An extremely healthy way to store fresh lemons is to infuse water with lemon juice from fresh lemons. Placing sliced lemons into a pitcher of water comes with sizable advantages.
The lemons' functionality is vast, and storing them in water is just one of several efficient storage tips.
With a sharp knife, cut your lemons into thin slices and place them into a full pitcher of water. Lemon-infused water stays fresh for about a week.
If you only want to drink a single glass of water with lemon juice, only cut up half of a lemon and place it in the cup.
Store the other half in an airtight container or a Ziploc bag. Keeping lemons fresh in water is not only simple but is also excellent for your overall health.
Freeze Lemons in Ice Cube Trays
Perhaps one of the more unconventional methods to keep lemons fresh is to freeze them. Freezing lemons in ice cube trays make it quick to add a lemony taste to a glass of water or other juices and mixed drinks.
The lemon juice shelf life in the freezer is much longer than when stored in the fridge. A freezer slows down the rate at which particles move, making it challenging for mold and bacteria to grow. When you freeze lemons, their antioxidants and vitamins are better preserved.
The best way to freeze lemons is by extracting the juice first. Using a juicer, extract all the juice from the lemons. Carefully pour the lemon juice into the ice cube trays and set them in the freezer.
To save space in your freezer, move the lemon ice cubes into Ziploc bags. How long do lemons last in the freezer? How do you know if lemon juice is bad? Lemons remain fresh for at least a whole month and even longer when they are frozen.
Lemon juice is helpful for preserving other food, too. Keep fruit salad fresh by mixing in some lemon juice. The liquid stalls the fruit-browning process.
Zesting Lemons
Zesting lemons is a beautiful way to add a topping to a salad or any other dish. The flavor of zested lemons adds a robust and slightly acidic taste that pairs well with many foods.
Several tools can zest a lemon. Use a zester, vegetable peeler, small knife, or a cheese grater to zest the lemon rinds.
We recommend storing your zested lemons in a Mason jar, which locks out the airflow and allows your lemons to stay fresher longer.
How to Tell if a Lemon is Fresh
When you go shopping for lemons, it's necessary to know which fruits are fresh. Fresh lemons offer the best taste and have more vitamins and antioxidants compared to dry and stale lemons.
Knowing how to tell if a lemon is fresh is quite simple and only takes a few moments when you are shopping. The freshest lemons have bright yellow, smooth skin and are free of any divots. A wonderful indicator of the freshness of a lemon is the feel.
When you squeeze a lemon, it should feel firm and rather plump for its size. A rotten lemon is squishy, has a soft texture, and has some discoloration. The best cooking tips suggest using only the freshest lemons available.
There are several different options regarding how you store your lemons. Some of the storage options include freezing, refrigerating, and infusing them in your drinking water.
Regardless of the method you choose to store your lemons, the fruit is still packed with vitamins and antioxidants that support a strong immune system and promote a healthy lifestyle.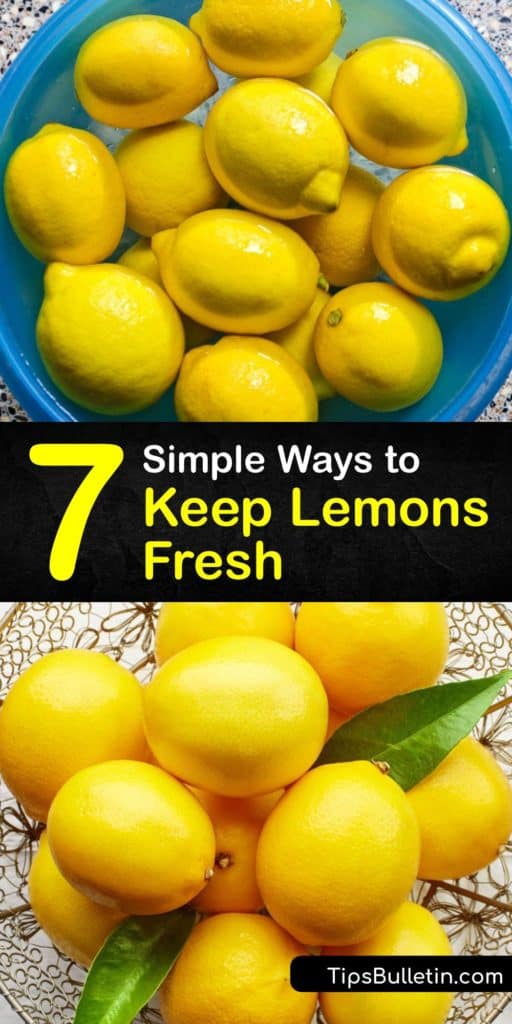 If you learned how to keep lemons fresh, share this article with tips about keeping lemons fresh on Pinterest and Facebook with your family and friends.