Learning how to keep lettuce fresh is the answer to saying goodbye to soggy, slimy, and wilted leaves. If you eat any lettuce, you know just how quickly these leafy greens go bad; by keeping lettuce fresh longer, you reduce the amount of waste.
Plus, we all know the secret to a great burger or salad is fresh, crisp lettuce. When answering how long does lettuce last, the answer does vary. If you purchase it at the store and stick it directly in the fridge when you get home, you are lucky to get a few days before it turns into a sad, wilted clump of leaves.
If you follow our simple tips and tricks for keeping lettuce fresh, it can stay anywhere from five days to two weeks in the fridge. It lasts even longer when you freeze it.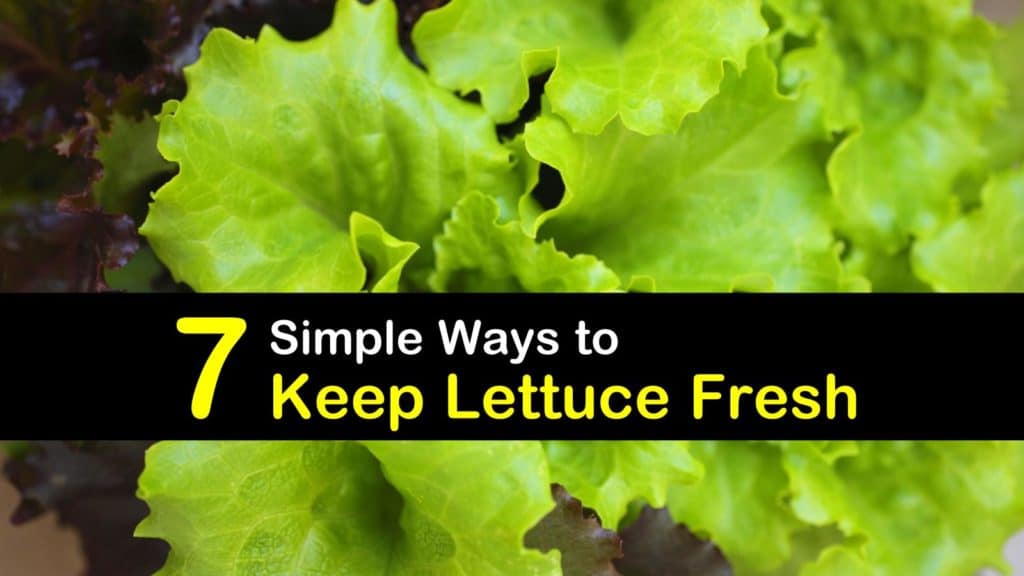 Easy DIY Tips to Follow for Keeping Lettuce Fresh
It's important to keep salad fresh and all the ingredients that go into it so that you can enjoy your produce to the fullest.
Remembering that even if you do everything correctly, wilting lettuce is a real possibility. Never store romaine lettuce or any other type near fruits that emit high amounts of ethylene gas as they ripen, including avocado, apple, or pear, as it causes your veggies to age faster.
Storing root vegetables like carrots, potatoes, and turnips is a little different than lettuce. Always store your veggies in the correct locations so they will last longer.
How to Tell if Lettuce is Fresh
When purchasing lettuce, always select the freshest heads you can find. There is no difference between romaine and iceberg lettuce in this regard. Choosing the best ones is essential, as the better quality the head, the longer it lasts when stored in the fridge. So, now you might be wondering how to tell if a lettuce is fresh.
When shopping for fresh lettuce, scrutinize the outer leaves. Avoid any with dirty, damaged, or discolored leaves. At home, remove these outer leaves to see what lies underneath. If any of them are discolored, slimy, or mushy, discard the entire head.
When inspecting your lettuce's quality, avoid any funny or foul-smelling ones. Never purchase lettuce with brown edges, dark spots, or mold. Brown edges occur on older lettuce, so never buy any heads of lettuce from the store with visible browning.
How Long does Lettuce Last when Stored in the Refrigerator?
To answer how long does a lettuce last in the fridge depends on the variety of lettuce and how you are storing it, just like when storing jalapeno peppers and other vegetables. Leafy greens, including spinach, kale, and arugula, keep anywhere from two to seven days when properly stored.
Iceberg lettuce, if left intact and unwashed, stays fresh up to three weeks. Loose-leaf lettuce, including romaine lettuce, lasts from seven to ten days.
How to Keep Lettuce Fresh and Crisp
To keep your lettuce nice and crisp, cut off the stem, separate the leaves, and submerge them in a bowl of ice water. Gently move the leaves around the cold water to remove any dirt. Transfer the lettuce to a colander and allow it to drain for several minutes.
A salad spinner is the best way to dry your lettuce. To prevent any bruising, don't cram the salad greens. Spin the lettuce leaves to drain the excess water. The leaves will be slightly damp.
Remove the spinner basket, cover with damp paper towels, and place inside the fridge. Set a plate underneath the basket to catch any additional drainage.
Allow it to chill for up to 30 minutes before use. Use immediately or store lettuce in the refrigerator for up to five days. Rewet the paper towel as it dries out.
Tips on Storing Head Lettuce
Never place the head of lettuce directly inside the crisper drawer. Before storing it, line the drawer with paper towels. They help absorb excess moisture; pulling it away from the lettuce slows down the degrading process.
Check the towels every few days and replace them as needed. Some people recommend washing your lettuce when you first get home, so you don't forget.
We don't advise washing the heads beforehand, as it's nearly impossible to get them dry enough for storage. If you cut the leaves from the core, it's possible to regrow Romaine lettuce and other types by putting it in water.
To keep onions fresh, don't put them in the refrigerator unless they have already been sliced. Whole onions last longer in the pantry or in the root cellar.
Storing Leaf Lettuce Properly in the Fridge
Can you freeze basil and other leafy herbs and veggies? Yes, you can. First, remove any damaged or discolored leaves and then wash and dry lettuce thoroughly before storage. This is easier if the leaves are removed from the stem first.
Wrap the dry leaves in paper towels and then place them inside an airtight storage container or a freezer bag. Change out the paper towels when they are wet, which is about every two days.
A lettuce keeper also works in place of a plastic bag. If using plastic bags, keep a corner open to encourage airflow. To stay crunchy, lettuce requires moisture and airflow.
Can I Freeze Lettuce for Longer Storage?
Freezing is a viable option for extending the shelf life of lettuce. The downfall of freezing lettuce is it loses some flavor and its crispness. However, freezing is ideal for extending fresh ginger shelf life.
Frozen lettuce is best for stews, soups, and smoothies rather than salads or other recipes that call for raw lettuce leaves. The way to freeze romaine lettuce leaves is to separate and wash them. Use a handful of paper towels to blot up any excess water.
Transfer dry leaves to a freezer bag, seal it, and then place inside the freezer. Another option is to puree the lettuce in a food processor, transfer it to ice cube trays, and then freeze.
Wash the kale, parsley, and collard greens and pat dry with a paper towel. Remove kale and collard greens from their stems. Chop the parsley, kale, and collard greens to prepare for the blender.
Add everything to the blender, aside from the water, and pulse a couple of times. Turn the blender on high and continue blending until smooth. Scrape the food down onto the sides and add water until the mixture reaches the four-cup line.
Blend for several minutes. Pour the pureed greens into ice cube trays, tap the tray on the counter to remove any air bubbles, and then place inside the freezer for a few hours. To use, add four cubes to your smoothie recipe in place of leafy greens.
Favorite Salad Recipes for Crisp Lettuce
Salads are one of the most popular recipes for all lettuces. Turn a regular green salad into a protein-packed meal with the addition of meat, beans, nuts, and egg. With head, leafy greens, or loose-leaf lettuce, the possibilities are endless.
To season the chicken, sprinkle with salt and pepper. Cook on a grill until done; the internal temperature should reach 165°. Cut chicken into slices to use for a salad topping.
Combine the spinach, pecans, cheese, berries, and chicken in a large bowl. Drizzle the salad with your choice of dressing and toss gently to coat evenly.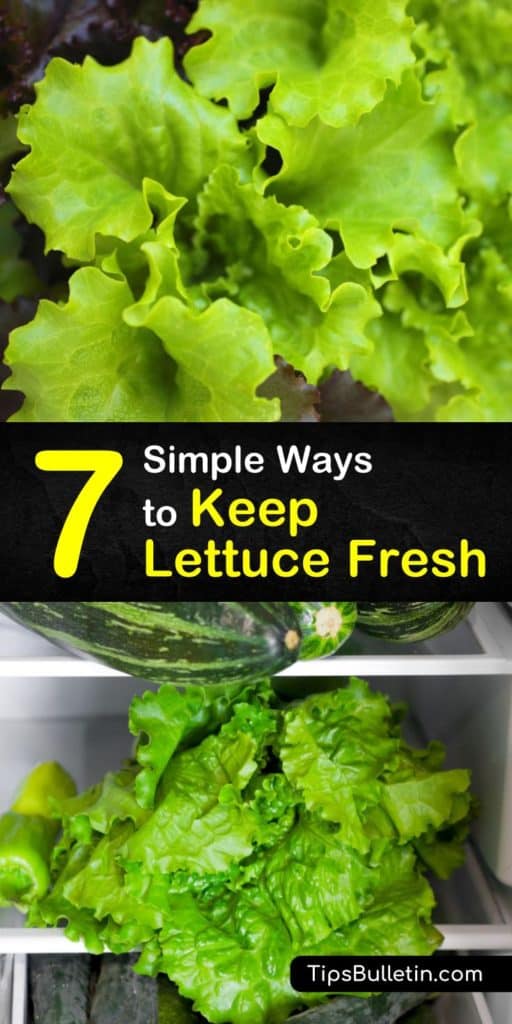 Thank you for taking the time to learn the answer to how long does lettuce last. If you discovered any of our tips on keeping lettuce fresh useful, please share on Facebook and Pinterest so friends and family can discover how to keep lettuce fresh.