As one of the most common garden and household pests, moths find their way into your closets, pantry, and cabinets. Learning how to keep moths away helps you protect these areas, especially if your goal is to keep critters from natural fabrics and food sources.
Most adult moths feed on cereal and grains in pantries. It's common to see pantry moths in American homes. The larvae enjoy a specific diet of animal fibers and skin cells, which is why the females tend to make nests in closets. However, there are easy ways to clean both areas.
Read on to learn various natural ways to repel moths and what other conditions attract them to your home in the first place. We offer cures for every stage of a moth's life cycle. Use the information to prevent an infestation and keep moths away without calling an expensive exterminator or using harsh pest control chemicals.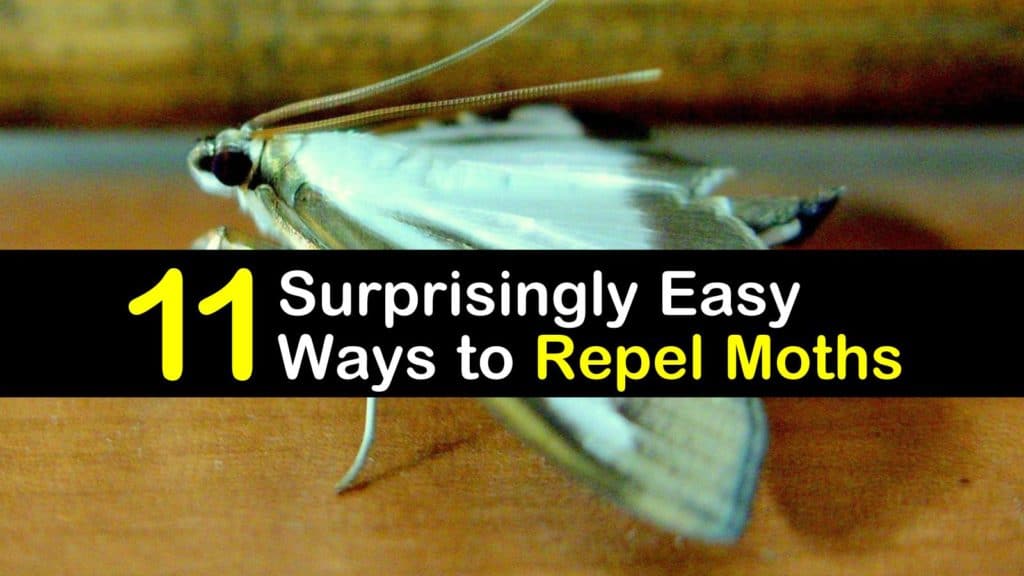 How to Repel Moths
Where do moths live? Moths are a creature you can find almost anywhere. They are attracted to areas where they have a ready food source.
Exploring how to keep moths away using home remedies allows you to prevent a huge moth problem. Some of the best preventative practices include allowing your natural fabrics in storage, like wool and cashmere sweaters, to air out occasionally.
Spraying Vinegar to Kill Moth Eggs
Vinegar not only kills moth eggs but also repels insects. Its an excellent silverfish spray and ideal for getting rid of ants, too.
Moths love to lay eggs on shelves in your home. Use this recipe to reduce or prevent infestations.
Mix white vinegar with equal parts hot water. Either combine the ingredients in a spray bottle or mix them in a bowl and dab a cloth into it to clean. Use the solution to clean the shelves in your pantry, cabinets, and closets.
Avoid spraying vinegar directly on fabrics that easily stain. Combine the mixture with soapy water and use a sponge or scrubber to wipe eggs from the walls and shelves.
Sprinkling Cinnamon on Baseboards to Repel Moths
Moths and many other insects hate the smell of cinnamon. Reach for cinnamon to repel pests from your pantry or closet, or use cinnamon to get rid of infestations.
Sprinkle cinnamon on the baseboards of your pantry and closet. Place cinnamon sticks in the closet or inside drawers near your clothing. The odor repels moths and is one way to get rid of spiders naturally.
Spreading Cedar Wood to Keep Moths Away
Another natural scent moths hate is cedar wood, making it an excellent repellent. Use it in either solid wood or oil form for the best results. Sprinkle cedar wood chips or cedar oil around your home, or make a cedar wood sachet for your closet as one of the easiest and best natural ways to kill moths and keep them out of your closets.
To get rid of moths in the closet and leave it with a fresh scent, too, place a handful of cedarwood chips in a bag or spread them directly on shelves. When the smell starts to fade, refresh the pack with new cedar chips. If using cedar oil, drop some oil on a cotton ball and place it in a bag.
Dried herbs also make an excellent alternative for cedar wood. Lavender and rosemary drive moths away. Put the dried herbs in a bag.
Place them in drawers, cabinets, and closets for the same results. Hanging them directly from clothing hangers is a secure storage idea.
Getting Rid of Moths and Eggs with a Hairdryer
If your home is infested, kill moth larvae and eggs using a hairdryer. The insects can't survive hot or freezing temperatures.
For this technique, find where the moths laid their eggs. Grab your hairdryer and set it to high heat. Blast the infested item with the hairdryer, and repeat as needed. This technique works well for upholstery that doesn't fit in the machine, like a sofa or your carpet.
You may also wrap your clothing in plastic bags, placing them in the freezer for a few days to achieve similar results. Wash and iron the fabric afterward.
Filling Cracks with Caulking to Reduce Infestation
If moths infest your home, they often hide in small cracks and crevices. Get rid of them by looking at your house for hideouts and re-sealing them so they can't return.
The first step is to search for cracks and hiding spots. Buy silicone caulking from your local hardware store, and fill the cracks following the directions on the bottle.
Spreading Bay Leaves to Get Rid of Moths
Bay leaves are another natural ingredient with a distinct, strong aroma that repels moths. It's an easy and cheap way to get rid of harmful insects and keep them away.
Spread a few dried bay leaves around the outside and inside of your home. Make dried herb sachets using bay leaves or leave them whole. Place them anywhere you suspect that moths hide.
After you clean your pantry to ensure that there are no moth eggs, adding some bay leaves to the shelves is an excellent idea for getting rid of pantry moths and keeping them away.
Using Mothballs to Prevent Infestations
Mothballs keep moths away. Buy mothballs or naphthalene from the store. Naphthalene is a chemical found in many store-bought moth repellents that smells like mothballs. Moths hate the strong scent.
Whichever option you choose, spread the mothballs around your home. Place the scent in closets, storage areas, and around your yard. Replace the mothballs regularly. Be careful handling mothballs, however, as they're poisonous to people and pets.
Note that mothballs do leave a lingering odor that many people find unpleasant. To remove mothball smell from clothing, be sure to wash affected clothes before wearing them.
Warding Off Moths with Clove Potpourri
The fragrance of clove repels moths as well. Either create clove sachets to place in infested areas or make a clove potpourri blend for your home.
Mix a handful of dried cloves in a small bag made of cloth. Tie the bag closed and place it in a closet or pantry.
Add another handful of the potpourri to a decorative bowl, setting it in the living room or pantry to protect food grains from insects. Include other dried herbs like lavender, cedar, peppermint, thyme, and rosemary for variety.
Using Essential Oils for Moth Infestations
Essential oils are a concentrated fragrance that helps get rid of moths. The natural oils made from plants like Indian lilac and lavender are one of the best ways to keep moths away.
Indian lilac, aka neem oil, offers many organic ways to rid an infestation from your home. There are many natural ways to repel insects with essential oils.
Make a natural moth repellent essential oil bug spray using any floral or clean-smelling oil, or create sachets to repel moths using a few drops of the essential oil on a cotton ball. Diffuse your favorite oils, or clean with a blend of Indian lilac and lavender in affected areas.
Removing Adult Moths from Closet using Pheromone Traps
If you see tiny holes in cashmere or wool sweaters, check your clothes. Adult moths love natural fibers, such as feathers, wool, fur, silk, and cashmere.
Wash anything with a musty smell or discoloration, then set out pheromone moth traps. The pheromones in this moth trap attract them. The sticky substance then keeps them from escaping.
DIY Pheromone Traps for Closets
Pick up some flypaper or sticky traps from your local grocery store. Dab a little fish oil on the flypaper to attract the moths and place your traps in the corners of your closets.
Making a Trap to Kill Moth Infestations
Pantry moths, also called the Indian meal moth, are attracted to cornmeal, making this trap recipe dangerous as soon as pests eat it. Borax is safe around people in small amounts, but it poisons moths.
Combine the Borax and cornmeal in a bowl, placing a teaspoon of the mixture into an airtight jar. Leave the lid off the jar and place it near your infestation.
Store the leftovers in airtight containers, replacing the bait once per month. Remove dead moths from the jar as needed.
Vacuuming Clothing Moths Away
Vacuuming is a simple way to get rid of clothes moths. The eggs and cocoons on clothing typically look like little grains of rice. They're often white. Moth larvae feed off dead skin, crumbs, and hair from your clothing, which is why infestations often happen in closets.
Vacuum eggs from the carpet, upholstery, closet walls, and any clothing or fabric you can't throw in the washing machine. Make sure to clean the vacuum bag with soapy, hot water after use.
How to Keep Moths Away by Learning How to Attract Moths
To know how to keep moths away, you must learn what attracts them in the first place. Two main types of moths infest homes: pantry moths and webbing clothes moths. They each enjoy different habitats and diets, making them likely in varying places.
Pantry moths often head toward light and find their way in when pantry doors or cabinets are left open. A webbing clothes moth infests your closet and typically avoids light. Both types, however, lay eggs in dark places.
How to repel moths from your home forever involves learning what type of moths you see and how to attract moths based on this information. Use techniques particular to your infestation.
For example, to get rid of moths on porch, install a yellow bug bulb in your front porch light fixture instead of a regular white bulb. This deters many insects, not just moths.
How Do You Know If You Have an Infestation?
You may have a webbing clothes moth infestation if you see small holes in clothing, especially in natural fabrics like cashmere and wool sweaters. Other signs include discoloration in clothing or webbing in the corners of grills or closets.
Food moths tend to lay eggs on grains, chocolates, cereal, or processed food. They go after bright light, so you're likely to see them flying toward your lights at night.
You will know if you have a gypsy moth caterpillar infestation outside if you see a webbed bundle in the branches of your trees. Get rid of these webs quickly to keep the caterpillars from destroying vegetation.
Moth infestations get out of hand if you don't regularly clean and prevent the insects from coming into your home. Consider calling a pest control professional if they reappear after you try all our methods. An exterminator has heavy-duty solutions.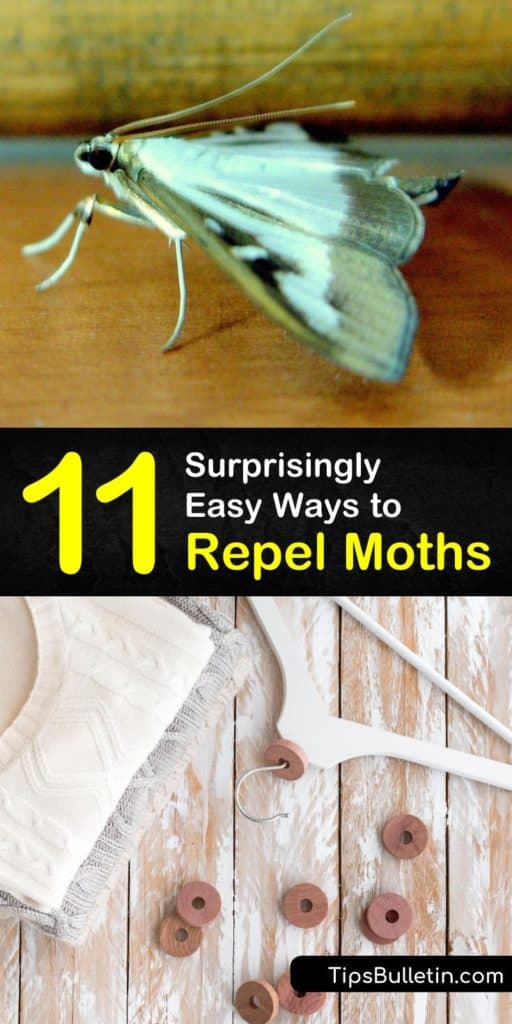 Did you find our article helpful? If so, help your friends learn how to keep moths from their homes by sharing our natural ways to repel moths on Facebook and Pinterest.