Cold storage is useful for all kinds of vegetables, but how do potatoes react in those sorts of conditions? Can you keep potatoes in the refrigerator, for example? What about the freezer? Learn how to keep potatoes fresh with our storage and preservation suggestions.
You'll be happy to learn that potatoes do fine in the fridge or freezer. There are specific steps you have to take in your preparation and storage process to ensure a good outcome and reduce spoilage, though.
We'll guide you through the process so you'll become an expert before long.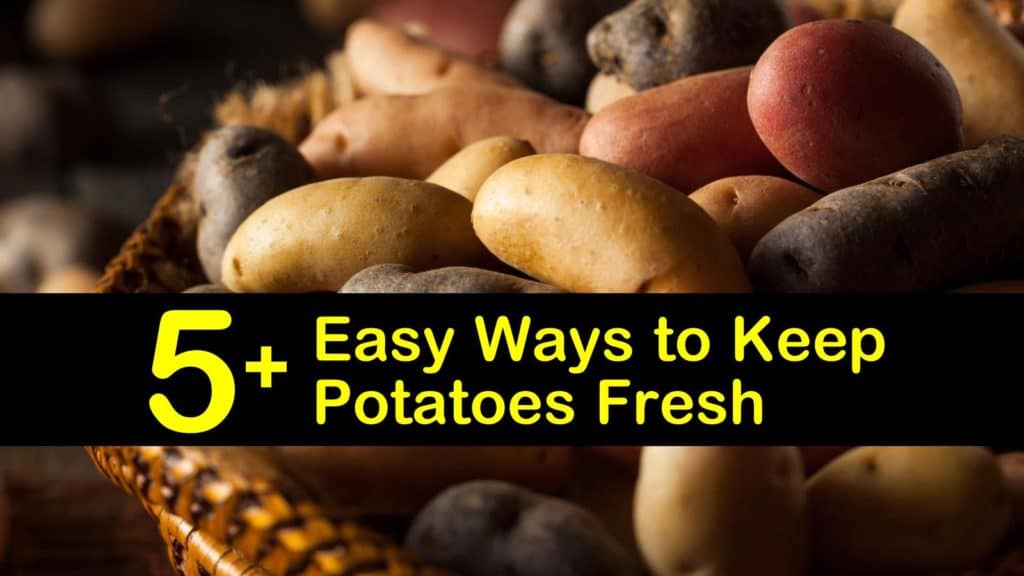 Keeping Peeled Potatoes Fresh in Cold Storage
Did you ever wonder how long does a potato last? If you have an excess of this delicious vegetable, this is an important question. This section covers cold storage methods for potatoes.
Getting your spuds nice and chilly extends their shelf life by a considerable amount, and we've provided instructions to help you prepare and store them.
You'll find tips for how to freeze potatoes as well as a tried-and-true method for how to refrigerate them, and we also show you how to create ready-to-heat frozen mashed potatoes.
Similar ideas are important also to know when does potato salad go bad, as well as other dishes containing the veggie. Identifying spoiled potatoes easily will keep you from consuming potentially harmful toxins that can lead to a nasty bout of food poisoning.
Freeze Whole Potatoes
Ideally, the veggies we pop into long-term storage remain unchanged. Potatoes do undergo a small transformation when you refrigerate or freeze them, however, and become sweeter as the cold temperature converts some of their starch into sugar.
If you fry your previously chilled spuds in oil to make French fries or chips, they'll turn dark. But otherwise, if you take care while preparing them for storage, your Yukon Golds and red potatoes come out the other side tasting fantastic. Learn how long to cook potatoes for potato salad or to add to soups, and more.
Blanching the potatoes protects them before their big chill, and that calls for peeled potatoes. Select fresh, young potatoes at the grocery store. Place the peeled tubers in a pot of boiling water for three to five minutes.
Dunk the blanched potatoes in an ice bath to halt the cooking process, and drain them. Put the potatoes in freezer bags and use a straw to suck out as much air as possible before sealing them. Label and freeze the containers; frozen potatoes have a storage life of at least 12 months.
If you've made your favorite dish with your surplus potatoes, you may wonder, "Can you freeze potato salad?" The simple answer is yes, but potato salad made with dairy products does not freeze as well as mixtures made with other ingredients. German potato salad freezes very well.
Put Mashed Potatoes in the Freezer
Mashed potatoes might not seem like an ideal choice for the freezer, but cold storage is the perfect location for this rich and tasty side dish. Best of all, you do all of the work before you freeze the potatoes. To eat the mashed potatoes, just pull them out of the freezer and heat them.
Peel and boil the potatoes until they soften enough to mash. Add butter, seasonings, and cream to taste, and mash the potatoes until they are a uniform consistency. Cover your potatoes and place them in the fridge to cool.
Place a scoop of potatoes in each bag. Label the containers, remove the air from them, and put them in the freezer.
To reheat the potatoes, pull as many bags as you need from the freezer a day before you need them to allow them to thaw in the refrigerator. Reheat them in the microwave or on the stovetop.
Refrigerate Your Fresh Potatoes
You've probably heard that potatoes don't do well in the refrigerator, but that's not the case. If you treat them with care, raw potatoes thrive in the fridge, as do avocados, and it's perfect to keep celery fresh.
Store cut onions in the fridge to have for salads or a recipe within the next few days.
Potatoes do fine in the fridge with little attention. Potatoes spoil quickly in hot temperatures, so if you live in a warm climate, the fridge can extend their life considerably.
Potatoes love high humidity, so place them in a plastic bag with perforations or a ventilated container to allow them to retain some moisture while still being able to breathe.
The same also applies for keeping asparagus fresh in the fridge for a few days. However, keep the spuds dark; cover them with a towel to prevent the fridge light from disturbing them.
Too much light results in the potatoes releasing solanine, which creates a greening and leaves the potatoes with a bitter taste. Don't wash or remove the potato skins until you're ready to eat the potatoes.
What about after you make your favorite dish with potatoes? How long does potato salad last in the fridge? Fresh potato salad lasts several days in the refrigerator as long as it is packaged correctly.
How to Keep Potatoes Fresh
Even though cold storage is a viable option, potatoes take up a lot of room in your fridge or freezer. No worries if you don't have the space for cold storage, though.
Folks have been storing tubers at temperatures higher than the inside of your fridge for thousands of years, and you can do it as well. A few precautions ensure that your potatoes last for the long haul, even when sitting on your countertop.
Room Temperature and Root Cellar Storage
This section looks at ways of storing potatoes in a root cellar or at room temperature. We have instructions for preparing your tubers for their long sleep in your basement, pantry, or countertop.
If you store them properly, you can keep your potatoes fresh for a much longer time than you might think. Our room temperature and root cellar storage tips help you get the most out of your veggies.
Pantry and Countertop Storage
Storing your potatoes at room temperature is the usual storage method for lots of people, and it works well. Potatoes last for at least a couple of weeks at room temperature.
You don't have to do anything to bring them out of storage. It's just a matter of peeling, cooking, and eating them. As with the potatoes in the fridge, make sure your potatoes remain in the dark to extend their life.
Place them in a dark pantry in a dry place, or if you store them in a well-lit spot in your home, cover them with a towel. Don't store potatoes near apples or onions, which release ethylene gas as they age.
The gas reduces the shelf life of your potatoes. Keep your potatoes dry to prevent them from softening or sprouting. You'll definitely know when potatoes go bad.
Not only will they get mushy or sprout, but they will also wrinkle, get patches of mold and start to smell. Do potatoes go bad when they sprout? Get rid of these potatoes quickly or your entire pantry will be overcome with the unpleasant odor.
Store the Potatoes in a Root Cellar
The old ways sometimes wind up being the best option in all sorts of fields, including food storage. People have used root cellars to store tubers for centuries, and that's because it allows for healthy long-term storage that can keep the spuds happy for four to nine months if properly cured.
Root cellars maintain the perfect storage temperature for potatoes. Don't forget about your yams! Store sweet potato bushels in the root cellar for later eating, too. Fortunately, preparing your vegetables for storage in the root cellar is a simple task.
Spread your unwashed potatoes in a single layer on newspaper, a cardboard box, or in paper bags to give the spuds air circulation, and store them in a dark place that stays between 50° and 60°F for a few weeks to cure them and toughen their skins.
After two weeks, place the potatoes in a deep box filled with shredded paper or sawdust. Cover the box, label it with the date, and store it in the root cellar.
Dehydrate the Potatoes
The leading cause of potatoes going bad is rot caused by dampness. Eliminate that problem by drying your spuds out before storing them away.
Dehydrating your potatoes ensures they stay edible for up to ten years. Our dehydrated potatoes recipe is a proven winner and gives you tasty meals for a long time.
Wash potatoes first. Fill a large bowl full of water, and then peel the potatoes and slice them into pieces ⅛-inch thick. Add the slices to a pot of boiling water to blanch.
Remove the potatoes after you pierce them with a fork, which should take about five minutes. Place the slices on your dehydrating sheets in a single layer, and set the temperature to 135°F. The slices take eight to ten hours to dry.
You'll know when the potatoes are dry because they'll be translucent and easily snap in two. Store them in an airtight container.
We hope you had a delightful experience reviewing our recommendations on how to keep potatoes from sprouting. Potatoes are an important part of our diets and fill the hole in our belly when we need it.
Improper storage can cause your tubers to spoil early and waste your money and time. Our guide shows you how to keep peeled potatoes fresh and helps you get the most out of your spuds.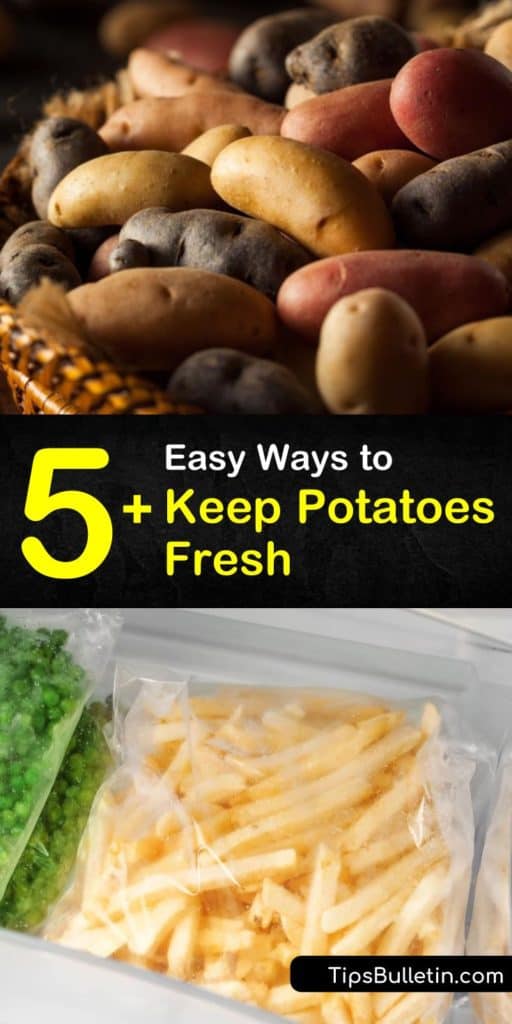 Thanks for exploring our potato storage suggestions. Help others learn about how to keep potatoes fresh by sharing this comprehensive article on storing potatoes on social media venues such as Pinterest and Facebook.