One of the most widespread pest insects in the world, silverfish are known by various names across the globe. Their scientific name is Lepisma saccharinum, although they sometimes go by the nickname bristletails and paper fish. Knowing how to keep silverfish away prevents an invasion or helps end one.
A silverfish's body is shaped like a fish, with a curled form, and sways from side to side while it moves, resembling a fish swimming underwater. The most common moniker for these insects comes from their exoskeleton, which has a silvery sheen when fully complete. Keeping silverfish away is paramount as they reproduce quickly.
Silverfish are timid creatures with a strong sense of self-preservation. They are nocturnal insects, active at night, and avoid being in well-lit locations. They also like isolated, damp areas and try to stay out of sight of humans. If you spot one silverfish in a dry, well-lit area of your home, there are probably hundreds more you can't see. Discover natural ways to keep silverfish away and rid your space of these pests.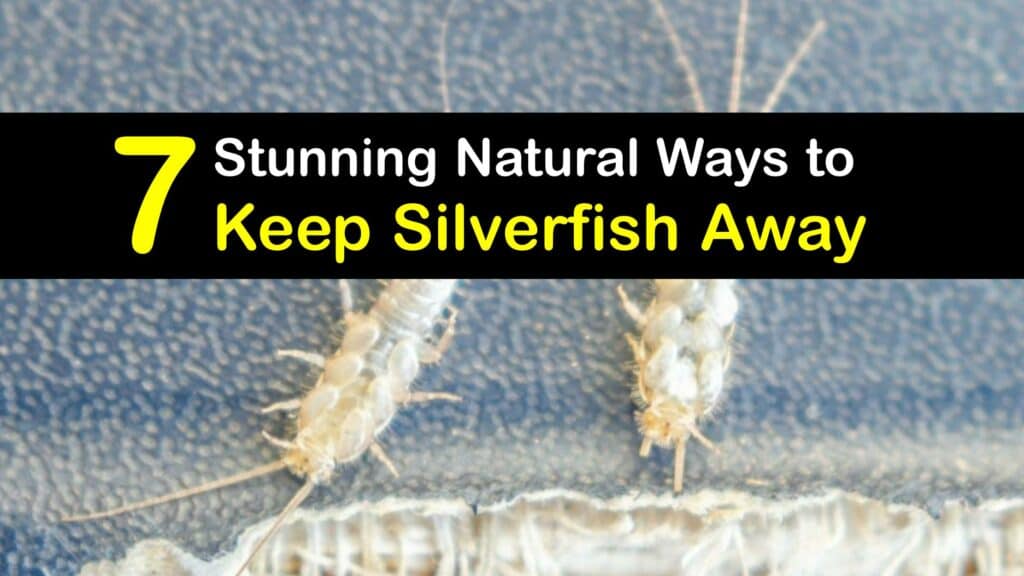 Tricks and Tips for Keeping Silverfish Away
Whether struggling with an invasion or being proactive with pest control, it's crucial to know how to keep silverfish away. Silverfish aren't outright dangerous, but they're creepy and unsettling and make your kitchen, bathroom, or basement seem unclean and unsanitary.
Numerous chemical repellents and insecticides are available, yet many bring toxic substances into your household and have the potential to harm you and your family. Find natural ways to keep silverfish away and perform your own pest control with uncomplicated and efficient remedies.
What are Silverfish?
Silverfish (Lepisma saccharina) are small silver insects that gather in moist areas inside. Silverfish love homes with plenty of food sources and multiple damp areas. You might be alerted to their presence by silverfish droppings.
A female silverfish produces a silverfish egg cluster, and the population expands rapidly; these critters are an issue that can't remain unaddressed. Silverfish damage textiles like clothes and carpets and paper products like books. Fortunately, getting rid of silverfish is usually possible without hiring a pest control service.
How to Keep Silverfish Away Using Essential Oils
Peppermint essential oil is a natural answer to your silverfish infestation. Like many insects, adult silverfish have a finely developed sense of smell. Because of this olfactory power, potent scents like peppermint oil are off putting and drive them out of a room.
It's simple to control a silverfish population with peppermint oil. Pour oil onto several cotton balls and set them around your residence, or make a silverfish repelling spray.
Shake the liquids together in the spray can and spritz them into the air and on floors and surfaces in rooms with a silverfish problem.
Try Boric Acid for Keeping Silverfish Away
To get rid of silverfish, smear a thin layer of boric acid in the areas where they are active; the bugs perish on contact. Get rid of leftover silverfish bugs and redistribute the boric acid as needed. After you kill silverfish, sweep up the old powder and dead insects.
Boric acid is a simple solution for getting rid of carpet beetle invasion or bed bugs. Instead of liquid boric acid, use boric acid powder to safely and effectively eliminate silverfish. The powder is less likely to spill and is easier to handle and contain. Hardware shops and some drugstores sell boracic acid, also known as orthoboric acid.
Natural Ways to Keep Silverfish Away
A silverfish bug is repelled by bay leaf oils, as are several other insects. There are effective silverfish repellents in your pantry, so look there first. Add a dried bay leaf where you've seen silverfish signs.
To help eliminate silverfish naturally, use a potent spice with a strong aroma to upset the silverfish's sensitive olfactory systems and make them avoid your home. Try using cloves or cinnamon in place of bay leaves.
You can also mix a little baking soda with water and honey. Baking soda kills silverfish naturally and doesn't involve harmful chemicals.
What Keeps Silverfish Away?
Cedar oil is a potent silverfish repellent with a pleasant smell. Like peppermint oil, cedar has a strong scent; silverfish are repulsed by it.
Shake well and spray around your home, focusing on damp places. When you use this homemade spray to deter silverfish and other bugs, take care to spritz carpets and fabric upholstery. You can also use a diffuser to distribute cedar oil in the air and sprinkle cedar wood shavings in problem zones.
A Sticky Trap is an Efficient Silverfish Trap
Sticky traps are the preferred silverfish traps for many homeowners. These large pieces of board are treated with a strong adhesive on one side that traps the insect when it walks on it.
Set the sticky silverfish trap in locations with a silverfish problem and place a tiny piece of bread or another starchy object in the middle of the glue surface as bait. Silverfish in the area are enticed by the food and become caught in the glue.
Glue boards are effective in catching insects, but if they come in contact with skin, they could hurt people and pets. Seal sticky traps in boxes with tiny openings so pets and kids can't get inside to help reduce mishaps. Once the trap is filled, dispose of it.
Cleaning and Storage Ideas to Prevent Silverfish
Like with cockroach control, securing a potential food source that silverfish are attracted to is vital. Think about food storage options to prevent pest access. Use an airtight container, for instance, to seal things like pet food. Additionally, put items like cereal, sugar, and flour in jars with tight-fitting caps.
Search for unusual food sources and store them; this applies to textiles like fabric, paper, and others. Although they don't provide as much nutrition as foods high in sugar and carbohydrates, these things can support a silverfish infestation.
After eliminating any potential food sources for silverfish, focus on moisture problems. Start looking for regions with a lot of dampness, and fix them. Thoroughly clean your house; if favorite food sources aren't available, silverfish survive on dust.
Look in the corners and crevices of your bathroom and kitchen. Fix any dripping pipes, and think about turning on a dehumidifier to make the environment less inviting to bugs.
Keeping silverfish away doesn't have to be a challenge. Like bird control, silverfish control may take time to establish and works best when you combine a few techniques with home management.
If you're not having success using natural home remedies to eradicate your silverfish problem, reach out to the National Pest Management Association for more help and advice on getting rid of these troublesome pests.
If you loved this informative article on how to keep silverfish away, please share these natural ways to keep silverfish away with your friends and family who need pest control on Pinterest and Facebook.