Skunks hang around your property and stink up the place, and these small animals are not as cute and innocent as they look in the cartoons. Critters like skunks and raccoons dig up garden beds, rifle through the trash, and worst of all, leave unappealing smells hanging around the front door. Figuring out how to keep skunks away is sometimes a trying process.
If you don't take care of the situation quickly, an infestation may take over and require you to call wildlife control. The last thing anyone who has a home wants to do is pay a huge bill to get rid of these wild animals.
Keeping skunks away may be a challenge, but your hard work will pay off. There are dozens of natural ways to keep skunks away, and none of them will cost you an arm and a leg.
If you are trying to avoid calling animal control, these home remedies for keeping a skunk out of your yard are the first methods you should try.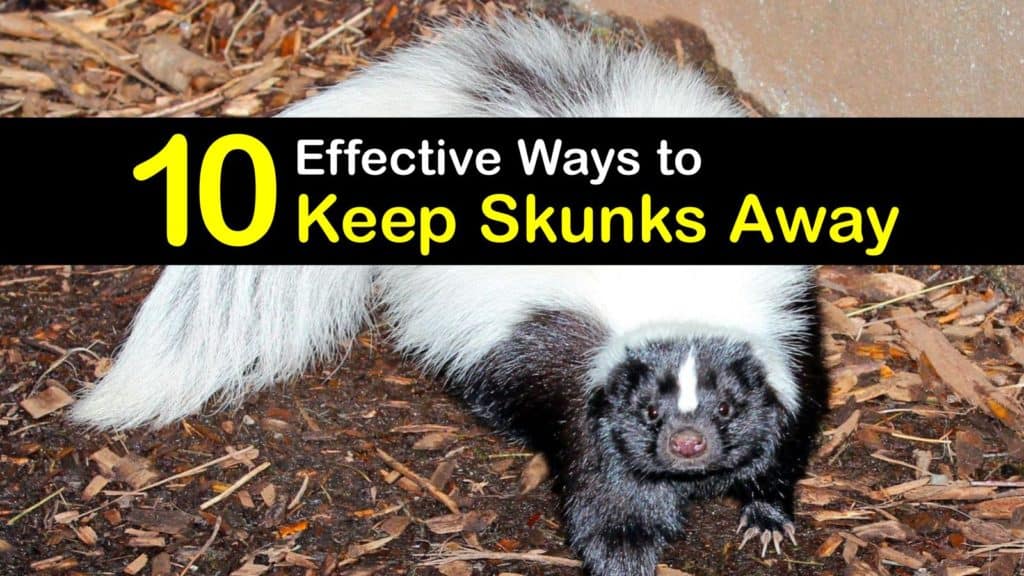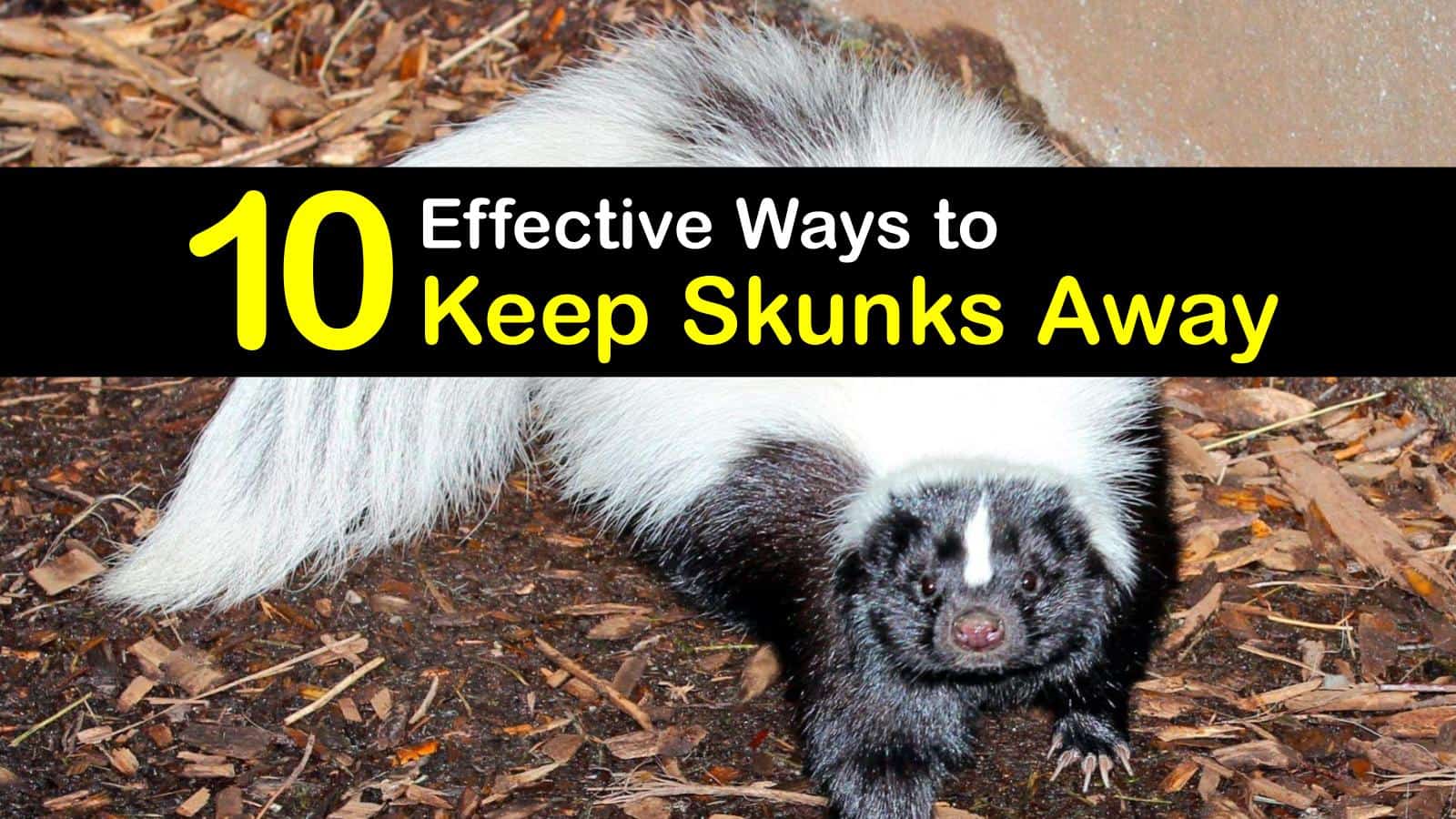 Why do Skunks Smell so Bad?
We all know that unforgettable skunk smell lingers in our noses and fills the entire atmosphere around our properties. Skunks are black with a signature white stripe down their backs.
These nocturnal animals usually only come out at night so that they can dig up and feast on grubs and larvae, as well as garden beds. Skunks don't tend to be aggressive animals, but they do cause damage around our homes, and they spray when threatened.
The one benefit to having them around is that they eat insects like beetles and worms that may harm our plants. Regardless, they are a nuisance, and most people don't enjoy having these pests around.
Before you call pest control to start the skunk removal process, ask yourself what keeps skunks away and how do I implement that information around my home? You'll be surprised to see how easy it is to create a DIY skunk repellent that works.
The best way to catch a skunk is with the right bait and a trap. While you can make a skunk trap to get rid of the creatures, there are easier methods of pest control. Try one or more of these remedies first to see if they work for you.
How to Keep Skunks Away
The first indication that a skunk is loitering around your house is that horrendous smell. Other signs to look out for are holes in the lawn and flowerbeds or plants getting toppled over.
Skunks are in their largest numbers during the spring, and their quantities dwindle as the season progresses. If you've noticed signs of skunks, it's time to learn how to get rid of skunks using natural solutions.
One proactive method to eliminate skunks is to learn what plants keep skunks away and add some of them to your garden and yard areas. Holly and Mahonia plants are excellent choices.
Keeping Skunks Away with Sprays
Even though skunks create strong odors of their own, they really don't like pungent smells. It's ironic, but making a natural repellent for skunks is one of the easiest and cheapest ways to take care of the problem.
To make this DIY skunk repellent spray, find an old spray bottle and add one part castor oil with one part dishwashing detergent and three parts clean water.
When everything is combined, spray the solution around the perimeter of your home, yard, and garden beds. This spray creates a powerful barrier and deters skunks from finding their way into your yard. It may also be effective for keeping squirrels out of flower beds where they like to dig.
Natural Ways to Keep Skunks Away
While citrus smells bright and fresh to us, it is one thing that skunks hate being around. Many of us already have citrus fruits at our houses, and we can quickly turn them into a solution that keeps skunks and other pests away.
For the best natural way to get rid of a skunk who is being a nuisance, spread lemon peels or other citrus peels around the barrier of your property, or create a simple solution infusing citrus juice and water to put in a garden sprayer.
Eliminate the Food Sources
If you have a bunch of skunks that have decided that your house is the place to be, there's a chance that you're feeding them.
Reliable food sources give the skunks a good reason to return, so eliminating their nightly snacks is your best chance at keeping skunks away.
Remove all cat food, dog food, and other pet food sitting outside your home. This food includes the seeds from bird feeders. Always bring your garbage can inside at night if possible or purchase some lids for your trash cans so that they can't get inside them to eat.
How to Use Motion Sensor Lights to Keep Skunks Away
Skunks, raccoons, possums, and other nocturnal animals despise bright lights. There are many motion sensor lights on the market that shine bright lights or strobe lights whenever something passes by. These lights will startle and repel a skunk and a variety of other critters nearby.
These lights scare off any animals walking by and show them that your home is not the ideal place to hang around.
Predator Urine
Predator urine doesn't seem like something for sale, but it is available at most local hardware stores and garden centers and is one of the best skunk deterrents out there. No animal wants to hang out where the risk of death lingers.
Cats, dogs, and coyotes are all natural predators to skunks. If you have pets at home, taking clumps from the litter box or pet hair and spreading them around the outside of your house is a great way to keep predators away, too.
Making a Stinky DIY Skunk Repellent
What better way to fight a stinky skunk than to make an even stinkier concoction to scare them away? Learning how to get rid of skunks isn't always easy, but it can be a fun experiment.
Find a large sauce pot and fill it halfway with water. Add in the sliced jalapeño, onion, cayenne pepper, and sardines. Bring the pepper spray mixture to a boil, and when it starts to bubble, turn the heat off.
Allow it to cool and pour the deterrent into a spray bottle or garden sprayer. Disperse the solution around the perimeter of your home to create a border that no skunk wants to pass.
Spray the Skunks Back
Skunks get scared and spray us, so why not spray them back? Motion activated sprinklers are a safe way to keep skunks and other rodents away from my house.
The second these animals show up, the sprinklers go off and soak the animals so that they start running away. Install a few of these around your home so that they know every area of your property is off-limits and they are not welcome.
Will Mothballs Keep Skunks Away?
As you've learned by now, a pungent smell deters skunks from showing up. Mothballs are a cheap product to buy, and all you have to do is throw them out in the yard and let them work their magic.
The musty smell fills the air and keeps skunks at a distance. Be careful when using mothballs. They aren't the safest option on the list and should not be used if you have pets that go out into the yard.
Keeping Skunks Away from Garden Beds
Some of the most extensive damage from skunks is that garden and flower beds are dug up while the animals are searching for a meal.
While they get rid of some of the bad pests, the damage they do digging around is a lot worse. Chicken wire is a great tool to use to keep skunks out of the beds.
Dig a one-foot deep and one-foot wide trench around the perimeter of the beds you want to protect. Place the chicken wire mesh inside the channel and leave a couple of feet of it sticking out of the ground. Bury the trench in the desired location.
The chicken wire prevents the animals from walking directly into your flower beds or digging underneath so that there is no possibility for them to get in.
A Solution for When You're Sprayed
Whenever you're dealing with skunks, there is always the risk that you get sprayed. It isn't too common, but it also isn't impossible either.
Throw together this quick recipe instead of taking a bath with tomato juice. This solution is the most effective one out there and gets rid of the odor quickly.
Mix the ingredients in a large bucket or a bowl. Do not put the solution near your eyes or mouth. Use a clean sponge or cloth and rub the solution over the person or animal who got sprayed.
If it is only clothes that smell, put them directly into the bucket and soak them. Let the liquid sit for five minutes before rinsing with clean water. Repeat these steps as often as necessary to remove the smell of skunk spray.
Skunks are not the worst pest that we face as homeowners, but this does not mean that we want them showing up and taking over our properties. Finding natural ways to keep skunks away is possible. It is not only cheaper, but it is much easier than calling pest control.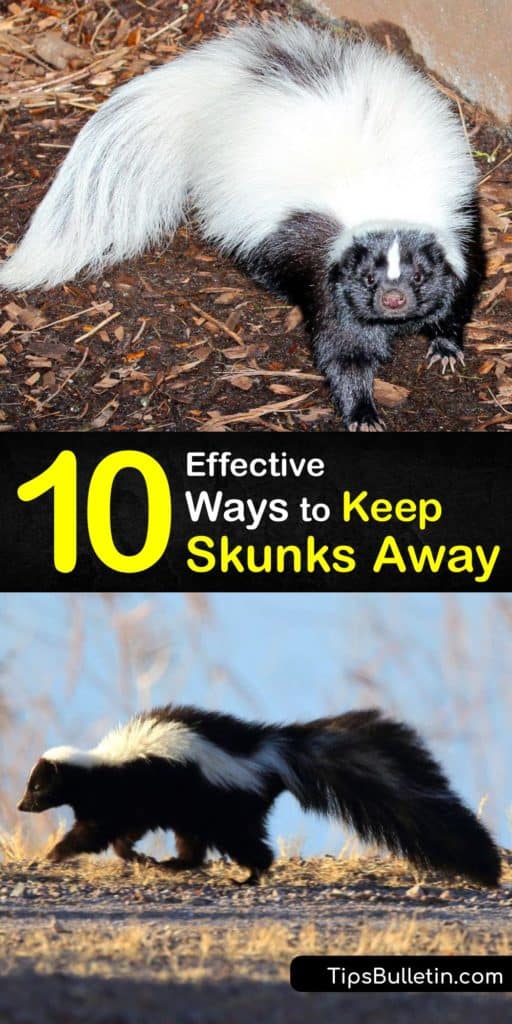 If learning how to keep skunks away has saved your flowerbeds from disaster, share these natural remedies for keeping skunks away on Facebook and Pinterest.