We've all heard about termites and their destructive behavior, and often you don't even know you have them in your home until there is a termite infestation. It's vital to take preventative measures to avoid calling a pest control service. Find out how to keep termites away from your property and prevent termite damage.
While an annual termite inspection is always a good idea if you're a homeowner, it's still beneficial to perform a regular inspection yourself to check for termite activity. It's equally essential to keep your home safe from these pests with termite protection methods. Termites thrive in a moist environment, especially in a wooden structure, and knowing what to look for goes a long way when attempting to prevent termites.
Like other insects, termites are a necessary part of nature. However, no one wants to deal with a termite problem. Fortunately, there are many simple forms of termite control that you can implement to keep these pests from damaging your home, garage, and other structures.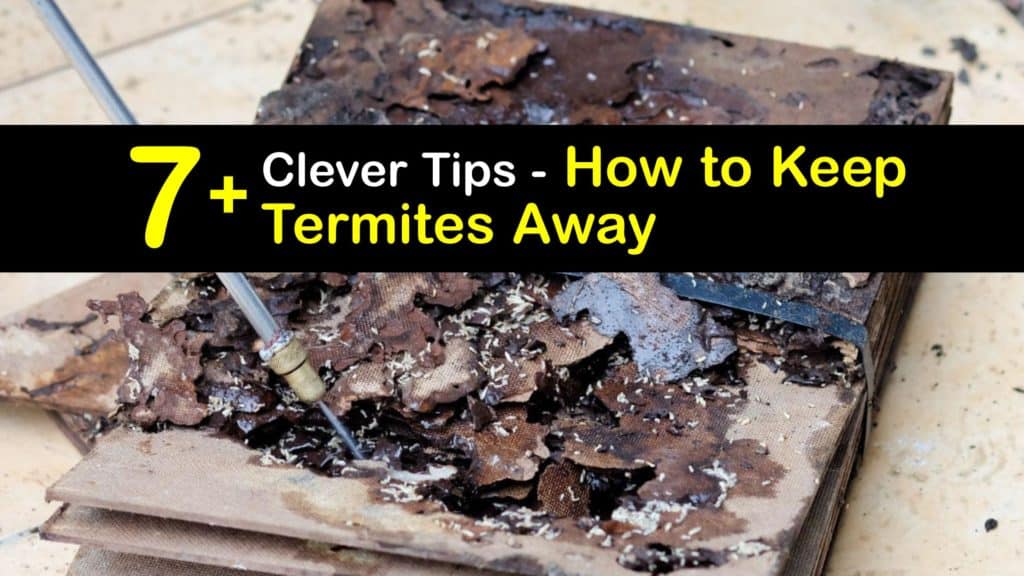 Simple Ways to Keep Termites Away
Learn why termites are a problem and what to look for when performing your own home inspection. Discover how to eliminate these pests with a DIY termite treatment to prevent an infestation and tips for keeping termites at bay.
Why are Termites a Problem?
It's helpful to understand what termites are and why they are dangerous to know what keeps termites away. Explore the different types of termites and their habits to help you keep them from becoming a nuisance.
Subterranean termites live in underground colonies in the soil, building mud tubes to access food sources like the wood from trees. Formosan termites are aggressive builders, organizing underground colonies and intricate nests in structures and walls.
Dampwood termites thrive in areas with high moisture, while dry wood termites prefer the dry wood of wall supports and roof materials.
Vinegar – The Best Way to Keep Termites Away
Vinegar is by far the best way to keep termites away naturally. These insects hate the smell of this acidic liquid, and it soaks into their soft exoskeleton, leading to their death. It's inexpensive, easy to apply, and you probably already have a bottle in your kitchen.
For this easy and natural remedy for termites and other bugs, squeeze juice from two whole lemons into a spray bottle and add the white vinegar. Close the container, shake it, and spray the termites directly to kill them on contact. Walk around your home and yard, check for termite activity, and apply the liquid on and around the nest.
Natural Ways to Keep Termites Away with Orange Oil
One of our favorite natural ways to keep termites away is to use orange oil. However, this method is only effective against drywood termites since they colonize wood rather than soil. Apply this treatment to eliminate termites and prevent damaged wood.
Orange Oil Termite Treatment
Orange oil consists mainly of d-limonene, which is deadly to these pests, and it's available online and at home improvement stores. Spray the oil directly on the termites or inject it into areas where you suspect termite activity. The oil dissolves the exoskeleton of the bugs, causing them to lose moisture and die.
How to Keep Termites Away with Borax
Borax is one of the more popular home remedies for keeping termites out, and it is readily available in the laundry aisle at your local grocery store. The powder acts as a poison to termites, interfering with their digestion and leading to death.
There are two ways to apply Borax to kill termites. The first way of getting rid of termites in walls and elsewhere is to sprinkle the dry powder around suspected termite areas. The tiny granules stick to the bugs as they pass over them, eventually killing them.
The second way to use Borax for termite control is to make it into a liquid. Pour water into a bottle and add some of the Borax powder. Shake the container well to dissolve the granules and spray the solution anywhere you see termite activity.
Using Wet Cardboard to Eliminate Termites
The best way to keep termites away without harsh chemicals is to make a homemade termite trap. All you need is some sections of cardboard and water to bait and trap these insects, and it is safe for use around kids and pets.
Cardboard is made of cellulose, a termite's favorite food, and using it to make a trap is simple. Cut pieces of cardboard into desired sizes and spray them with water. Place two damp cardboard pieces together and set the cardboard trap near areas where you notice termites.
The termites come out of hiding to enjoy their cellulose buffet and then get trapped in the cardboard. Remove the traps and burn them as needed until the termite activity stops.
Releasing Nematodes to Eliminate a Termite Problem
While there are several natural ways to keep termites away, nematodes are the most effective at eliminating subterranean termites. Additionally, they kill other garden pests like flea larvae and ants, and you can purchase these beneficial microscopic worms online and at many stores.
Follow the instructions for your nematodes and mix them with water as directed. Use a garden sprayer or a watering can and apply them to the affected area of your yard or garden. Spread the application evenly and keep the soil moist for the first week. The nematodes reproduce and seek out termites until the colony is gone.
Keeping Termites Away with Bait Stations
Put bait stations around the perimeter of your house to keep termites from getting inside. The stations attract the insects from a colony, where they are poisoned, keeping the wooden structure safe from their destructive behavior.
Termite Baiting
There are various termite bait stations on the market, and they may have different installation methods. Generally, install them in the ground every eight to ten feet around the perimeter of your home or other structure. Place them one to two feet away from your home's foundation and bait the stations as directed.
Easy Ways to Prevent Termites Around Your Home
It's much easier to prevent termites than to eliminate them, especially if they set up a termite colony in wooden furniture or inside the house. Take action to keep this insect from ruining your property.
Keeping wood off the ground outside is the most important pest control tip for stopping termites from enjoying your yard. Termite infestations often occur when wood from structures, firewood, or other wooden materials directly contact the soil. These contact points provide termites easy access to shelter, food, and moisture and become a breeding ground for colonies.
Store a wood pile far away from your home and avoid spreading wood mulch in the garden or around the foundation, unless it is cedar. Cedar mulch is among the best mulch to avoid termites and a variety of other pests, including tiny bugs in plant soil and the garden.
Some of the simple ways to get rid of flying termites is to ensure that doors, window frames, and wood siding are at least six inches above ground level and remove the bottom of wooden latticework.
Keep your yard clean of pine needles, sticks, and branches, old cardboard boxes, stumps, dead roots, newspapers, and similar materials. Always burn old wood and debris or dispose of it properly when cleaning your yard after eliminating a termite problem to prevent reinfestation.
Check for areas with excess moisture, and do not let it accumulate near your home's foundation. Divert water away with downspouts, gutters, and splash blocks, and fix leaking pipes, air conditioning units, and faucets.
Moisture and humidity inside a crawl space must also be considered. There should be a vent opening every 150 square feet, and it's vital to keep the vents clear of dirt, leaves, and debris to ensure proper air circulation.
Inspect your home and yard once or twice a year for termite activity. Look for mud tubes in the lawn and pencil-wide mud tunnels in the foundation, joists, sills, and piers. Treat termite infested wood quickly. Check for the shed wings of the termite swarmer on windowsills and in corners, and look for wood damaged with hollows and lined with bits of soil or mud.
If you discover any of these signs, apply Borax, orange oil, vinegar, or another termite treatment immediately to eradicate them before they become an infestation.
As much as we love nature, we do not want it intruding in our space, especially when it's termites. It's crucial to take the proper pest control steps to ensure these intruders do not become a problem. Luckily, only a routine termite inspection and a few preventative solutions are required to keep your home termite-free.
Now that you know how to keep termites away from your property, why not share our termite control methods and prevention tips with your family and friends on Pinterest and Facebook?