Watermelons are a tasty treat to enjoy all year round. Not only are watermelons delicious, but they also have numerous health benefits. Learning how to keep watermelon fresh allows you to extend the overall shelf life of your fruit.
One watermelon is loaded with vitamins and nutrients that help lower inflammation, lower stress and are a great way to keep you hydrated. There are so many health benefits in just one watermelon. Additionally, there are several ways to enjoy the fruit.
If you are looking to get the most out of your watermelon, look no further. We provide you expert ways to keep your watermelon fresh for as long as possible to prevent it from getting mushy.
Our amazing preservation methods utilize common household products that are easy to find and inexpensive. Additionally, we include some unique DIY recipes to quickly convert frozen watermelon into a delicious treat for you to enjoy.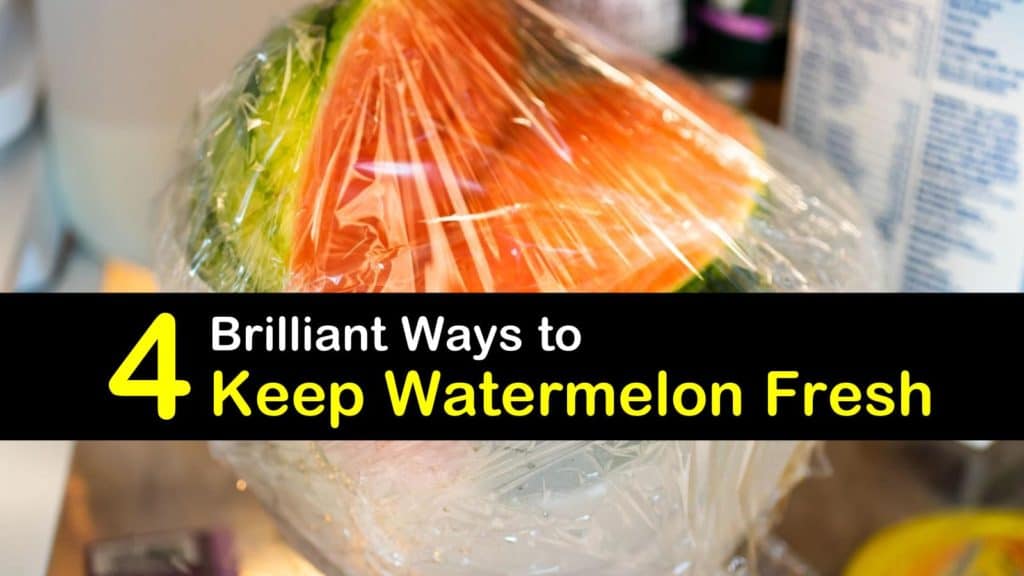 Storing Watermelon Made Easy
Preserving fresh produce the right way is not hard, but each one is different. How long do vegetables and fruits last? It depends on the type.
Watermelons typically have a two-week shelf life if left uncut. After you cut a watermelon, keeping watermelon fresh might be a little more difficult due to the fruit's exposure to the air.
Knowing where and how to store uncut watermelon and cut watermelon allows you to enjoy the fruit for as long as possible.
How to Keep Watermelon Fresh in a Refrigerator
You might be asking, "How long do watermelon last in the fridge?" The answer to this question depends on whether the watermelon is cut or not.
It is vital to refrigerate watermelons to preserve their ripeness, just as it is to keep salad fresh and many other kinds of produce. After picking the whole watermelon from its vine, it cannot ripen any further.
Place your whole watermelon in your refrigerator until you're ready to cut it into smaller pieces. Storing a watermelon at room temperature takes away some of the juices the fruit offers.
How long do watermelon last in the fridge? When you refrigerate a whole watermelon, it lasts for two to three weeks before turning mushy.
How Long do Watermelon Last in Plastic Wrap?
Plastic wrap prevents your cut watermelon from absorbing other flavors from different foods in your fridge. Knowing how to keep watermelon fresh using plastic wrap is very simple and done in minutes.
It is also a useful technique if you only need to cut half of your watermelon into small pieces. First, take a sharp knife and cut away the rind of the fruit. One trick that may help you is to cut off one of the rounded ends of the watermelon.
Set the cut end face down on your cutting board. Cutting the end off makes the fruit more stable when slicing an entire watermelon into smaller cut pieces. If only one half of the watermelon is cut, wrap the cut side in plastic wrap before storing it in the fridge.
Place the smaller cut pieces in an airtight container before refrigerating. Wrapping your watermelon in plastic wrap will preserve it for up to three days.
Amazing DIY Watermelon Recipes
Now that you know how to keep fresh watermelon, making some tasty recipes with watermelon is easy.
Keeping watermelon fresh after it's blended into a smoothie or ice cream is simple because you can freeze it. When you freeze watermelon, it slows down the rate at which it spoils.
Keeping Watermelon Fresh as Ice Cream
Freezing is ideal to keep strawberries fresh longer and the same principle applies to watermelon.
This simple recipe allows you to convert frozen pieces of watermelon into ice cream with a few steps. This recipe is a lower calorie alternative to regular ice cream while also satisfying your sweet tooth.
When you freeze watermelon chunks, there are all kinds of yummy recipes that you can use the pieces in. For watermelon ice cream, put all the ingredients in your blender and blend until you have a thick and creamy consistency.
If you eat the ice cream right away, it's ready to eat. However, if you are looking to eat the ice cream later, transfer the mixture into a loaf pan and set it in the freezer.
Create a Refreshing Watermelon Smoothie
Another reason you may want to be keeping watermelon fresh is to create hydrating smoothies. Blending your watermelon into a smoothie is a refreshing alternative to enjoy this delicious fruit.
To add additional flavor to your smoothie, we recommend adding another cup of frozen fruit, like strawberries or cantaloupe.
Place all the ingredients in your blender, then blend at high power until your smoothie is a liquid consistency. You may have to add a little bit of water if the smoothie is too thick.
How long do watermelon last? We have shown that it depends on whether or not the watermelon is cut. It is essential to store your watermelon in the refrigerator to prolong its shelf life.
Watermelon is also in terrific and simple recipes that allow you to freeze your watermelon for weeks.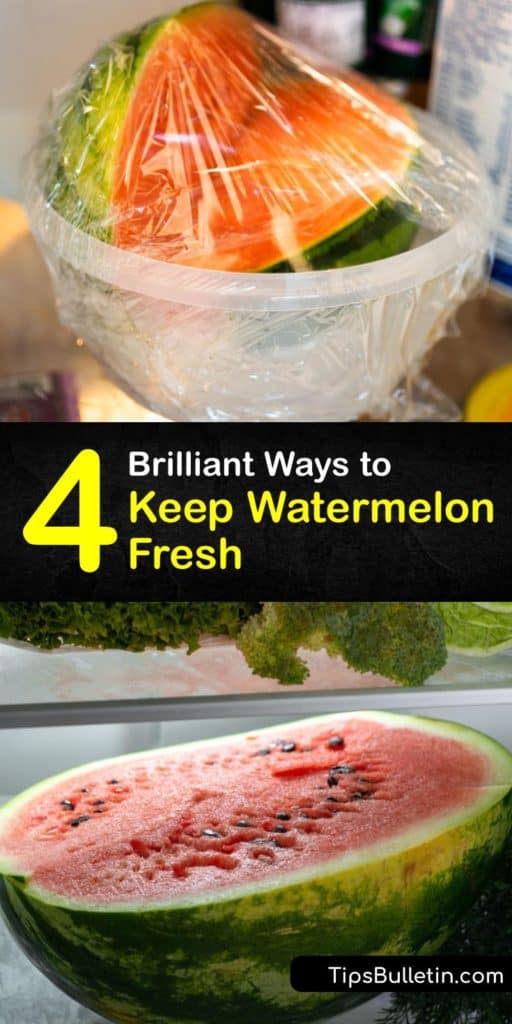 If you have learned excellent tips and tricks for how to keep watermelon fresh, please share this article on keeping watermelon fresh with your friends and family on Pinterest or Facebook.