White shoes pair well with many light-colored summer outfits and are a staple in any closet. A significant concern for any footwear fan is keeping your shoes clean and free of dirt and stains. Dirt is even more critical for white shoes, but luckily, knowing how to keep white shoes clean is simple with our tips.
When purchasing anything white, the inevitable question arises of whether or not it stays clean, and with white shoes that come in contact with the dirty ground with every step, any scuff or stain feels like the end of the world for new white shoes.
Once you notice an imperfection on your white shoe, you may start thinking about replacing them or investing in some expensive shoe cleaning product. Neither is a practical option. With our help, utilizing household items takes the stress out of keeping white shoes clean.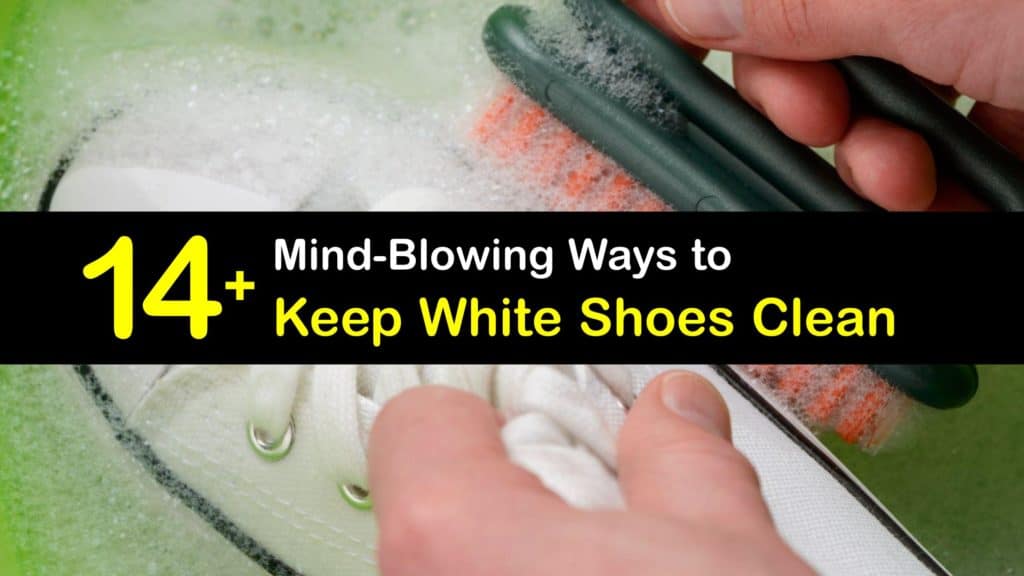 Keeping White Shoes Clean at Home
White shoes stain easily due to white fabric strands picking up and absorbing pigment quickly depending on the fabric content.
Scuff marks and loose dirt show more on white shoes over a darker color. With a bit of elbow grease, your white shoes can look new again using items found around your house.
How to Keep White Sneakers Clean Out of the Box
The material that makes white sneakers tends to be softer, like canvas or mesh, so they quickly pick up dirt.
Since white fabric lacks pigment, it allows fabric shoes to hold onto other pigments easily when stained. Keeping your white canvas shoes clean begins before you ever put them on.
When purchasing white canvas sneakers, you may have the option to add-on on a stain protector.
A protector often comes in a clear spray you apply directly to your shoes. Once dry, the spray forms an invisible layer to protect your white sneaker from dirt, stains, and liquids.
While your local shoe shop or online store may offer a generic protector, it's essential to look for a protector formulated for liquid protection that is safe for the material of your shoe. Reapply your protector every week to keep up maintenance.
Storing Your White Shoes Properly
Certain types of shoes are more prone to getting dirty, even when they are on your shelf or sitting in the closet. Keeping your white shoes clean involves proper storage when shoes are not being regularly worn.
Dust or dirt in the air gathers quickly on mesh shoes or shoes made with suede. Over time, this affects the appearance of your shoes, covering them in a fine layer of dust.
We recommend storing your shoes in a box or a shoe bag when not worn often.
How to Keep White Shoes Clean with Toothpaste
Use the whitening power of toothpaste to restore your white canvas sneakers to a better-looking condition or to wash Vans shoes that are showing some dirt. Apply a non-gel white toothpaste to an old toothbrush and work the paste into the dirty areas of your shoe.
Allow the paste to sit for ten minutes, then use a damp cloth to clean the toothpaste off your shoe. Repeat this process as needed to get your shoes back to a clean white appearance.
Clean Shoes with Chlorine Bleach
Bleach is a powerful cleaning agent that works well at disinfecting and cleaning surfaces and fabrics.
Its ability to pull colors from material means it's not for use with everything, but bleach is the perfect cleaning alternative when looking for a clean white shoe.
Only use this method when removing tough stains or brightening the overall look of canvas shoes.
Remove your laces and clean white laces separately. Mix bleach and water in a bucket or sink. Soak your stained shoes in the diluted bleach for five minutes before pulling them out and scrubbing them with an old toothbrush or sponge.
After working the stains out of the fabric, run your shoes underwater if they are sturdy enough or dampen with a wet cloth. Allow your shoes to air dry or place them in the dryer on a low setting.
How to Keep White Sneakers Clean Using Dish Soap
Dish soap is a versatile cleaner that goes beyond use at the sink. The best way to clean white canvas shoes or to clean white golf shoes is also the cheapest. Combining liquid soap with water removes dirt and stains from white leather shoes and sneakers.
Combine the ingredients until everything dissolves and the water is clear.
Using an old toothbrush, dip into the mixture and begin brushing in circular motions to clear stubborn stains away. Repeat as needed until the white color of your shoe looks even.
Using a Magic Eraser to Clean White Shoes
Magic Erasers are handy cleaning tools with a foam-like texture that effectively cleans a variety of stains and buildup. By simply adding water to the Magic Eraser, it's ready to aid you in your cleaning project.
After thoroughly wetting your Magic Eraser, begin wiping and gently scrubbing dirt and stains away from the sides and top of your shoes.
Due to the rough texture of the Magic Eraser, use it only with sneakers or tennis shoes as the surface may damage a suede shoe or leather shoe.
Keeping White Shoes Clean with Baking Soda
Baking soda is a versatile item found in many homes. Typically used to keep odors at bay in your fridge, baking soda also works well as a cleaning agent due to its chemical properties and abrasive texture. Try using this simple paste to remove blood from canvas shoes or to tackle stubborn grass stains.
Combine the ingredients to form a thick powder and apply to the shoes using a butter knife or the back of a spoon. Allow the powder to remain in the shoes for an hour before brushing the powder off and rinsing with warm water.
Place your fabric shoes into the washing machine on the lowest or most delicate wash setting before drying them in the machine or open air.
Use Nail Polish to Touch Up White Spots
If your white shoes or soles have minor scratches or nicks on them that won't go away, white nail polish is a quick way to touch up the appearance of your shoes.
This method also works for concealing deep scuffs on the heel of your shoes or the rubber parts of shoes that have become heavily stained.
Clean Leather Sneakers with Micellar Water
A popular makeup remover, micellar water is made from purified water, moisturizers, and surfactants, compounds used to lower the surface tension between a liquid and a solid.
These compounds attract dirt, makeup, and oil and allow them to wipe away from your skin. The same process works for cleaning leather tennis shoes.
Wet a soft cloth or paper towel with micellar water and wipe your leather shoes until they come clean and the water lifts all the dirt away from your shoes. Repeat this process until your shoes are spotless.
Spot Cleaning White Shoes with Bleach
If your white shoes have sections with other colors in them, we don't recommend an all-over bleach soak to prevent the different colors from running.
Instead, spot clean the dirty areas of your white shoes with an old toothbrush and diluted bleach.
Wear gloves when working with bleach. Create the bleach mixture in a bucket or sink. Dip your toothbrush into the diluted bleach and use the brush to clean dark stains on your shoes.
Cleaning Canvas Shoes with White Vinegar
Combining the cleaning power of vinegar and baking soda creates an effective paste that lifts dirt and grime from your shoes with ease.
For this homemade shoe cleaning solution, mix your ingredients and wait for the mixture to stop fizzing before dipping your toothbrush into the paste.
Once applied to your shoes, this paste dries out quickly, so work fast to spread the paste around the stained areas of your shoes. Wipe away any excess paste and rinse your shoes before allowing them to air dry.
Keeping White Suede Shoes Clean
Suede is a delicate material that holds stains easily; this makes white suede a tough shoe to clean. The only item needed to clean your shoes that might not be readily on hand is a suede brush, but they are available online.
Using a cloth, blot your shoes to remove any moisture on your shoes before using the pink pencil eraser to clean away stains.
Place paper towels or newspapers inside your shoe to help it retain its shape and absorb any excess moisture when wetting with vinegar.
Dip your clean cloth into the white vinegar and gently rub the stains to avoid causing the stain to spread.
After cleaning, allow your shoe to air dry. Using your suede brush, brush the shoe to get its signature velvety texture back after cleaning.
Cleaning Canvas Sneakers in the Dishwasher
The cleaning power of liquid dishwashing detergent is effective at cleaning dirt off of your shoes as well. This method is most effective on canvas shoes or white mesh shoes.
Before you start cleaning white running shoes in the dishwasher, make sure it is empty and run the water in your kitchen sink until it runs hot. Running water first allows the water coming out of your dishwasher to come out hot immediately.
Place your shoes inside the dishwasher upside down and run your dishwasher as usual. Remove your shoes after the wash cycle and allow them to dry in the sun.
If you cannot let your shoes air dry, place them in the dryer wrapped inside a towel to minimize the banging of your shoes inside the dryer.
Note: Drying your clean white sneakers in the dryer on high heat may cause the rubber soles of your sneakers to lose shape or become floppy. Your shoes might shrink, too.
Keeping the Soles of Your Shoes White
Manufacturers make shoe soles out of rubber, polyurethane, and plastic materials. To withstand the constant friction with your feet, this part of your shoe is studier than the rest, making cleaning it a bit easier.
Cleaning the white sole of your shoes is simple with a Magic Eraser. Thoroughly wet the Magic Eraser with water and rub the sole of your shoes.
You may want to use a toothbrush to clean your sole more thoroughly, depending on the level of buildup on the sole.
Cleaning Shoes in the Washing Machine
If you have a stain remover on hand that is usually used for laundry, applying it to your white shoes and placing them in the washer is a quick way to remove stains.
Allow the stain remover to sit on your shoes for 10 minutes before placing them in the washer for a short wash cycle using hot water.
Note: Washing and drying using hot water may cause your shoes to shrink slightly.
How to Keep White Sneakers Clean through Regular Cleaning
Next to preventative methods, an essential part of keeping your white shoes clean is regular cleaning.
If you wear white shoes often, more than half of the days a week, we recommend deep cleaning your shoes using one of these methods once every two weeks.
Wipe away any stains or scuffs you notice as they happen to prevent stains from mud from setting in. You may want to wipe your shoes down with a shoe wipe daily, which helps avoid buildup on your shoes.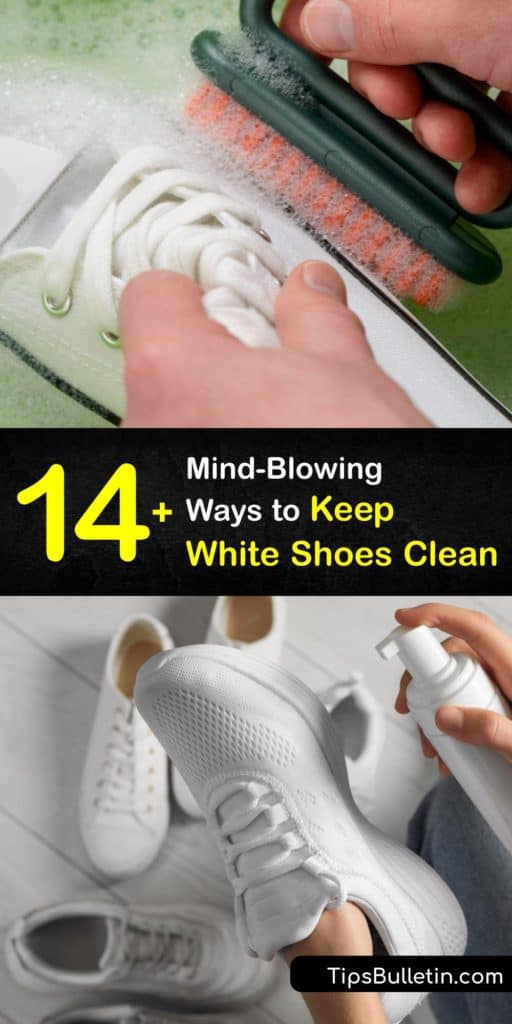 We hope you find a tip on keeping white shoes clean that works for you and consider sharing our advice on how to keep white shoes clean with your fellow shoe lovers on Facebook and Pinterest.