Many homeowners notice the structural damage caused by carpenter ants before they see the ants themselves. In fact, most confuse the problems caused by these tiny insects to be the work of termites instead. Knowing how to kill carpenter ants, where to find them, and when to call in a professional are essential to ensure your home does not incur irreversible destruction.
Carpenter ants offer many benefits to the environment, particularly when it comes to breaking down rotting trees. Their job is to bore holes into decomposing wood and tree stumps, which then cycle back into the earth as fine grains of sawdust compost for the soil.
This helpfulness, however, does not translate to wood homes and frames and causes significant deterioration of necessary support. As a result, it's essential to know what kills carpenter ants and how to get rid of them fast. This helpful tutorial shows you exactly how to find an infestation and provides a natural way to kill carpenter ants, as well as some more potent methods and preventative measures.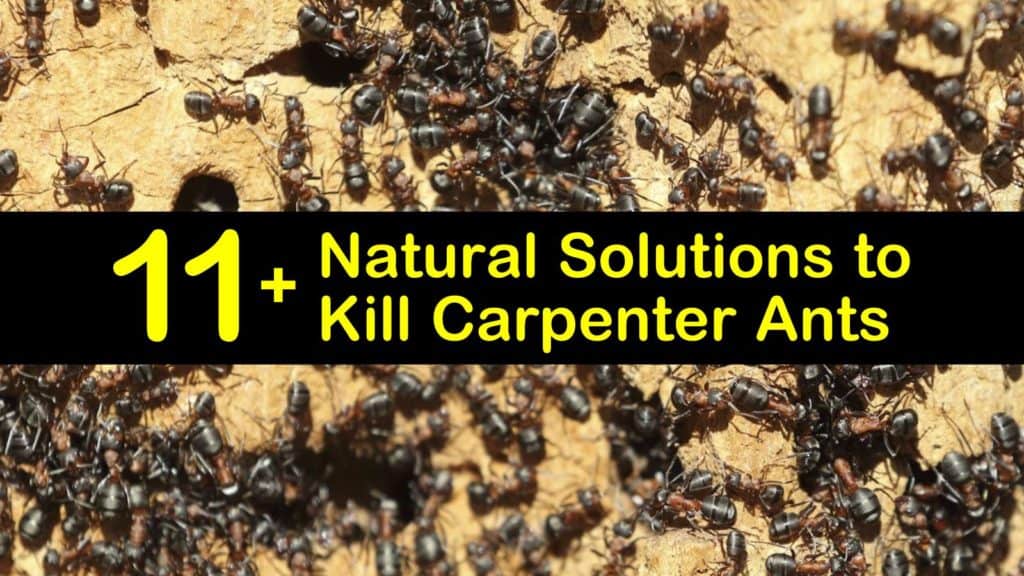 Killing Carpenter Ants the Easy Way
Surprisingly, there are approximately 24 different carpenter ant species in the United States and over 50 worldwide that fall under the genus Camponotus. Each separate species looks relatively the same and varies mostly by size. However, some ants within the same classification may look different based on their position in the community.
For example, most carpenter ants possess bent antennae and dark bodies, while the worker ants, which rarely travel outside of the nest, have straight antennae and lighter brown bodies. When searching for these insects in your home, keep your eyes out for both types.
Locate the Nest
The first step in removing these pesky pests from your home is to find the carpenter ant nest. These colonies embed themselves deep within wooden structures, whether inside door frames, panels, or support beams. A common misconception held about carpenter ants is that they require wood as a food source.
However, they gnaw through the material to form tunnels for their nests, usually in moist wood or wall voids. Because carpenter ants are highly attracted to moisture, wood that is damp or contains perforations is the first thing to look for when trying to locate the nest.
Other indications of these types of insects include small woodpiles known as frass. These are tiny wood shavings left behind after the ant finishes burrowing through the wood. Tapping on the paneling is another excellent way to listen for hollow spots in the walls and often incites the ants to come to the surface.
Set Out Bait to Track the Ants
If you see the ants themselves, but can't quite tell where they're coming from, one solution is to draw them out using bait they love. Finding the appropriate carpenter ant bait isn't hard, especially since they are like most insects, who love proteins and sugary sweets.
Since successful baiting relies on attracting insects with varied food preferences, it never hurts to try more than one type of bait to determine what works best.
Place your ant bait where you see the most insect traffic and set it in an easily accessible location. If you don't have supplies like honeydew handy, most sugary fruits attract carpenter ants. Pay attention to which foods they gravitate toward more to determine the best additive for your liquid bait traps later.
Though it may be tempting to kill these insects as you see them approaching the food, it's crucial to let them be until you track them back. Following where they go is just as critical as getting rid of them since it shows you where the larger population of carpenter ants may be hiding.
What Kills Carpenter Ants?
After you locate where the nests are, it's time to implement a strategy to kill carpenter ants and remove them from your home for good. If you plan to go with a store-bought version, then gel and liquid ant baits like Maxforce work best. Make sure you mix them with a tempting bait ahead of time to draw them down to the food.
This technique works exceptionally well when nests are high up and inaccessible to other animals and people in the household. Similar to the process of tracking the ants, leave all the workers collecting the bait alive to carry the nutrients back to their nest.
They bring the poison-laced food to the rest of the ant colony, and in a matter of days, it reaches all the members in the nest.
Natural Way to Kill Carpenter Ants
Another option to get rid of black carpenter ants or as a home remedy for sugar ants is to use a duster. This approach works for treating the entire colony, as well as the queen. As a result, it's less effective on satellite nests, where the queen and other members of the community are in a separate location from the smaller, local group.
The most common and safest ingredient to use in the household is food-grade diatomaceous earth.
While diatomaceous earth is just as powerful in powder form, mixing it with water creates an excellent homemade carpenter ant killer and is a great way to get rid of termites, as well. If using it as a duster, apply the powder over the entire surface or wherever you see the ant population.
If using it in liquid form for one of the natural ways to kill termites or ants, use it the same way as you would your liquid ant baits. This ant killer is inexpensive and easy to implement. Use it to treat a wood mite infestation and eliminate spiders and other bugs from inside or outside the house.
Does Borax Kill Carpenter Ants?
One of the best solutions for what kills ants in the house is boric acid. Yes, Borax can kill a carpenter ant colony, as well as most household insects, and is one of the most powerful insecticides to use.
It works by absorbing the moisture from inside the insect's body, basically drying them out. It doesn't taste too yummy, however, so pairing it with the perfect bait increases your chances that it works.
Just as with setting the initial trap to lure out worker ants, it's prudent to include a variety of food sources for them to partake.
Adding a protein like peanut butter, as well as a sweet treat like sugar, ensures that both sides of the spectrum are taken care of when attracting these hungry creatures. Don't forget to blend in the Borax to make your toxic little cocktail complete.
How to Kill Carpenter Ants
A chemical similar to Borax in terms of its use as an insecticide is baking soda. Much like Borax, the ingredient dries out all species of ants, though it takes the process an extra step further.
The alkaline properties of baking soda mix with the natural acids in the ant's digestive system to create carbon dioxide. Think of how baking soda reacts when it's combined with vinegar, and you have a pretty good idea of what's happening inside the ant's tummy.
The formula is simple to make and takes minimal effort to double up whenever a more substantial dose is necessary. The baking soda attacks the carpenter ants from the inside and out, while the powdered sugar acts as the perfect disguise of delicious goodness.
Similar to when you use a purchased or DIY termite trap, place a small, shallow dish of the mixture at key entry points that are out of reach of pets and small children.
Create a Vinegar Ant Repellent
If you don't have a huge problem with ants in your home, this next technique ensures it remains that way. It's also one of the best home remedies for carpenter bees that bore into wood where you don't want them.
A few stray ants may not seem like an issue at first, but they quickly develop into something more severe without the proper deterrent to keep them at bay.
Most ant communities send out a few scouts to search for food sources and places to build their satellite colonies. Making sure your house is not the next place they call home is your top priority.
Ants hate the smell of vinegar, or anything strong for that matter. It ruins their ability to pick up on the little ant trails they leave behind, which tells them how to get back to their nests and allows other ants to locate discovered food sources.
If you notice ants entering through certain areas, spray those entry points with the vinegar spray to deter them.
Get Rid of Carpenter Ants with Peppermint
Similar to how ants hate the smell of vinegar, ants equally abhor peppermint. It doesn't stop with ants either. It's one of the best scents at keeping spiders away, in addition to mosquitoes and roaches. Plus, there are multiple ways to use this scent when it comes to creating the perfect insect repellent.
The first way to use this technique is by mixing the two ingredients in a small bowl or spray bottle. Next, wipe along the baseboards, windows, and small crevices where ants may frequent.
Another way to use peppermint is to add a few drops of the essential oil to cotton balls instead. Place these puffballs at key entry points around the house to keep them from coming in in the first place.
Use Flour for Carpenter Ant Control
Another frequent question that comes up when dealing with these types of infestations is, does flour kill ants or not? Flour is relatively harmless when ants ingest it, though it is useful in keeping them out of your home in other ways. When it comes to pest control, flour works similarly to vinegar and peppermint.
Ants use invisible little trails created by pheromones to help them find their way back to the nest and lead other ants to food or potential new homes. The chalky consistency of flour disrupts these trails and blocks ants from following them. Using it as a bait also works, since ants also find it an appealing treat.
Prevent Carpenter Ants by Sealing, Drying and Cleaning
When it comes to controlling bug populations and preventing a carpenter ant infestation, one of the best approaches to take is a few cautionary steps to make your home a less desirable target for these insects. To achieve this, seal cracks and crevices in the house's foundation, as well as doors and windows.
Using caulk is sufficient in this case, especially around damp areas. Because ants love moist wood, which is easier for them to burrow into, cleaning up wet floors and drying out dampened timber is just as important.
If you have any leaky faucets, taking care of them prevents wood damage and keeps these pesky insects outside the home. It also removes a much-needed source of hydration for the ants.
Check for Outdoor Colonies
In some cases, controlling carpenter ant populations starts outside the home. Doing this may include cleaning up any natural debris scattered around the yard, such as woodpiles, leaves, and tree limbs that hang over your house. All of these are potential breeding grounds for carpenter ants and may lead to them branching out from your lawn into your home.
A problem with carpenter ants inside may indicate a more significant issue with insects outside the home. It's also not uncommon for worker ants from parent colonies to go off in search of smaller communities that extend their nests.
Equally, a sudden hike in carpenter ant populations may be the result of others pests these ants feed on, like aphids. Identifying a primary pest problem outside is another way to not only control a current infestation but may also prevent it from happening at all.
Know When to Call an Exterminator
While having a few key strategies in place to get rid of carpenter ants is as beneficial as it is easy, sometimes you need to call in the professionals. If repeated use of pest control habits does not stop these hungry invaders, then you may have a more substantial issue than you realize.
This infestation could be one inside the walls of your home or one caused by external complications. Another reason to call an exterminator is when there is any significant type of carpenter ant damage.
Any noticeable damage that you feel is not easily remedied deserves a professional's touch. Even if you don't feel comfortable treating the area on your own, and want the peace of mind only a professional brings, this is also reason enough to call an exterminator for help.
We hope you found these ideas for how to deal with your carpenter ant problem helpful and inspiring. With everything from a store-bought strategy to a natural way to kill carpenter ants, you have everything necessary to stock your ant control kit. Plus, not only do you know what kills carpenter ants, but you also now know a few ways to keep them from coming back.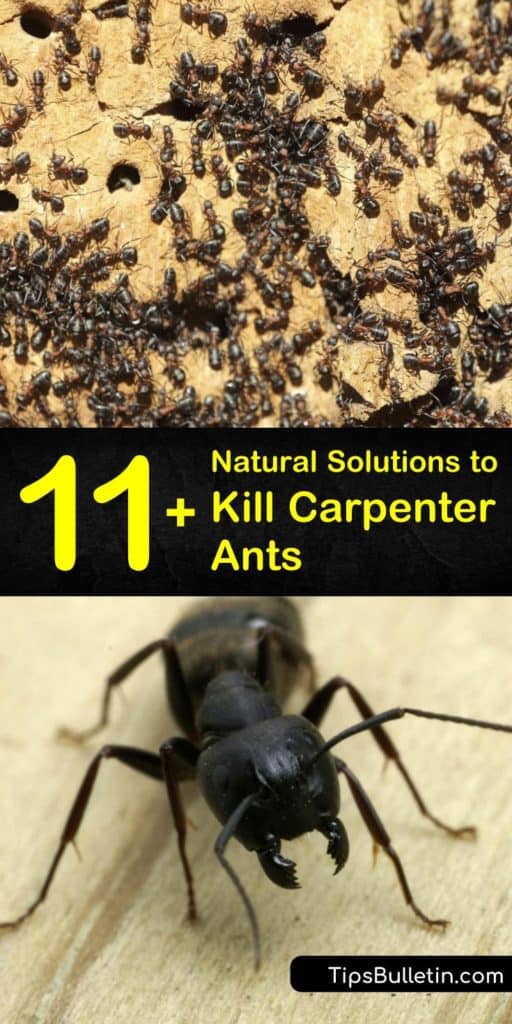 If these pest control tips put you on the path to reclaiming your home, then please remember to share how to kill carpenter ants with all your fellow homeowners on Facebook and Pinterest.