Carpet beetles are a destructive fabric pest, and for many households, a carpet beetle infestation appears to be a disaster. Distraught homeowners are eager to know how to kill carpet beetle larvae to prevent carpet beetle damage, and fortunately, many options exist for carpet beetle removal.
The adult stage of this insect pest is less than 1/4 inch long and is usually black or a mix of black and white with tan. They tend to congregate near windows and entrances to the outdoors, so check these areas if you fear an infestation.
Other than being irritating, the adult carpet beetle is harmless; only the carpet beetle larvae, which resemble small, hairy worms, pose a hazard to natural textiles such as woolen carpets.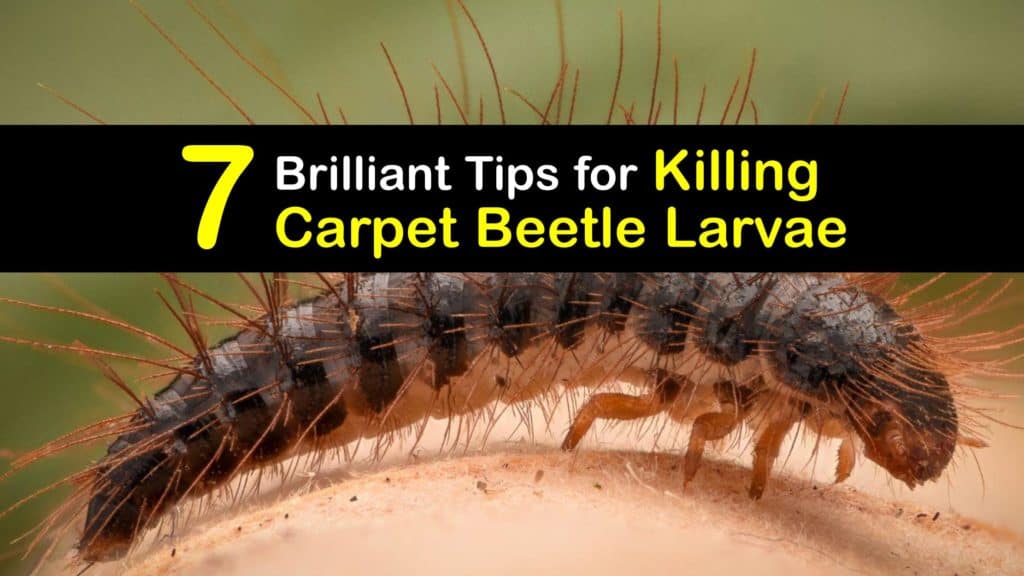 The Best Way to Kill Carpet Beetles Fast
The furniture carpet beetle enters your house by many methods, such as hitching a ride with flowers, clothes, pets, or flying into open windows. Once inside, adult carpet beetles (Anthrenus verbasci) lay eggs, and their larvae destroy rugs, draperies, furniture, and even your clothes.
Don't assume these bugs reside only in carpets despite their common name. They favor dark areas and are frequently found under baseboards, closets, pantries, drawers (particularly those containing furs or wool clothes), and even stuffed animals.
They get into the cracks or crevices of upholstered furniture, such as couches, recliners, and other items. Carpet beetles hide beneath furniture or in corners of an infested item, especially if pet hair is present.
Don't let them have a chance to harm your home. Learn about the best way to kill carpet beetles, including natural ways to kill carpet beetles. Stop a carpet beetle infestation swiftly as soon as you notice carpet beetle eggs, adult beetles, or dead insects.
A carpet beetle infestation, like a clothes moth, moth larvae, or bed bug issue, is inconvenient and, in some cases, painful. Carpet beetle dermatitis, or skin irritation produced by this fabric pest, affects some people, making it even more essential to discover carpet beetle control methods for how to kill carpet beetle larvae.
As carpet beetle eggs are small and hard to spot, most people are unaware they have a problem until they see damage to clothes or other belongings. Infestations appear as bare spots in rugs or minute holes in clothing or fabric.
A short nap or irregular open spaces in the weave are signs of a pest control issue. Larger holes indicate carpet beetles have fed in high numbers.
There are several carpet beetle species causing infestations: the black carpet beetle, the varied carpet beetle, and the common carpet beetle. If you have a carpet beetle infestation in your home, using integrated pest management or keeping your home less appealing to insects while conducting pest control helps prevent carpet beetles from returning after the current population is destroyed.
How to Kill Carpet Beetle Larvae with Vinegar
Vinegar is perhaps the best way to kill carpet beetles and what kills weevils and many other bugs. Carpet beetles are attracted to the vinegar, and it kills them.
Using this white vinegar or apple cider vinegar solution, deep clean the home, including furniture, countertops, clothes, cabinets, closets, window frames, and cupboards. It is safe, friendly, and one of the best natural ways to kill carpet beetles while repelling them at the same time.
By removing their food source, the deep cleaning leaves the insects hungry. Adding a tablespoon of boric acid to the mixture makes it even more effective and harmful to carpet beetles and eggs. Use this mixture with caution, though. While it is natural, it is still strong. Don't use the solution in areas where pets or family are routinely in contact.
Note that while you can use bleach to get rid of carpet beetles, you risk damaging natural and synthetic fibers with such a caustic solution. Try less harmful remedies first and you may be surprised at how well they work.
Natural Ways to Kill Carpet Beetles – Cedar Wood
Cedar oil is a tremendous natural carpet beetle repellent. When bugs contact the oil, they start to dry and die from dehydration.
Add cedar oil and water to produce DIY insect spray in a spray container. Cedar oil is non-toxic and pleasant smelling, making it one of the better natural ways to kill carpet beetles. It makes an ideal natural carpet beetle deterrent and works against other pests like spiders and mites too.
Home Remedies for Killing Carpet Beetles – Boric Acid
Insecticide baits frequently contain boric acid. After inadvertently consuming boric acid, the adult beetle becomes dehydrated and perishes within two to three days. Where carpet beetles are suspected or animal product has been seen, sprinkle boric acid along your carpets and furniture edges.
Your footsteps rub off the Borax and render it useless if you spread it in the middle of the rug in high foot traffic areas. Concentrate on the edges as though you're building a wall around your carpet.
It's best to use it in locations where there isn't much foot traffic. While you're eliminating the carpet bugs, leave it there. Vacuum once the insects have all gone.
What Kills Carpet Beetles – Sticky Traps
Sticky traps, often referred to as glue traps, are a quick and easy approach to eliminate carpet beetles. Sticky glue insect traps, which are strips of cardboard with a powerful adhesive, should be purchased and placed in places where carpet beetles are a problem. It's also easy to make a DIY carpet beetle trap with come cardboard and molasses.
Walking across these carpet beetle traps causes pests to become stuck in the glue and die. Avoid stepping on the traps since they adhere to you too.
Sticky traps provide a visual picture of the current invasion level in your house, making it simple to track the success of carpet beetle pest management. Fewer bugs on the traps show the carpet beetle infestation is waning.
Solve Your Carpet Beetle Problem with Steam Cleaning
Steam cleaning is the best way to kill carpet beetles and a great alternative to carpet cleaning with a vacuum because it destroys carpet beetles and their eggs immediately. Since steam cleaning does not utilize poisonous chemicals, it is a safe and non-toxic pest management method.
Steam treatment has a vast range of uses – it kills other pests and carpet beetles, so you rest easy knowing you're also getting rid of bedbugs and fleas. The steam's heat kills the insects and their eggs immediately, permeating deep into the fabric of the contaminated item to ensure there are no pests left.
Clean all fabric items thoroughly once a week until the carpet bug infestation has gone away. Consider packing cleaned and bug-free items in a plastic bag and storing as much fabric as possible to cut off the pest's access to a food supply and keep them from damaging precious items.
Remove and Prevent Carpet Beetles with Mothballs
Locate mothballs in spaces where carpet beetle movement may be seen, such as rugs, curtains, and clothing. Carpet bugs eventually die after falling into mothball traps.
Mothballs are a convenient answer to how to kill carpet beetle larvae; however, this is a passive treatment and takes time. Mothballs are best used in conjunction with other procedures; do not rely on them to eliminate a carpet beetle infestation in the home.
Remove Black Carpet Beetle Larvae using Diatomaceous Earth
Diatomaceous earth may be the best way to kill carpet beetles if you seek a non-toxic solution to your carpet beetle infestation. Diatomaceous earth is comprised of finely crushed fossilized phytoplankton from the sea.
It's off-white and has a talc-like feel, and lacerates the exoskeletons of adult carpet beetles, so they dehydrate and die. This method is non-toxic for both pets and children, and supplies can be purchased from garden supply stores.
Carpet beetles adore natural fibers and devour almost anything made of them, so it's vital to get rid of them. Carpet beetle removal takes time, just like any other insect management, and it's critical to destroy the entire colony to avoid reinfection.
Fortunately, a carpet beetle infestation is controlled by following basic carpet beetle control recommendations and employing one of the above tips to eliminate carpet bugs.
If you loved this article on how to kill carpet beetle larvae, please share these clever tips on the best way to kill carpet beetles with your family and friends on Pinterest and Facebook.