Although dust mites are found in all homes wherever dust collects, they pose a severe risk to those who have a dust mite allergy. Knowing how to kill dust mites creates a safer and cleaner home for everyone who lives there, whether they have an allergy to them or not.
It's not impossible to eliminate dust mites, but killing dust mites regularly is easy because the process is simply worked into your regular cleaning schedule. Dust mites are not visible to the naked eye. They are microscopic pests related to arachnids.
These small insects feed on dead skin cells from humans and pet dander often found in the dust around our homes.
Thousands of dust mites live around our houses in a box spring, bedding, carpeting, mattresses, upholstery, and curtains. Although they don't bite or sting, their feces left behind cause dangerous allergy symptoms for some people.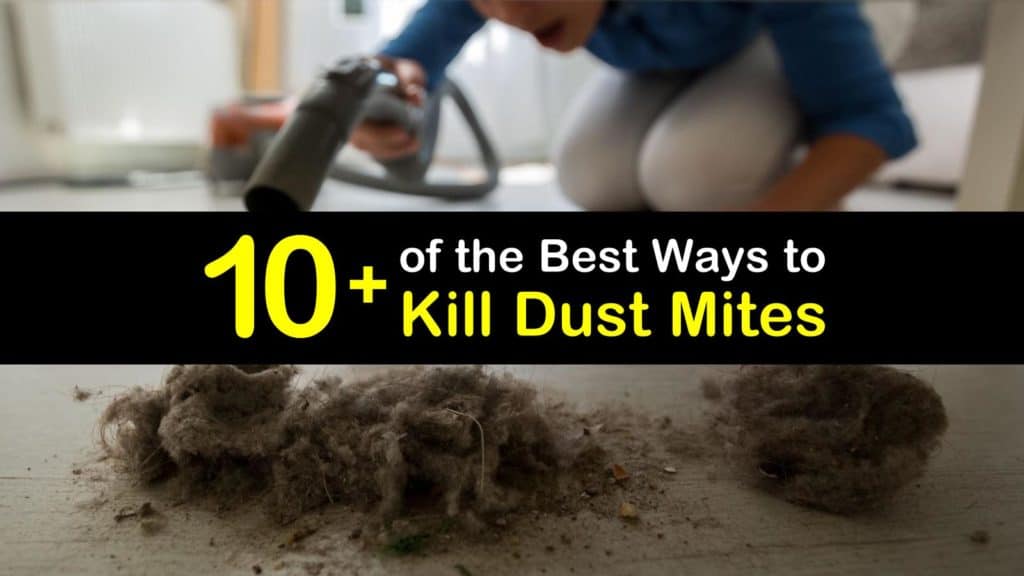 Why do I Need to Eliminate Dust Mites?
While bed bugs seem to get all the press, dust mites are pretty annoying, too. Knowing how long can bed bugs live without a host is just as important as learning the same about dust mites.
Killing dust mites is essential, especially for those who have allergies and asthma. Prolonged exposure to dust mites may have detrimental health effects.
It isn't the dust mites themselves that cause the issue; instead, it is the feces and the decaying bodies that pose a threat. How do you know if you have dust mites? Symptoms of a dust mite allergy often include runny nose, watery eyes, sneezing, itchy skin, scratchy throat, red eyes, and even trouble sleeping.
In more severe cases, allergic reactions include chest pain, wheezing, trouble breathing and talking, dermatitis, or having a severe asthma attack that leaves you in the hospital.
Find an Allergist
Those sensitive to dust mite allergens should seek out an allergist to make sure that's what they're allergic to. These professionals can determine your allergy based on several tests and your answers to questions about your symptoms and your home.
The first thing an allergist does to check for an airborne allergen is to see if the nasal passage is swollen. Other tests might include a skin test where small amounts of the allergen are pricked onto the surface of your skin to see if there is a reaction.
Blood tests may also be performed to determine if you're allergic to dust mites. If the doctor confirms your allergen, they may prescribe medication to ease the symptoms; however, some other strategies also help reduce the effects.
How to Kill Dust Mites
If you want to eliminate dust mites, there are lots of ways to get rid of dust mites. The more of these methods you incorporate around your home, the less welcoming your house becomes for dust mites, bed bugs, and other dangerous insects.
Lower the Temperature in Your Room
What kills dust mites with ease? Temperature plays a significant role in a dust mite's ability to survive. These critters prefer houses kept around 75°F and 80°F with 70 to 80 percent humidity levels.
Turning down the heat, cranking on the air conditioner, or putting a dehumidifier in your room pushes the bugs out of their comfort zone and makes the mites move out of the space until they find another, more suitable area.
A bonus to this tactic is that it saves you a few extra bucks on the next heating or air conditioning bills.
Air Purifiers for Pest Control
One of the best products for dust mite control is an air purifier with a HEPA filter. HEPA stands for high-efficiency particulate air, and these filters work by forcing the room's air through a mesh that traps particles like dust mites, pollen, smoke, and dander.
Thankfully, most air purifiers sold today have built-in HEPA filters but always make sure to double-check that yours does before purchasing it.
Keep a Cleaning Schedule
Performing tasks that remove dust is one of the most straightforward steps for killing dust mites. Take note of all the places around your home that collect dust. When dusting, don't wipe the area off with a feather duster.
Does Lysol kill dust mites? Lysol is a perfect product to kill them, but that doesn't mean that their bodies and feces disappear. The best way to get rid of dust is to make sure to wipe the areas with a damp cloth to trap dust and dispose of them in a trash can placed outside of your house.
Vacuuming is another easy way to get dust mites out of your house. Vacuuming weekly keeps the carpet and upholstery around your house clean and picks up what fell on your floor after dusting.
Make sure to clean your vacuum cleaner by emptying it into a plastic bag and throwing it away after each use.
Use Hot Water for Killing Dust Mites
A natural dust mite killer that works wonders is hot water, and it's also ideal to get stains out of mattress cover and other bedding. Any washable items around your home like sheets, pillowcases, clothes, cushion covers, and curtains all benefit from a cycle in your washing machine.
Drying them on a high heat setting is a second round of high heat that kills any that survived the wash. Make sure to wash bedding once every week to reduce the number of dust mites in your bed.
Use a Steam Cleaner
Steam cleaning is a sure way to kill dust mites because it incorporates high heat and humidity levels. This method is preferential for things that can't get washed in a machine, like furniture and bathroom and kitchen surfaces.
Freezing Dust Mites
Temperature plays a vital role in dust mites' ability to survive. The freezer is an excellent place to kill dust mites lingering on smaller items like stuffed animals.
Place the desired item in a plastic bag and seal it. Put the bag in the freezer for 24 hours. After the time is up, take the item outside and vigorously shake it to remove leftover droppings or bodies.
How to use Diatomaceous Earth at Home
Diatomaceous Earth is a powder that comes from crushed silica rock and is the most effective way of getting rid of soil mites. This powder pierces through the exoskeleton of dust mites and other insects, which kills them instantly.
Sprinkle a small amount wherever your suspect dust mites are residing and let the powder sit for as long as possible before vacuuming. Diatomaceous Earth is safe for humans and pets.
Utilizing Essential Oils
Some bugs die when exposed to essential oil. Tee tree oil gets rid of dust mites in many homes and disinfects surfaces from viruses and fungi. Use this homemade mattress spray on a variety of items throughout your home.
To make a natural spray to kill dust mites, add the two ingredients to a spray bottle and shake thoroughly to combine. Spray the essential oil mixture around your house or add some to a damp cloth and lightly scrub a desired area or surface to reduce your dust mite population.
Purchase Hypoallergenic Products
It's impossible to make a home 100 percent free from dust mites. Thankfully, various hypoallergenic products are available for purchase that drastically reduce allergens around your home.
There are hypoallergenic mattresses, bedding, pillows, and mattress and furniture covers that help keep your home dust-mite free.
Skip Making the Bed
If you're someone who hates making your bed, you're in luck. Exposing the mattress to fresh air allows the moisture from the night to evaporate and reduces the amount of moisture that dust mites thrive in.
Keep Your Room a Pet-Free Zone
As much as we love our furry friends, keeping them out of our bedrooms plays a big role in the number of dust mites that get into our beds. Dust mites love pet dander and quickly spread throughout the house, especially with animals that shed a lot.
Keeping areas free from pets where you spend a lot of time in, like your bedroom, is an easy way to reduce the number of mites in your home.
Preventing Dust Mites
Dust mites are natural to find around your house. Although many people don't have issues, those who suffer from allergies will notice a drastic difference in their health once they learn how to prevent too many dust mites from taking over their homes.
To prevent dust mites, make sure to clean your house on a regular schedule. This cleaning includes removing clutter and cleaning air vents to stop them from spreading.
Wash bedding and fabric items as often as possible. Open your windows every once in a while to lower humidity levels and replace as many soft objects with harder furnishings whenever you can.
Knowing how to kill dust mites probably wasn't something you thought about until you were directly affected.
No matter what we do, it isn't possible to have a mite-free home, but there are numerous defenses we can set up that help us live healthier lives and keep our homes as clean and free from danger as possible.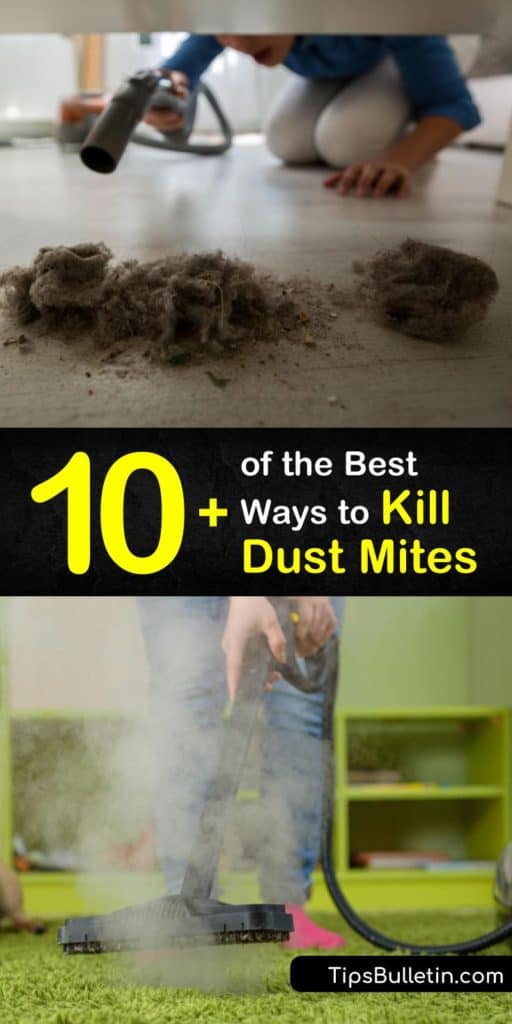 If learning how to kill dust mites helped you reduce your allergic reactions, share these steps for killing dust mites on Facebook and Pinterest.