You're enjoying yourself during a picnic when black flies start buzzing around your head and landing on your food. These common pests are a nuisance, and they're even worse when they make their way indoors. Learn how to kill flies inside and outside your home to keep your space bug and germ-free.
Have you ever noticed how houseflies mysteriously disappear whenever you get out the fly swatter? It's almost as if they realize they're about to reach their demise, and they quickly find a place to hide. The battle to get rid of a house fly quickly becomes a frustrating game of hide-and-seek.
You can find flies just about anywhere, and there are over 120,000 species worldwide, from tiny fruit and drain flies to large biting flies like the deer fly and horse fly. Keeping these pests from becoming a problem with such a vast fly population seems impossible. However, there are ways to control them in and around your home.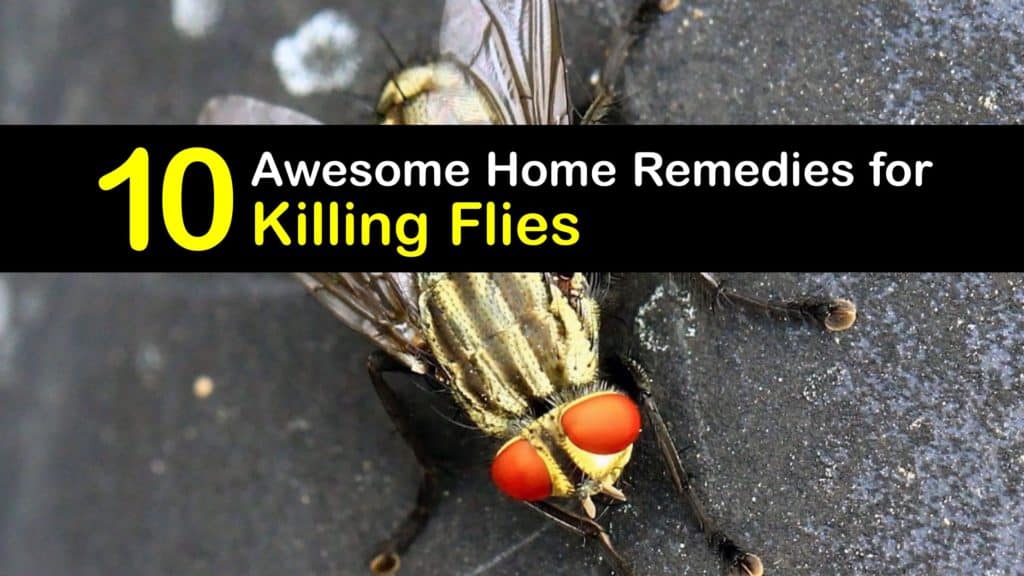 Easy and Natural Ways to Kill Flies
One fly quickly turns into many, especially if they have easy access to garbage cans or organic matter, so it's vital to take pest control steps to prevent a fly infestation. Find out how to eliminate flies using several techniques and tips for avoiding a fly problem.
Why Do I Have a Fly Problem?
It's helpful to understand the different types of flies and why they congregate around your home to know what kills flies and how to prevent an infestation. Discover some of the more common fly types, their habits, and what attracts them to the area.
Filth flies reproduce in garbage, organic material, food waste, and animal excrement, spreading bacteria and disease-causing organisms. The house fly, blow fly, stable fly, cluster fly, and flesh fly are examples of large filth flies, while the fruit fly, drain fly, and fungus gnat are small filth flies.
Houseflies lay their eggs in garbage and animal feces, cluster flies lay eggs on earthworms, and flesh flies reproduce on meat scraps. Therefore, it's critical to keep your home and yard clean and maintained to ensure that the adult fly does not find desirable places to breed.
Best Way to Kill Flies Outside
Outside flies are inevitable since they are a part of nature, but that doesn't mean that we want to share our picnics, barbecues, and other outdoor gatherings with them. Here is the best way to kill flies around your yard.
Traps and sprays are ideal ways to keep flies from taking over your backyard. Consider making a homemade fly trap that keeps flies away outside with decayed or overripe fruit to attract fruit flies, or create a bug spray with cayenne pepper and water to repel flies from specific areas.
Applying essential oils like clove and lemongrass to cloth strips and hanging them strategically around the area is another great way to deter these pests.
Natural Ways to Kill Flies in the Home
Flies have a sneaky way of getting indoors. Sometimes they zoom in as you're shutting the door, and other times they find their way inside through tiny openings in a window screen. Explore some natural ways to kill flies inside your home.
The simplest way to keep flies from entering your home is to use an ultrasonic fly repellent device. These units emit ultrasonic waves throughout the house, keeping flies and other insects outdoors.
However, if you find the flies still getting inside, consider using a fly swatter to kill them on sight or setting up traps with fly bait, like Maxforce Fly Spot Bait.
How to Kill Flies with Light Traps
The best way to kill flies outside or indoors is to use a light trap. What are gnats attracted to? The same things as flies. These handy units are uncomplicated to set up, and there are many different types ranging in price. Learn how these traps work and where to position them for pest control.
Fly Light Traps
A fly light trap is a box containing ultraviolet light that attracts flies. When the bugs try to enter the light, they either get trapped or zapped, depending on the trap type. When getting rid of flies outdoors, mount the trap five feet from the floor and position it away from windows to ensure insects cannot see them from outside your home.
Note that when you use a trapping system, fly traps can attract more flies. The bugs are drawn to the light so you will see more before it kills them.
Making a Homemade Fly Spray
One of our favorite home remedies for killing flies is a DIY bug spray. This homemade fly-killing spray uses the power of rubbing alcohol to get rid of the pests, and it's simple to prepare and keep on hand for indoor and outside use.
It's easy to make this homemade fly spray. Pour the water, rubbing alcohol, and dish soap into a spray bottle, screw on the nozzle, and shake the container to mix. Label it for safety purposes and spray the flies directly as soon as you see them. Store the bug spray in a convenient place for quick access, such as on the patio or by an outdoor seating area.
Trapping Flies with Soapy Vinegar
If you're searching for natural ways to kill flies, check your kitchen for a bottle of apple cider vinegar. Make a soapy vinegar trap to capture and kill all types of flies quickly and safely.
To make your own fly trap, pour an inch of cider vinegar into a tall glass and add several drops of liquid dish soap. Cover the glass top with a sheet of plastic wrap, secure it with a rubber band, and poke small holes into the top.
Flies enter the glass in search of the vinegar, and the soap causes them to sink to the bottom of the solution and drown. This trap is particularly helpful if you have a fruit fly infestation.
Make a Homemade Sticky Fly Trap
We're all familiar with those hanging sticky fly traps you can find at most stores. However, these traps are easy to make yourself, and they are just as effective as the store-bought varieties. Create your own sticky traps at home to kill gnats in the bathroom or flies that sneak in the front door.
Cut a paper bag into strips and set them aside. Combine the sugar, water, and corn syrup in a saucepan and heat it until the sugar dissolves. Take the pan off the heat, submerge the paper strips in the sweet-water mixture to saturate them, and lay them on a baking sheet to dry. Hang the dried sticky traps in places where you have a fly problem.
Getting Rid of Flies with a Soda Bottle Trap
Bottle traps are highly effective at eliminating various insects, including flies. They draw the insect inside, where it cannot get out, and eventually dies. These traps are simple to make and helpful in killing flies indoors and outside.
Cut the top section off a plastic soda bottle and invert it into the bottom to create a funnel. Pour a sugar-water mixture or fruit juice into the container and set it in an area where you notice fly activity. The flies enter the funnel searching for the sweet liquid and get trapped and drown.
Using Nature to Kill Flies
If you lack the time or patience to capture and kill flies yourself, why not let nature do the job of killing flies for you? Here are several natural house fly control tips to help you get rid of this pest without much effort. A natural fly deterrent for yard and outside is simple if you grow fly-repellent plants.
To kill flies indoors naturally, consider buying a Venus fly trap, a carnivorous plant that eats insects. The fly lands on the plant, which reacts by closing and trapping the bug inside, turning the dead flies into essential nutrients.
Alternatively, some plants repel flies rather than eat them if you're trying to keep the pests away from your yard. Basil, lavender, catnip, and marigolds are excellent choices for growing around your home, and flies avoid areas where you plant them.
Preventing Flies Around Your House
The easiest way to avoid a fly infestation is to prevent flies from becoming a problem in the first place. Take steps to keep flies of all types from making your home theirs.
Fly Prevention
The best way to keep flies away from your home is to perform routine yard maintenance. Clean up after your pets since their feces are natural breeding grounds for many flies.
Keep your garbage cans sealed and the yard free of leaf and mulch piles. Check your home's windows for rips or holes and repair them to prevent flies from having convenient access indoors.
Flies are a nuisance, whether house flies, vinegar flies, stable flies, or other filth flies. Not only are they maddening, but they spread germs and diseases and become an infestation if left unchecked. Fortunately, there are ways to prevent a fly problem using traps and sprays.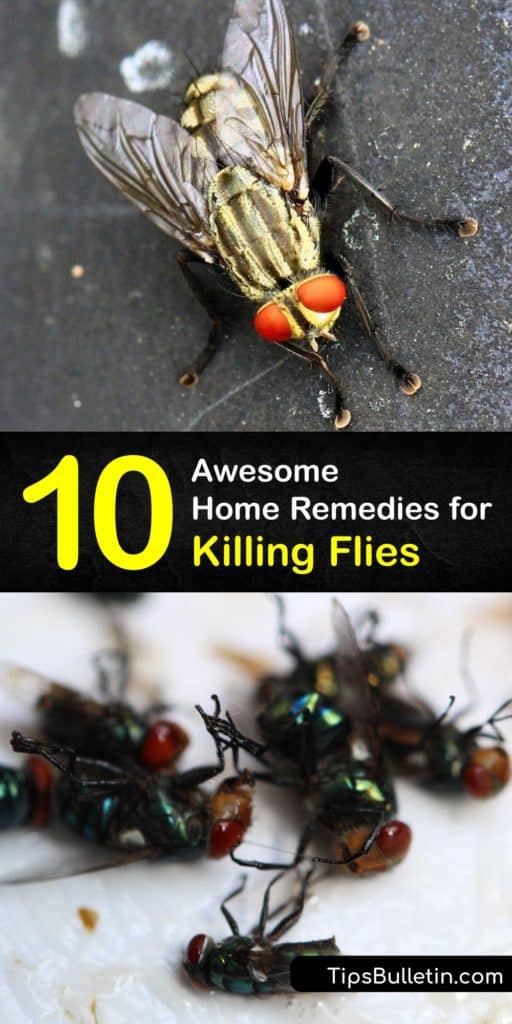 Now that you know how to kill flies, why not share our fly elimination and prevention guide with your friend and family circle on Facebook and Pinterest?