Besides warm weather, summer brings the hatching season for mosquito eggs. Some pests serve beneficial purposes during their life cycle; however, mosquitoes only seek to draw blood to lay more eggs, making them an extreme annoyance for humans. Getting rid of mosquitoes outdoors is vital to enjoying the summer, but knowing how to kill mosquitoes inside the house is essential.
Aside from the annoyance of being bitten by them, mosquitoes are known carriers of viruses that have historically proven to be deadly to humans and other animals. Mosquito species such as the Culex mosquito act as vectors for the West Nile virus, encephalitis, and avian malaria.
There are many species of mosquitoes native to specific locations of the world. Still, due to human intervention, tropical species of mosquito such as Aedes aegypti which carry Zika, Mayaro, and yellow fever, are now found worldwide.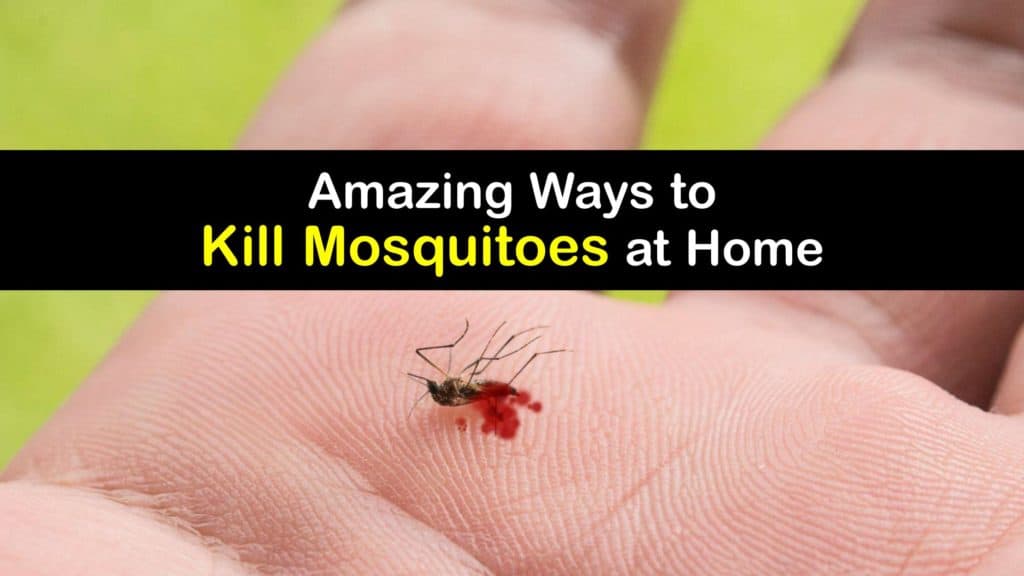 What I Know to Kill Mosquitoes Inside My Home
When dealing with mosquitoes outdoors, the difficulty in keeping your yard pest-free lies in the fact that female mosquitoes lay eggs, meaning that even if you kill adult mosquitoes, their eggs eventually hatch, and the mosquito population never drastically changes.
Likewise, repelling mosquitoes only offers temporary relief from these pests. Because they do not typically lay eggs inside, if you kill mosquitoes indoors and set up repellents, controlling mosquitoes in your home is manageable.
Since the foods that attract mosquitoes move from inside to outside via humans, mosquito control is vital, especially if you want to avoid an infestation.
Killing Mosquitoes at Home – Understanding Their Life Cycle
Although harmless to humans, male mosquitoes play a role in mosquito breeding. After drawing blood, female mosquitoes can breed with male mosquitoes in less than 30 seconds while flying. After being bitten by a mosquito, consider the next generation of biting insects a sure thing.
After breeding, many species lay their eggs on the water's surface. Female mosquitoes lay roughly 600 eggs in their adult life cycle before dying. Other common species may lay eggs near a water source in a piece of human debris like a bucket or container, while others lay eggs on the underside of water lilies.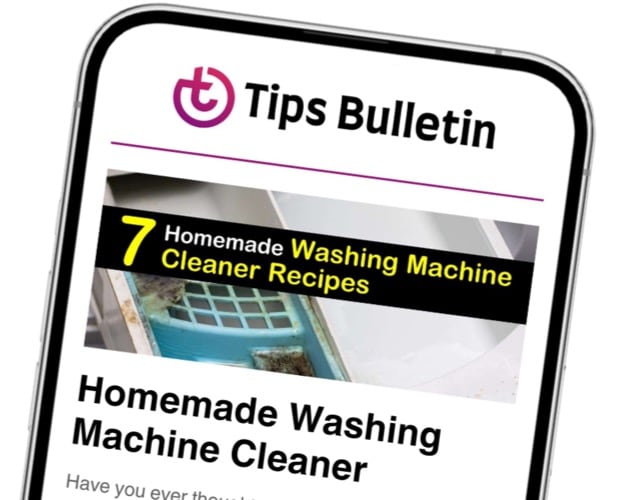 Finally, an email that Transforms Your Home.
Get the latest home and garden tips from our experts, delivered straight to your inbox.
Once they hatch, mosquito larvae live in water, feeding on bacteria and algae. Because they develop in water, a mosquito larva is susceptible to forms of mosquito control that target the water conditions, which is beneficial when trying to tackle a mosquito infestation.
The time spent in their pupa stage varies and depends on the ambient temperature of their surroundings, but some spend as little as a few days in water as a pupa before emerging as an adult mosquito.
Adult mating happens quickly as male mosquitoes only live for a few days while female mosquitoes live for a few weeks at most in nature.
How I Kill Mosquitoes Inside My House
Because mosquitoes like water, an easy way to kill mosquitoes inside is to place bowls of soapy water around your home. If you have mosquito issues in the house, fill the bowl with enough dish soap and water to create bubbles and place the bowls strategically.
Mosquitoes seeking a water source will visit the bowl and become trapped by the soapy bubbles, eventually drowning in the soapy solution.
If you don't mind the harsh smell of commercial insecticides, various brands readily use mosquito spray to kill mosquitoes and on contact. Aerial spraying of certain mosquito repellents creates a barrier that deters mosquitoes from entering your home for a set period.
Many insecticides contain piperonyl butoxide, an organic compound that may irritate the eyes and skin for exposure.
Mosquito traps are another effective method for mosquito treatment inside the home. Traps come in different styles; some work to trap mosquitoes on a sticky pad that they cannot flee, while others seal the mosquito inside the device where they die from lack of food.
Mosquito zappers are another popular choice, though you may not want to use them to kill mosquitoes inside your home due to the sound and light they emit. If you have an indoor screened section of your house, a bug zapper makes an excellent addition to add light and pest control to the space. It will kill flies inside and any other flying insects that find their way indoors.
How I Keep Mosquitoes out of My Home
As with many pests, your best defense against them keeps them away from you. To avoid the uncomfortable itch of a mosquito bite and the risk of disease, implement a few simple pest control methods to keep mosquitoes out of your house, limiting your time trying to kill mosquitoes at home.
Caring for Areas Around My Home
Because mosquitoes seek blood and find targets by detecting substances in our exhaled breath, even if you avoid going outside, if you leave windows or doors open in the summer, you're providing access for the mosquitoes to find you.
To have fewer mosquitoes in your area, reduce the number of mosquitoes born around your home. Lawn care is a simple way to reduce the area where mosquitoes hide and it will also kill chiggers and encourage them to go elsewhere.
Bugs like the fruit fly and mosquitoes enjoy tall grass that enables them to hide and remain safe, and leaving uncut grass growing near your house only increases the odds mosquitoes will find their way inside.
Another vital source for mosquitoes is standing water or stagnant water, any body of water that does not move, whether natural or mechanical.
If there is a lake or pond on your property, or you maintain any water features like a non-running fountain or a birdbath, these are all potential egg hatching grounds for mosquitoes. Buckets of water, old tires, and small containers are ideal locations for female mosquitoes to lay eggs.
Take preventative actions against mosquitos by regularly draining or tipping over stagnant water sources or installing moving water features to prevent mosquito eggs from being laid there and keep bacteria from forming in the water.
For lakes or ponds on your property, add Mosquito Dunks to the water to kill any larvae present in the water. Dunks use natural bacteria found in soil to kill various pests.
They easily dissolve in water and kill mosquito larvae without harming other animals living in the water. This method only kills larvae, so adults visiting this water source are unaffected, and any eggs that have yet to hatch are unaffected.
How I Repel Mosquitoes from My Property
Citronella oil is a plant-based alternative to repelling mosquitoes from around your home, as the smell the oil produces works as a deterrent to these pests.
The most common usage for citronella involves buying or making citronella candles that contain a mix of powerful herbs or oils like tea tree oil to form a barrier. Another option is to create a repellent spray with oil. It's one of the most popular and effective home remedies for mosquitoes for older children and adults.
Combine your liquids in a bowl and use a cloth to apply them to your skin to keep mosquitoes away. As the mixture dries or time goes on, reapply as needed to keep the pests away.
Note: We do not recommend witch hazel for children under three.
As effective as citronella is, it does not kill mosquitoes and only provides temporary relief in the area around the candle. For added protection, if you plan on spending time outdoors in the summer and want to have doors open to your home, consider adding mosquito netting to your outdoor spaces, as this DIY mosquito repellent for home areas works very well.
Mosquitoes don't have to ruin your summer plans to leave your windows open to enjoy the warm summer air as long as you prepare your home and yard for the inevitable swarm of biting insects.
If your yard feels infested by mosquitoes and standard control methods are not working, consider contacting a professional service like Mosquito Joe for mosquito treatment for your residence.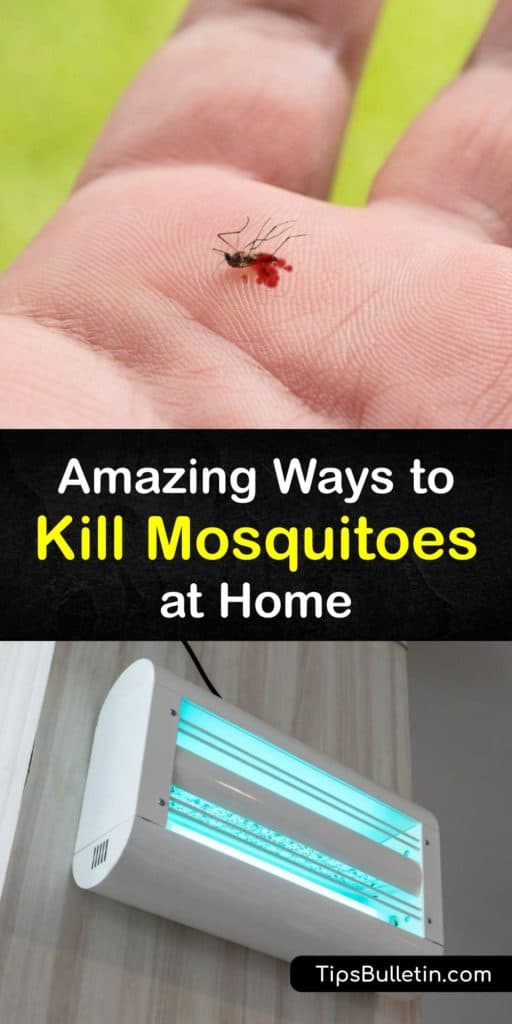 We hope you learned how to kill mosquitoes inside the house and share our tips for how to repel and kill mosquitoes at home with your friends on Facebook and Pinterest.