Anyone who lives in a state where the mosquito population is high has wondered how to kill mosquitoes. These insects spread mosquito-borne diseases like malaria, West Nile virus, dengue fever, and yellow fever, although most people get uncomfortable, itchy bumps due to their bites.
These bites are annoying, but they are thankfully low-risk. Mosquito control often seems challenging. A mosquito infestation is no fun, and their insect bites hurt. Mosquitoes are scientifically known as Aedes aegypti or A. aegypti, and the females are responsible for an itchy, stinging mosquito bite.
The large needle-like protrusion on their face is called the proboscis, and they use it to pierce the skin of their victims to collect blood for nourishing their growing eggs after mating. Male mosquitoes have a smaller feathery proboscis and do not bite.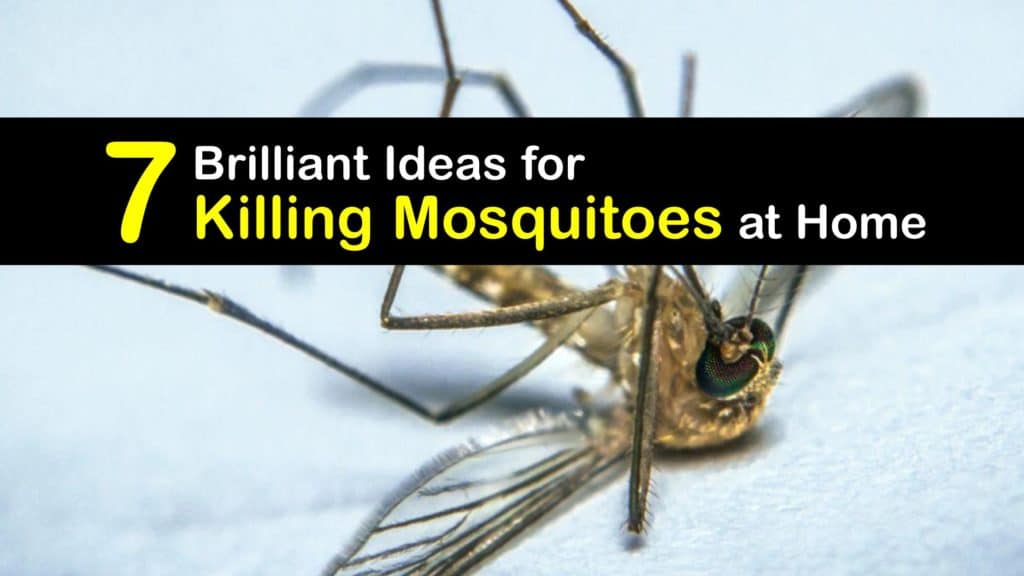 The Best Way to Kill Mosquitoes at Home
Mosquito repellents purchased from the store might help lower your chances of being bitten. Fortunately, many simple choices are available at home to aid mosquito control. It is simple to figure out how to get rid of mosquitoes. Next time these insect pests start invading your home, look no further for the best way to kill mosquitoes.
Mosquitoes seem to be an unavoidable part of life, and no matter how many repellants you use, they're still a nuisance. If mosquitoes are an issue in your backyard, use household goods to kill mosquito larvae in standing water or use a homemade mosquito lawn spray periodically to reduce their numbers.
The best way to lower the number of mosquitoes living on your property is to kill them before they mature into adults. Many natural ways to kill mosquitoes are available and easy to accomplish at home.
Homemade Neem Oil Mosquito Repellent
This easy-to-make mosquito repellent spray is a simple way to repel mosquitoes while avoiding the harsh chemicals in commercial products designed for repelling mosquitoes.
Shake well in a spray bottle. Use for skin, clothes, and aerial spraying to repel mosquitoes and avoid painful bites. It's one of the best natural ways to deter mosquitoes and keep them off you.
Garden Clean Up – Best Way to Kill Mosquitoes
Female mosquitoes lay their mosquito eggs in areas of stagnant water. The mosquito larva eats organic waste (like algae). After spending two weeks in the water, the mosquito larvae pupate and become adult mosquitoes.
Break this mosquito breeding cycle and take care of getting rid of mosquitoes by cleaning up your yard and removing mosquito breeding grounds to stop providing ideal conditions for larvae to grow and thrive into adult insect pests. It keeps mosquitoes away naturally and sends them elsewhere.
All surfaces where stagnant water collects should be emptied, drained, or covered. A pot, old tires, an empty bottle, buckets, or a pool are all prime areas for larvae.
To prevent mosquito larvae from growing in your containers, empty them and cover them so they don't fill up again when it rains.
Mosquito Eating Fish are Natural Ways to Kill Mosquitoes
If you have a water garden at home, learning how to kill mosquitoes becomes a more challenging problem.
Your fountain, water garden, or water feature means there is always standing and possibly stagnant water in your yard, and a mosquito breeding ground is readily available.
Mosquito fish are an easy way to combat this naturally and one of the best home remedies for killing mosquitoes when you have a water garden. By its scientific name, the western Mosquitofish, generally known as simply Mosquitofish or Gambusia is a freshwater fish species.
In comparison to other freshwater fish, mosquito fish are pretty small. The female is identifiable by her bigger size and spot on the back of her abdomen.
Biologists gave the fish the name "Mosquitofish" because it consumes mosquito larvae and has been employed more often than any other fish for biological mosquito control.
Mosquito eating fish are widely available and are easily added to your water garden to help with pest control while adding to the beauty of your feature.
Pest Control with a DIY Mosquito Trap
A mosquito trap is an effective mosquito killer for adult insects and easy to kill flies. To kill mosquito adults fast, grab your supplies and make this simple trap.
Mosquitoes navigate to carbon dioxide, which they interpret as human and other mammalian breath. This clever trap mimics carbon dioxide to lure in these insect pests and ensures they won't breed or bite.
To kill mosquitoes in your backyard, cut the bottle in half in the center. Heat the water, add the sugar, and stir to dissolve the granules. Pour the solution into the bottom half of the bottle once it has cooled, and add the yeast to start the carbon dioxide reaction.
To make a funnel, remove the cap, turn the top of the bottle upside down, and place it in the cut bottom half of the bottle. Using tape, join the two bottle halves.
Make some efficient mosquito traps and place them in a shady area of the yard, away from people. The carbon dioxide will attract mosquitoes, causing them to enter the funnel and drown in the water. Use this strategy to keep bugs and mosquitoes away from your patio. Fill the bottle with fresh solution every two weeks or as needed.
Homemade Mosquito Water Treatment
Act fast if you discover mosquito eggs in standing water. Mosquitoes have four life stages: egg, larva, pupa, and adult.
Depending on the mosquito species, eggs are placed single or side by side and bind together to form a raft of 100-400 eggs floating on the surface of standing water.
After about a week, the eggs hatch in the standing water and become mosquito larvae.
They feature a firm, round head, a soft body, and a ten-segmented abdomen, and they are as tiny as 1/4 inch long. Eliminate the mosquito larvae as soon as you discover them at this stage.
An easy natural answer for how to kill mosquitoes in standing water exists and is an excellent alternative to a commercial mosquito dunk.
Estimate the gallons of standing water in your pond, pool, or other area and combine the ingredients to make the water treatment.
Pour into standing water to quickly destroy larvae. Both vegetable oil and apple cider vinegar are safe for the environment and will not harm wildlife.
How to Kill Mosquitoes with Bacillus Thuringiensi
Bti is a naturally occurring bacteria commonly found in soil. Bacillus thuringiensis (Bti) targets mosquito, blackfly, and fungus gnat larvae and only affects them.
This mosquito repellent is used throughout the United States and has approval for aerial spraying. Water bodies such as ponds, lakes, rivers, and streams may be safely sprayed with Bacillus thuringiensi to destroy developing mosquito larvae.
Bacillus thuringiensi larvicide is widely available. To control mosquito larva, apply the insecticide in spots and containers around the house where water collects, such as flower pots, tires, and birdbaths.
Bacillus thuringiensi is a natural compound and is not harmful to the environment.
Mosquito Barrier for Pest Control
Using a mosquito barrier is another of the natural ways to kill mosquitos, or rather, prevent them from biting you.
Mosquito barrier is comprised of fine mosquito mesh with holes to allow airflow without being large enough for adult mosquitoes to pass through.
Hang a mosquito barrier over open windows to prevent insect pests from entering, over open doorways like a screen, and even around your bed, so insect bites don't disturb your sleep.
Other Ways to Achieve Mosquito Control
How to kill mosquitoes is also answered with other options. A bug zapper is an effective method of controlling the adult mosquito population.
Male and female mosquitoes flock to the bright light on the bug zapper and are zapped with electricity. Sweep up the mosquito bits, and your home is mosquito-free.
Pyrethrum and piperonyl butoxide are popular chemicals in commercial insecticides. Although this is not one of the natural ways to kill mosquitoes, it is helpful if other options are unavailable.
Beyond having a comfortable backyard and home, learning natural ways to kill mosquitoes is essential.
Mosquitoes pose a health concern to everyone in the family, as mosquito borne diseases kill over one million people each year throughout the world. Mosquitoes transmit heartworm to dogs, which is a life-threatening condition.
Controlling mosquitoes around your home and lowering your risk of being bitten by learning the best way to kill mosquitoes. It is well worth the effort.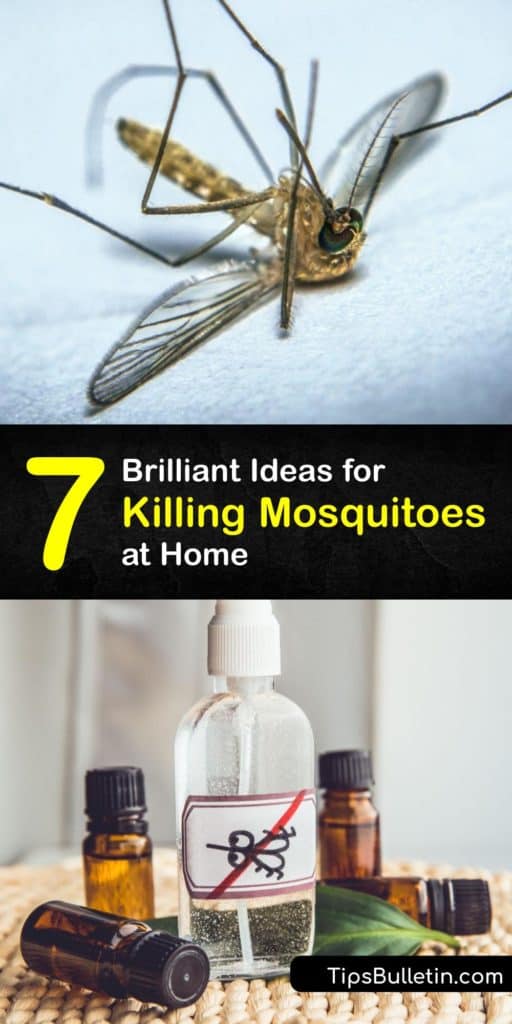 If this article helped you find home remedies for killing mosquitoes, share these brilliant tips for how to kill mosquitoes with your family and friends on Pinterest and Facebook.