Poison ivy, known by botanists as Toxicodendron radicans, looks much like Virginia creeper but is a pernicious misery for many people. It's an awful experience to feel a small tickle on your skin a few hours after a walk through wooded areas in the United States or elsewhere. That's why it's essential to know how to kill poison ivy the first time so that it never returns.
Understanding how to remove poison ivy plants means you won't have to deal with the itching and pain that an encounter with poison ivy, poison oak, or poison sumac brings. This article looks at the different methods of killing poison ivy. We show you how to remove poison ivy using both chemical and non-chemical means, and you'll learn what kills poison ivy the fastest.
Dealing with these sorts of plants can be harrowing, but we're here to walk you through it. Poison ivy and its itchy cousins don't have to win the battle. With our assistance, you'll be able to claim victory over all poisonous plants.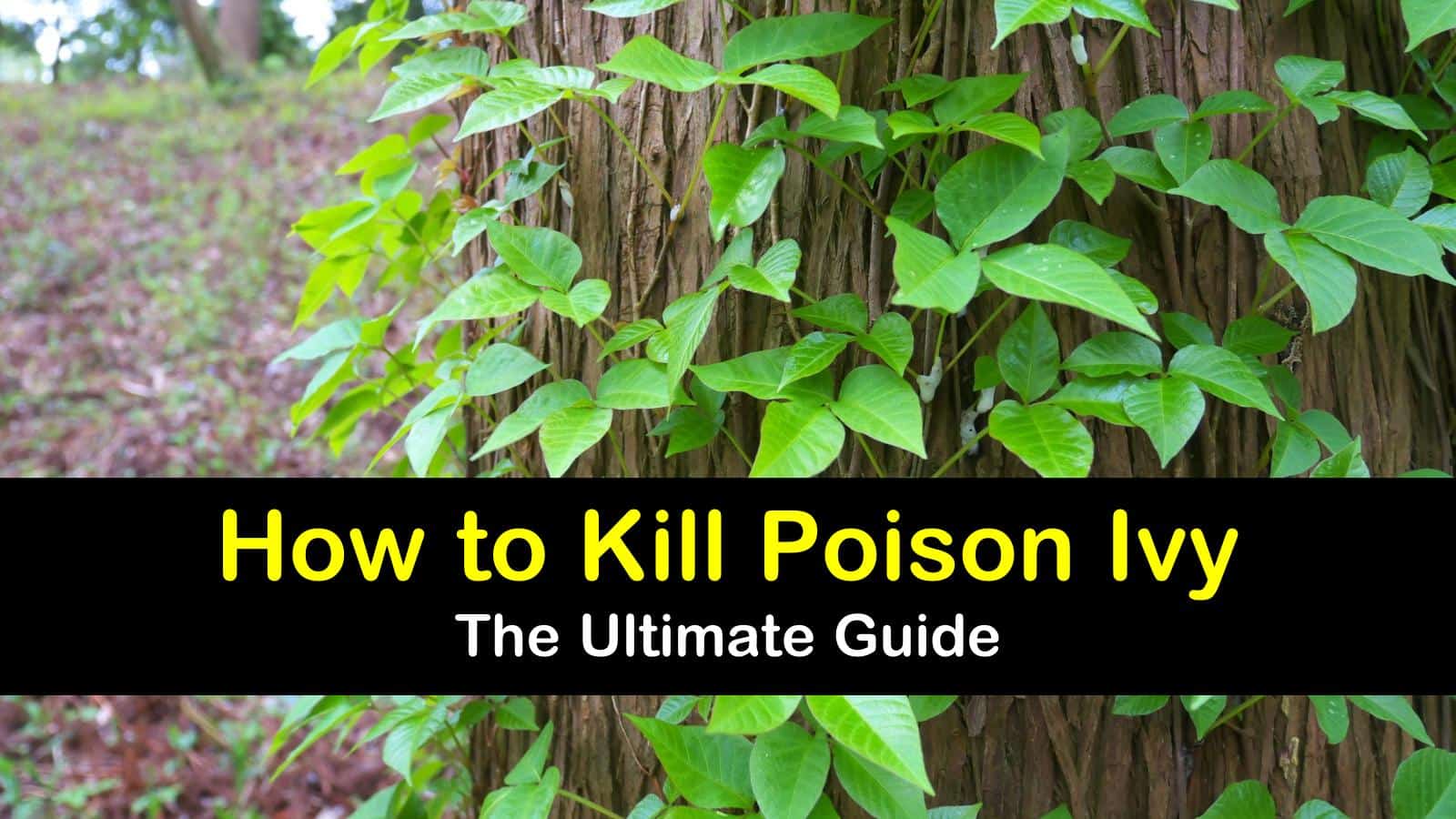 Effectively Killing Poison Ivy
When you encounter a poison ivy plant in your yard or near your home, your first instinct is probably to reach for a high-powered herbicide to take care of the problem. However, there are lots of ways to deal with it without resorting to harmful chemicals.
Physical labor can be an excellent poison ivy killer in its own right and doesn't risk your family's health. You can use many of these solutions to remove Japanese knotweed or other annoying invasive weeds in addition to getting rid of poison ivy.
Find the remedy that works best for you by giving each one a try. Sometimes a weed-killing combination is an ideal solution.
Non-Chemical Options for Killing Poison Ivy
This section looks at natural poison ivy killer options that don't require anything more than a few items, such as water and your own hands. In this section, discover how to get rid of poison ivy by weeding, smothering, and boiling the plants.
We even provide a poison ivy removal method that uses goats and other livestock to do the dirty work. If you want a safe poison plant control method, look no further.
Pull the Ivy Out by Hand
Nothing beats good old-fashioned elbow grease when you want to take care of a poison plant issue. Poison ivy removal is no exception to the rule and will vanish with a little physical attention.
Do not use this removal method if you have a severe allergic reaction to poison plants; however, as you run a risk of exposure.
As one of the best natural ways to get rid of poison ivy, there are some protective measures to take before you get started. Begin by donning your safety gear and clothing. The goal is not to give the poison ivy a spot where it can touch your skin, so make sure you don't have any part of your arms or legs exposed.
Use a little duct tape to seal your gloves to the shirt sleeves, and tuck your pants into your socks. Button the shirt up, as well.
Use the pruners to cut off the stalk of the plant, and then triple-bag it and seal it shut with tape. Use the shovel to dig around the plant deep into the earth. Poison ivy roots tend to fragment if you pull too hard, so it's essential to dig under them to get the entire root system.
When you're sure you've gotten under all the roots, remove the root structure, and triple-bag and seal it with duct tape. Dig a bit more even if you think you've gotten all the roots to make sure. Never burn the plant or roots; throw the bags away.
Employ Some Livestock
Your poison ivy removal experience doesn't need to be up close and personal. There are plenty of options for killing poison ivy that don't require you to get dressed up and digging. When you use goats or other foraging livestock, you won't even have to go near the plants to get rid of them.
A week or so with a goat once a season is all you need to keep your yard weed-free. Many regions now have goat-hiring services for poison ivy control, because goats can chow down on the plants all day and not feel a thing.
The cost is reasonable, and you don't have to risk exposure during the process. The next time you run across a patch of poison ivy, hire a goat to take care of your ground cover!
Smother the Ivy
Poison ivy might sometimes seem like a sort of super plant with uncanny abilities to grow and thrive where you least wish it to be. However, poison ivy requires oxygen, water, and sunlight, like all plants.
Use this fact about plants to your advantage when you encounter poison oak or ivy in your yard. Deprive it of sunlight and oxygen, and the plant will wither and die. It's also a great DIY Japanese knotweed killer recipe that is easy to employ for all weeds that cover a larger area.
Put on all safety gear before you start messing with the poison ivy, then cover the plant with dark plastic, canvas, mulch, or newspaper. If using a plastic or canvas covering, use tape and rocks to seal and weigh it down.
When you're confident that you covered the entire plant and roots, let it sit for a few weeks. Watch for roots that stray outside of the zone you've covered, and extend the coverage if needed. Once the plants die, remove them and throw them away.
Pour Boiling Water on the Plants
While poison ivy is tough and can bounce back from all sorts of punishment, it can't stand up against high temperatures. Boiling water is just the thing to kill off poison ivy without risking chemical exposure.
Only use this method when the poison ivy isn't near vegetation you wish to save, as the hot water doesn't discriminate. Use boiling water as a home remedy for creeping Charlie weed and other annoying vegetation, too. It works like a charm.
Don the safety gear, and carefully pour half the boiling water at ground level onto the plant roots in the affected area. Let it soak in, and then pour the remaining liquid over the roots. You'll need to repeat this a few times over the next couple of weeks to kill the plants.
After treating the poison ivy, wash your clothes well with hot water and a strong detergent. Apply the same treatment as a way to remove poison ivy from shoes, but be sure to wear gloves.
What Kills Poison Ivy the Fastest?
While physical methods are excellent and safe alternatives to herbicides, you'll likely encounter a poison ivy outbreak somewhere that requires a different approach.
Perhaps the poison ivy is growing amidst plants you wish to keep, or maybe it's growing in a spot that isn't conducive for digging or dousing with boiling water. In those sorts of circumstances, a chemical killer is your best bet.
Chemical Poison Ivy Killers
This section covers methods of killing poison ivy that use different chemical herbicides to take care of your problem. We show you how to kill poison ivy with soap and with bleach, and you'll also get our tried-and-true method to kill poison ivy with vinegar. You'll be ready for any poison ivy emergency you encounter.
Spray the Poison Ivy with Bleach
Bleach is one of our favorite household agents and has all kinds of uses beyond cleaning fabrics. Bleach is perfect for dealing with insect infestations, and it's just what you need to take care of any poison ivy outbreaks that you run across.
Use this method to kill poison ivy while sparing surrounding plants.
Add the liquid ingredients to your sprayer or spray bottle. Put on the goggles and gloves, and spray the plant from top to bottom, making sure to hit all poison ivy leaves and stalks.
Wait for the solution to dry on the plant, and then give it another spray down. Repeat this spraying process every day for a couple of weeks until the plant is dead.
Hit the Poison Ivy with Vinegar and Dish Soap
We move from one celebrity household agent to a couple of other superstars. Vinegar and dish soap are both dynamite herbicides.
If you've been wondering, "Does vinegar kill dandelions and poison ivy?" then the answer is a resounding yes. And, dish soap is highly effective at coating and smothering the plant so it can't respirate.
Combine all of your plant-killer ingredients in a spray bottle or sprayer, mix well, and give the plant a spray down. Make sure to spray down all parts of the plant, and don't forget about the bottom of the leaves.
Repeat every day for a few weeks. The plant should wither and die.
Use a Commercial Herbicide
If you've tried every home remedy and still can't get rid of your poison ivy, it's time to turn to the big boys. Commercial weed killers cut through poison ivy plants like they're not even there and turn flourishing plants into dried-up husks in no time flat.
There are tons of excellent herbicides out there, including glyphosate, Roundup, and triclopyr. You're bound to find one that works for you. Follow the manufacturer's instructions when you use a chemical herbicide so that you can reach out to the company if anything goes wrong.
Always wear full safety gear, including gloves, goggles, and long-sleeved shirts and long pants when you work around commercial herbicides.
How Can I Clean After Encountering Poison Ivy?
Urushiol, the active ingredient that makes poison ivy so itchy, stays potent for years after the plant dies. As a result, you can find yourself with a poison ivy rash seemingly out of nowhere.
If you encounter poison ivy and worry that you might have skin exposure, address the issue immediately.
Your goal should be to clean away any possible exposure points before you show symptoms or start producing blisters or an itchy rash. If you clean early enough, use rubbing alcohol and cotton balls to break down and remove the urushiol.
If you have a large area of potential exposure, take a shower in cold water and wash with special soap such as Tecnu, which cleans away poison plants residue. Don't wash with hot water at first, as the heat opens your pores and may help them absorb the urushiol.
We hope you had a delightful time reviewing our suggestions for killing poison ivy. The United States has lovely forests and wilds, but it also has poison ivy and its unpleasant cousins.
Our guide shows you how to get rid of poison ivy so that it never bothers you again. We help you learn what kills poison ivy the fastest and the best.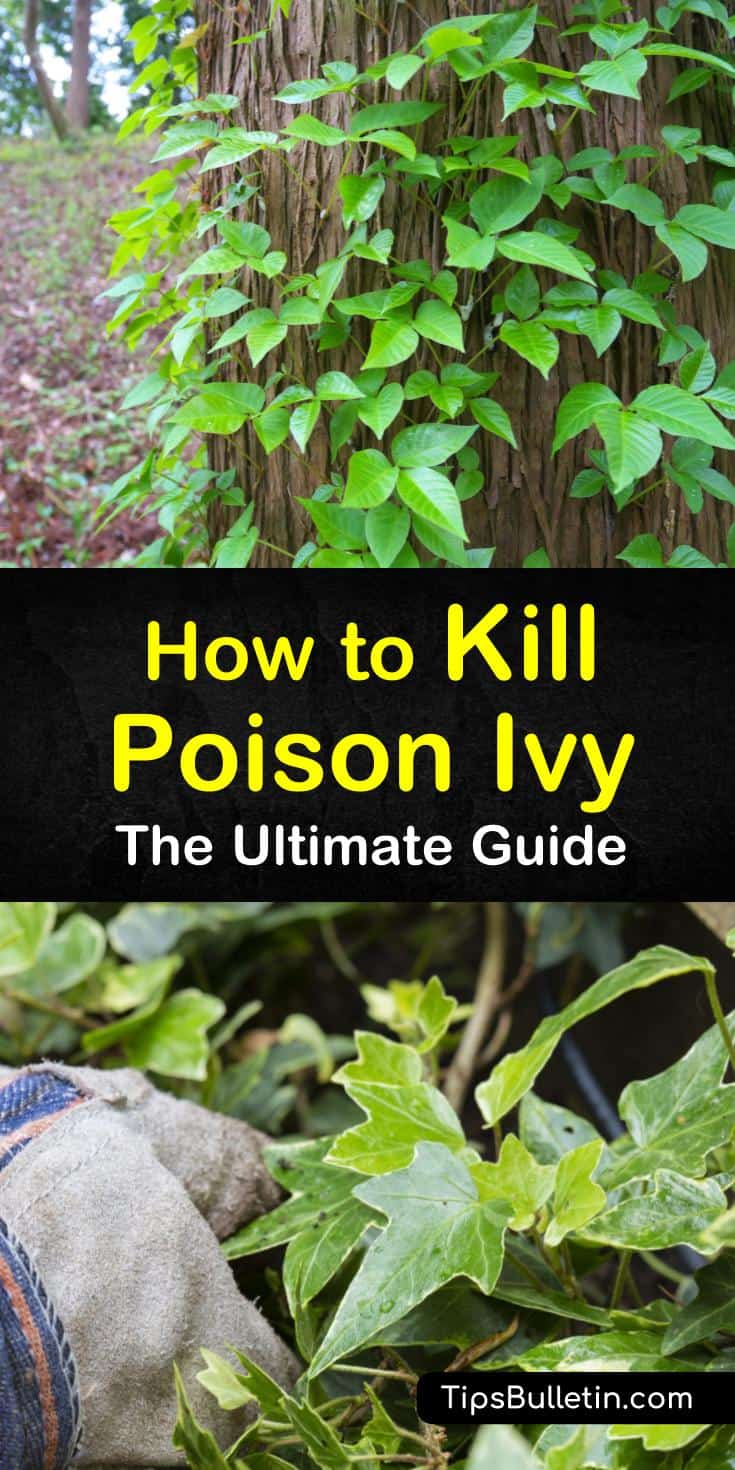 Thanks for reading this poison ivy killer guide. Help others learn about how to kill poison ivy by sharing this helpful article about getting rid of poison ivy on social media outlets such as Pinterest and Facebook.