As a homeowner, several different pests make their way into your yard to search for food or shelter. One of the most common unwanted critters is skunks. If you notice a skunk problem, learn how to kill skunks or repel them from your property.
If homeowners do not take care of a skunk problem immediately, the animal becomes accustomed to searching for food sources in your yard. This article is the ultimate guide to learning the skunk removal process. The best way to kill a skunk varies based on personal preference. However, there are numerous ways to deter or kill skunks.
We provide you with ways to kill skunks or repel skunks with easy-to-find cleaning agents or foods from your kitchen. With the repellents we describe, not only will you be able to eliminate skunks, but other wild animals like raccoons and squirrels.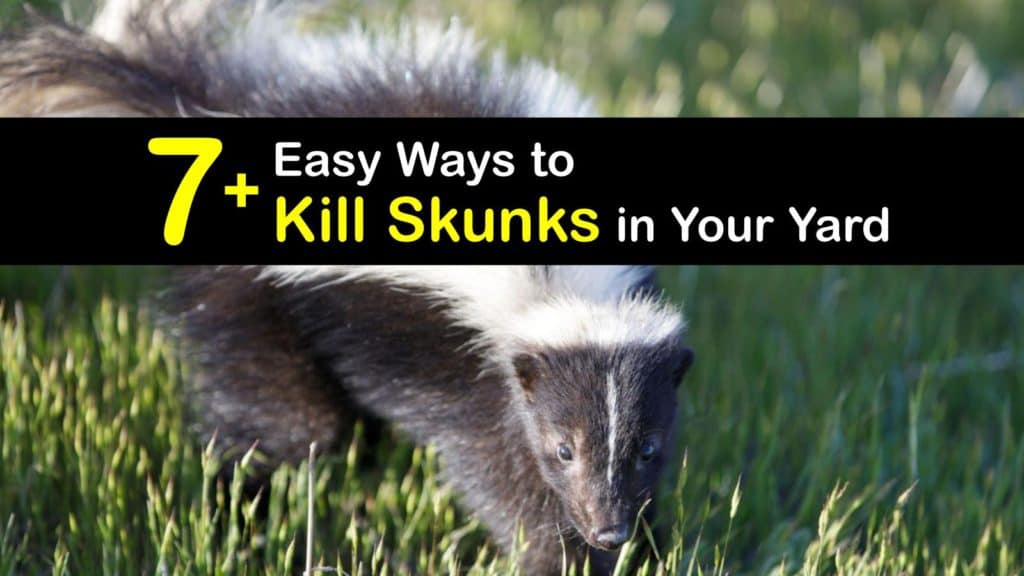 How to Handle a Skunk Problem Safely
When dealing with any wild animal, handling the situation with caution is necessary. A popular method to kill a skunk without it spraying is to use baits and traps. Traps are an excellent way to catch a skunk that is causing damage to your property.
To ensure you do not contract diseases like leptospirosis or the rabies virus, call animal control to remove the skunk from the trap safely.
Someone who works in wildlife control understands the safest way to dispose of the skunk, so it is safe to let a professional handle the situation. One element of discovering how to kill skunks is how to dispose of the wild animals after using a cage trap.
Eliminating Relevant Skunk Attractants
If you think that lethal traps are the only way of getting rid of a skunk infestation, think again. Removing things that attract skunks to your yard is a beneficial skunk repellent that will keep critters off your lawn.
Some attractants, like pet food, open garbage cans, and exposed lumber or grills, are easy to manage. However, some of the things that attract skunks are an essential part of your yard, like bird feeders or produce from a home garden.
Fortunately, there are DIY ways to maintain a garden and deter skunks from yard areas. When you understand what draws skunks to home in the first place, it is easier to avoid another skunk problem.
Indicators of a Skunk Infestation
To effectively kill a skunk without it spraying, know what indicates skunks are present in your yard. Look near your shed or porch for a den entrance. Another sign of skunks is the pungent odor from the skunk spray they release.
The most obvious indicator of a skunk infestation is skunks searching for food sources like grubs and insects.
When skunks look for food, they dig shallow holes in the grass, which results in dead grass. If you have a garden and notice some of your plants are missing, it is also a sign of skunks.
How to Kill Skunks with a Cage Trap
When using a cage trap to catch a skunk, knowing where to place it and what kind of trap to use is important.
A live trap is the best trap but is not the way to kill a skunk. A trapper can handle a cage without getting sprayed. To catch a skunk, use a trap that is at least 25 inches long.
Use a trap with a one-way door and set it where you have seen skunks in your yard.
If there is a skunk den on your property, place the trap about five feet from the entrance on a level surface. After you catch a skunk, call pest control services to get rid of the wild animal safely.
How to Bait and Kill a Skunk without It Spraying
A cage trap is only successful when you set it with the correct bait. What kills skunks right away? The proper cages and the best bait for skunks can kill them. If the bait does not draw the skunk in, the trap is pointless.
Learning when and how to kill skunks with a cage trap or the best way to kill chipmunks is simple. Set the trap in the evening because skunks are nocturnal. Carefully place the bait of your choice inside the trap and check on the trap in the morning. With the right bait, capturing a skunk is simple.
Using a trap is also a great way to kill ground moles in your yard but you need a different kind of trap.
Best Way to Kill a Skunk with Cayenne Pepper
If you are looking for home remedies for killing skunks, turn to your spice rack for a skunk repellent and get rid of skunks naturally.
Cayenne pepper contains high capsaicin levels, the compound responsible for giving hot peppers their heat. When skunks pick up the musk of cayenne pepper, they avoid the area.
Boil your white onion, jalapeno, water, and cayenne pepper powder for about 20 minutes before straining the liquid into a standard spray bottle.
Spray the skunk deterrent around your garden and where you have seen skunks. Repellents that contain cayenne pepper keep skunks out of your garden.
Repelling Skunks with Specific Odors
Discovering how to kill skunks or repel them with DIY methods is very effective when utilizing specific odors that deter wild animals. Instead of using bleach or antifreeze to kill a skunk without it spraying, keep skunks away from your house with moth balls or predator urine.
Spread the repellent of your choice near a skunk den and around the perimeter of your yard. When skunks identify the scent of predator urine, they avoid your lawn.
How to Get Skunk Spray Odor out of Clothing
Sometimes, even the best way to kill a skunk results in you getting sprayed. Skunk spray is intense, and it may seem impossible to get the odor out of your clothes.
When you combine cleaning items like baking soda and hydrogen peroxide, the solution acts as a natural deodorizer.
Pour your ingredients into your washing machine and place your clothes inside. Run the washer with cold water before air-drying your clothing.
Getting Skunk Odor out of Pet Fur
Curious pets are prone to getting sprayed by skunks that reside in your yard. To get the strong odor out of your pet's fur, use a vinegar-based mixture for the best odor-removal.
Many people use tomato juice to try and eliminate the odor. However, vinegar is more effective.
After mixing your ingredients in a bucket, wet your dog's fur with water. Work the vinegar solution into your dog's coat and let it sit for five to ten minutes. Rinse the fur thoroughly to ensure all of the scent is removed.
Spotted skunks are a hassle to deal with, especially when they make their den below your porch or deck.
To kill a skunk without it spraying, setting and baiting a trap is necessary. If you do not wish to kill the wild animal, there are easy ways to deter the animal using cayenne pepper powder or moth balls.
If you learned how to kill skunks, share this article with the best way to kill a skunk with your friends and neighbors on Pinterest and Facebook.