Termites are nuisance pests that seem to destroy homes from the inside out. While this may be a slight exaggeration, the presence of termites in or around your home is serious. Excessive damage to your home may require the intervention of a professional to address; however, if you spot termites outside and want to take action, it's time to learn how to kill termites.
There is a myth surrounding termites, like bed bugs, that they are impossible to remove if you have an infestation in your home. Because drywood and dampwood termites live inside the wood they feed on, it is easy for a few termites to become a significant problem because they are not always visible like other pests.
If you have a termite problem and the spots of termite damage are becoming more visible, don't rely on resolving termite activity by only using harsh chemicals. Many home remedies for killing termites are just as effective as insecticides, and there are even natural options for killing termites.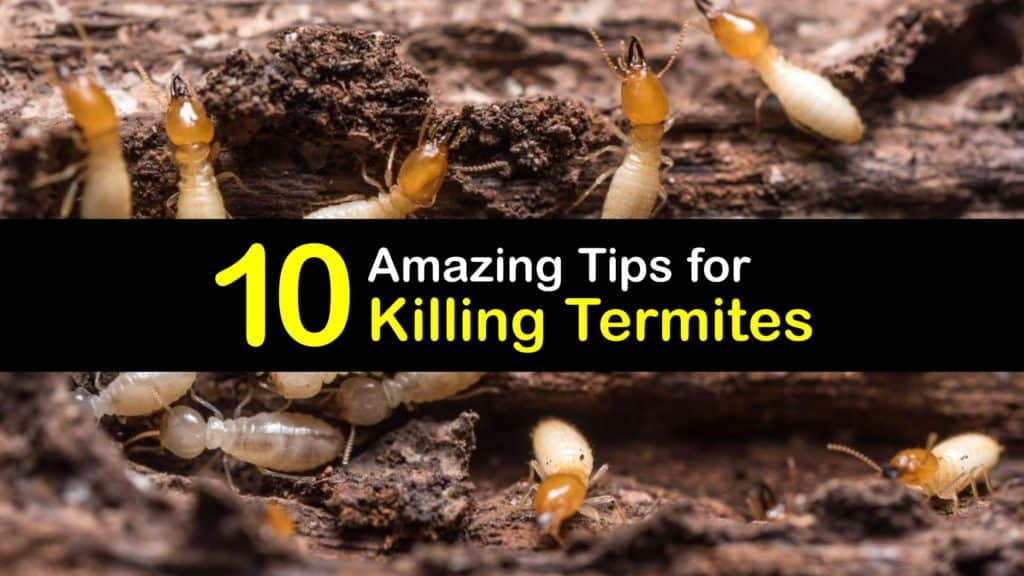 Chemical and Natural Ways to Kill Termites
Despite their feared status as pests, termites are easily affected by natural pest control solutions. While some options for termite control are more complex, killing termites may be as easy as grabbing a few ingredients from your kitchen or using plants that repel termites from your home and yard.
Termites like wood, so mulch can cause termites if it is untreated. However, you most often find them in damp wood around your house.
Target Foraging Termites with Bait Stations
Termite bait stations are an effective form of termite control that targets termites that visit the bait and the rest of their colony. Like most traps, the bait station attracts termites.
Unlike traditional pest traps, bait stations infect termites with a slow-acting poison, allowing termites to return to the colony, infecting other colony members before the poison takes effect. After placing bait stations around your yard, this transfer effect eliminates entire colonies with ease.
If you spot signs of termites like mud tubes outside your house, bait stations are an effective way to prevent a termite infestation. This pest control method is particularly effective against subterranean termites as they spend their lives in the ground.
Because of the ease at which bait stations are purchased and set up in the yard, it's probably the best way to kill termites after you find evidence of termites, if not the simplest.
Repel Termites with Treated Wood
Wood is a food source for termites, and they travel through wood to find access to your home. Subterranean termites are known for creating mud tubes up the side of your house to a wood source to feed.
Although there are a few types of wood that termites won't try to eat, treat the wood around your house as the best way to keep termites away. Borate is a chemical that controls termite activity around your home by using it to treat wood that termites would target for access.
Mix the ingredients to create a wood treatment in your bucket. Once you apply the treatment to the wood around your home, it creates a barrier against termites. Use the paintbrush to apply your borate mixture evenly to the wood you want to treat. Wait four hours between applying coats.
Use Non-Repellents to Kill Termites
Non-repellent forms of termiticide are effective because they do not repel pests from treated areas, which typically only create temporary solutions. Products like Termidor SC and Taurus SC treat the areas outside your house to create an undetectable barrier that termites pass through.
Termites are excellent at detecting most insecticides, and because of this, they avoid repellents, making them ineffective. When termites pass through non-repellents, it begins a transfer effect where they spread the termiticide to other termites in their colony.
Since these termiticides are slow-acting, it has time to spread through an entire termite colony before killing termites. If your yard is full of other pests like carpenter ants, a non-repellent is also effective at controlling their numbers.
Trapping Termites with Cardboard
If you've identified the entry point for termites in your home or noticed the discarded wings of the winged termite, give trapping termites a try using water and a few pieces of cardboard.
Cellulose, a compound found inside wood, is why termites go after wood as a source of nutrients. This same compound is present in cardboard. Use water to wet two pieces of cardboard and lay them on top of each other.
The moisture and cellulose in the cardboard attract termites that get caught between the two cardboard layers. After leaving your cardboard trap to gather termites, whether you need to get rid of termites in walls or outdoors, carefully remove the boards from your home to dispose of them outside. To avoid termites escaping, use fire to destroy the cardboard.
How to Kill Termites with Diatomaceous Earth
When looking at what kills termites or getting rid of white wood mites in your house, diatomaceous earth (DE) is likely the best way to kill termites and other bugs passively as it wounds termites upon contact, killing them slowly. DE is a natural powder made from crystalline diatoms or algae. The sharp edges of the crystals in DE slice into termite bodies when they crawl across it.
These cuts in the exoskeleton of termites cause them to lose moisture and slowly dehydrate until they perish. It kills also carpenter ants and a variety of other insects. Food-grade DE is safe to use around humans and pets. Sprinkle it around your home in areas where you suspect termites are active.
Vinegar: The Best Way to Kill Termites?
Vinegar is something of a multi-tool in the home. When combined with other cleaning agents like baking soda, it creates an effective paste for cleaning kitchens and bathrooms. The acidic properties of vinegar make it effective at cleaning, and these same properties are helpful when trying to get rid of termites.
For one of the easiest home remedies that kill termites, cut two lemons and squeeze the juice from all halves into a spray bottle with the help of a funnel. Add vinegar and mix well to create a handy spray that kills termites on contact.
Spray any mud tubes or damaged wood areas. The acidic mixture kills termites, though it does not last long; respray areas often to get the best use from the spray.
Handle Termites the Natural Way with Nematodes
If you spot signs of termite activity outside your home, like termite galleries on loose wood pieces around your yard, use a natural solution to prevent termites from making their way inside.
One form of biological control is introducing beneficial nematodes into the environment to kill termites. Beneficial nematodes are microscopic roundworms naturally found in soil. The nematodes are available for purchase at most garden supply stores.
Once added to water, spread the nematode mix near the opening to termite nests. When the nematode water reaches the termites, the pests become infected. It's a simple way to get rid of swarming termites and eliminate them for good.
Kill Dry Wood Termites with Boric Acid
If you look into what makes up commercial termiticides, boric acid is likely one of the most common ingredients listed. Skip buying expensive commercial items and purchase boric acid by itself to treat areas of termite damage in your home.
When applied directly to termites, it dehydrates them and quickly works to shut down their nervous system.
Mix boric acid and water until it completely dissolves. Add this boric mixture to a spray bottle to quickly treat wooden structures that termites target. Common areas to treat are cracks in the floors, walls, and ceiling.
Kill Termites with Neem Oil
Try neem oil if you're finding termites inside your home and want a DIY termite control option. Neem oil has a long history as an effective pest control method for targeting garden pests, it's a natural termite deterrent and it's one of the best natural ways to kill termites.
Neem oil is a slow-acting killer of termites because it hinders their ability to grow by shedding their skin. In addition to stopping their growth, termites treated with a neem oil mixture become unable to lay eggs. This home remedy for dealing with termites is particularly effective against drywood termites.
Mix the ingredients into a 16-ounce spray bottle and shake well to combine. Liberally spray this mixture onto any infested wood or mud tubes in or outside your house.
Controlling Termites Using Borax Powder
Borax is a white powder made from boric acid and is readily available in stores as a laundry booster or household cleaner. This powder is also effective for termite treatment, as consuming this powder affects the digestion of termites, leading to death.
Sprinkle the Borax powder into the area of drywood termite colonies, but unlike other forms of slow-acting control, the Borax powder does not have a transfer effect. Only termites that ingest this powder are affected by it. Although this method effectively kills termites, it has a low chance of eliminating an entire colony.
As long as homes use wood in their construction, termites will always be a present threat to homeowners. If you wait for termites to make their way inside, it may be too late to get the upper hand on these nuisance pests. Be mindful of any termites around your yard and take immediate action if you see termite damage.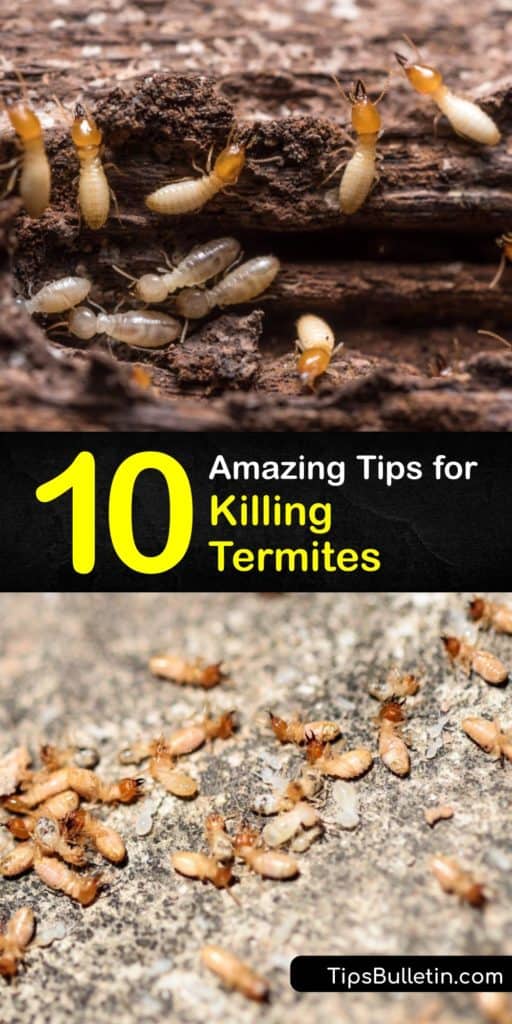 We hope you learned how to kill termites through reading our guide and will share our natural ways to kill termites with your family and friends on Facebook and Pinterest.