While general perceptions of wasps lead many to see these creatures as a terrifyingly aggressive menace, these pollinators are just as crucial to the ecosystem as bees and spiders. Wasps regulate other insect populations, keeping pests like aphids, spiders, and caterpillars from overproducing. The most significant reason for wanting to know how to kill wasps is when their numbers grow too high or pose a threat to human safety.
When such incidences occur, having an effective strategy for killing wasps becomes imperative, whether by natural means or otherwise. In most cases, removing the nest and food sources eliminates a considerable portion of the problem, though additional methods like wasp traps and sprays may be necessary.
Luckily, we have organized some of the best home remedies to kill wasps using simple ingredients and routine procedures. To find out natural ways to get rid of yellow jackets for good, follow these helpful tips.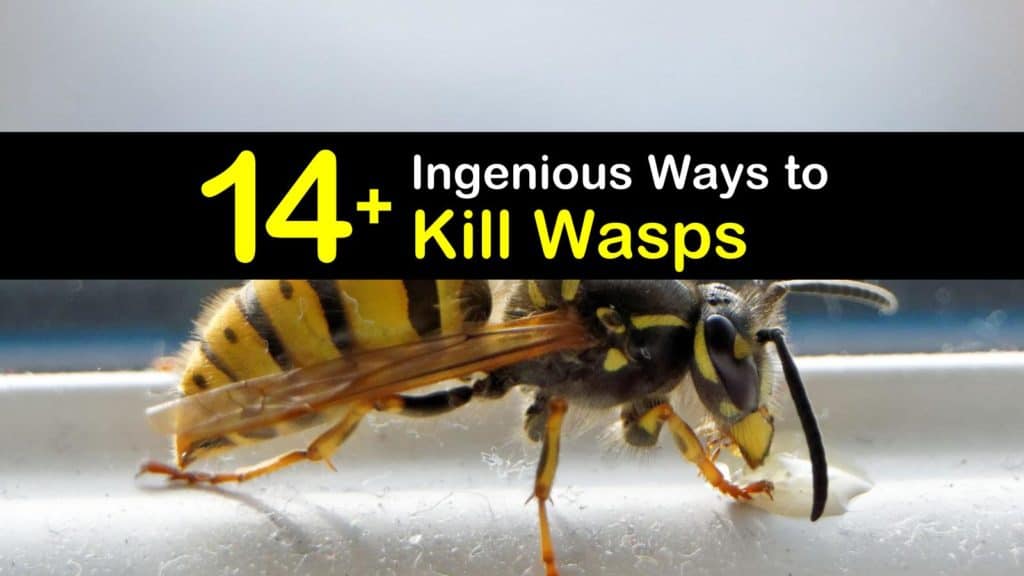 Creative Ideas for Killing Wasps
Since wasps classify as beneficial insects, there is a level of tolerance that must always be considered when implementing any pest control products. Adjusting habits and integrating regular maintenance procedures are all that is required at times to regulate the population.
Locate the Nest
When facing a potential wasp problem, the first step in the removal process is finding the nest. Depending on the type of wasps you are dealing with, the location of these nests may change. However, there are several common locations to check when starting.
The most recognizable wasp nest is the paper-like cluster found above you on overhangs, trees, or roofs. Created by social wasps, these sphere-shaped nests tend to be grey in color and house wasps that are a part of a larger colony.
Not all wasp nests are visible, however. Some create ground nests, while others burrow into wood like termites. Once you have found the wasps' nests, then controlling them becomes much easier.
Identify the Different Species of Wasp
Another critical factor in effectively handling your wasp problem is determining whether the flying insect you are trying to eliminate is a wasp.
In addition to the numerous types of insects you may come across, there are approximately 4,000 different species of wasps. The three most commonly encountered types of wasps found around the home are listed here.
Determining the type of insect you're dealing with allows you to understand their habits, such as where they build nests, what their food sources are, and whether it is safe to remove them on your own. Afterward, you are ready to implement the best form of wasp control and basic safety precautions.
Choose the Best Time to Act
Wasps build nests starting in early spring and develop them throughout the summertime. In late summer, wasps begin reproducing, making them even more protective of their hive than usual.
When attempting to take down a wasp nest, it's vital to strike well before the late summer to avoid a highly aggressive reaction and a spike in the population. The best times of the day to remove a wasp nest are around dusk or sunrise.
Wasps are generally least active at night, retreating to their homes to take care of their young. These two times provide you with just enough light to tackle the issue while the insects rest, whether you are trying to eliminate wasps overhead or taking care of ground bees.
Do not stand directly beneath the nest when treating it, and wait at least 24 hours before removing the fallen nest.
Eliminate the Food Source
If wasps become a problem around your home, then one item to cross off your list is what is attracting them. Like most animals, wasps settle into an area when there is plenty of food to go around.
That supply of food depends on the types of flowers in your garden or an abundance of other pesky pests. Flowers with cooler colors attract wasps, like those with blue, purple, or white hues.
Among the many species wasps get their nectar from are Sweet Fennel, Yarrow, and Spearmint. An increase in wasps may also indicate an increase in spiders, caterpillars, or even ants, all of which are a delicious treat for a hungry wasp.
The same goes for aphids, which create a sweet honeydew wasps love. Eliminating these pests drives out the wasps by cutting off their food supply.
Create a DIY Wasp Killer from Soap
Once you're ready to remove the wasps, a simple solution of soapy water makes an easy homemade wasp spray killer. Water alone isn't usually enough to break through the wasp's exoskeleton.
However, the soap disrupts the surface tension of the wasp's outer layer, allowing the water to penetrate the thick exoskeleton and drown the wasp.
To get rid of hornets around the house or anywhere else in the yard, fill a small spray bottle with water then add the soap. Shake well until adequately blended, then spray the wasps directly.
Thoroughly soak them with the mixture. If using soap to kill old and new nests, use a more extended range tool, such as a hose or sprayer, to maintain a safe distance when treating.
How to Kill Wasp Nests with Vinegar
One of the best home remedies to kill wasps is by using vinegar and sugar. The two ingredients combine in a salty-sweet confection that the wasps love. The scent lures the wasp to the trap, while the soap and water kill it once trapped inside the bottle.
Combine all the items into a large bowl and add four cups of the formula to a 2-liter bottle. Leave this in an area where wasps frequent and where it won't be easily disturbed or knocked over.
To keep hornets away, use the remaining liquid as a hornet spray and direct it at insects as needed. Swap out the ingredients in your wasp trap every so often, especially once you've collected a fair amount of the pests in the bottle.
Sugar and Jam Wasp Trap
For an alternate variation on the wasp trap above, try this recipe with sugar and jam. Similar to the attraction of vinegar and sugar holds, wasps equally love the taste and smell of jam.
The ingredients are not the only way to shake up this method, allowing for a different way of presenting the trap by cutting the bottle open.
Start by slicing off the top portion of the container, approximately one-third, then smear the jam along the bottom. Sprinkle sugar on top of the jam and add water. Flip the top of the bottle upside down so that the spout is facing down toward the water.
Doing this provides the wasps with a little landing perch, making it easier for them to slip inside the trap. There are also traps available at the store that use different pheromone levels to lure the wasp toward an insecticide.
Cut Off the Air Supply to the Nest
A different way to kill wasps is by using a plastic bag. Simply wrap the bag around the nest and seal it tightly. Let it sit for at least a day before removing, and suffocate the wasps inside.
While the manner itself seems simple enough, it's essential to take specific safety procedures first. Follow the guidelines for how to dress appropriately and only strike at dusk when they are inactive. You also should have a bag sturdy enough to withstand puncture marks.
Home Remedies to Kill Wasps
Another recipe that will help get rid of ground hornets and yellowjackets involves adding a little bit of lemon extract to water. Since most wasp nests consist of lightweight, papery material, they quickly dissolve when sprayed with any kind of moisture.
The lemon poses a dual purpose since the mixture attacks the wasps and the nest when sprayed directly. For those that survive the spritzing, the lemon scent drives them away. Lemon is yet another scent wasps barely tolerate.
Use a Vacuum
A strange but still useful trick for what will keep wasps away is to vacuum them up. This procedure works best when there are only one or two wasps around since larger populations attack when they feel threatened by their colony members.
If using this idea, the best time to do it is during the spring. In summer, wasps are much more energetic and active, making it harder to catch them. In the spring, they've just come out of hibernation and make slow-moving, easy targets.
Killing Wasps with Smoke
One way to drive wasps out of their nests and get rid of wasps is by smoking them out. Doing this allows you to suffocate the wasps from a safer distance, using a small, controlled fire beneath the nest.
Avoid this strategy, however, if the nest is close to your home, as you don't want to create an even more dangerous situation.
After setting up a fire directly below the nest, let the smoke rise for at least one hour. After a substantial amount of time passes, knock down the nest with a long-handled object, such as a broom.
Plant Wasp-Repelling Flowers
While killings wasps seem like the most natural solution, sometimes there are just as many options available to repel them instead. Especially if there is only the occasional sighting, there are plenty of resources out there to prevent them from becoming a problem.
One step to take to keep wasps out of your yard is by planting flowers they hate. Surprisingly, wasps hate bright, warm colors like red, which attract hummingbirds and other helpful pollinators.
Planting red flowers is a great way to keep them out of your yard while ensuring the plants still receive plenty of love and attention from other beneficial creatures.
Other flowers wasps hate include marigold, wormwood, basil, and geraniums. All are common and beautiful additions for any yard, which makes adding a few specimens in key locations a breeze.
Remove Fallen Fruit
If you have fruit trees growing on your property, these may also be contributing to your wasp problem. Wasps love the sugar in fruits, especially those that have started to rot and decay. As a result, any fruit left around may unintentionally attract them.
Luckily, the solution is as simple as having a routine maintenance plan in place. Pick up fallen fruit as soon as you see it a regular procedure in place to clear them out of the way. The rotting fruit is especially delicious to them since it's soft and provides them greater access to the juices.
Seal Garbage Cans and Entry Points
Similar to their love of fruit and sugar, wasps have no problem sifting through your garbage for old and rotting foods. In the summer, wasps search for foods that are rich in protein, which is generally more prevalent during barbecue season.
Make sure garbage cans are sealed up tight with no possible holes left for entry. In addition to sealing up trash cans, keeping other parts of the house sealed is equally as beneficial.
Cracks and crevices in the walls, roof, or foundation make the perfect hiding place for wasps wishing to be undisturbed. Sealing up these tiny holes prevents wasps from settling in and becoming a bigger problem in the future.
Create a Wasp Repellent Spray
In some cases, all that's necessary is a little bit of natural repellent for yellow jackets. When there is only a handful of wasps in the yard, and you simply want them to stay away, this is the best alternative.
Like most insects, wasps hate the smell of peppermint, which provides a pleasant aroma instead of nasty bug spray.
This spray works in one of two ways. The first is to spray the wasp nest directly with the solution, at a safe distance, and with an appropriate layer of clothing to protect yourself. The other way is to apply the spray to surrounding areas, such as around patios and deck areas to keep wasps away.
Additional Advice for How to Kill Wasps
Now that you have plenty of different ways to handle large wasp populations, you may still have a few lingering questions about handling them properly.
Safety is of the utmost importance when it comes to removing wasps, so follow the advice listed below for more help.
What should I wear before removing a wasp nest?
Removing wasp or hornet nests can be a somewhat dangerous task, especially since you don't know how many wasps may be inside the nest when taking it down. Wearing long sleeves and pants are essential for protecting your skin.
When choosing the right outfit, lean toward the thickest items in your closet. Jeans and a sweatshirt are preferable since it is much more difficult for the wasp's stinger to penetrate the material.
Luckily, you don't have to dress like a beekeeper when preparing to take out wasps. Instead, place a scarf around the lower half of your face to protect your mouth, nose, and neck area from wasp stings.
While these coverings offer a moderate barrier of protection, it is just as essential to have an escape route ready. Have a clear walking path open leading to an area where quickly distancing yourself from the wasps is readily available.
This applies for killing wasps in the air as well as ground nesting wasps. Proper protective measures add an extra measure of safety to a somewhat dangerous procedure. Of course, if you are allergic to bee stings, it is wise to leave wasp killing to others without this sensitivity.
When is it time to call an exterminator?
In some cases, taking care of the wasps on your own simply isn't possible. There are several circumstances where calling in a professional is necessary, especially when dealing with any kind of infestation. The biggest concern is safety.
If you or someone in your household is allergic to wasps, then calling in an exterminator should be your first attack plan. Other common complications that arise when it's time to call in additional help relate to structural damage and ineffective strategies.
Wasps burrow into wood frames and panels, similar to termites or carpenter ants. In this case, calling in someone to help immediately spares your home from unnecessary destruction.
Another time to call an exterminator is when conventional methods aren't working due to an infestation or even if you don't feel comfortable handling wasps on your own.
Ridding your home of wasps may seem like a monumental challenge at first. With creatures as terrifying as wasps, it's completely understandable.
Knowing the proper way to handle them makes all the difference in the world. These home remedies to kill wasps provide you with all the guidance you need to succeed and create a wasp-free space once again.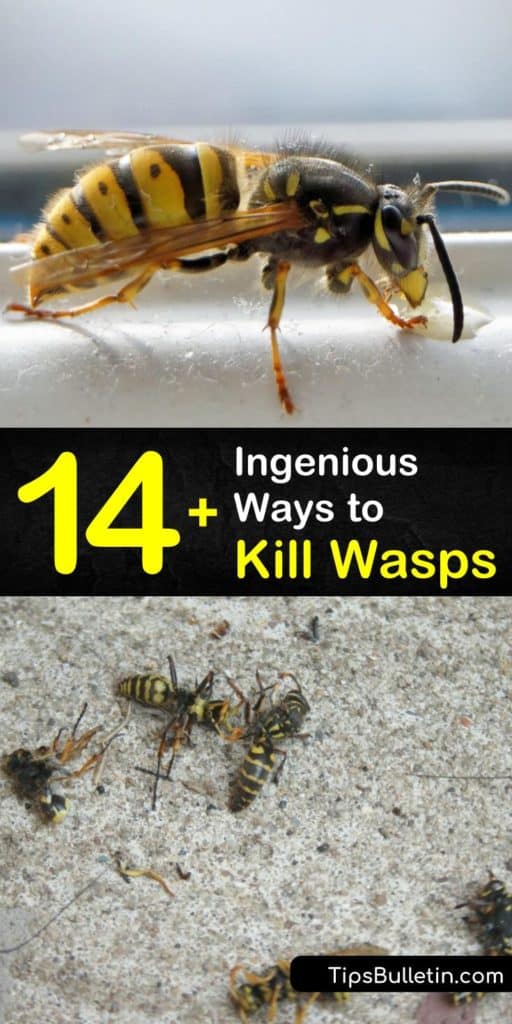 If you found these pest control tips for regulating wasps helpful, then please remember to share how to kill wasp populations with everyone you know on Facebook and Pinterest.