If you've ever disturbed a busy yellow jacket, then you are probably well aware of their painful wrath. While wasps are beneficial insects, there are times when you must eradicate them to prevent conflict. Learn how to kill yellow jackets through prevention and pest control.
As implied by their name, yellow jackets have a striking yellow and black color pattern, with a segmented, small 'waist' between their abdomens. Their characteristics are similar to the hornet, but they have a different level of aggressiveness. While they carry the same markings as honeybees, they are brighter in color and hairless.
As social wasps, yellow jackets, or Vespula, are commonly seen in the United States from early summer to late summer. While they are not necessarily hostile, they defend their food sources and nests with aggression. The key to eliminating them from your property is understanding their habits and life cycle.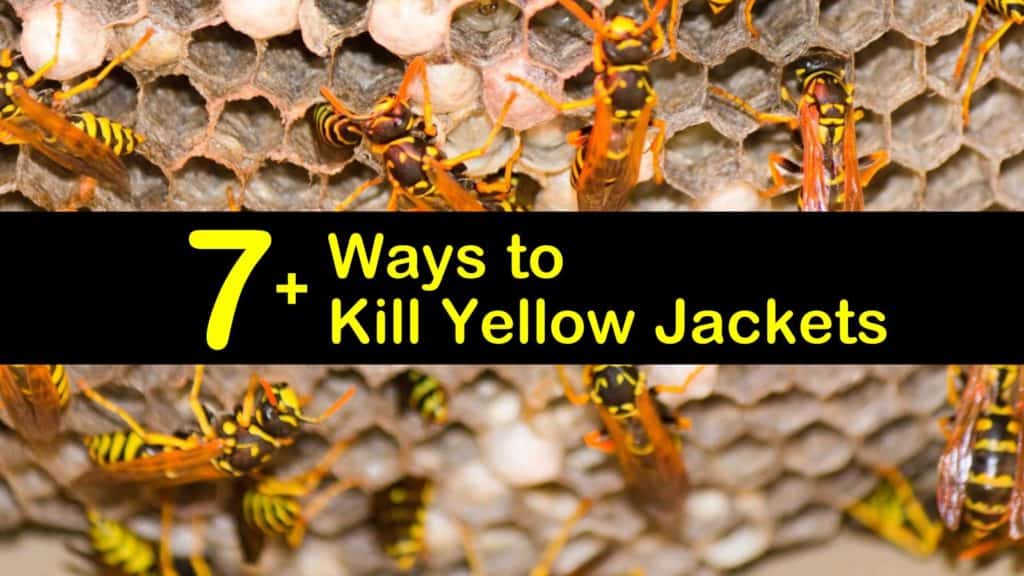 Killing Yellow Jackets
A yellow jacket colony infestation with large numbers, whether they are from an underground nest or aerial nests, requires the attention of an exterminator to prevent personal injury, especially if you are allergic to their sting. Here are the best ways to get rid of bees in the ground and eliminate yellow jacket infestations.
How to Handle a Solitary Yellow Jacket
If you are in a situation where the single yellow jacket is a problem, whether it's in your home or back yard, there are a few simple steps to take to eradicate it. Before killing these stinging insects, make sure that it is not a honeybee, which loses its stinger, dies after stinging, and is an essential pollinator for the environment.
Yellow Jacket Management
If the yellow jacket is in your home, sometimes the best and easiest way to get rid of it is to open the door or window that is nearest to it. Do not attempt to herd the insect to the exit or open a door if there is an existing nest nearby.
If there is food or drink that has attracted a yellow jacket, do not disturb them. Remove or cover food items that are not in the vicinity of the yellow jacket and wait for it to leave the area.
Do not make any quick movements if it lands on you. Doing this may cause the bee to react aggressively by stinging you. Chances are, the yellow jacket flies away on its own. If not, use slow and gentle movements to get it to leave.
While it is tempting, using a rolled-up newspaper or flyswatter to kill a yellow jacket only makes them react aggressively. If wasps are frequenting the area around trash cans, use it to your advantage. Try and coerce them by placing an open bottle of sweet liquid nearby. Once they crawl inside the container, quickly place the lid on top and dispose of it or set them free in another location.
How to Kill Yellow Jackets with a Trap
The best thing to do if you experience the occasional yellow jacket in your yard is to set up a lure and trap system to keep them away from areas of your lawn where family members hang out. Killing yellow jackets in this manner works well for the occasional wasp.
One of the ways to get rid of wasps that hang out where you don't want them, like your porch or patio, is to pour the water and cider vinegar into a two-liter bottle and add the sugar. Place the lid on top and shake the bottle until the sugar dissolves.
Toss in the banana peel and replace the cover. Use a razor knife to cut a three quarter inch hole at the top of the bottle and place it in a spot that is away from the area that you spend most of your time.
Home Remedies to Kill Yellow Jackets
Yellow jacket traps are an excellent tool for luring them away from outdoor family activities and is one of our favorite home remedies to kill yellow jackets.
Cut the top portion off of a soda bottle, pour about a half-inch of red wine into the bottom, and add a couple of drops of dish soap. Flip the top portion of the bottle over and place it into the bottom so that it forms a funnel.
Set the container in a location away from the outdoor activities. Doing this attracts wasps to food sources other than your BBQ. Use this trap as a way to kill hornets and other annoying insects that are attracted to the liquid, as well.
Make Natural Yellow Jacket Elimination Spray
One of the best home remedies to keep yellow jackets off is everyday dish soap. The soap weighs down their wings so that they are unable to fly. This recipe is ideal for keeping near the patio to eliminate a pesky wasp.
Combine the water and dish soap into a bottle sprayer and shake well to mix without creating too many suds. Label the container for everyday use.
Spray the solution directly onto the yellow jacket to soak it thoroughly. Once the wasp falls to the ground, it is safe to hit with a newspaper and discard.
DIY Yellow Jacket Repellent Spray
Yellow jackets, wasps, and hornets hate the scent of peppermint and search out other places to build a new nest after you apply it to their existing home. Make a homemade spray to kill wasps to keep them away from your house.
Make this bee repellent spray by combining the water, soap, and peppermint oil in a glass spray bottle and shaking well to mix. Wear extra clothing for protection, such as pants and long sleeves, before using the application to help prevent against getting stung on bare skin.
Set the spray nozzle to stream, stand as far away from the nest as possible, and spray the DIY wasp repellent into the nest entrance. Try to saturate as much of the nest as possible as quickly as you can.
Spray the solution on other areas of your home that look appealing to wasps, like high corners and hidden crevices to prevent them from taking up residence.
Spraying Small Yellow Jacket Nests
It is dangerous to deal with a yellow jacket nest if you are allergic to wasps, so it is vital to know beforehand if you have allergies. If you suspect that you do, contact a yellow jacket control professional to remove the nest. Otherwise, use this technique for smaller nests.
The first step is to ensure that the nest belongs to yellow jackets. If they have a spiral shape, they may be hornet nests. An off-white honeycomb nest belongs to their less aggressive cousin, paper wasps.
Yellow jackets build their nests in cavities and crevices, such as a wall void, beneath eaves, under porches, and rodent burrows in the ground. Once you locate the nest, whether it is overhead or from ground nesting hornets, put on protective clothing such as pants, a long sleeve shirt, long socks, and a hat, and prepare for a spray and run.
The best time of the day to perform this is when the temperature is below 50°F. During this time, they are less active and reluctant to fly. They are also less active in the evenings. Mark an escape path before you spray, making sure that you have enough space to run safely away from the nest.
The bees react within about ten seconds of the spray, so time is short. Follow the package directions for your sprayer and spray the solution directly into the nest entrance, saturating as much of the nest as possible before running to safety.
Removing a Yellow Jacket Nest from a Tree
Yellow jacket stings cause allergic reactions in some people that cause difficulty breathing along with other life-threatening problems, and medical attention is required. If you suspect that you have a bee allergy to bee stings, contact a professional exterminator. If you are allergy-free, perform this DIY yellow jacket nest removal to get rid of large nests.
For dealing with large wasp nests hanging overhead in trees, make sure to get a yellow jacket spray that ejects spray 20 feet or more. Having to dash down a ladder to escape angry wasps is the last thing you want to do. The larger the nest, the more bees, so plan well ahead of time.
Avoid brightly colored clothing and make sure you have a clear and quick path back towards the house. It's best to tackle a large nest in the evening, so use red bulbs in flashlights or cover with red cellophane. They cannot see the color red and are unable to see your red lights.
Put on several layers of protective clothing, including pants, long-sleeved shirts, long socks, sweatshirt, hat, scarf, boots, and gloves to cover all bare areas of your skin. Position yourself at the starting point of your escape route, making sure that you are within the 20-foot range of the nest.
Spray the nest entrance hole full force with the insecticide, soaking as much as possible. You have approximately ten seconds before they attack. Make your escape and wait until things have settled down before going back outside.
Leave the nest alone for one week before removing and discarding it. There were undoubtedly wasps out of their home at the time you sprayed, and this gives them time to come back and get exposed to the chemicals.
Making a Natural Yellow Jacket Nest Spray
While it is not as quick at killing a nest of yellow jackets, try using a homemade soapy spray to eliminate wasps. This technique is useful for small nests and is a process that takes about a week.
Combine water and laundry detergent in a bucket, stir well to mix, and then pour the soapy water into a garden sprayer or spray bottle. Plan a route of escape so that there is a quick and safe route back into your home after application. Make sure to wear protective clothing such as long sleeves and pants.
When the temperature is below 50°F or later in the evening, spray the nest opening directly, making sure to saturate as much of it as possible. For the spray to be effective, spray the nest several times a day for several days.
As with other insects, yellow jackets are an essential part of nature, but there are times when they cross into your living space.
When this happens, it's good to know that there are measures to take to eliminate their presence and prevent painful and harmful situations. Arming yourself with the right knowledge helps you keep your living space free of yellow jacket encounters.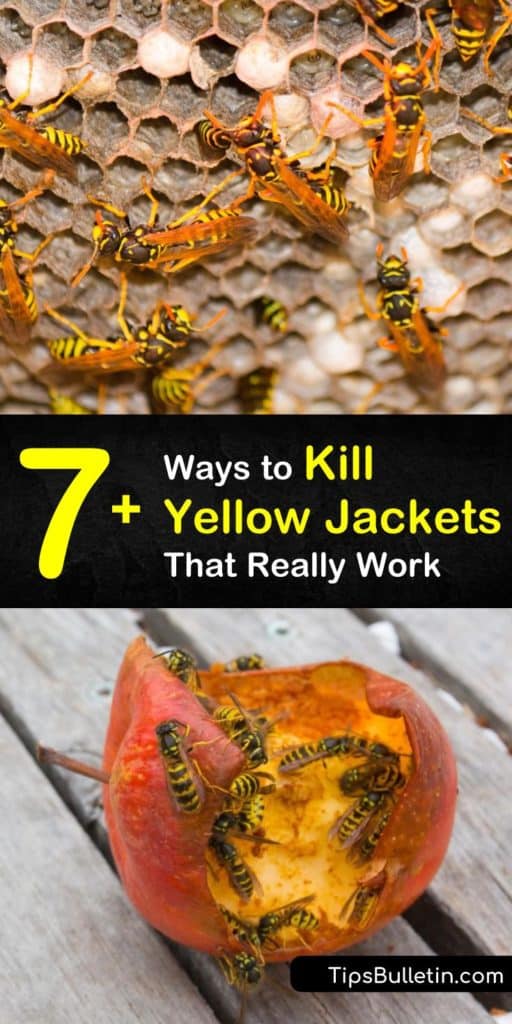 We're happy that we could show you how to kill yellow jackets to keep your home and yard sting-free, and we'd love it if you'd share our yellow jacket remedies with your family and friends on Pinterest and Facebook.