You probably didn't realize that it would demand so much of your time and effort when you purchased your swimming pool. Unless you hire a pool service, your pool requires regular cleaning and maintenance. We explain how swimming pools work and how to maintain your pool so you spend more time swimming than cleaning.
When we imagine a swimming pool, we picture cool water shimmering with the reflection of the summer sun and lazy days as we drift afloat on its refreshing surface. Unfortunately, regular pool maintenance is vital to keep the water crystal clear and working efficiently. Swimming pools are your friend or your foe, depending on how well you maintain them.
An unkempt pool gets filthy, grows green with algae, and becomes unswimmable. However, your pool is easy to maintain properly and provides a fun and safe place to spend a hot summer day.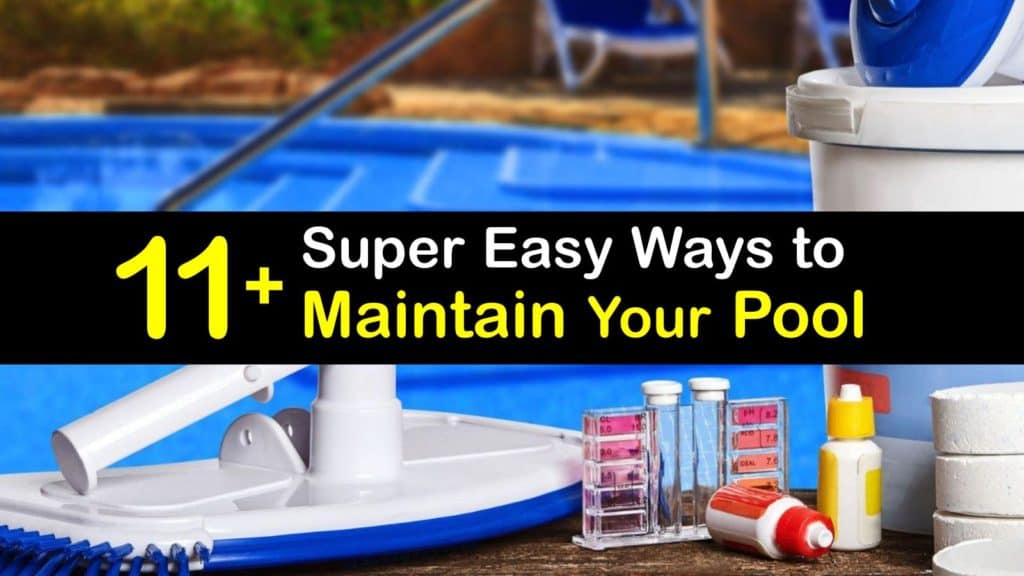 How to Maintain and Care for Your Swimming Pool
While it seems that caring for a pool is a tedious and time-consuming job, it doesn't have to be if you perform routine care. Here is how to maintain your swimming pool and deal with common pool water problems.
Understanding Your Pool for Maintenance
It's crucial to know how to keep a pool clean to ensure that it runs properly and the water is safe for swimming, and understanding how the parts of your pool work make the maintenance job easier.
Four main components of your pool need your attention during cleaning and maintenance – water, wall, filtration system, and skimmer. The water requires cleaning and balancing for your safety, and it helps the pool last longer.
The pool liner or wall is always in contact with the water and everything that enters or touches it. Find out how to clean algae off your pool lining and remove dirt to keep the pool safe and clean.
A functioning filtration system is vital to the overall well-being of your swimming pool. Without it, the water gets contaminated and cloudy, making it unswimmable.
Finally, there is the skimmer and return, where the water enters and exits the pump. If these parts get clogged with debris, the pump doesn't run as it should, and the pool's water eventually gets filthy. Learn about proper maintenance techniques to not only clear cloudy pool water but keep it sparkling all summer.
The Three Cs of Swimming Pool Maintenance
The three Cs are the foundation of pool maintenance, and they consist of cleaning, circulation, and chemistry. These are essential concepts to maintain an inground pool or an above-ground pool.
Stagnant water breeds bacteria and algae, and making sure the pool has adequate circulation often prevents these problems from occurring.
A pool pump moves the water around while filtering it, and it's a good idea to run the pump at least ten to twelve hours a day, if not more.
A water testing kit is a must in anyone's swimming pool arsenal. These kits help you test the water to ensure that the alkalinity, sanitizer, and pH levels fall within the perfect range for a healthy pool.
Cleaning your pool is essential since mother nature likes to toss leaves, debris, and insects into the water from time to time. A net skimmer, pool brush, and vacuum are three handy tools that work wonders to keep the pool clean of build up and contaminants.
How to Keep a Pool Clean with Everyday Maintenance
While there are times when a pool cleaner is necessary to treat your pool's water, daily cleaning makes that job more manageable. Here is how to keep a pool clean by performing everyday maintenance.
Inspect the pump and pool filter system to ensure there is no clogging by checking the pressure gauge. High pressure indicates that it's time to clean the filter or perform a backwash.
Check the pump traps and skimmer basket for grass, leaves, and other debris and clean them if necessary.
Attach a leaf skimmer net to a telescopic pole and clean the water by dragging the net across the surface from one side of the pool to the other until all floating dirt is gone. Make sure the waterline of your pool is sufficient.
Maintain an Inground Pool by Backwashing
Backwashing is a method that reverses the water flow in your pool's filter to remove trapped dirt and debris. Backwash the unit about once a week to maintain an inground pool if you have a diatomaceous earth, sand, or glass pearl filter type.
Filter Backwashing
Turn the pump off and turn the valve on your filter to the backwash position until the handle locks in place. Turn the pump back on and backwash it for two minutes until the sight glass on the filter runs clear.
Turn off the pump, set the valve to the rinse setting, turn on the pump again, and let it run for one minute. After the sight glass is clear, turn off the system again. Finish by resetting the filter valve to the filter position and turn the pump back on.
How to Maintain Pool Water Chemicals
Practicing pool chemistry during the swimming pool maintenance process is the best way to prevent many problems.
Test kits check the range of everything from chlorine to bromine, and regular testing helps you determine if it lacks chemicals and is necessary for your pool's health and safety.
Use test strips or a kit to test your water for proper pH levels, alkalinity, and calcium hardness. The ideal range for pool water pH is between 7.4 and 7.6 ppm. Low levels mean the water is high in acidity, and a higher level means it's basic.
The ideal range for alkalinity is 100 to 150 ppm, while an ideal calcium hardness range is between 175 and 300 ppm. Keep the water balanced by using a pH increaser, pH reducer, or alkaline increaser.
Maintaining Your Pool by Brushing
We often neglect the walls, ladder, and other surfaces of the pool, but these areas need regular maintenance to keep the pool clean, just like the water does. Brushing the pool's inside helps prevent scale, algae, and stains. It also will remove calcium from pool tiles that can build up over time.
Attach the brush to a telescoping pole to reach all pool areas and turn on the pool pump.
Begin by brushing the ladder, shallow end walls, and shallow floor area of your pool. Move on to the deep end and clean all of the sides and bottom until the entire pool is brushed.
Keeping Your Pool Clean by Vacuuming
Leaves, pine needles, and other pieces of debris float on the breeze and land in your pool's water. Over time, this dirt clusters on the bottom of the pool, and a pool vacuum works to clean your pool the same way it cleans your indoor carpeting.
To set up your pool vacuum, attach the telescoping pole and hose to the vacuum head and set them in the pool. Position the other end of the hose against the return jet to push water through the hose and force air out.
After removing the air, attach the hose end to the skimmer and vacuum the bottom of the pool in the same way you vacuum your indoor carpet. Begin at one end and work your way to the other to remove dirt and debris.
It can be challenging to get dirt out of a pool without vacuum but it can be done with a little extra time and effort.
How to Clean the Pool Pump Filter
Your pool's pump extracts water and runs it through a filter before dispersing it back into the pool, and the filter often gets clogged with dirt and no longer works well. Part of pool filter maintenance is to clean it regularly. Here is how to clean the filter in a few easy steps.
Before you do anything, turn the pool pump off and slowly open the air relief valve to release air from the system. Remove the assembly holding the filter together and take the top off the filter.
Slide the filter cartridge out and inspect it for cracks or damage. Spray the filter's pleats at an angle, from top to bottom, with a garden hose to loosen and flush away debris.
After all the dirt is gone, replace the cartridge, secure it in place, replace the filter top, and tighten the assembly. Check the filter tank o-ring for wear and tear.
If it is in good shape, spread a small amount of lubricant on it and put it back in place. Turn the pump on, release excess air by opening the air-relief valve, and close the valve once a steady stream of water appears.
Adding Chlorine to the Pool System
Chlorine is a chemical added to water to kill bacteria and germs. Here is how to perform routine chlorination to remove harmful microorganisms and keep the pool safe for everyday swimming.
If your pool falls below the recommended level of 1 ppm and 3 ppm, add chlorine or cyanuric acid stabilizer. The easiest way to chlorinate your pool is to use chlorine tablets.
Follow the instructions for your chlorine brand and add the appropriate number of tablets to a dispenser based on your pool's size.
Controlling Algae in Your Pool
A swimming pool that is low on sanitizer leads to the growth of algae. Low chlorine levels allow algae to grow into blooms and cling to the walls, floor, and ladder. Here is how to use an algaecide to control the problem and stop it from worsening.
Adjust the water pH before using an algaecide or clarifier to ensure the chlorine level is normal. Follow the package instructions and disperse it into the water as recommended. Let it sit overnight, and clean the dead algae with a pool vacuum the following day.
How to Shock Your Swimming Pool
Swimming pools are often tricky to maintain, and the pool water turns from crystal clear to murky, sometimes overnight. If your pool is suddenly a frightful green color, it's time to use a shock treatment to make the water safe for swimming.
Before you shock the pool, test the water to ensure the pH level is in the normal range. To clear green pool water fast, turn on the pump and pour the shock powder treatment around the inside perimeter of your pool.
Let the pump run six hours to circulate the water and then check the FAC level to ensure it falls between 1 and 4 ppm before swimming.
Preparing Your Swimming Pool for a Vacation
When going on vacation, we think about how the houseplants require watering, and a pet cat needs food and water. However, we often forget about the swimming pool when preparing to leave town. Here are a few simple ways to prep your pool for your absence.
Check the water level, water pH, and alkalinity right before leaving on your trip and correct imbalanced levels. If you don't already have one, install a pool pump timer and set it to run a minimum of eight to twelve hours each day while you're gone.
If you plan on being away for a while, it's a good idea to ask a friend or neighbor to stop by and perform a few simple pool checks. Have them skim the pool surface, empty the skimmer basket, check the filter pressure, and test the water.
A backyard pool is meant to provide you with a source of relaxation and fun, not give you a headache.
Neglecting your pool leads to more work than is necessary. Fortunately, keeping your pool clean is easier than you think by setting up a routine and following the right steps.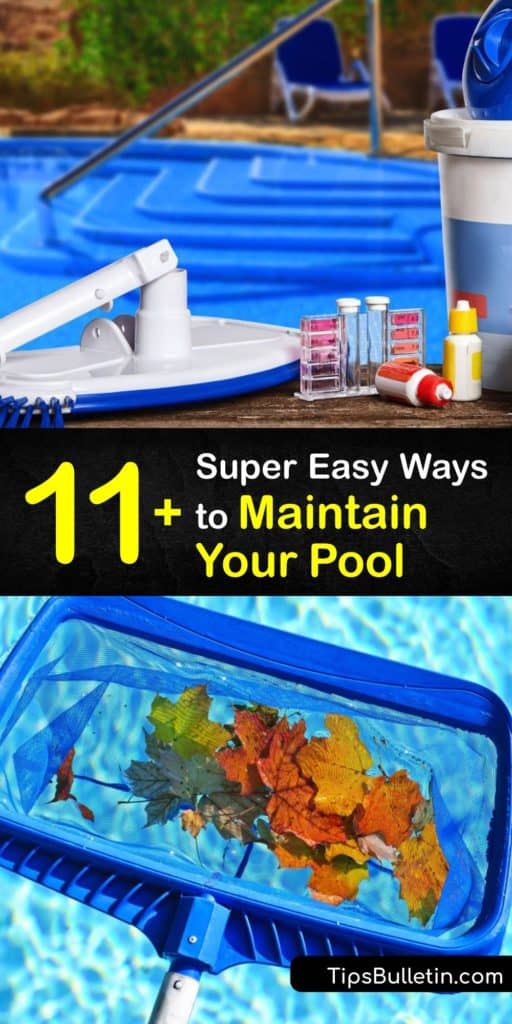 We hope that you enjoyed learning how to maintain your pool so you get to spend more time swimming than cleaning, and we'd love it if you'd share our pool maintenance techniques and tips with your social circle on Facebook and Pinterest.